This post may contain Amazon or other affiliate links. As an Amazon Associate I earn from qualifying purchases.
Are you planning a dinosaur themed birthday party?
Are you looking for decorations to buy, DIY decorations, dinosaur themed food, dinosaur themed clothes, or dinosaur themed gifts?
If so, you have come to the right place!
In our family we go all out for birthdays and I'm excited to share with you the fun dinosaur birthday party we had for our big one year old!
Our party theme was "Oneasaurus"!
For our dinosaur party, we used theme colors of orange, lime green, forest green, sky blue, and dark blue.
You will see the majority of the decorations in those colors.
But we also had some other colors sprinkled in too!
Keep in mind that it would be easy to swap out any of those colors to fit your own theme colors!
Feel free to jump ahead if there is a certain section you are looking for inspiration on or scroll through the whole post for all my tips and tricks for throwing the ultimate dinosaur birthday party!
Dinosaur Birthday Party Decorations to Buy
Dinosaur Balloons
There are so many fun balloons that you can buy for your dinosaur birthday party!
We selected cute dinosaurs since we were having a one year old birthday party.
But there are plenty of ferocious looking dinosaur balloons too!
Use large Mylar balloons together with regular latex balloons (we bought ours at Hobby Lobby!) for a larger display.
We made three larger balloon displays.
The first one was across our television (which my husband rigged up so that the dinosaur hung straight).
You can purchase the large green dinosaur balloon at a local Party City store or we bought ours from Cher Can Do It Etsy shop.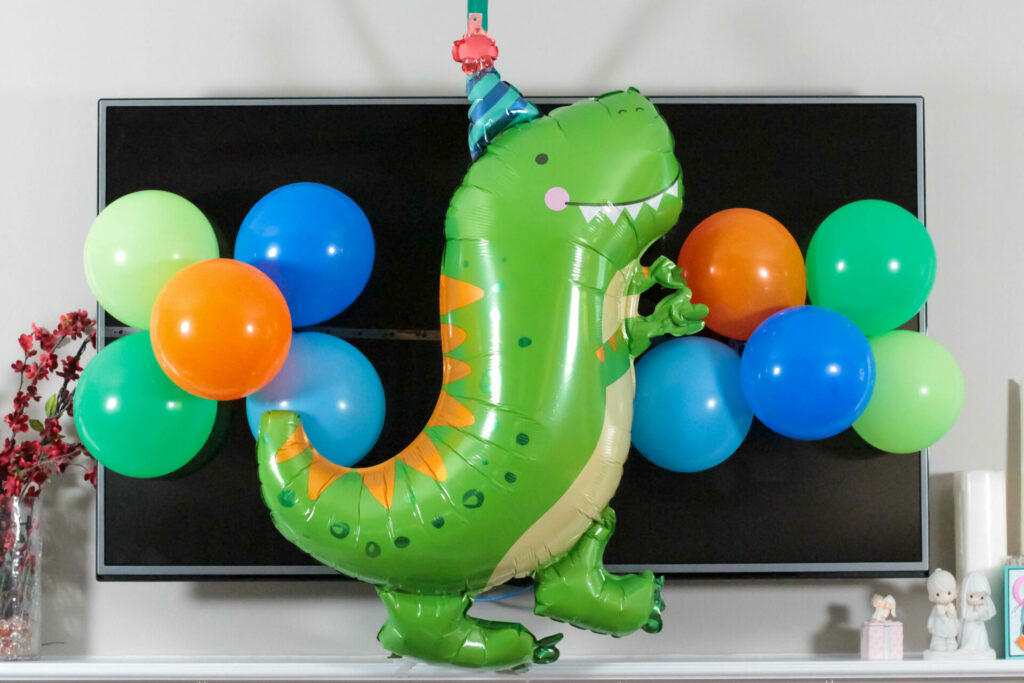 The second balloon display was across a window.
I highly recommend using balloon decorating strips to make it easier to hook balloons together and keep them in the right place!
Again, you can buy the "RAWR" from lots of different stores, but we bought ours from Amazon.
And the cute blue dinosaur came in this Etsy pack with the "oneasaurus" balloons (down below).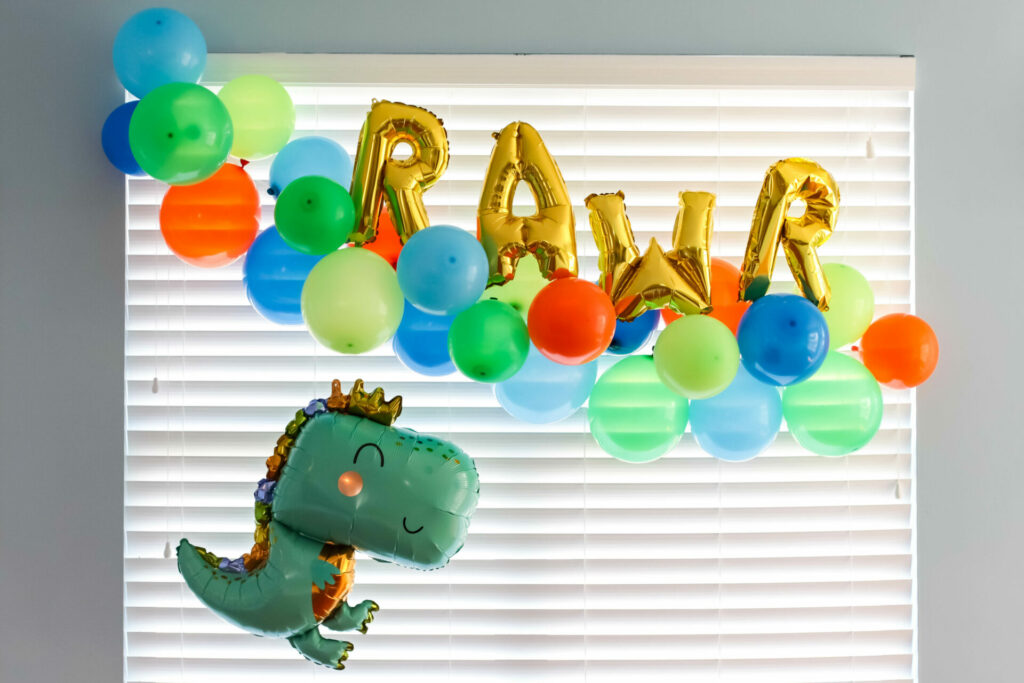 And then, in case you missed my mention above, we bought these "oneasaurus" balloons to hang across the window behind the birthday boy's high chair.
It made for great photos, especially when he got his dinosaur cake!
Also, my life was changed this year when a friend let me borrow this electric balloon pump that blows up balloons for you.
It was a lifesaver for my lungs!!
And to think that we made a huge rainbow arch this past fall with only man power blowing up balloons.
Seriously, you will NOT regret getting one of these!
It was so easy to use and bonus-your mouth doesn't taste like latex afterwards!
Dinosaur Shaped Balloons
Another cute dinosaur option for balloons is to buy a kit (or make the pieces yourself if you are crafty!) to make balloons that look like dinosaurs!
You can also purchase these templates online to print and make your own!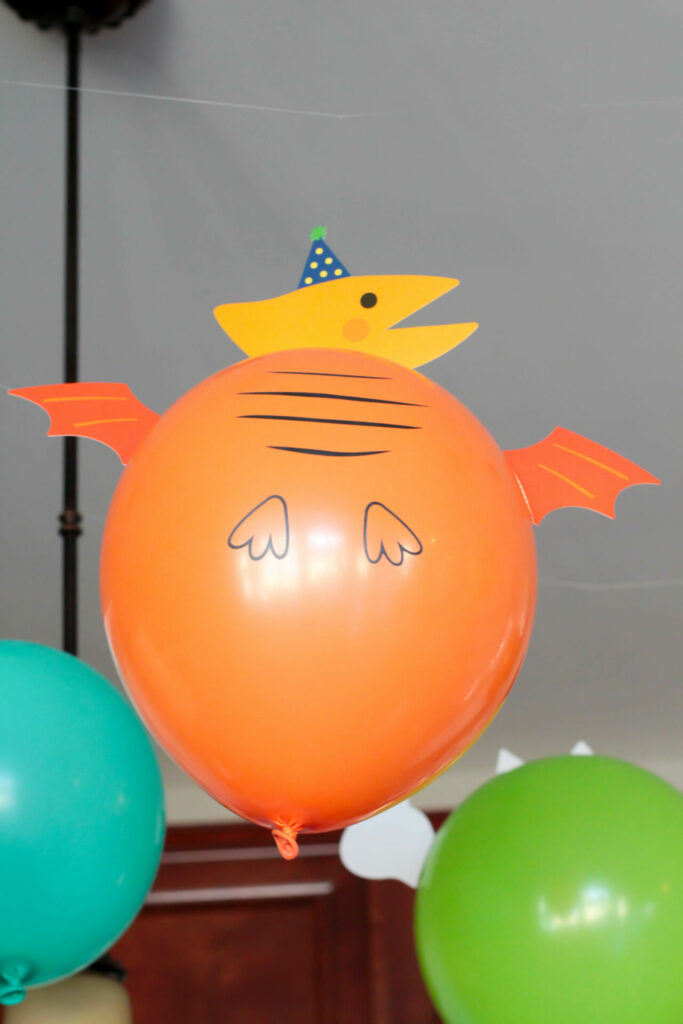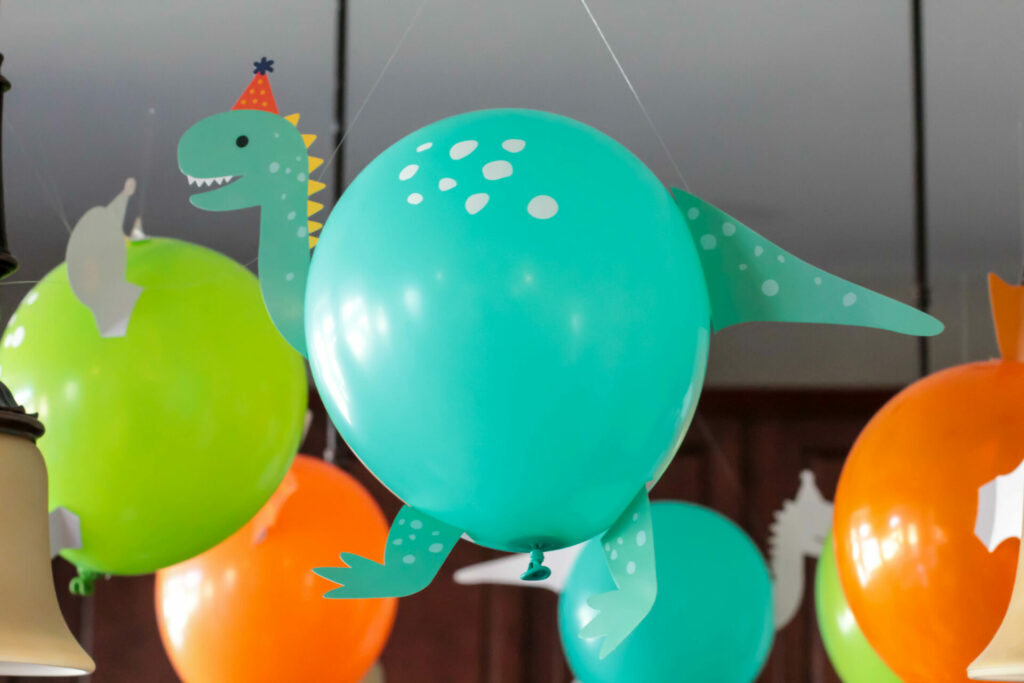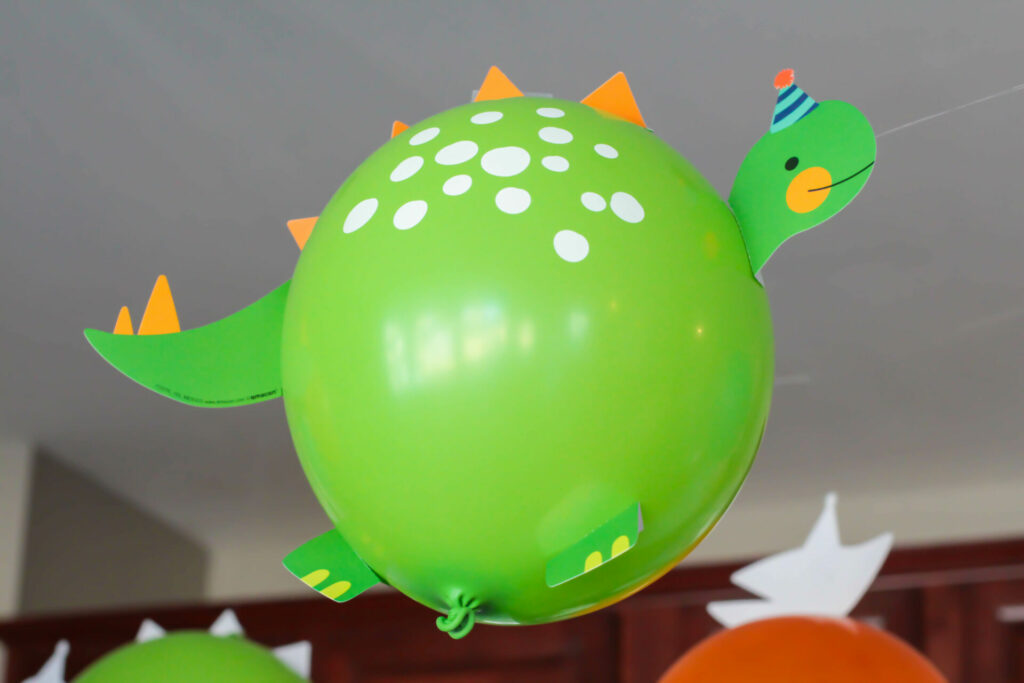 Streamers
And we ALWAYS put up streamers for parties!
Choose your party theme colors and create a beautiful pattern!
Hobby Lobby has streamers for $1, making this a cheap addition to any party!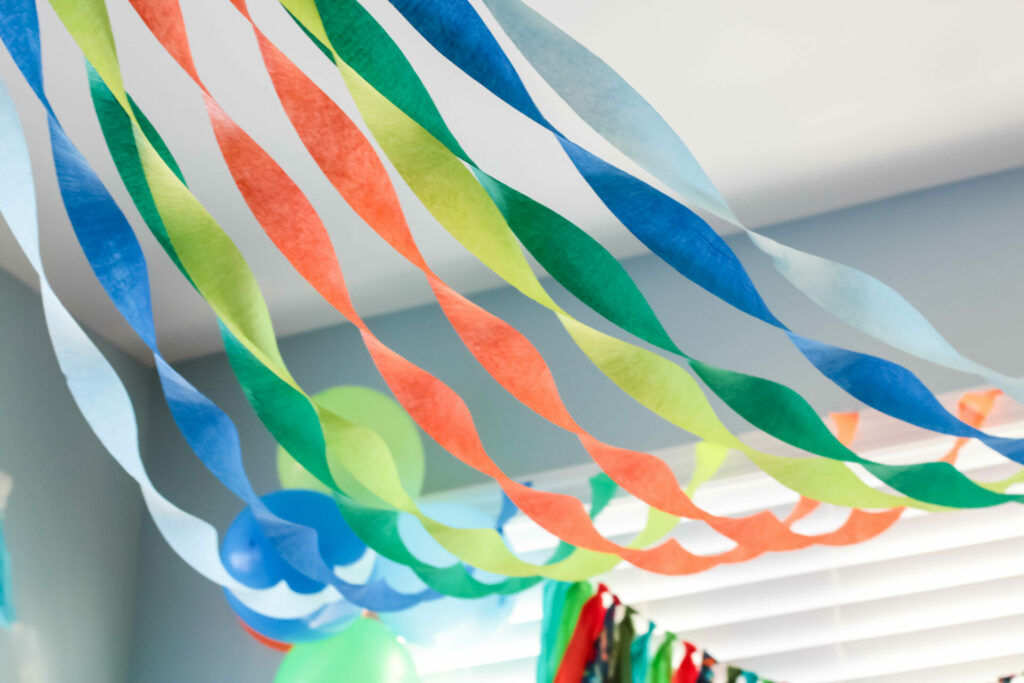 Dinosaur Foam Kit
My daughter had such a fun time making these dinosaur decorations!
This foam kit from hobby lobby was very cheap, but very well done.
The foam pieces were easy to punch out and get the peeling off of the sticky side.
The dinosaurs were easy to put together, so if you have an older sibling that wants to get involved in making the dinosaur decorations, this kit is perfect for them!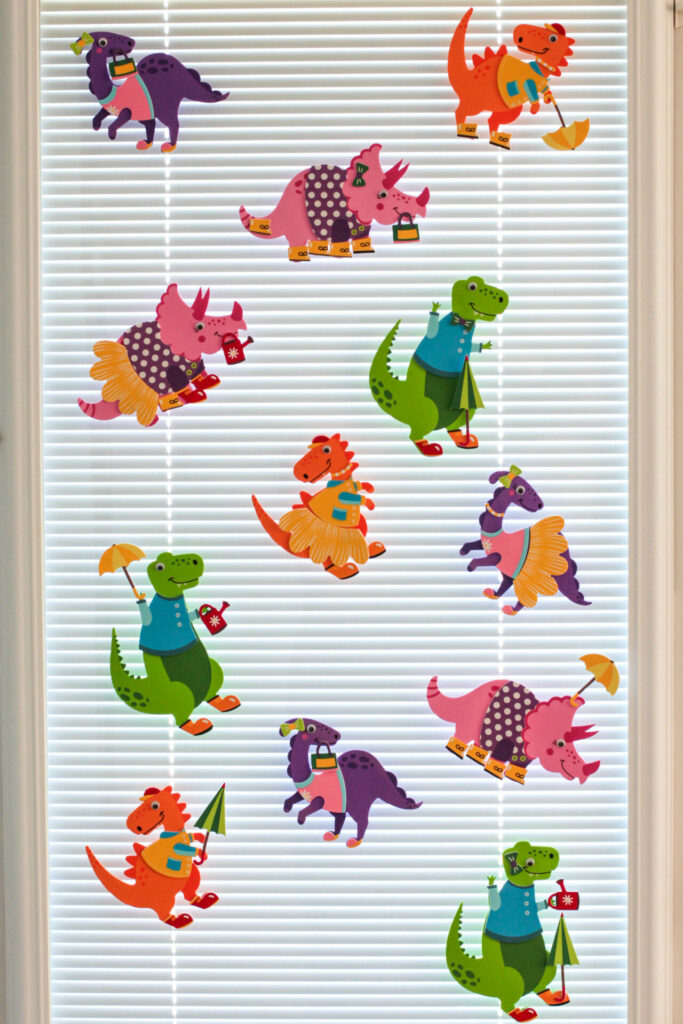 Dinosaur Spiral Hanging Kit
For a quick dinosaur decorating add on, buy a few spiral dinosaurs to hang from a light fixture!
You literally just pull them out of the package and hang them up.
Easy peasy!
We bought ours from Dollar Tree, but they may not be in every store.
This pack from Amazon is very similar, but comes with even more pieces!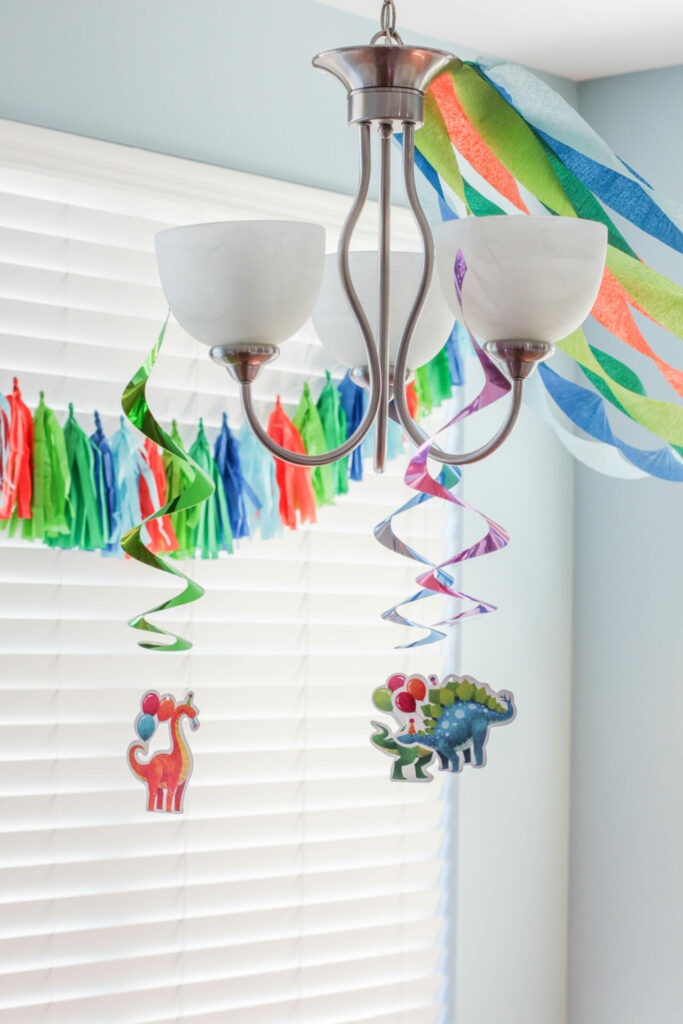 Dinosaur Honeycomb Table Toppers
These dinosaurs from Amazon were so cute and easy to use!
The pack also had enough pieces that I used them to decorate the party table, the volcano display (more on that in a minute), and the bathroom counter!
We had dinosaurs everywhere!!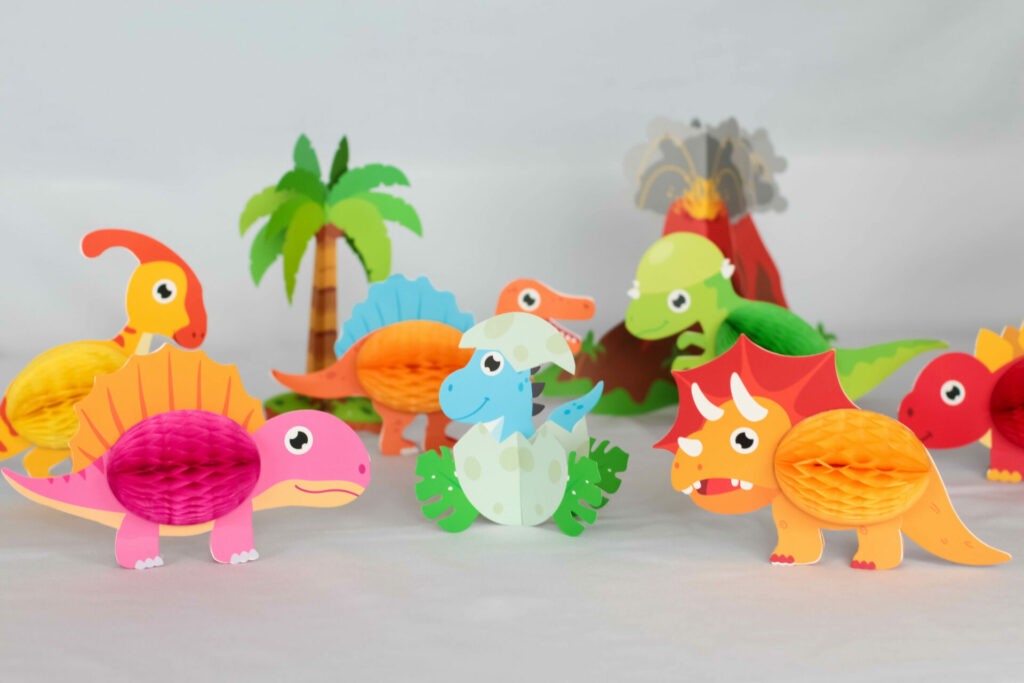 Dinosaur Birthday Party Hats
For a cute dinosaur birthday party hat, this pack of 8 hats worked great!
The assembly was very easy-just fit the tab in the slot and put the spine on (which already has adhesive on it).
My daughter enjoyed picking which colors went together.
They were also big enough to fit adult heads just fine.
Some reviews complained they were too small, but they fit everyone at our party!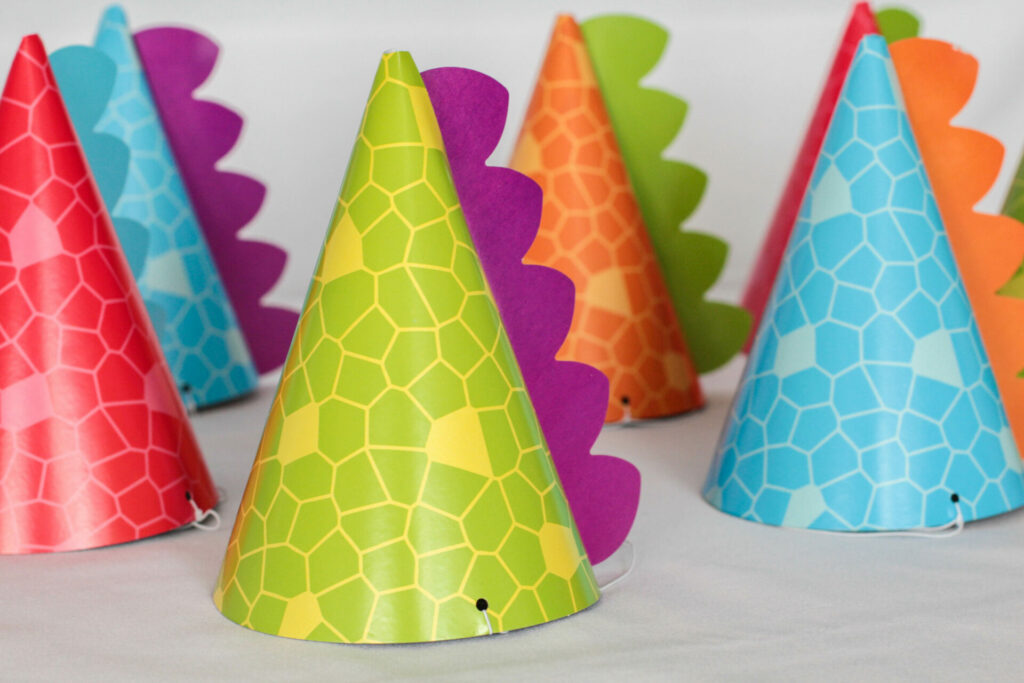 DIY Dinosaur Birthday Party Decorations
Besides the decorations that you can purchase, there are PLENTY of decorations you can make yourself!
Some of these are much faster to do if you (or someone you know or even your local library!) has a Cricut.
Using a Cricut cuts down on manually cutting out the pieces.
But if you don't mind cutting out dinosaurs and leaves with a pair of scissors, then you can make them without a Cricut!
And in lieu of a Cricut or cutting them out yourself, some things you can buy (although that does make it less of a DIY project).
And I will just give my mom a big shout out here for asking her friend with a Cricut if we could use it and that she got all the paper pieces cut out for the dinosaur birthday party!
Thanks mom!!
Leaf and Streamer Entry
For a fun doorway decoration, make a jungle entrance from leaves and streamers!
Make a leaf header using a variety or colors, shapes, and sizes.
If you don't have a Cricut and you don't have time to cut out leaves yourself, you can also buy a leaf garland like this one or a set of individual leaves to substitute for the DIY leaves!
Hang different shades of green streamers (again, we buy cheap streamers from Hobby Lobby) for a fun entry for guests to walk through.
If you don't want guests walking through the streamers, you can also pull the streamers back on one or both sides.
Alternatively, you could also leave the middle section empty and just hang streamers on the sides.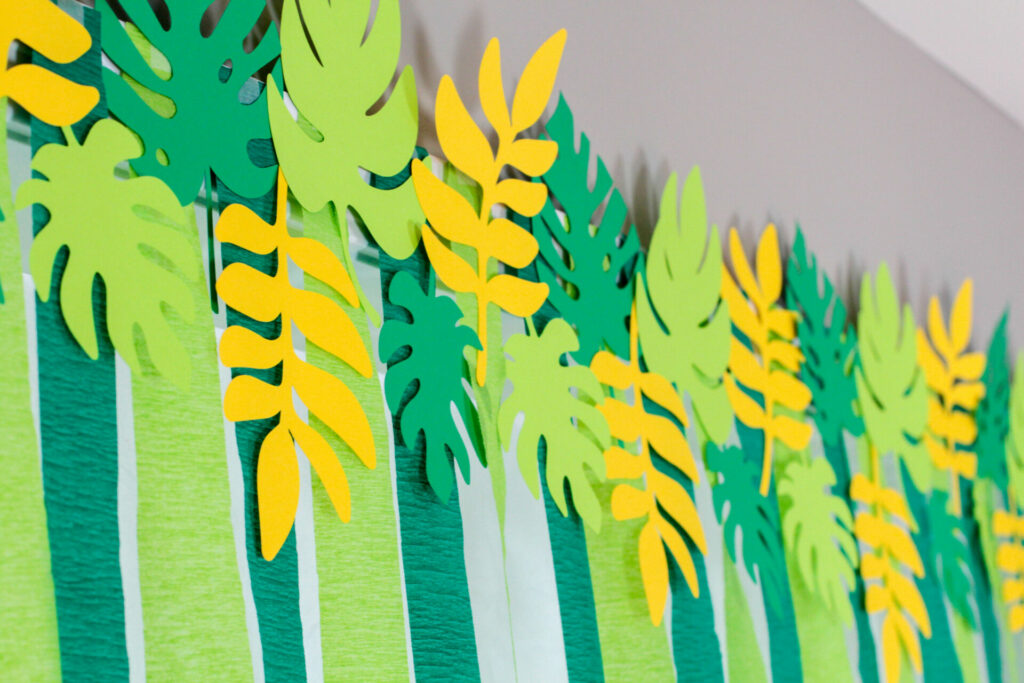 Volcano
I have to give a huge shout out to my mother in law who made this AMAZING paper mache volcano in just TWO DAYS!!
I'm not going to even pretend that I know how to give instructions on how to make this work of art (sorry!).
But using paper mache, paint, coffee beans, fake plants, and other miscellaneous supplies she built this masterpiece for our kitchen island centerpiece!
If you are crafty, search for DIY volcano or follow directions like these to make a volcano that erupts or these directions for a volcano without newspaper for ideas on how to make one!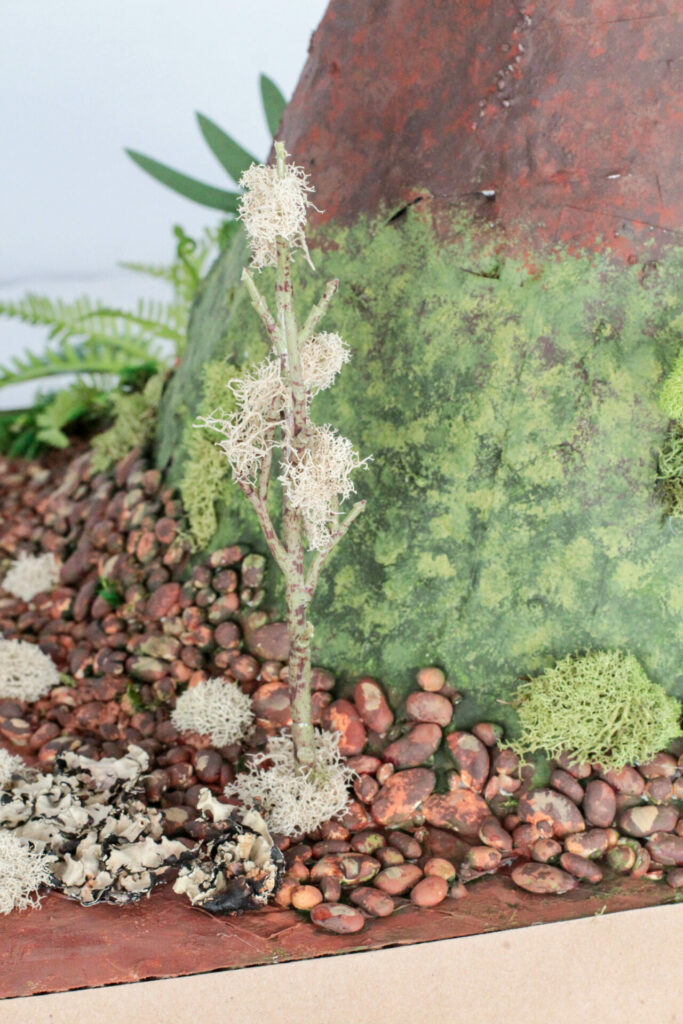 Dinosaur Garlands
These little dinosaurs are going to be making several appearances!
They were all made using a Cricut.
To start, we used them to make garlands for a few different places.
We used them on windows and for a longer garland near where guests were going to eat.
But you could also hang these dinosaurs along furniture, stairs, or across the mirror in the bathroom!
To make the garland itself, tape the dinosaurs to fishing line or twine.
Since our family is filled with engineers, we like to have everything perfectly spaced.
To achieve that, we tape the line or twine to the floor and use a yard stick to get everything perfectly spaced before taping it into it's final location.
One tip is to make sure you tape the dinosaurs near the top of their body, otherwise they like to spin and hang upside down (thanks gravity!).
If you don't have time to make this yourself, you can purchase this garland as a substitute!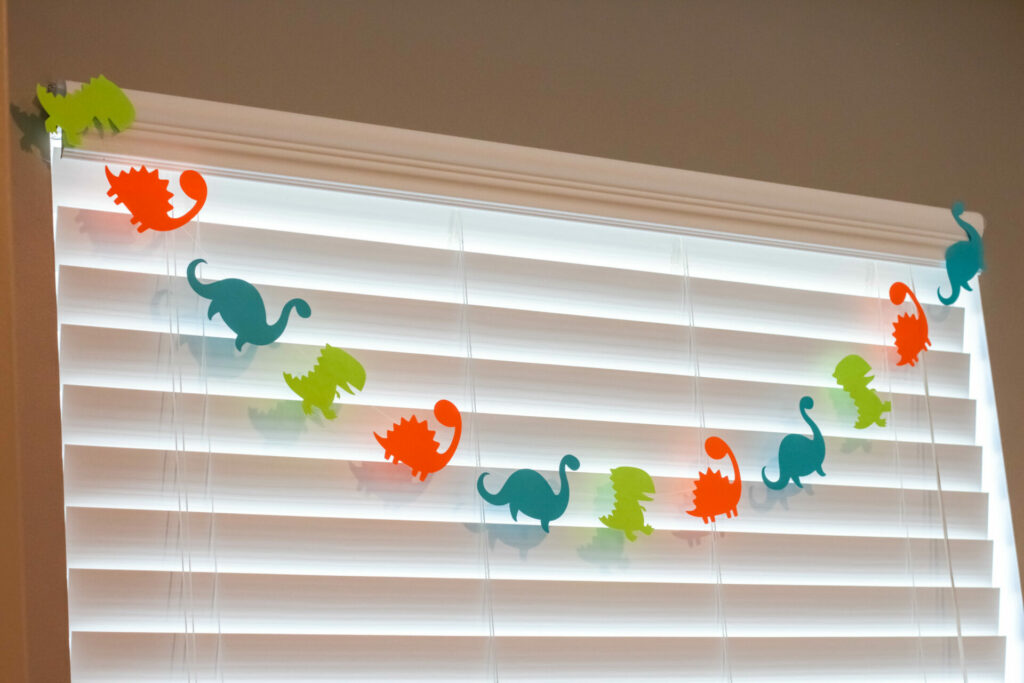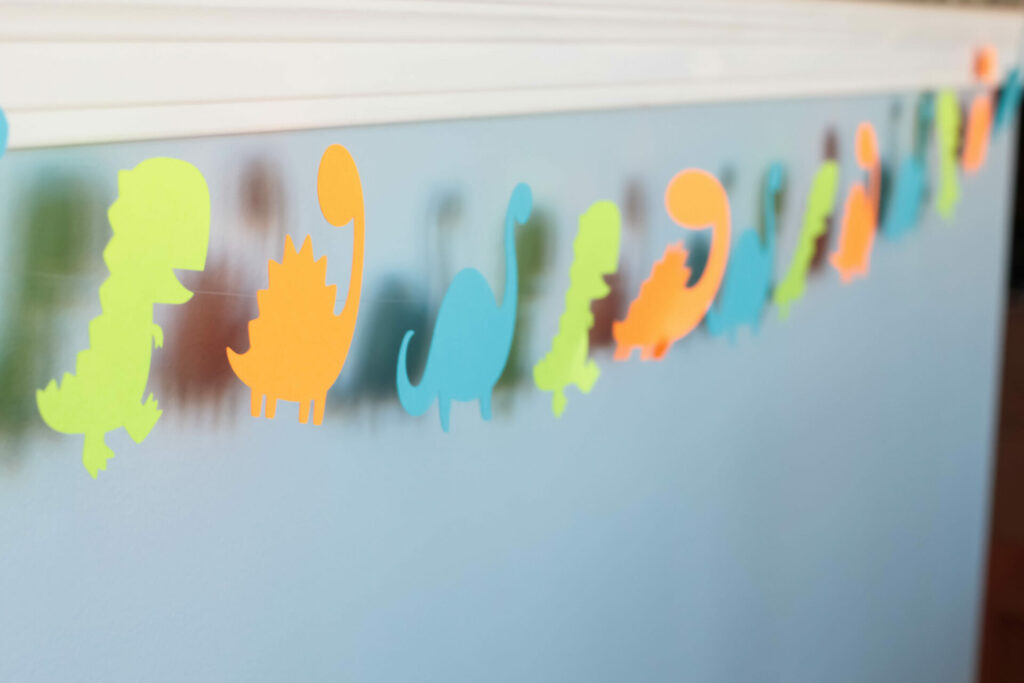 Dinosaur Fabric Garland
A big shout out to my sister who made dinosaur themed fabric banners to hang on the window and to decorate the birthday boy's high chair!
You can see that she picked fabric in our theme colors and also found a cute dinosaur print fabric from Hobby Lobby.
She then cut the fabric in strips and tied it onto twine.
These do get really heavy so make sure you have good tie off points for a fabric garland.
You can also keep the weight down by keeping the pieces of fabric shorter.
Check out this page for full directions on how to make a fabric garland.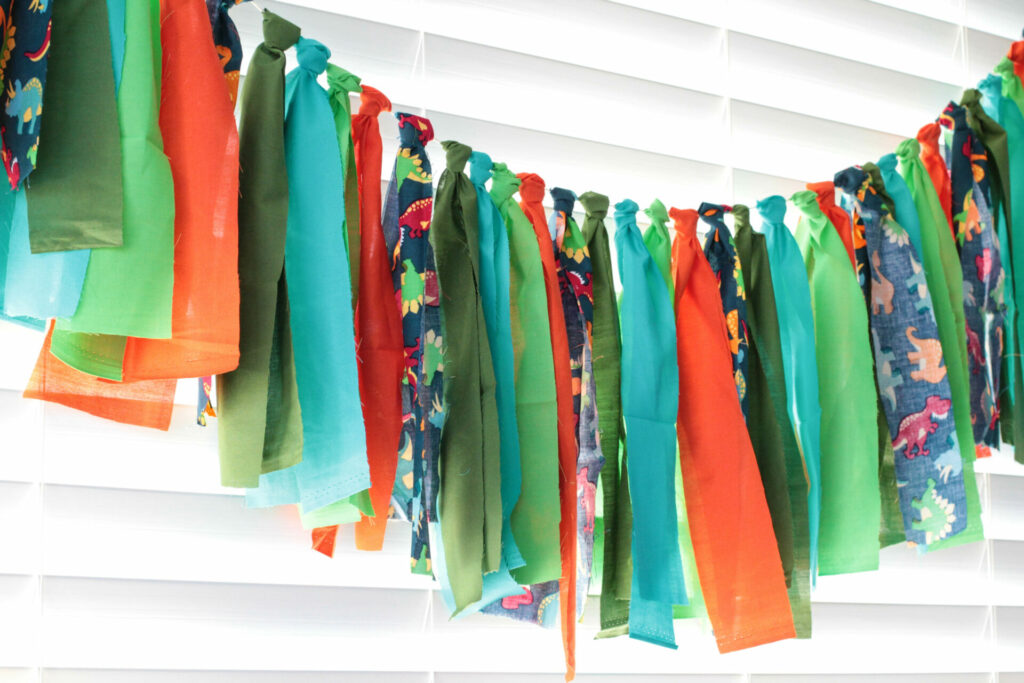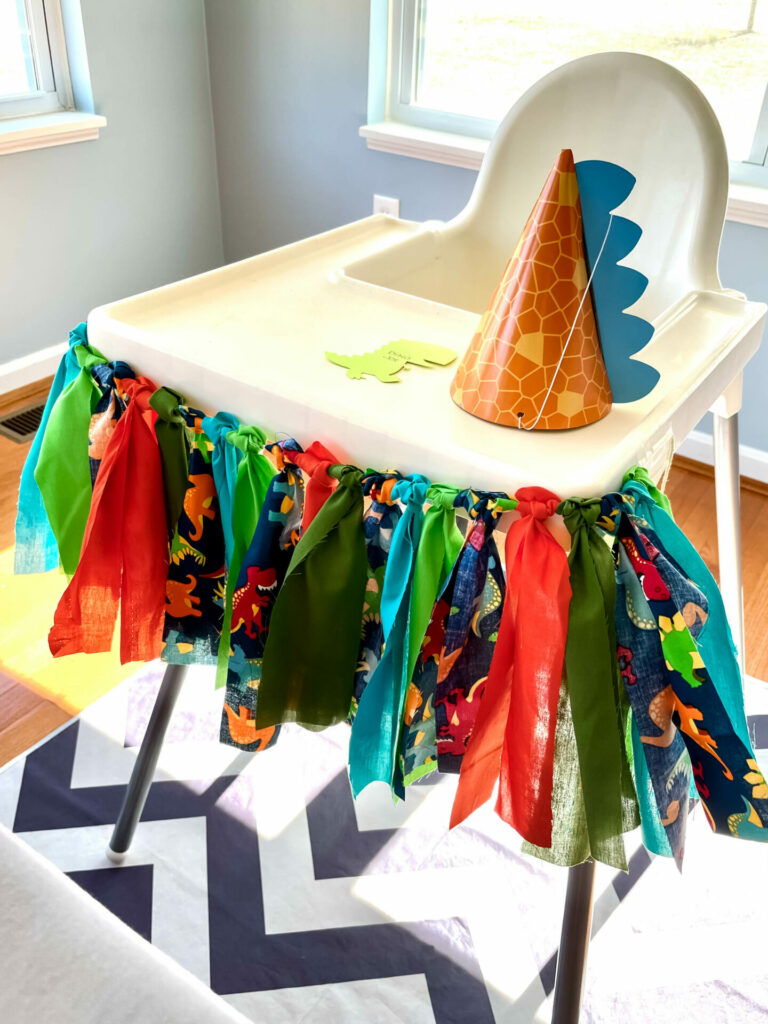 Tassel Garland
Have you noticed that I have a very crafty family?
Credit for the tassel garland goes to my dad who has the patience to make these tissue paper tassels!
You can use a tassel garland to decorate windows or tables.
All you need to make this is tissue paper in your theme party colors and twine!
You could use it for a high chair, but I was too worried that my mischievous one year old would find them irresistible to pull apart, which is why we went with the fabric garland for the high chair instead.
Check out Whimsical Wonderland Weddings for full directions with step by step pictures on how to make a tassel garland.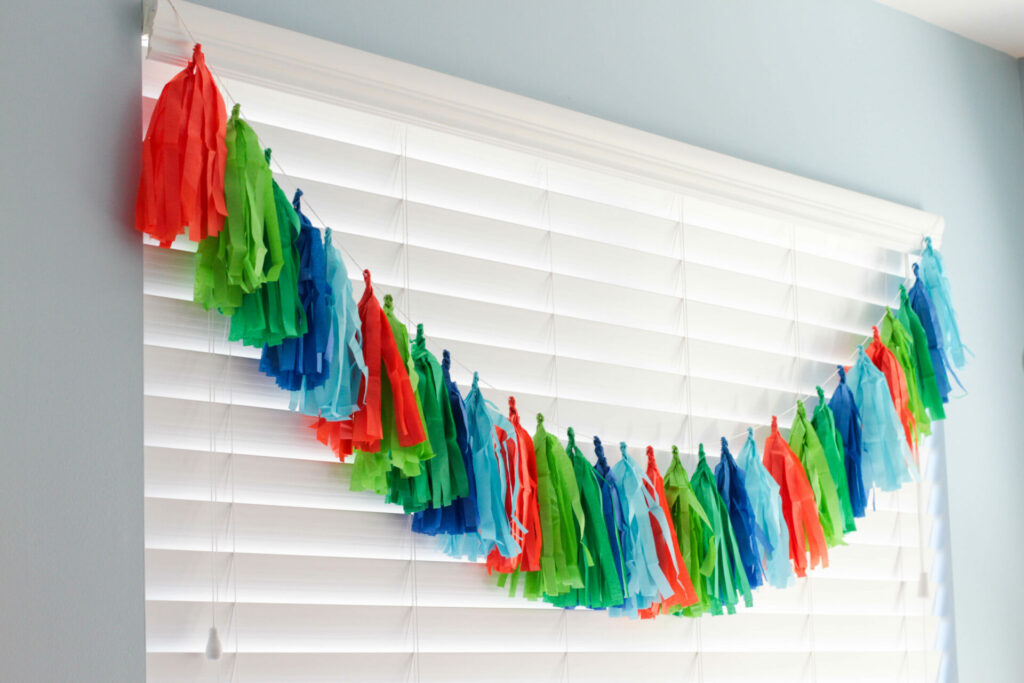 Photo Banner
And another big shout out, this time to my sister-in-law who makes adorable photo banners for every birthday the kiddos have!!
At this point, you might be wondering if I make anything myself.
Honestly, I think I just made the food (more on that in a minute) and blew up balloons!
But how cute is this banner?!
The photo banner has 13 photos and usually spans our fireplace mantle so that everyone can easily see it.
It starts with a newborn photo and ends with a photo about a week before his birthday.
So a newborn photo and one photo for each month.
It's so fun to display how much your baby has grown over the year!
Put a number in the upper corner to show how many months old your baby was or for older kiddos, use the first letter of the month!
Decorate a lower corner with a dinosaur.
The dinosaurs on this banner match the dinosaurs that are on the name tags which I will go over next!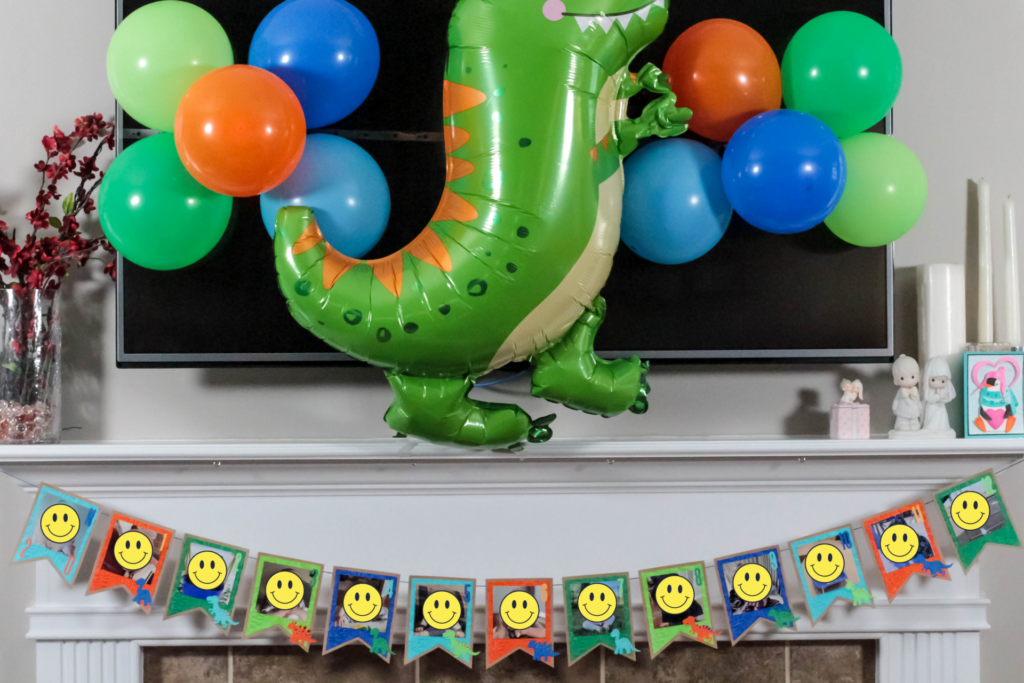 Dinosaur Name Tags
And another shout out to my sister-in-law who made these very cute dinosaur name tags!
She already had these dinosaurs dies that you can run through a Sizzix Big Shot.
Using the theme colors, she made every name tag unique with a different combination of colors.
And we had loads of fun coming up with dinosaur names for everyone!
As you can see, I went with "mommysaurus" and my husband went with "daddyrex".
But we gave everyone at the party a dinosaur name by adding "-asaurus", "-rex", "-adon", or "raptor" onto part of everyone's name.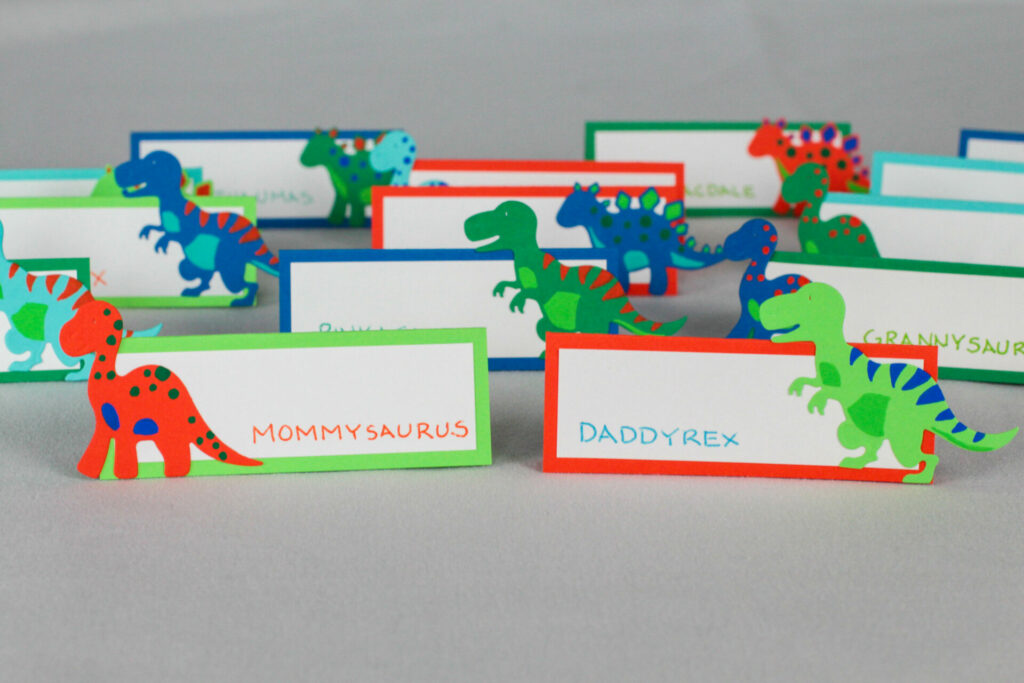 Dinosaur Themed Table Letters
Another shout out to my sister who made these cute letters to go on the party table.
You can also see that we used a few more of the small Cricut dinosaurs so that they matched some of the other decorations above.
To make these, she bought letters from Hobby Lobby.
She painted them using acrylic paint (also from Hobby Lobby) and then taped on the little dinosaurs.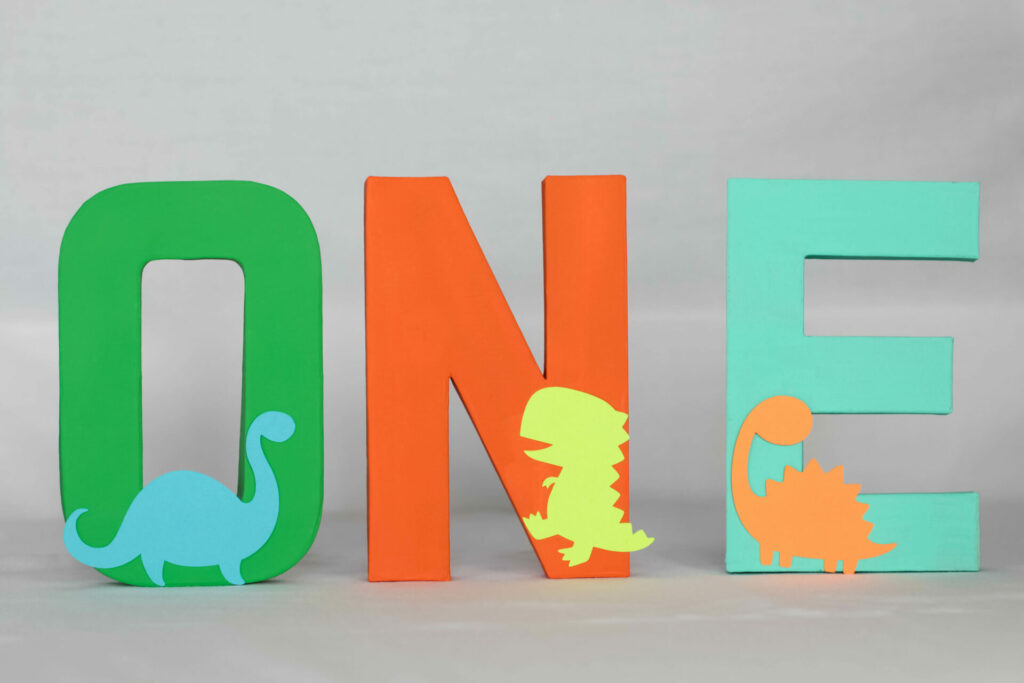 Like I said, I did very little of the decorations!
Isn't my family so talented?!!
But now we are in the section that is my wheel house…the food!!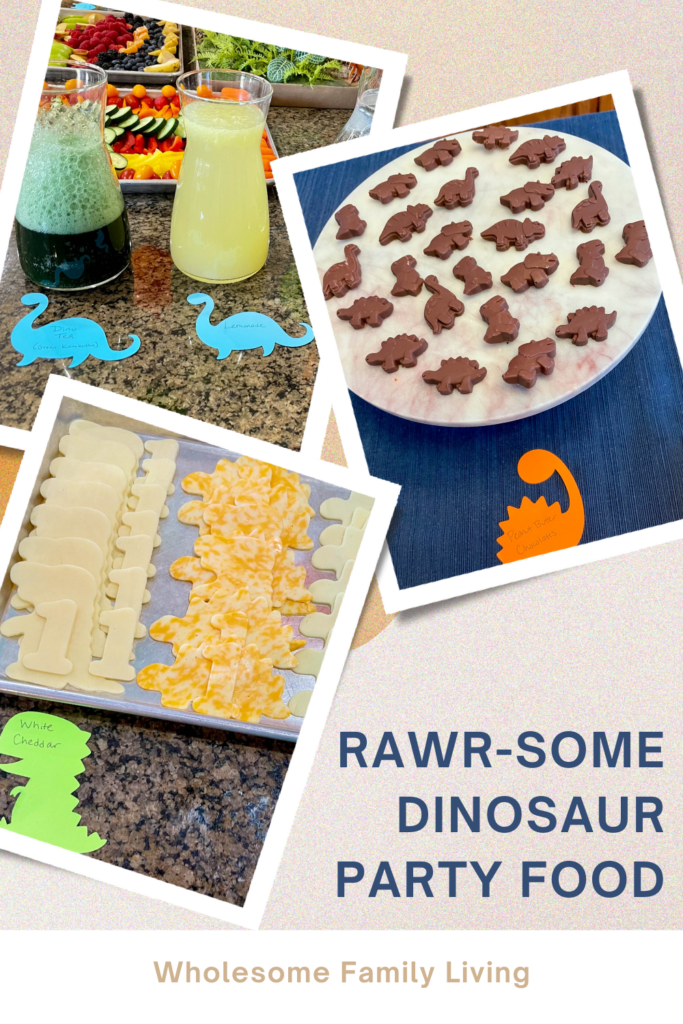 Dinosaur Birthday Party Themed Food
I love creating food that fits the party theme and our dinosaur theme had so many fun things to make!!
I started by creating these categories for all the food to fit under: carnivores, herbivores, omnivores, sweetivores, and watering hole.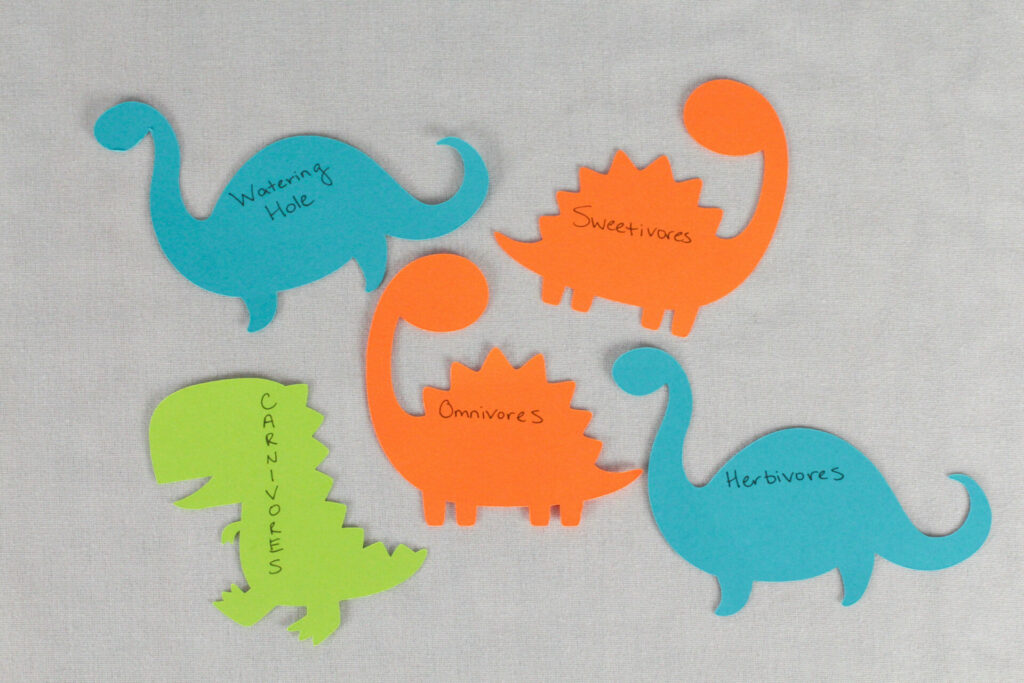 You can see that those cute little dinosaurs reappeared here to be food tags.
So let me show you what I made for each category!
Carnivore Food

Dinosaur Droppings
I got this idea from Maria Emmerich's Sugar-free Kids Cookbook.
But don't worry, you don't have to buy the cookbook to make these.
Just make your favorite meatball recipe super sized!
Make the meatballs extra large for dinosaur sized droppings!
Dinosaur Shaped Cheese
Luckily, I have a huge pack of cookie cutters that had a number 1 and two different dinosaur shapes in it.
I used these dinosaur cookie cutters to cut out cheese slices into 1's and dinosaur shaped cheese.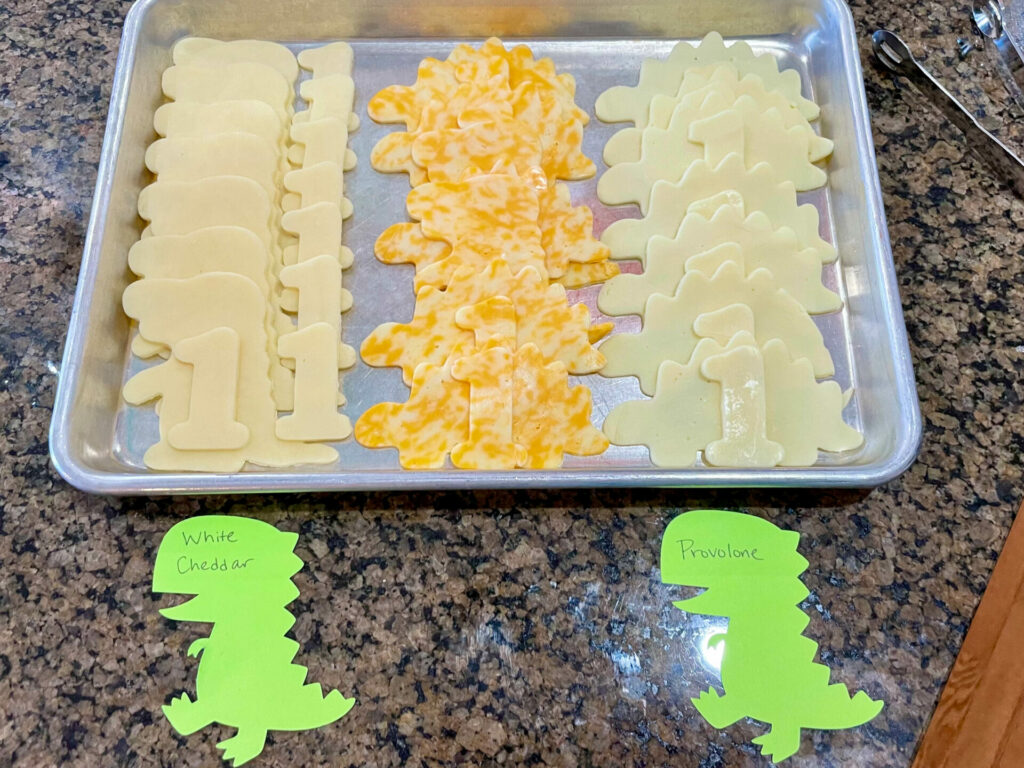 Meat Rolls
And for easy finger party food, roll up a variety of lunch meats or set out salami for perfect additions to your carnivore spread!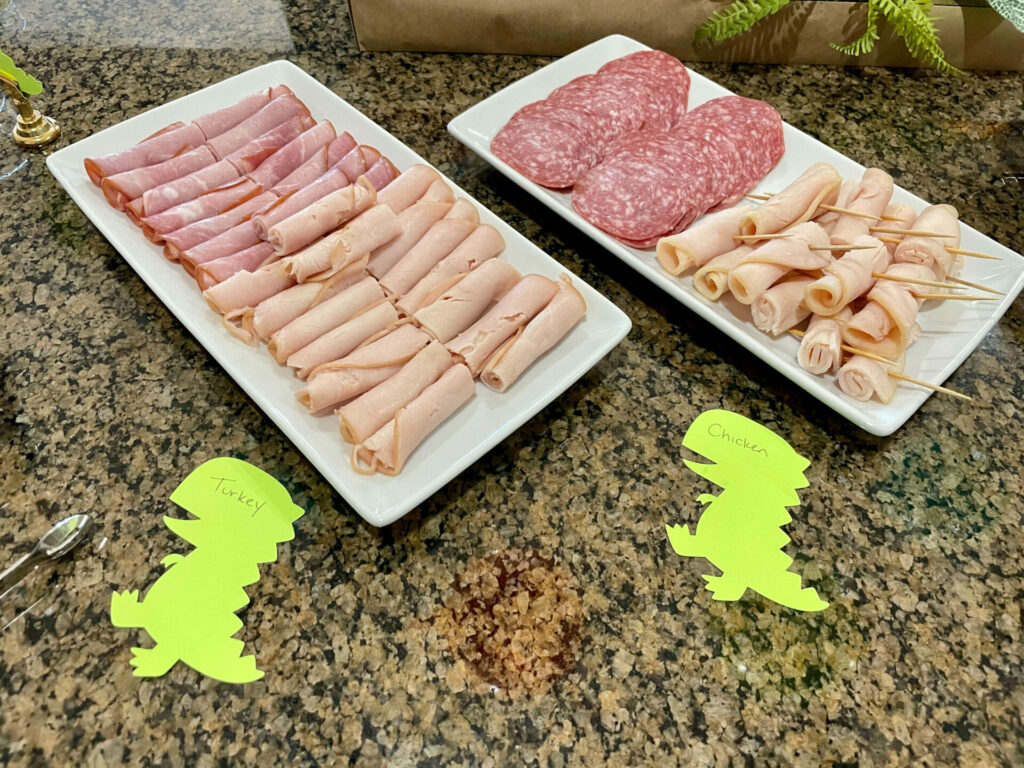 Omnivore Food
Dinosaur Pizza
Using the same cookie cutters that I cut out the cheese with, I also made dinosaur pizzas!
To make a roll out crust that could be cut with cookie cutters, I actually made a pie crust and instead of putting in sweetener and vanilla, I used a teaspoon of onion and garlic powder instead!
This made for an easy to roll out base to use with cookie cutters.
Top with your normal favorite pizza toppings!
I made all the T-rex shapes with pepperoni, onion, bell pepper, and of course sauce and cheese.
Also, not pictured here, I made stegosaurus dinosaurs with just sauce, cheese, and pineapple since that's my daughters favorite.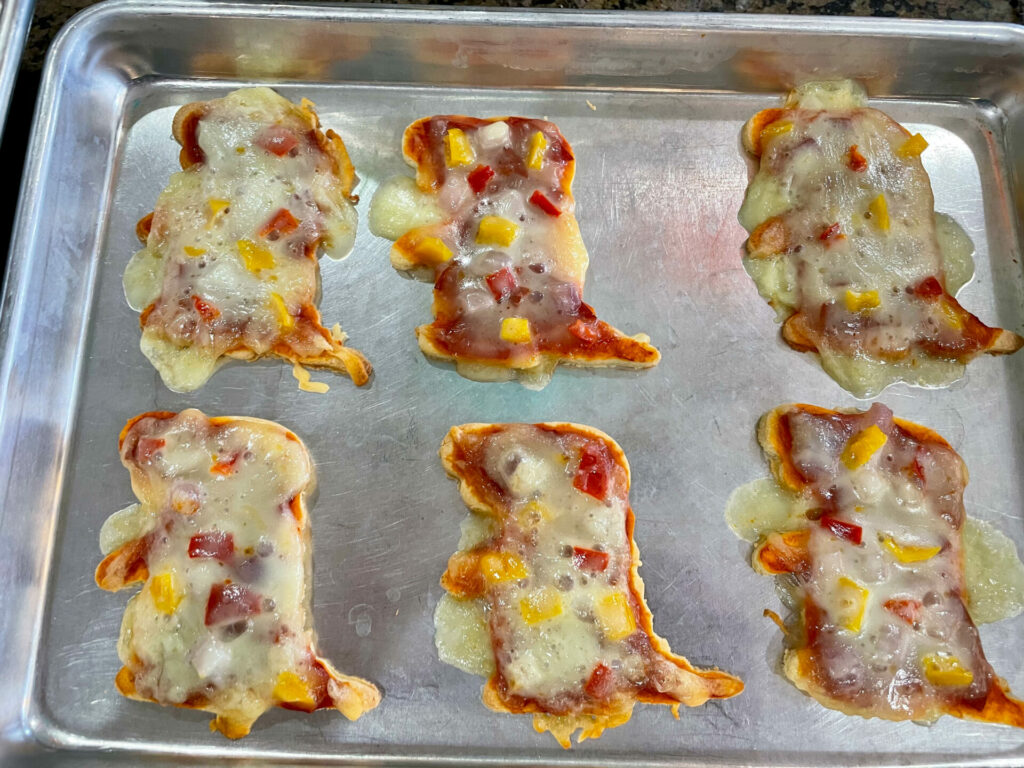 Dinosaur Eggs
Make your favorite recipe of deviled eggs, but just call them dinosaur eggs!
Maria Emmerich has LOADS of deviled eggs recipes if you need one!
And my big tip here is I normally steam my eggs to make them easy to peel!
Bacon Wrapped Dates
While not dinosaur themed, this is a family favorite party finger food.
Bacon also just seemed fitting for a dinosaur birthday party.
Check out this 2 ingredient recipe from 40 aprons!
Orange Jello Salad
And another family favorite recipe is an orange jello salad.
You basically make orange jello with a 1/4 cup of tapioca granules.
Once it has cooled, mix in a batch of whipped cream and 1 can of drained mandarin oranges.
I made this since one of my sons favorite foods right now is oranges.
Herbivore Food
Dinosaur Fruit and Veggie Trays
Have fun with your fruit and veggies by shaping them into dinosaurs!
There are so many great ideas online for different ways to shape your fruits and veggies into dinosaurs.
Use a search engine or Pinterest to find lots of other great ideas for fruit and veggie trays!
I tried to put as many different kinds of fruits and veggies into mine that would fit, keeping green things at the bottom for grass and blue things at the top for the sky.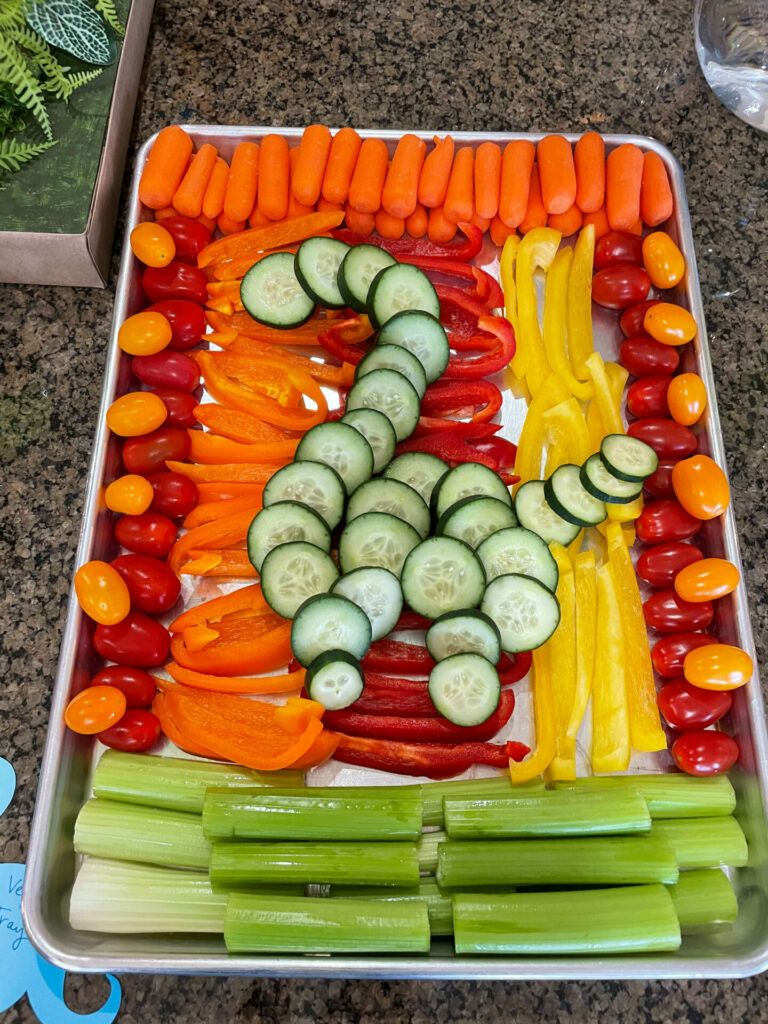 Fruit Cream Cheese Fruit Dip
And for a sweet addition, I made this keto fruit dip to serve with the fruit tray.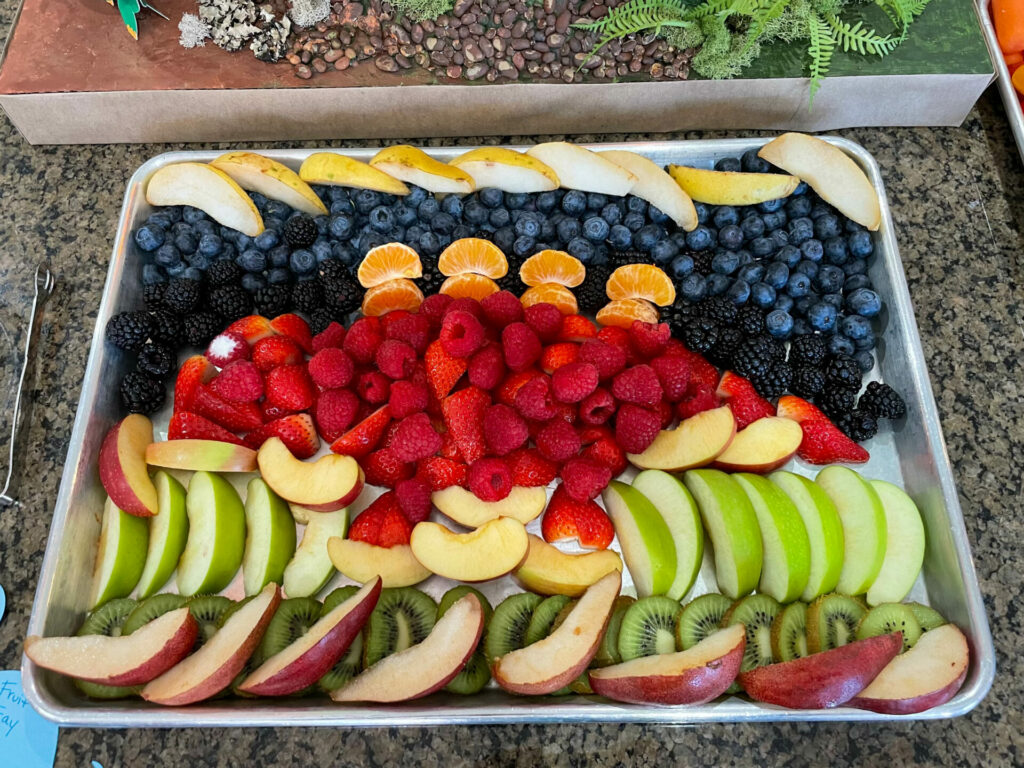 Sweetivore Food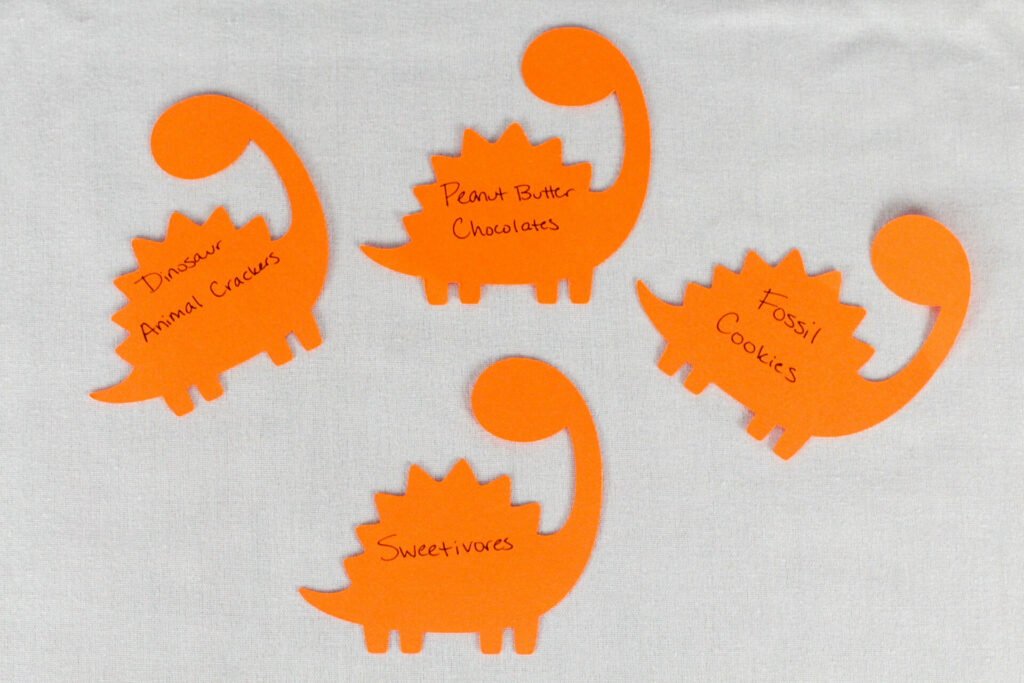 Dinosaur Shaped Cupcake Cake
Following these directions from My Cake School, I made this cute dinosaur cupcake cake.
Then we gave my son just one of the cupcakes for his "cake smash".
I used a chocolate cupcake recipe that I'm still developing and will have on the blog soon I hope!
I used this sugar-free frosting recipe from Wholesome Yum.
To naturally color the frosting, I used Supernatural foods colors.
The only problem is that the color wanted to separate from the frosting when I went to pipe it onto the cake.
To fix that, I added a tablespoon of cassava flour (almond flour should work too) to the frosting and that prevented the color from separating.
To make the spikes, I used Lily's white chocolate melted with a little butter and used the Supernatural red food coloring and followed the directions in the dinosaur cupcake cake post (linked to above) to make them.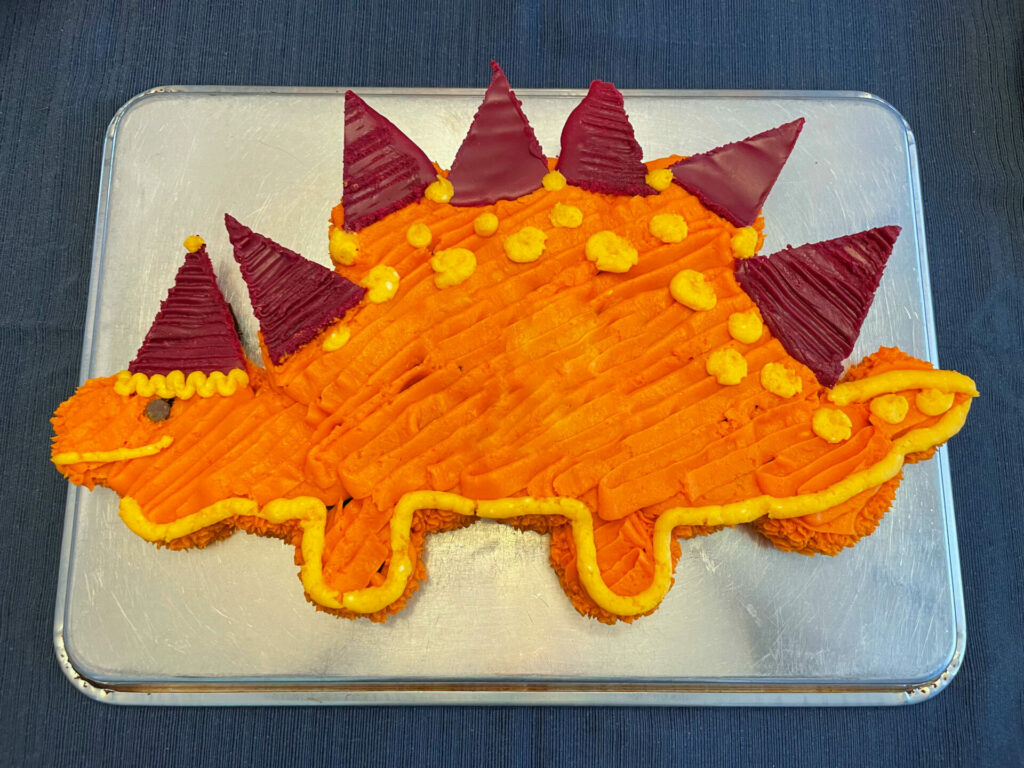 Fossil Cookies
I saw pictures of cookies like this on Pinterest and knew I had to try it!
Use your favorite chocolate chip cookie recipe, but leave out the chocolate chips.
Bake like normal.
When the cookies come out and are still hot, use small plastic dinosaurs to make "fossils" in the cookies.
Note: I did try to put the fossil print into the cookies before baking, but the "fossil" totally came out of the cookie, so don't bother trying to put the fossils into the cookie dough before baking! It doesn't work!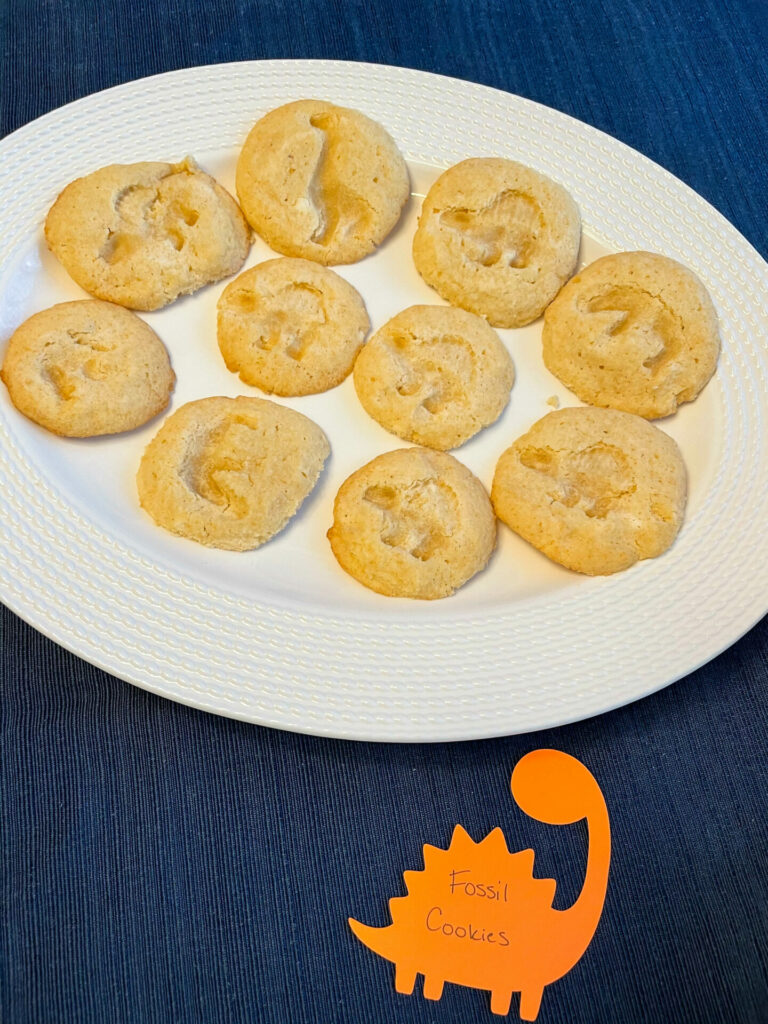 Dinosaur Chocolates
Luckily my family knew we were having a dinosaur birthday party for my son, so for Christmas they got me a couple of Wilton silicone molds with dinosaur shapes!
I have this mold with dinosaurs and leaves and this mold with 3 different dinosaur shapes.
Using about a half cup each of chocolate chips and peanut butter (you could also use any other nut or seed butter) and 2 Tablespoons of butter (you could also use coconut oil) to make the mixture runny, I made these "Reese" dinosaurs!
Once the molds are filled, chill in the fridge for about 2 hours.
Then store the chilled dinosaurs in an airtight container in the fridge.
Pull them out right at dessert time so that they stay firm.
The butter (or coconut oil) in the mixture will make them soft if you get them out too early.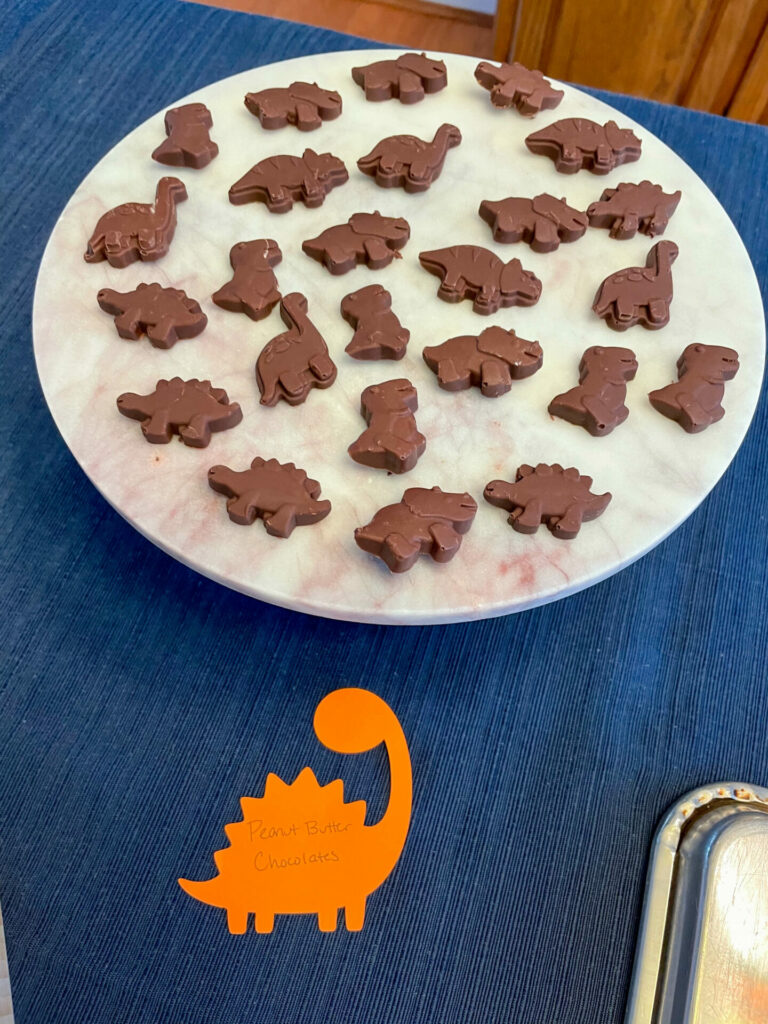 Dinosaur Animal Crackers
And my last fun adventure was to use those dinosaur cookie cutters again to make dinosaur animal crackers!
You can use any recipe for animal crackers your family likes, or I used the animal cracker recipe from Maria Emmerich's Sugar-free Kids Cookbook.
She also has this animal cracker recipe available online but is different than the recipe I made.
And quick plug-the Sugar-free Kids Cookbook is amazing and has so many fun recipe for kids!
Even the pictures are fun for kids to look at!!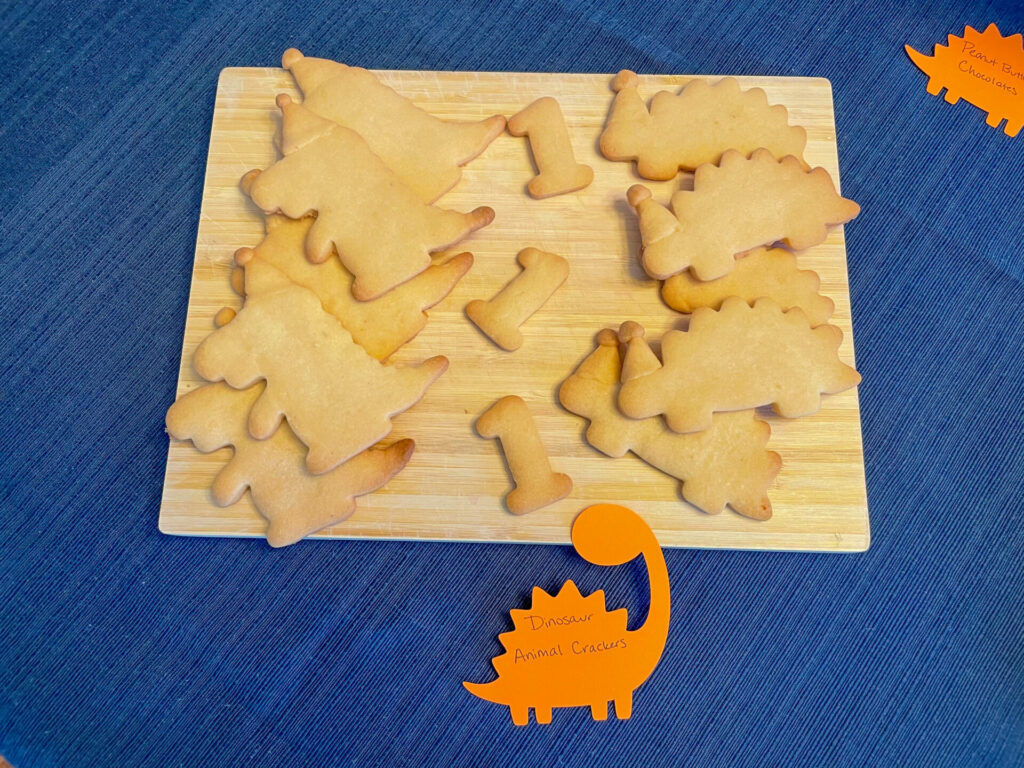 Watering Hole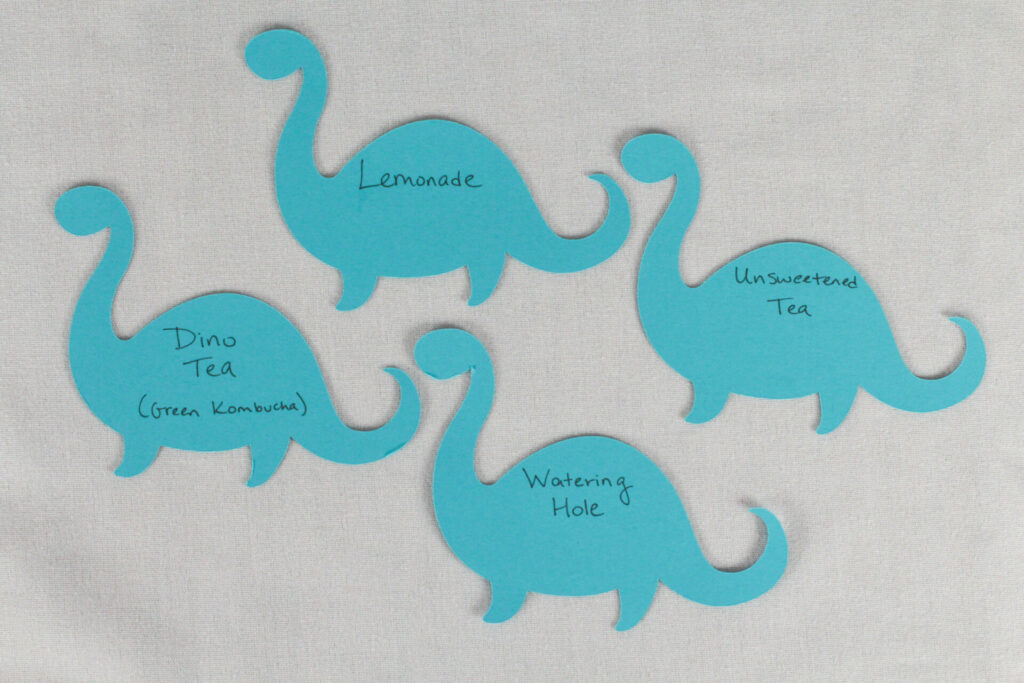 For the watering hole drinks, I served water, unsweetened tea, a homemade lemonade, and green GT's kombucha as "Dino tea" (you could also call it pond scum).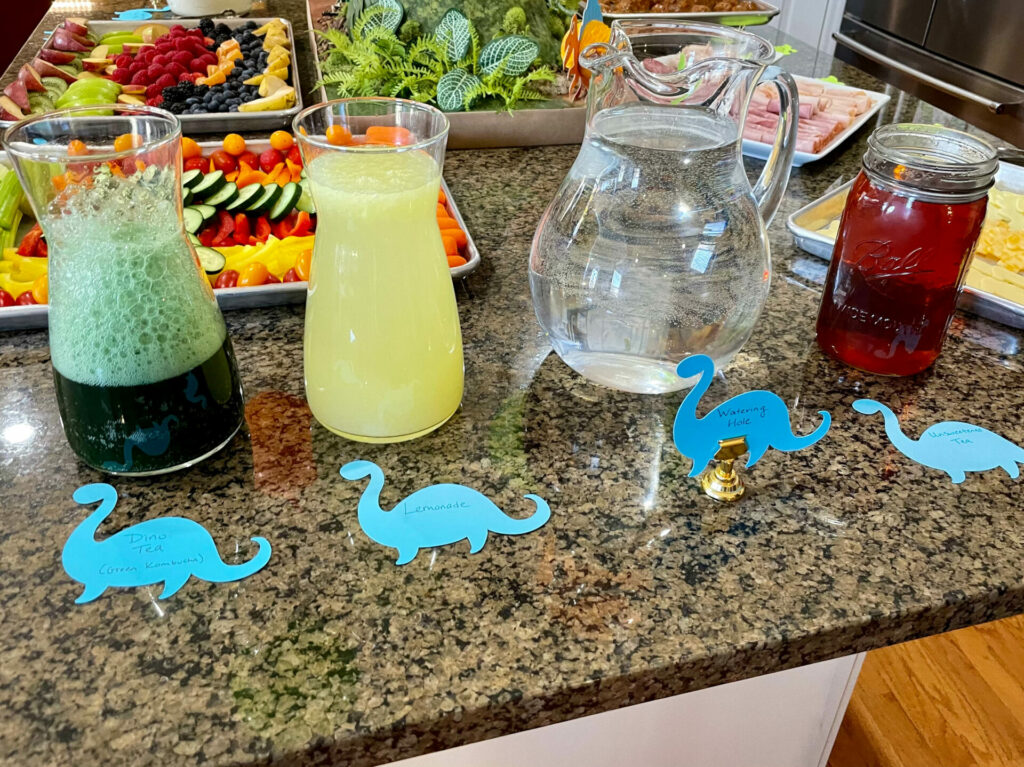 And that is all of the RAWR-some party food that we had!
Did you know there were so many dinosaur themed foods that you could make?!
I had a lot of fun planning and making the food for this party!!
So the decorations are up and the food is made – time to get on your party outfit!
Dinosaur Birthday Party Themed Outfits
So if you want to dress for your dinosaur birthday party, there are plenty of fun options available!
"Oneasaurus" Shirt
If you are throwing a "oneasaurus" themed party, check out this adorable "Oneasaurus" shirt for your big one year old!

Momasaurus and Daddysaurus Shirts
And if you want to match your cutie pie, check out these shirts for moms and dads!
Sibling Shirts
And of course, if your kiddo has other siblings, don't leave them out of the party shirt fun!
They also sell shirts perfect for sisters and brothers!
Organic Dinosaur Kids Clothes Options
As you might know from my post on non-toxic kids clothes, we love organic kids clothes!
If that is YOU, then you might be interested in the organic clothes we used for our dinosaur birthday party!
We got an organic dinosaur onesie from Gap that is unfortunately no longer sold.
But you can get this very cute set of dinosaur onesies from Touched by Nature.
For the birthday boy, we had these cute Touched by Nature dinosaur pants.
And we also had this adorable Touched by Nature dinosaur dress for big sis to wear at the party!
Besides Touched by Nature and Gap, you can also check out Monica and Andy, they sometimes have dinosaur print clothes.
Jurassic Park Clothes
Another easy way to find dinosaur clothes is to look for Jurassic Park themed clothes.
There are tons of Jurassic Park options from stores like Amazon and Target!
There's no doubt about it, dinosaurs are IN right now, so check out your favorite stores for dinosaur printed clothes!
Dinosaur Birthday Party Gifts
And if you are looking for dinosaur gifts for your child or if you are attending a dinosaur birthday party and need gift ideas, check out these options!
Dinosaur Stuffed Animals
For some adorable dinosaur stuffed animals, check out the selection at IKEA!
They have several different styles that are all cute and soft!
Or for a fun experience to do together with the birthday kiddo, take them to make their own dinosaur at a Build-a-Bear store!
And of course there are plenty of plush dinosaurs to choose from Amazon, my favorite is this organic cotton plush dinosaur!
Dinosaur Books
For our son's birthday, he also received some VERY cute dinosaur books!
These are just a few of our favorites – there are literally hundreds of dinosaur books depending on the age and interest of your child.
I like these books because they are fun and silly and don't send the message that dinosaurs lived millions of years ago (since we don't believe that).
Never Touch a Dinosaur – the silicone touch-and-feel book is PERFECT for little ones!
Dinosaur Dance – we absolutely love ALL the Sandra Boynton books!
Little Dinos Don't Bite – this series of books does a great job at teaching little kids social norms and how to play nicely with one another! You can also check out Little Dinos Don't Hit, Little Dinos Don't Yell, Little Dinos Don't Bully, and Little Dinos Don't Push!
For other great dinosaur book birthday gifts, you can also find dinosaur activity books, dinosaur coloring books, dinosaur I Spy books, and more!
Dinosaur Clothes
While I covered some of the dinosaur clothes up above in what to wear for your dinosaur birthday party, you can also GIVE dinosaur themed clothes as a gift!
Amazon, Target, Kohls, etc. all have dinosaur themed clothes for sale!
Our favorite brands can all be found in my post on Non-Toxic Kids Clothing!
This set of organic cotton pajamas from Burt's Bees is just one example of the cute organic clothes you can find that are dinosaur themed!
Dinosaur Toys
And of course, there are LOADS of dinosaur toys that you can give as a gift!
Dinosaur Duplo and Lego Sets
Looking for a dinosaur toy that also builds fine motor skills, following directions, and increases attention span?
Then try giving a Duplo or Lego set!
This dinosaur Duplo set would work well for ages 2-5.
Or for older kiddos, buy a Lego set.
Check out this Lego Creator 3-in-1 dinosaur set!
Dinosaur Figurines
As you might know from my post on non-toxic baby toys, we love toys that are made from high quality materials from great brands like PlanToys!
Unlike most dinosaur figurines that are made from toxic plastics, you can feel safe and comfortable giving a little one these dinosaurs from PlanToys!
They are made from rubberwood and non-toxic paints/dyes!
Dinosaur Pop It
I don't know if your kids have gotten in to pop it toys, but our kids love them!
Even our little one enjoys pushing the bubbles!
I also like that they are made from silicone, making them a safe teething toy as well!
Check out this dinosaur themed pop it for a fun sensory dinosaur gift!
Dinosaur Sheets and Comforters
To deck out a kids room in dinosaurs, think about purchasing dinosaur sheets or even a comforter!
I love that Pottery Barn Kids sells organic sheets and they have some really cute dinosaur sets!
While you are there, check out their dinosaur backpacks, dinosaur wall art, and even personalized dinosaur pillow covers!
So many great dinosaur options at one store!
And no, I don't make money from Pottery Barn Kids, I just really like their brand!!
Dinosaur Room Sign
And if you know a kiddo that already has a dinosaur themed room and has all the dinosaur toys you could ever think of, perhaps this "Dinosaur Area" warning sign for their door would make for a humorous gift!
The Ultimate Dinosaur Birthday Party
AND THAT'S A WRAP!
If you have made it this far, thanks for hanging with me until the end!
I hope you have found some great ideas for your ultimate dinosaur themed birthday party!!
Do you have any other dinosaur decorations that you bought or made for your dinosaur birthday party that you loved?
Did I miss any fun dinosaur themed food?
If so, let me know in the comments below!
Have a RAWR-some day!