This post may contain Amazon or other affiliate links. As an Amazon Associate I earn from qualifying purchases.
Are you looking for the best non-toxic baby toys as gifts for a baby shower, holiday, or for your own baby?
Let me share with you my best finds to keep your baby safe!
But first of all, why should you purchase non-toxic baby toys?
Most baby toys may look cute and educational, but they can be harmful to your baby's health!
What could these cute, adorable toys contain that could harm your baby?
BPA, PVC, lead, formaldehyde, flame retardants, pesticides – the list goes on of harmful toxins that can be found in baby (and kids) products.
From endocrine disrupters to neurotoxins to carcinogens, these toxins can wreck havoc on your baby's health!
A lot of time we purchase the latest gadget or toy because it's cute or our kid is screaming for it as we are shopping around and we give in and buy it.
We don't think about the impact it will have on our child, our home, or the environment.
By choosing toys wisely, they can be fun to play with and won't harm your baby or the world!
So I have tried to compile a list of the very best non-toxic baby toy brands that way you can feel great about the products your baby is interacting with!
And many of these are brands that we personally trust and use in our home!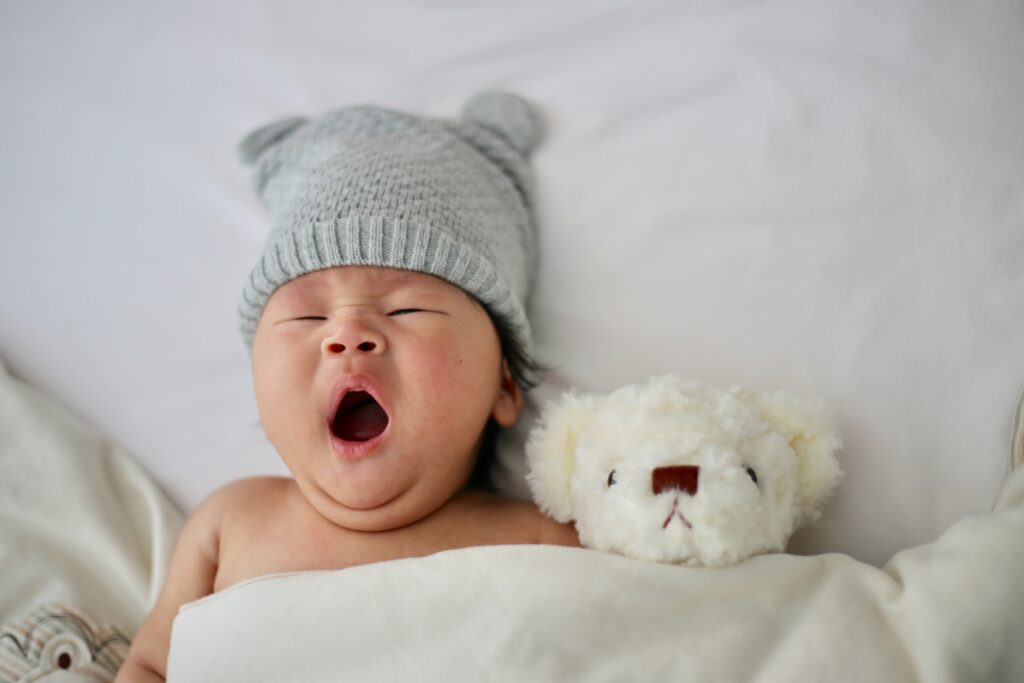 Non-Toxic Baby Toy Materials
When you are looking for non-toxic baby toys, you want to look for the following materials:
sustainably sourced wooden toys with no paint or water-based, lead-free paints
100% natural rubber
100% organic fabric, such as cotton or wool
food-grade silicone toys made by a reputable company (you don't want fillers!)
And it's so important to make sure you aren't getting counterfeit toys!!
To make sure you are getting what you think you are paying for, make sure to purchase toys from reputable brands!
Non-Toxic Baby Toy Brands
Below are the brands that you can trust for non-toxic baby toys.
Keep in mind that I have these listed in alphabetical order, this isn't a ranking of the "best" toy companies.
Here is the list of companies that make great, safe, non-toxic baby toys that you can feel safe with your child putting in their mouth!
Apple Park
Bears for Humanity
Chewbeads
Grimm's
HABA
Petit Collage
PlanToys
Tender Leaf
Under the Nile
This is not an exhaustive list by any means, just a list of my favorite toy brands for babies!
There are many other companies that sell non-toxic toys that would be suitable for toddlers and older children.
So what are some of the toys that these companies make that a baby might love?
Here's a review of where each company manufacturers their toys, what makes their toys great, what their manufacturing practices are, and a sample of some of the toys they sell!
Apple Park
Apple Park makes their products in China.
All Farm Buddies are made using 100% certified organic cotton and are filled with sustainable, non-GMO corn fiber filling.
Their products are colored using GOTS standard low impact eco-friendly dyes.
My daughter sleeps with her Penny Pig organic farm buddy every night!
It is so nice to have an organically made toy for your child to snuggle with all night long!
They even have organic baby dolls!
Their line of products are very cute, soft, and non-toxic for your baby!
Bears for Humanity
Bears for Humanity makes their stuffed animals in California.
They offer another great option for GOTS certified, organic stuffed animals.
Their animals are hand stuffed and fair-trade certified.
If that wasn't great enough, with every purchase, they donate a bear to a child in need.
And don't be deceived by their name – they make more than just bears!
They also offer animals from monkeys to penguins to orca whales!
Chewbeads
Chewbeads makes their products in China.
Their products are 100% medical grade silicone teething accessories and toys.
Chewbeads are safe for baby to gum on and easy to clean!
Toys include car seat and stroller toys as well as teething rings.
And they also have gifts for mom!
Buy a ChewBead necklace as a great gift for nursing moms!
Grimm's
Grimm's makes their toys in Germany.
Their wooden toys are FSC certified and made from sustainably sourced alder, lime, beech and maple wood.
All of their colors are non-toxic, water based stains (rather than paints) and they do not use any coatings on their products.
Their colors do not contain any food products such as corn or wheat, which means that your child is not at risk for an allergic food reaction.
Grimm's toys are made with your child's and the environment's safety in mind!
While their toys are expensive, you can have piece of mind if your child is putting these toys in their mouth!
Check out these great baby toys that they make!
HABA
HABA makes their toys in Germany.
All of the wood used to make HABA toys is sourced from sustainably managed forests in Germany, Finland, and Russia.
The stains used on their toys are either solvent-free paints or water-based stains.
HABA also sell fabric and plastic toys.
However, their fabrics do include things like polyester and felt, so if you want to avoid plastic materials, avoid their fabric toys.
And their plastic toys are BPA-free, but again, if you want to avoid plastics, just don't purchase those toys!
Instead, check out some of their vibrant colored wooden toys!
| | | |
| --- | --- | --- |
| | | |
Hevea
Hevea makes their toys in Malaysia.
True to the name Hevea, their line of products are made from the rubber tree, Hevea Brasiliensis.
Their products are made from the natural rubber sap and the wood of the trees.
This company is very environmentally conscious and even has an upcycling program for used Hevea pacifiers.
While they are most well known for their pacifiers, they also offer baby safe bath and beach toys!
Petit Collage
Petit Collage makes their toys in China.
Their toys are made with GOTS certified organic cotton and filled with certified recycled polyester made from recycled water bottles.
Their colors are made from water-based paints, non-toxic dyes, or vegetable inks.
Any wood used in their toys is FSC certified.
PlanToys
PlanToys makes their toys in Thailand.
All PlanToys products are made from natural, reclaimed rubber wood that is no longer producing latex.
PlanToys uses certified non-formaldehyde glue and colors their toys with only organic color pigment and water based dyes.
Check out their loveable toys!
Tender Leaf Toys
All Tender Leaf Toys are made in Indonesia.
Similar to PlanToys, Tender Leaf Toys are made from reclaimed rubberwood from the latex industry.
Their toys are hand painted with non-toxic water-based paints.
Under the Nile
Under the Nile makes their toys in Egypt.
They are made from 100% certified organic Egyptian cotton.
But Under the Nile goes beyond organic.
They focus on biodynamic farming to help make the purest, cleanest cotton in the world.
The colors for their dyes are made to GOTS standard and do not contain any harmful chemicals or metals.
No chemical finishes are put on the fabric nor do they use bleach at any point in their processing.
What an amazing company, right?
The good news is they sell not only toys, but also clothes and home goods!
Check out these 100% organic Egyptian cotton toys for your baby and see below for their baby clothes!
And that completes my list of the best of the best non-toxic baby toy brands!
Are there any non-toxic baby toy brands that your family loves that I haven't included? Let me know in the comments below!
Looking for more posts about non-toxic living for your family?
Check out how to choose non-toxic kids clothes (many of which sell baby clothing)!
Or if you want non-toxic clothing for the whole family, check out my Pact clothing review!