This post may contain Amazon or other affiliate links. As an Amazon Associate I earn from qualifying purchases.
Have you wondered why kids leave their faith in Jesus even after being raised in Christian homes?
Why has America seen such a decline in those that profess to be Christians and attend church faithfully?
There are lots of reasons why people walk away from their faith and lots of reasons why people never believe in Jesus, but I want to focus on a specific group in this post.
I want us to critically think about why kids leave their faith, even though they are raised in Christian homes.
In this article from Got Questions, it references a couple of studies that found that almost 75% of Christian adolescents will leave the church after high school!
That's a scary statistic!!
I DON'T want this to happen to my kids.
And if I don't want my kids to leave their faith, then I need to think about what some of the underlying issues are in the "church leaving epidemic".
I then want to work to combat these things in my own children's lives.
So I'm writing about and researching this topic not just for you, but also for me.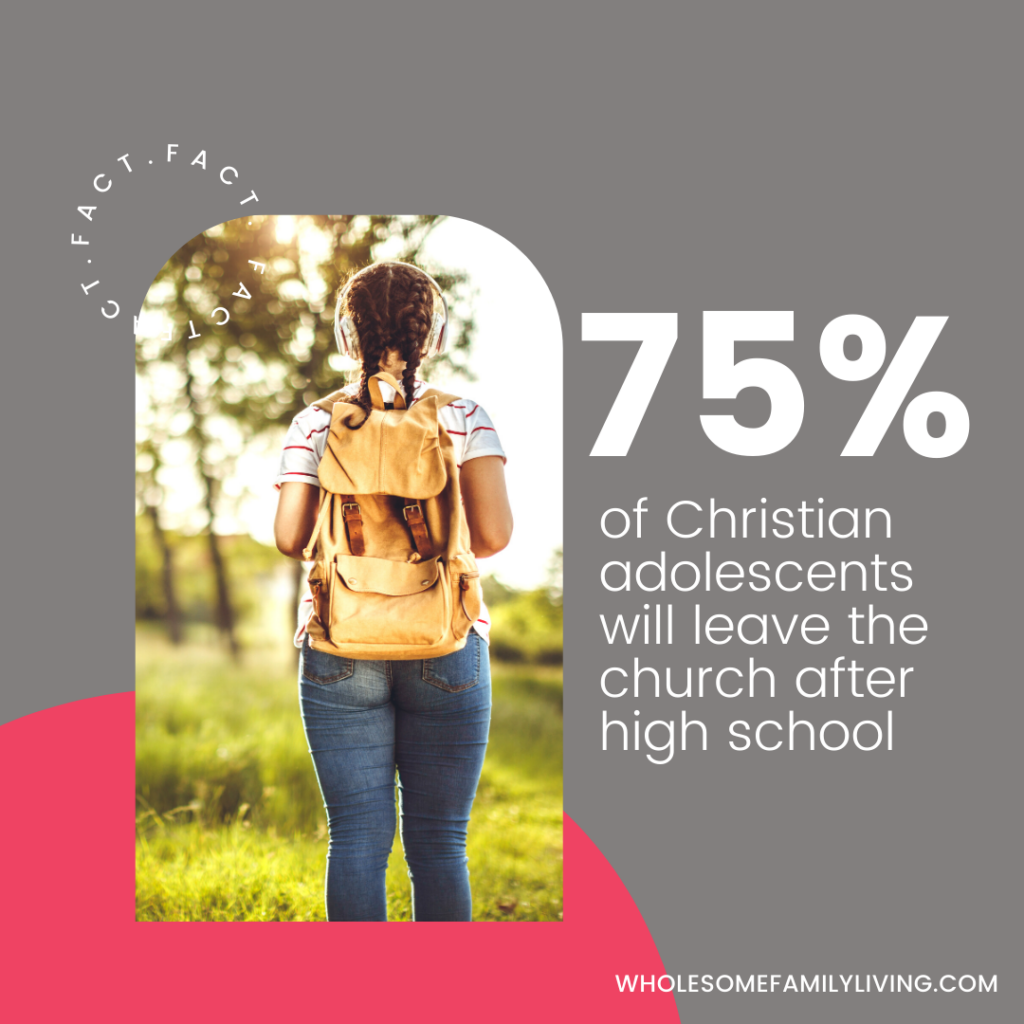 The Proverbs 22:6 Conundrum
And before I go any further, I want to clarify something: there is actually nothing that you or I can do to absolutely guarantee the salvation of our children.
The Bible DOES NOT PROMISE salvation for our kids if parents do X, Y, or Z.
Some of you might be thinking – wait a minute!
Isn't there a verse in Proverbs where the Bible says kids won't leave their faith if I do my part right?
Let's take a look at the verse most people reference when they make this statement.
Proverbs 22:6 (ESV)
Train up a child in the way he should go;
    even when he is old he will not depart from it.
A lot of people read Proverbs 22:6 and think "Okay, if I train up my child in the Christian faith, then the Bible promises that even when they are old they will not depart from it."
The problem in that thought is the word "promise".
This verse is not a promise!!
This verse is actually found in a book of poetry!
Remember, context is EVERYTHING when we interpret scripture.
So again, the Bible DOES NOT promise there is anything we can do to guarantee our kids will never leave their faith.
BUT I would argue that there ARE things I can do to help my children see and experience the REAL Jesus!
And I say real Jesus intentionally because I believe that there are MANY today that are preaching a false Jesus.
Satan is leading so many away by getting them to follow false teachers.
So even your kids church attendance as an adult doesn't mean they have a real, authentic relationship with Jesus.
This is why we need to teach our kids that our faith is FAR more than just church attendance.
So what CAN we do to help our kids build an authentic relationship with the REAL Jesus???
This is what I want to discuss!
So come with me on this journey to explore why "Christian" kids leave their faith, so that we can try to raise kids that follow Jesus all of their lives.
1. We Don't Spend Enough Time Talking About Jesus
Here's a good starting point for us – how often do we actually talk to our kids about Jesus?
Do they only hear about Jesus at church?
How much do our kids hear us, their parents, talk about Jesus on a daily basis?
Do we make it seem like He is an essential part of life?
If not, we are doing it wrong!
The Bible speaks clearly that we need Jesus conversations to infiltrate our daily lives.
And I mean more than just remembering to pray before dinner!
Check out how often the Bible says we should talk about God:
‭‭Deuteronomy‬ ‭6:6-9‬
"These commandments that I give you today are to be on your hearts. Impress them on your children. Talk about them when you sit at home and when you walk along the road, when you lie down and when you get up. Tie them as symbols on your hands and bind them on your foreheads. Write them on the doorframes of your houses and on your gates."
‭‭Deuteronomy‬ ‭11:16-21
"Be careful, or you will be enticed to turn away and worship other gods and bow down to them. Then the Lord's anger will burn against you, and he will shut up the heavens so that it will not rain and the ground will yield no produce, and you will soon perish from the good land the Lord is giving you. Fix these words of mine in your hearts and minds; tie them as symbols on your hands and bind them on your foreheads. Teach them to your children, talking about them when you sit at home and when you walk along the road, when you lie down and when you get up. Write them on the doorframes of your houses and on your gates, so that your days and the days of your children may be many in the land the Lord swore to give your ancestors, as many as the days that the heavens are above the earth."
So let's see, the passage said to talk about God (which includes Jesus) when I'm walking and sitting and lying down and getting up.
I don't know about you but that pretty much sums up all my waking hours!
The Bible clearly says that we should be talking about Jesus ALL THE TIME!
Jesus conversations should be a main part of the daily conversations we have with our kids!
How do we include Jesus in our conversations more?
When they ask about the weather, we could reference how the Bible says Jesus even controlled the storm.
If we are teaching them about sharing and being kind with a sibling or friend, we could reference Jesus' parable about the good Samaritan.
When we talk about what our kids are learning at school, we should be relating it back to what the Bible says!
If our kids tell us about something they are scared or afraid of, we should stop and pray about it to Jesus.
When we hear of a neighbor who is struggling, we should talk about how Jesus modeled helping those in need and then have our kids help us do something for that person.
If we don't want our kids to leave their faith, then Jesus needs to infiltrate every conversation!
It will take practice to weave Jesus into our every day conversations with our kids, but we need our kids to know that Jesus and the Bible are essential to every part of life and should be part of all of our conversations!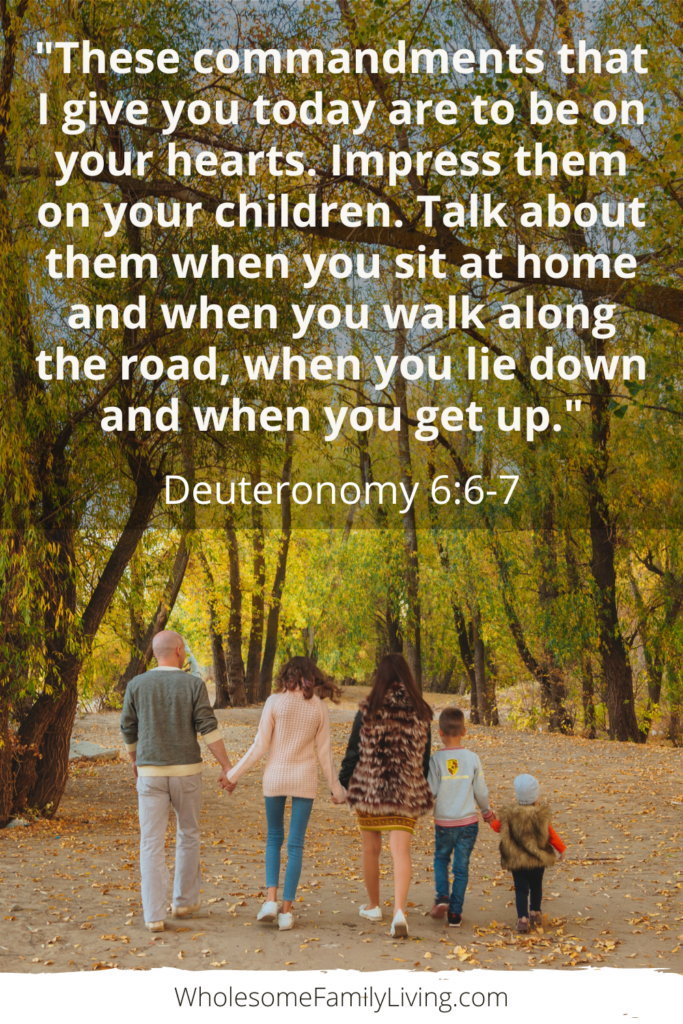 2. Being A Christian Doesn't Seem Exciting
Let's face it – kids want the newest exciting thing there is: exciting toys, newest electronics, newest movies, the latest trending apps, etc.
If we aren't making our faith exciting, why would we expect our kids to want THAT?
If our faith seems boring, old school, routine, or non-essential, why would we expect ANYONE to want to follow Jesus??
Now I'm not saying we need to make Jesus into video games and toys to make Him exciting.
But have you ever seen how excited kids are for Jesus after going to VBS, a Christian summer camp, or retreat?
That's because these activities make it exciting to learn about and follow Jesus!
Honestly, I fail in this area, but I would LOVE for Jesus to be the focus of my day with the kind of intentionality that summer camps and retreats have.
Of course, it will never be to the same extent because let's face it, dishes and laundry still need done.
But Jesus can still be a part of the small moments of our day, starting with talking more about Jesus like I just mentioned above!
And more than just talking about Jesus, I need to be living out an exciting faith for Jesus.
If our own faith isn't alive, active, growing, and an essential part of our daily life, then I'm not surprised that our kids wouldn't want that.
The Statistical Importance of Your Faith in Jesus
Remember that article from Got Questions that I referenced in the very beginning?
In that article, one of the other very interesting stats mentioned is that when both parents were faithful and ACTIVE in the church, 93% of their kids did not leave their faith after high school.
Even if your spouse isn't a Christian or isn't active in their faith, there is still a GREAT outlook for your kids, with the article citing that 73% of those kids with one active parent did not leave their faith after high school.
This is contrasted with the outcome for kids that grow up in homes where neither parent is faithful or active in the church, just 6% of those kids did not leave their faith after high school.
Do you see the importance of your own faith for your kids?!
And maybe this is an area you struggle in – maybe your faith does feel boring to you, or maybe you are in a valley in your faith journey.
The Bible clearly says that if we will persevere through our mundane, tired, weary moments that we will see dividends from our faithfulness to not give up.
Check out these verses:
Galatians 6:9
9 Let us not become weary in doing good, for at the proper time we will reap a harvest if we do not give up.
Isaiah 41:10
10 So do not fear, for I am with you;
    do not be dismayed, for I am your God.
I will strengthen you and help you;
    I will uphold you with my righteous right hand.
Joshua 1:9
9 Have I not commanded you? Be strong and courageous. Do not be afraid; do not be discouraged, for the Lord your God will be with you wherever you go."
Whatever you do, DO NOT GIVE UP!
If you are not energized in your faith, you need to be refreshed and ignited in your own faith, so that your energy and vigor for Jesus is contagious!
If this is you, I want to encourage you to take time to go to a men's or women's retreat to spend time with the Lord and be reignited in your faith.
Or join a community group through your church with others that can encourage and build you up in your faith journey!
Or maybe it's hiring a babysitter and just getting an afternoon or evening away to have quiet time with God.
Whatever it looks like for you to regain your passion for Jesus, it is essential that you make it happen.
We can not give excitement for Jesus to our kids if we are running on empty in our own tank.
The Bible says that He WILL refresh our souls!
Psalm 23:2-3
2     He makes me lie down in green pastures,
he leads me beside quiet waters,
3     he refreshes my soul.
He guides me along the right paths
    for his name's sake.
So what does it look like to make small everyday moments into exciting Jesus moments for our kids?
Maybe it's impromptu dance parties with our kids in the family room when our favorite worship songs come on the radio.
Maybe it's pretending and reenacting Bible stories.
Or if acting isn't your forte, draw pictures or use sidewalk chalk to draw Bible stories.
Maybe it's watching out the window during lunch and marveling at Gods creation.
Or maybe it's marveling at how God uniquely created each of us when you are out shopping.
If you enjoy the zoo, talk about the creativity God has as you look at all the different animals.
Ask your child why you think God made giraffes so tall or why hippos are so big or why ants are so busy.
Consider taking a trip or vacation that has a God focus, such as camping to see God's creation or going to the Ark Encounter, the Creation Museum, or the Museum of the Bible.
Make up fun songs to memorize Bible verses.
The list goes on, but find ways to make learning and knowing God exciting to your child!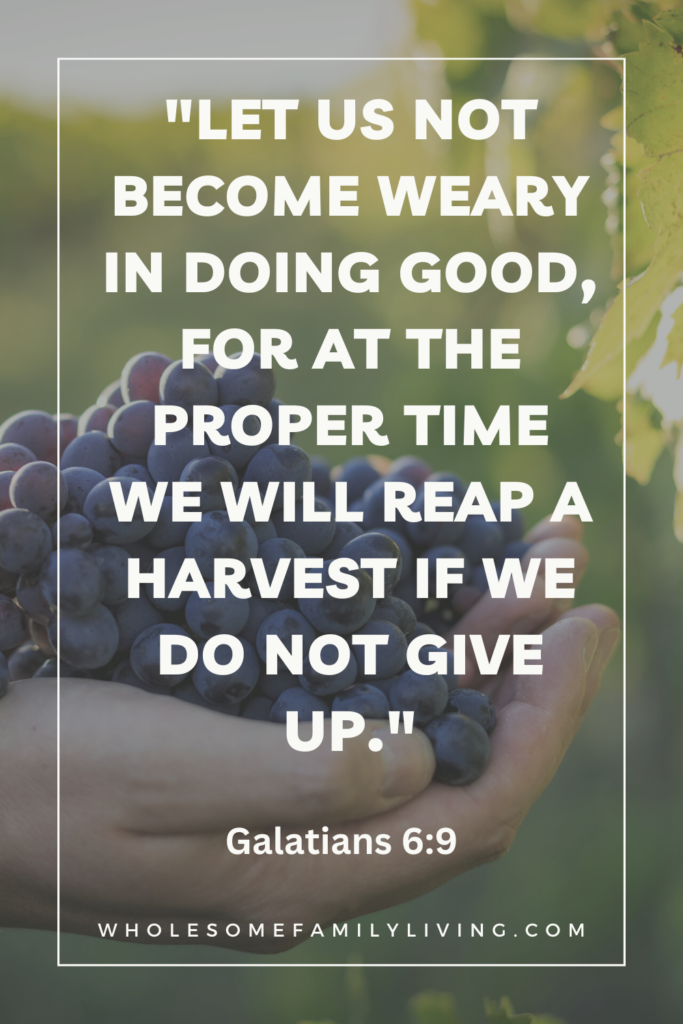 3. We Don't Let Kids Ask Hard Questions About God
Have your kids ever asked you a question about God that you didn't know the answer to?
How did you respond?
Did you dig into your Bible with them to find the answer?
Or did you get flustered and dismiss them?
Perhaps you told them you didn't know, but didn't do any follow up?
Our kids need to have a space to ask hard questions about God.
I again want to reference the Got Questions article.
In that article, one of the key reasons listed for why kids leave their faith was because of intellectual skepticism.
And as referenced in this article from Answers in Genesis, Pew research essentially found the same thing:
Well, our research revealed that, as early as even elementary and middle school, young people have doubts and questions about the Bible that are going unanswered. Research shows that many of these questions are related to Genesis and scientific issues such as evolution, long ages (millions of years), dinosaurs, and Noah's Ark. These young people are not getting solid answers from church leaders and parents but, sadly, are often told they can believe in the big bang, millions of years, and evolution; they're then admonished to reinterpret or ignore Genesis while being told to "trust in Jesus!" These young people recognize the inconsistency of reinterpreting the first book of the Bible and yet being expected to trust the other books that talk about Christ. If we can doubt and reinterpret Genesis, where do we stop doubting and reinterpreting?
Our kids need a safe space (especially outside of school) to be able to ask a trustworthy adult their hard questions!
Jesus even encourages believers to ask hard questions and seek God for the answers!
Matthew 7:7-8
7 "Ask and it will be given to you; seek and you will find; knock and the door will be opened to you. 8 For everyone who asks receives; the one who seeks finds; and to the one who knocks, the door will be opened.
It's okay to not have all the answers, but we need to help look for answers when our kids are truly seeking to understand something about God or their faith in Him.
The depth to which we dive for an answer will of course depend on the age of the child.
I'm not going to spend hours looking for an answer to a question my 4 year old asked me.
If I don't know the answer, I simply respond with "hmm I don't know, but if you want we can try to find the answer".
Depending on her answer we may spend time looking for an answer or we might just go back to playing.
On the other hand, if you have a teenager wrestling with serious questions such as if Jesus really was the son of God, why bad things happen to good people, or if the Bible really is THE truth, we have GOT to help them answer these questions.
Especially if your child is in public school where they are being taught about evolution, that they can choose whatever gender they want to be, or that having sex before marriage is no big deal.
We need to be VERY intentional to not only address any questions they have, but also be proactive in teaching Biblical truth about these concepts.
But whatever the question is, we should not shy away from hard questions!
We should trust that the Bible truly does have the answers to even our hardest questions!
And if you don't know where to even start to look up an answer, start with praying to ask God for wisdom like James tells us to do.
James 1:5
5 If any of you lacks wisdom, you should ask God, who gives generously to all without finding fault, and it will be given to you.
I'm personally not a seminary scholar, so I might need more than just a concordance to look for the answers my teenager needs.
You might even have to look for commentaries or books on the topic, but a good first step is to pray and ask God to reveal His truth to you through His word and start by opening your Bible.
So let's not run from hard questions, but praise our kids for asking them and then help them find the answers they are looking for.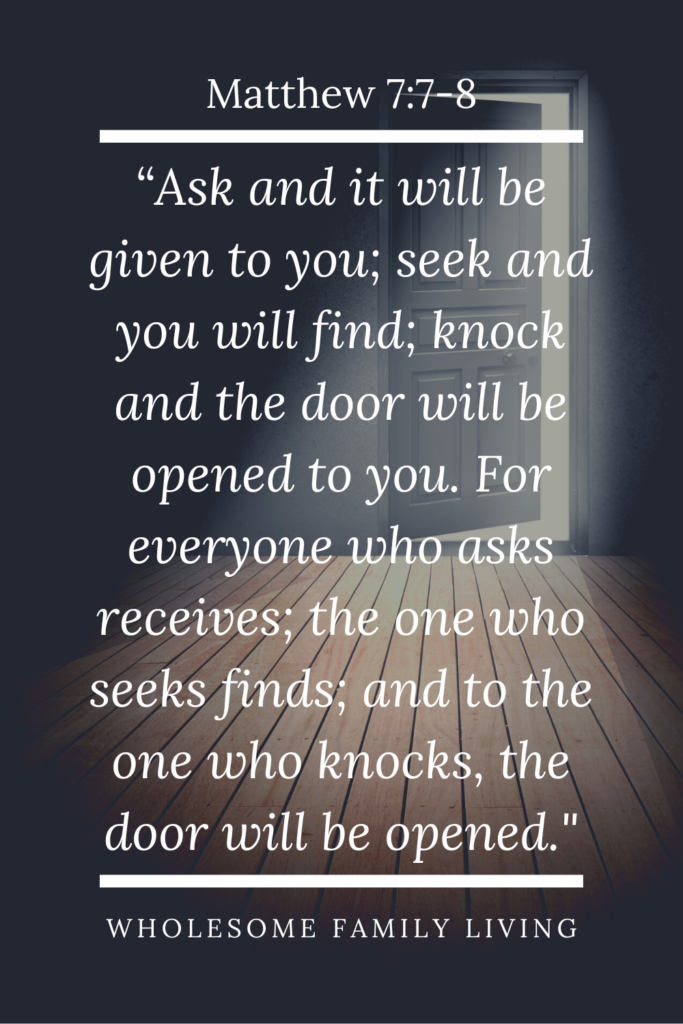 4. The Bible is No Longer Our Source for Wisdom on How to Live
And speaking of asking hard questions, how about when your kids ask you questions about how to live life in general?
Do you point them back to the Bible or do you Google the answer?
Now I'm not saying the Bible has trivia question answers or the answer to every question your child has.
But if your son or daughter is asking you how to handle a situation with a friend, how to handle peer pressure, how to handle being scared of something, what to do about a teacher that seems unfair, or whatever the life question might be, we should first turn to the Bible for God's truth.
They need to know that the Bible is a reliable place to find information for all questions they have about God and living a Godly life.
If we are never seeking answers to life in the Bible, why would our kids have a desire to read it and learn what it says?
If our kids aren't seeing us open our bibles or reading verses to them to help answer a question, then they aren't going to see the need for it.
Even if your kids are young you can do this too!
Let's walk through some examples and the verse you could use to teach with.
When your child isn't sharing or playing nicely, remind him or her that God tells us in the Bible to do to others as you would have them do to you.
Matthew 7:12
12 So in everything, do to others what you would have them do to you, for this sums up the Law and the Prophets.
When your child is scared of the dark, remind them that the Bible says we have nothing to be afraid of!
Psalm 56:3
3 When I am afraid, I put my trust in you.
Hebrews 13:6
6 So we say with confidence,

"The Lord is my helper; I will not be afraid.
    What can mere mortals do to me?"
When your child isn't listening to you, remind them that God tells children to listen to their parents.
Proverbs 1:8-9
8 Listen, my son, to your father's instruction
    and do not forsake your mother's teaching.
9 They are a garland to grace your head
    and a chain to adorn your neck.
When your child is faced with peer pressure, remind them that they aren't supposed to follow the ways of the world.
Romans 12:2
2 Do not conform to the pattern of this world, but be transformed by the renewing of your mind. Then you will be able to test and approve what God's will is—his good, pleasing and perfect will.
Proverbs 1:10
10 My son, if sinful men entice you,
    do not give in to them.
Or perhaps your child is hanging out with friends that you think are a bad influence.
Remind them that they need to choose their friends carefully!
1 Corinthians 15:33
33 Do not be misled: "Bad company corrupts good character."
Psalm 1:1-3
1 Blessed is the one
    who does not walk in step with the wicked
or stand in the way that sinners take
    or sit in the company of mockers,
2 but whose delight is in the law of the Lord,
    and who meditates on his law day and night.
3 That person is like a tree planted by streams of water,
    which yields its fruit in season
and whose leaf does not wither—
    whatever they do prospers.
Is your child thinking about dating or thinking of getting married?
Remind them of some of the important qualities the Bible says to look for!
2 Corinthians 6:14
14 Do not be yoked together with unbelievers. For what do righteousness and wickedness have in common? Or what fellowship can light have with darkness?
And check out my posts on being a biblical husband and being a biblical wife for even more verses!
I know that these are just a few of the COUNTLESS situations and questions that come up as parents.
But whenever possible, show your children practically how the Bible guides and directs our actions and words.
Show your kids that the Bible contains all the information they need to live a Godly life and should be the first place we turn to instead of Google.
The world is twisting truth and making it confusing for kids to know what truth really is, so we need to make sure they know the one source of truth we do have – the Bible!
2 Timothy 3:16-17
16 All Scripture is God-breathed and is useful for teaching, rebuking, correcting and training in righteousness, 17 so that the servant of God may be thoroughly equipped for every good work.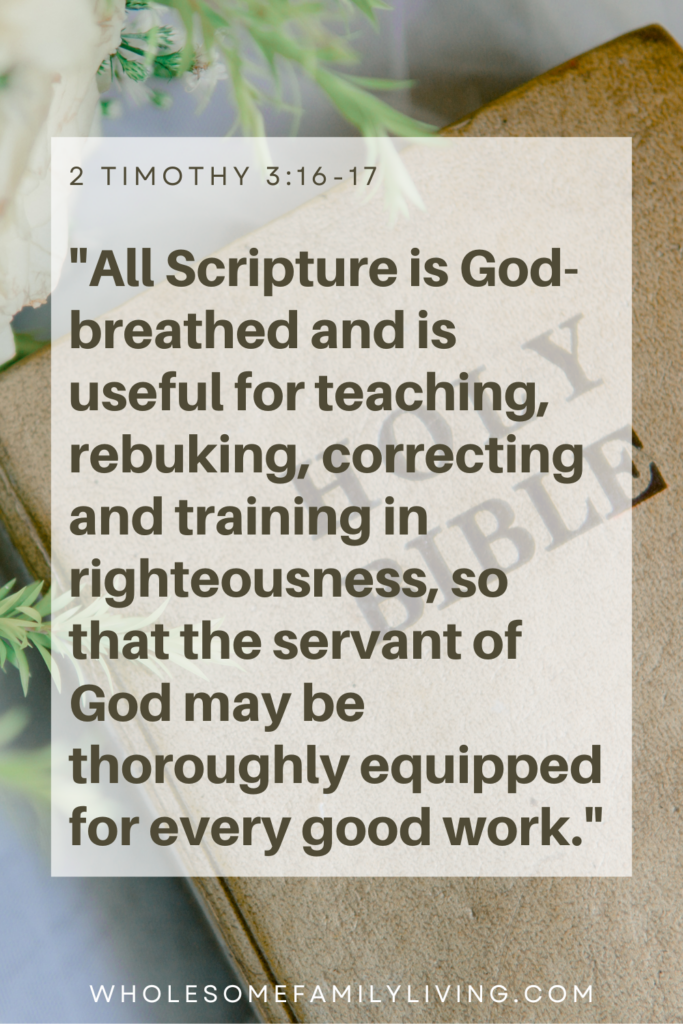 5. We Water Jesus Down to be More like a Fictional Character
Too often, Jesus gets thrown into the same category as Santa Claus, the Tooth Fairy, and the Easter Bunny – another holiday figure.
If Jesus is only being brought up in your home at Easter and Christmas, that's a problem.
And side note – if you only attend church at Easter and Christmas, I would ask you to seriously consider if Jesus really has the place in your life that He should have if you are a Christian.
But I think that there is a real danger to having all these fictional characters that we pretend are real.
How will your child know that God is real and Santa isn't, if we play for years on end that Santa is real, only to find out in the end that it was all make believe?
Do you not think this plants a small seed of doubt in their mind that perhaps the same thing is true about God?
What if mom and dad have been pretending all this time that Jesus is real?
Will I find out one day that He isn't real?
And then fast forward and your child faces really difficult circumstances or unanswered prayers – will that seed of doubt start to grow?
Why would we not want to make it crystal clear to our kids that God and Jesus are absolutely real and that Santa and the Easter bunny are just pretend?
If you aren't sure what your kids believe or if you have pretended Santa and the Easter bunny are real and don't know what your child believes now, try this test.
Ask your child if the following are real or not:
Real or Pretend?
Santa
Jesus
Easter bunny
Angels
Unicorns
Fairies
Heaven
Mickey Mouse
Satan
Ghosts
Demons
Witches
Hell
And if you are unsure yourself if any of these are real or fake, then hopefully you can see how tricky this is for a kid when so much of their world is make believe and pretend.
We need to make it so very clear to our kids that God, heaven, angels, Satan, hell, and demons are very, very real.
Don't let fantasies and make believe be part of what causes your kids to leave their faith.
And I promise you, this does NOT ruin Christmas.
In fact, I think it makes it better by putting Christ back as the main focus of Christmas (and Easter for that matter).
And sure, in our house we still read books about Santa and the Easter bunny, but we make sure our kids know what's real and what isn't!!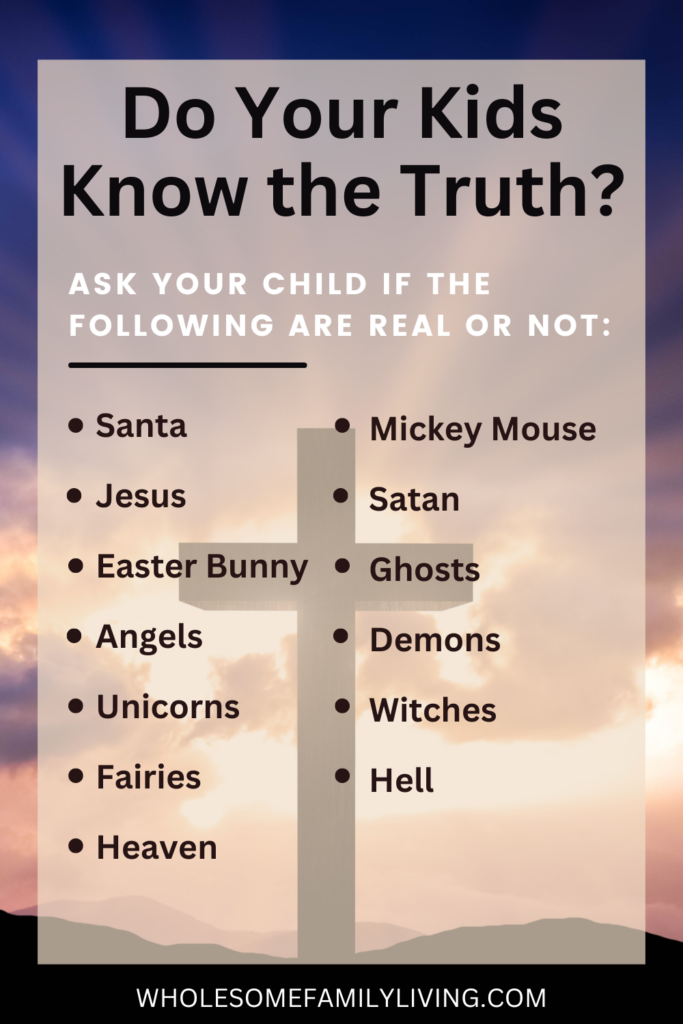 6. Teach that Faith Comes with a Cost, but also with Great Reward
Do you know anyone who has walked away from their faith because life became difficult?
I do.
Here's a message that will sell on Sunday morning: "follow Jesus and He will give you everything you want".
Or some might say without giving proper context: "the Bible says God will give you the desires of your heart".
But while this distorted truth might drive up church attendance and draw big crowds, it is not the truth!
Not even close!
How discouraging for a child, the thought that believing in Jesus was going to make their problems disappear or make life easy!?
No wonder people walk away from their faith if they believe that faith means an easy life.
No one is promised an easy life!
Instead, we need to teach our kids that following Jesus is going to be HARD.
They need to know that Satan is real and wants to do nothing more than destroy them.
1 Peter 5:8
8 Be alert and of sober mind. Your enemy the devil prowls around like a roaring lion looking for someone to devour.
Our kids need to know that following Jesus is not easy.
The decision to follow Jesus should not be made lightly.
They need to know to count the cost.
Our kids need to know that following Jesus might mean losing friendships, not getting to date someone they really want to, or walking away from a party.
They will need to dedicate time to be in community with other believers, spend time in the Word, be willing to serve, and know that following Jesus will most certainly require sacrifices.
We need to help our children understand the cost to following Jesus, instead of making Jesus seem more hip and cool.
Now this might seem discouraging, even to you right now – why would anyone want to follow Jesus if there's so much sacrifice?
You might be thinking "my kids are going to run from Jesus if I tell them this"!
And that's where the good news of Jesus comes in!
We may be promised trials, but we are also promised great reward for being faithful and following Jesus.
James 1:12
12 Blessed is the one who perseveres under trial because, having stood the test, that person will receive the crown of life that the Lord has promised to those who love him.
Our kids need to know that believing in Jesus also means empowering grace to help us through our everyday trials and redeeming grace which includes the promise of eternity in heaven!
They need to know that while Santa's workshop and Cinderella's castle are pretend places, heaven is not!!
Our kids need to know about judgement day.
Matthew 25:46
46 "Then they will go away to eternal punishment, but the righteous to eternal life."
They need to know what the Bible says about those who DON'T believe.
Our kids need to know that the choice is theirs to make, but eternal suffering is promised for all those who don't believe in Jesus.
Matthew 13:49-50
49 This is how it will be at the end of the age. The angels will come and separate the wicked from the righteous 50 and throw them into the blazing furnace, where there will be weeping and gnashing of teeth.
I know some parents that shy away from talking about hell because they think it's too scary, but that is doing your kids a total disservice.
Our kids need to know the Truth!
They are capable of understanding things way beyond what we think they are able to understand.
If we don't teach our kids the consequence of unbelief and the reward for faithfulness, why would they feel compelled to remain faithful to Jesus when trials come?
I hope you can see how powerful these truths are and it is so important to teach them to our kids, even at a fairly early age.
Let's prepare our kids for this Biblical truth: in this world they WILL experience trouble and hardship, but IT WILL BE WORTH IT!
John 16:33
33 "I have told you these things, so that in me you may have peace. In this world you will have trouble. But take heart! I have overcome the world."
Acts 14:22
22 strengthening the disciples and encouraging them to remain true to the faith. "We must go through many hardships to enter the kingdom of God," they said.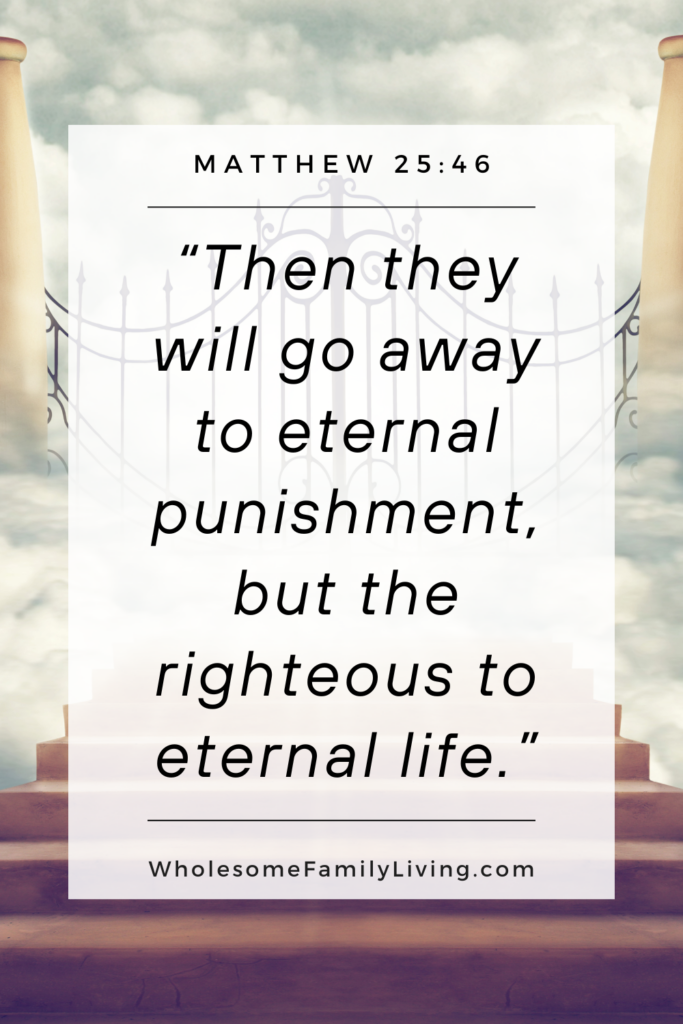 Our Journey of Why Kids Leave their Faith
To recap what I said in the very beginning, there is nothing that we can do as parents to make sure our kids go to heaven.
There's no prayer to teach them, no necklace they can wear, no certain church to attend, no certain school to attend, and no magic words we can say to guarantee our kids have a genuine, life saving faith in Jesus.
BUT, BUT, BUT!!!
I hope that this journey has left you feeling encouraged that there are things we CAN do to bolster our kids faith and help make them more resilient in their faith.
As parents, we are not off the hook in raising our children in the way they should go!
Statistics even showed us that our own faith impacts the outcome for our kids!
If you ever needed to be more motivated to focus on your own faith and walk with Jesus, I hope those stats alone motivate you to open up your Bible if you haven't in a while.
And if you need encouragement in your own faith, please check out some of my other posts such as God Loves You, Will You Choose God?, or The Life God Wants Us to Live!
I want to leave you with my prayer for my own kids.
Feel free to pray it for your kids too!
Dear Abba –

Thank you for the beautiful children that you have entrusted in my care.

Lord, please help me to lead them in the way everlasting.

Please deepen my own faith in You, and let me once again have the excitement I had for my faith when I first came to know Jesus as my Lord and Savior.

Help me make Jesus exciting to my kids.

Jesus, help me show them how essential You are to life – as essential as breathing air!

Help me to show them how I am walking and growing in my own faith.

Humble me enough to show my kids my failures so that they aren't confused when they make mistakes themselves.

Make my faith real to my kids.

God, I pray that my kids would come to know Jesus at an early age and that they would never stray far from following You.

Lord, please draw my children to You.

Thank you for covering for my failures.

I rest knowing that nothing can separate my kids from Your love as Romans 8 reminds me.

Thank you for coming and dying on the cross for me and my children.

I love you Lord.

In Jesus powerful name I pray, Amen!
And I will leave you with one last parting verse:
‭‭Psalms‬ ‭71:5-6‬ ‭
"For you have been my hope, Sovereign Lord, my confidence since my youth. From birth I have relied on you; you brought me forth from my mother's womb. I will ever praise you."