This post may contain Amazon or other affiliate links. As an Amazon Associate I earn from qualifying purchases.
Have you ever wondered "why God allows bad things to happen to good people?".
Does it seem like God is unfair or unjust?
Are you questioning Gods goodness in how things have played out in your life, your family, friends, co-worker, or neighbors life?
These are questions that a lot of us have at some point in our lives.
We are told that God is good and God is love, but what we see is pain, suffering, hardship, and loss.
Maybe this has even caused you to question if there really is a God.
I mean, surely if there is a God, then the world would be a better place…right?
These are really hard questions to grapple with until we dig into the Bible and understand God and His creation a little better.
Once we realize that we need to change our mindset about what "bad things" are and there are no "good people", it reveals why there really aren't "bad things" that happen to "good people".
So let's unpack a couple of fundamental issues with the question "why do bad things happen to good people" and let's be assured that there is a good God even when it may not seem like it.
There Are No "Good People"
I know this is a bold statement but did you know that none of us are good?
Myself included!
I know what you might be thinking:
"You don't know me"
"I serve others and give generously"
"I mind my own business and I don't break the law"
"Compared to my coworker, I'm a REALLY good person"
But unfortunately our definition of "being good" means very little.
God Sets the Standard for Being Good
You see, God created this world and He sets the standard, not us.
God is holy, and He wants holiness from us.
God is perfect, and wants perfection from us.
‭‭Matthew‬ ‭5:48‬ ‭
"Be perfect, therefore, as your heavenly Father is perfect."
That means NO SIN EVER.
100% PERFECTION.
That's a pretty high standard!
And do you think you meet that standard?
Do you think that excuse that you aren't as bad as "that other person" is going to stand up to God's standard?
I'm going to very blunt so take a deep breath here.
Okay here we go…ready?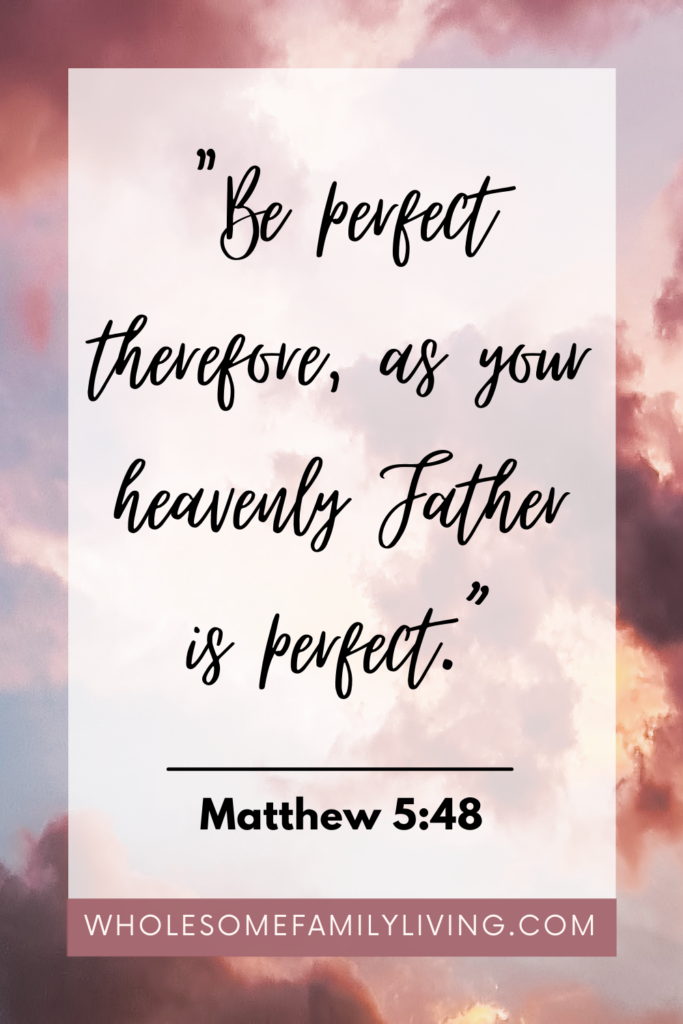 You Are Not A Good Person
I can 100% guarantee that both you and I do not meet Gods standard of "being good".
We are not good people.
In fact, this is what the Bible says about us:
‭‭1 John‬ ‭1:8
"If we claim to be without sin, we deceive ourselves and the truth is not in us."
‭‭Romans‬ ‭3:23
"for all have sinned and fall short of the glory of God,"
Wow, what encouraging verses to read about yourself, right?
Not!
More like WOW how humbling to be reminded that I'm not as great as I think I am!
I know I personally struggle with pride and try to play the comparison game, so this reminder is for me too!
I am NOT perfect!
And I DO NOT deserve God's blessing, goodness, or forgiveness!
But how amazing that God gives me these things anyway!
And luckily, those two verses don't just stop there!
Check out the verses that follow:
‭‭1 John‬ ‭1:9
"If we confess our sins, he is faithful and just and will forgive us our sins and purify us from all unrighteousness."
‭‭Romans‬ ‭3:24
"and all are justified freely by his grace through the redemption that came by Christ Jesus."
You see, EVERYONE has an invitation waiting for them right now to experience these things from God!
How?
Through the one and only perfect person to ever walk the Earth – Jesus!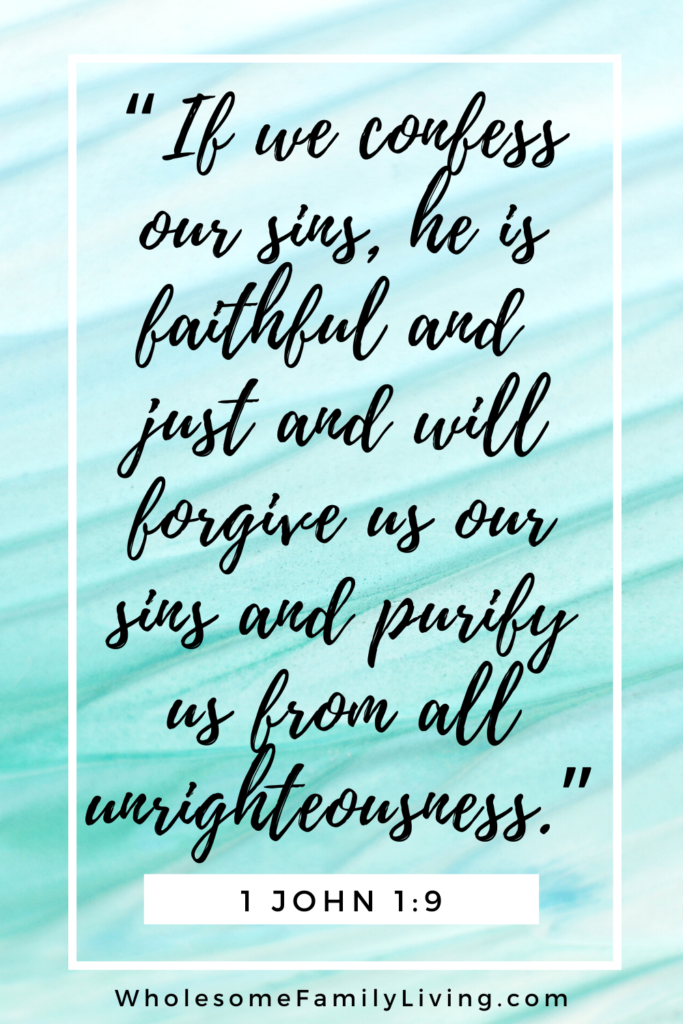 Jesus Was the Only Good Person
You see even though none of us is good, there is one man who was good and his name is Jesus.
And through our belief in Jesus, we can have our sin forgiven!
How amazing is that?!
This is how the Bible explains it:
‭‭2 Corinthians‬ ‭5:18-21
"All this is from God, who reconciled us to himself through Christ and gave us the ministry of reconciliation: that God was reconciling the world to himself in Christ, not counting people's sins against them. And he has committed to us the message of reconciliation. We are therefore Christ's ambassadors, as though God were making his appeal through us. We implore you on Christ's behalf: Be reconciled to God. God made him who had no sin to be sin for us, so that in him we might become the righteousness of God."
Did you catch that right at the beginning?
"All this is from God"!
Through nothing of our own doing, God has provided a way for us to receive the perfection that we could never achieve on our own!
And how do we receive that perfection?
Through Jesus!
And that's why it follows up with "All this is from God, who reconciled us to himself through Christ"
So while no one here on earth now is a "good person", Christ was!
And through our belief in Jesus, we can receive the forgiveness of our sins!
So does that mean that once a person believes in Jesus that no more "bad things" will happen to them?
Now that we know that there really are no "good people", let's unpack the idea that there really are no "bad things" that happen to us.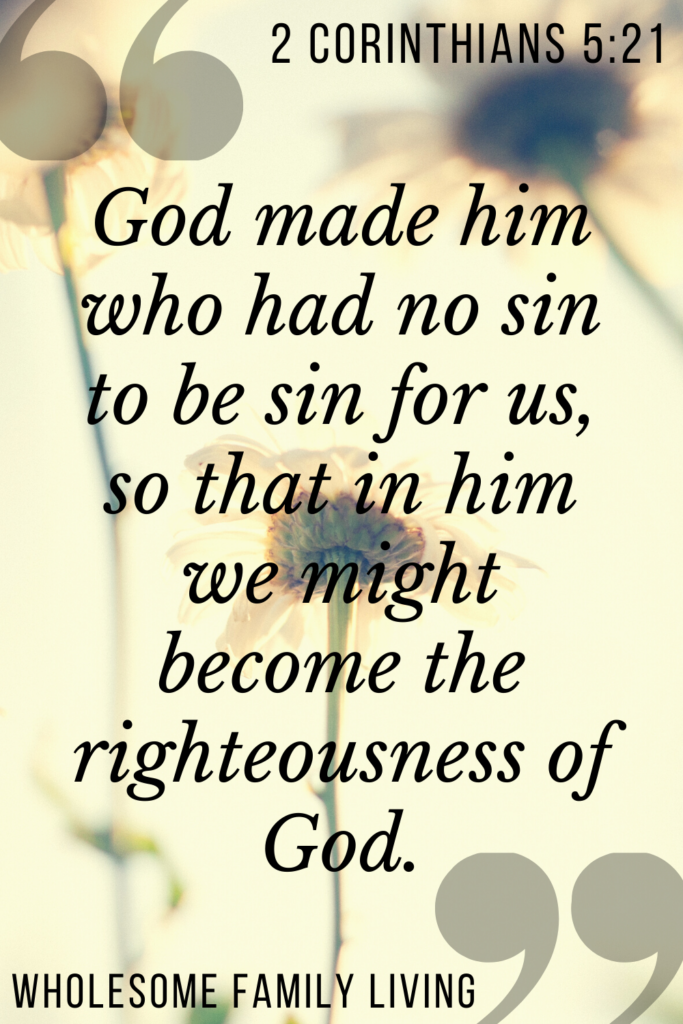 There Are No "Bad Things"
Once again, I know this is a pretty audacious statement.
I mean, how can I claim that nothing is "bad" when there are things like murder, human trafficking, and slavery happening in the world right now?
I'm not saying that those things aren't evil and of Satan, but the point I want to make here is two fold.
First, we need to understand that trials are an expected part of our life here on earth.
And the second thing is that truly God can use ALL things for your good and His glory!
When we internalize these two things into our mind and look at the world through that context, it changes our view of the "bad things" that happen to us.
So let's discuss!
We Should Expect Trials
Raise your hand if you enjoy trials and hardship?
Yeah me neither!
Pretty sure both my hands are tucked under my legs and I'm avoiding eye contact on that question!
But did you know that the Bible guarantees that we will experience these things?
I'm not kidding!
If you have been led to believe that God will bless you and give you good things if you are a "good person" (which we just debunked), then you have been lied to.
We call this the prosperity gospel.
The propensity gospel is a very popular teaching for good reason.
I mean, who doesn't wish that you could just start praying a little more and then everything in life will just be perfect!
Or have you ever heard a TV evangelist say "just support my ministry and send money and God will double what you send me"?
Or how about "if you just serve more then God will bless you with whatever your heart desires".
It's tempting to want to believe these things because who wants to experience hardship in life?
NO ONE!
But I hate to break it to you – God does not promise us rainbows and butterflies if we "just believe", "just pray", "just send more money", or "just serve more".
These are all gimmicks!
The Bible promises no such thing!
Instead, check out what the Bible actually says:
‭‭James‬ ‭1:2-4‬
"Consider it pure joy, my brothers and sisters, whenever you face trials of many kinds, because you know that the testing of your faith produces perseverance. Let perseverance finish its work so that you may be mature and complete, not lacking anything."
Did you catch that?
You should consider it PURE JOY WHEN you face trials.
Not IF you face trials but WHEN.
James tells us trials ARE coming, and that they have a purpose!
What purpose you ask?
To help us develop perseverance and to mature our faith.
God allows us to experience trials because he knows what it does to our faith.
If we withstand trials and don't allow them to take our eyes off of Jesus, trials make us firm in our faith.
The Bible explains Gods plan through trials in 1 Peter.
‭‭1 Peter‬ ‭5:10‬ ‭
"And the God of all grace, who called you to his eternal glory in Christ, after you have suffered a little while, will himself restore you and make you strong, firm and steadfast."
Do you see how this passage points to trials having a purpose?
God allows us to experience trials because they make us strong, firm, and steadfast!
I mean let's face it, when life is going pretty good, how often do you think of God?
How often are you praying dependent prayers to God when you are experiencing Gods abundance and blessing?
I'm going to guess not much.
But when you are experiencing trials and you NEED God to move mountains in your life, now how often are you praying?
Probably a lot more!
And trials do more than just build up our faith!
If we keep reading in James, we also read that persevering through our trials comes with a God promised reward!
‭‭James‬ ‭1:12-17‬
"Blessed is the one who perseveres under trial because, having stood the test, that person will receive the crown of life that the Lord has promised to those who love him. When tempted, no one should say, "God is tempting me." For God cannot be tempted by evil, nor does he tempt anyone; but each person is tempted when they are dragged away by their own evil desire and enticed. Then, after desire has conceived, it gives birth to sin; and sin, when it is full-grown, gives birth to death. Don't be deceived, my dear brothers and sisters. Every good and perfect gift is from above, coming down from the Father of the heavenly lights, who does not change like shifting shadows."
So if we persevere through our trials, the Bible says that we will receive a crown of life!
Are you starting to see how there are no "bad things"?
I mean a crown of life?
That doesn't sound like a "bad thing" to me!
So while no one may raise their hand asking for a trial, they serve a GOOD purpose.
The "bad things" really aren't bad, but can work for good, if we allow them to!
Which brings me to the next element that we need to cover for me to explain to you why trials in life are not "bad things".
To do that, let's talk about how our trials can be used for our good and bring God glory!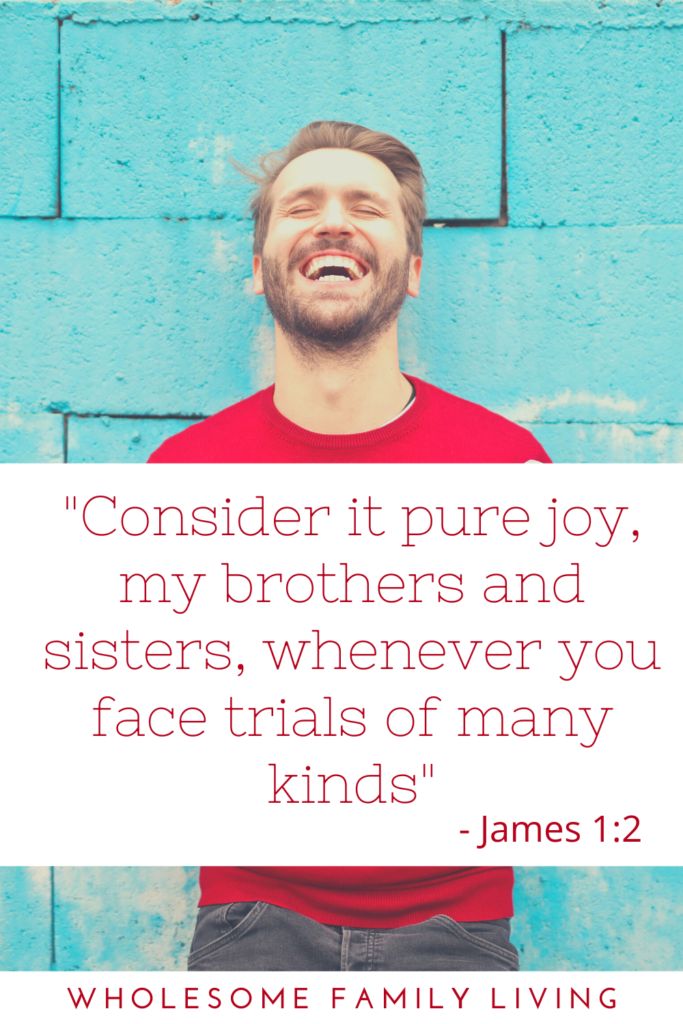 All Things Can be Used For Our Good and God's Glory
So maybe you are still a bit skeptical of this whole "there are no bad things" idea.
But let me ask you this, if something brings about good eventually, was it ever bad in the first place?
Humor me by reading this little parable that explains this idea.
There once was a man who used a horse to deliver goods to customers to make money for his family.

One day, his horse escaped and ran away.

The people of the town said, "Oh no! What a bad thing that has happened to you!"

The man replied saying, "Good, bad, only God knows."

A few days later the horse returned and with him were 10 other wild horses.

And the people of the town said, "What a good thing that has happened! You are so lucky!"

The man replied saying, "Good, bad, only God knows."

While training the wild horses, the man's son fell off one of the horses and was badly injured.

To which the people of the town said, "Oh no! What a bad thing that has happened to you!"

The man replied saying, "Good, bad, only God knows."

But later that year a war broke out and the country drafted all of the able bodied men. And the man's son was not called for duty due to his injury and he was able to stay and take care of the family and business.

And the people of the town said, "Perhaps it was a good thing that his fall happened!"

Again, the man replied saying, "Good, bad, only God knows."
I realize this is just a small example of the things that play out daily in our lives, but I hope it shows you how truly only God knows how things all work out.
Some things that seem bad in the moment can actually be a blessing!
And God has promised that ALL things WILL work out for GOOD!
How do I know this?
Check out what the Bible says!
Romans‬ ‭8:28‬
"And we know that in all things God works for the good of those who love him, who have been called according to his purpose."
Did you catch that?!
Does it say God works for the good in some things?
NO!
It says IN ALL THINGS for those who love Him!
So truly, all things are working for our good!
The Bible says so!!
And not only that, but trials also bring God glory!
What do I mean by that?
That our faithfulness to God, especially in the midst of trials and hardships, can point others to Him and bring Him glory.
Even Jesus himself references this idea.
Check out this story of Lazarus:
John‬ ‭11:1-7‬
"Now a man named Lazarus was sick. He was from Bethany, the village of Mary and her sister Martha. (This Mary, whose brother Lazarus now lay sick, was the same one who poured perfume on the Lord and wiped his feet with her hair.) So the sisters sent word to Jesus, "Lord, the one you love is sick." When he heard this, Jesus said, "This sickness will not end in death. No, it is for God's glory so that God's Son may be glorified through it." Now Jesus loved Martha and her sister and Lazarus. So when he heard that Lazarus was sick, he stayed where he was two more days, and then he said to his disciples, "Let us go back to Judea.""
Did you catch it?
Right there in the middle of that passage, Jesus referenced how someone's sickness would bring God glory.
God knows infinitely more than we do and we can trust that He is in control and has a plan because the Bible already assures that He knows how everything will work out to the very end of the age.
I also shared a large chunk of verses there because I don't want you to miss those end verses.
You see, Jesus received word that his friend was sick but he didn't act right away.
In fact, Jesus ends up showing up AFTER Lazarus died.
And it says Lazarus was a friend!
Can you imagine how hurt Mary and Martha probably are that Jesus seemed to dilly dally and now their brother is dead?
Can you see how they might be mad at him?
But look at the faith they still have in Jesus in these two passages:
Martha's Response: John‬ ‭11:20-22‬
"When Martha heard that Jesus was coming, she went out to meet him, but Mary stayed at home. "Lord," Martha said to Jesus, "if you had been here, my brother would not have died. But I know that even now God will give you whatever you ask.""
Martha not only believes that Jesus could have healed him, but also shows her faith that even now God will give a Jesus whatever he asks for.
What faith even in her grief!
Mary's Response: John‬ ‭11:32-33‬
"When Mary reached the place where Jesus was and saw him, she fell at his feet and said, "Lord, if you had been here, my brother would not have died." When Jesus saw her weeping, and the Jews who had come along with her also weeping, he was deeply moved in spirit and troubled."
You see, even though Martha and Mary didn't get the answer they expected, it didn't change their faith in Jesus.
They both wholeheartedly believed that Jesus could have saved their brother.
But there were even bigger plans to bring God glory in this situation!
Jesus ended up raising Lazarus from the dead!!
GLORY TO GOD!
I share this story in detail because I think that too many of us abandon our faith when faced with difficult situations.
Whether it be a death like what was experienced in this story, or if it's divorce, abuse, sickness, or something else, we need to trust God.
Just like how Martha and Mary STILL BELIEVED in Jesus when they didn't get the answer they expected, we need to do the same.
You see, God has been weaving His story of redemption since the beginning of time.
He has already written in the book of Revelation how the story ends.
And the story ends with God getting all the glory He deserves!
So He knows how everything plays out between now and then.
Gods ways are beyond our comprehension!
Isaiah‬ ‭55:8-9
""For my thoughts are not your thoughts, neither are your ways my ways," declares the Lord. "As the heavens are higher than the earth, so are my ways higher than your ways and my thoughts than your thoughts.""
Instead of running from God when life gets tough, we need to turn more desperately to Him.
Instead of abandoning our faith when God doesn't seem to answer our prayers (or doesn't answer them the exact way we wanted), we need to praise God for knowing what is best and trusting that He is in control.
I know that what I'm suggesting is a hard thing to do.
How do we change the way we see trials?
How can we change our mind to see "bad things" as good things?
Let's discuss!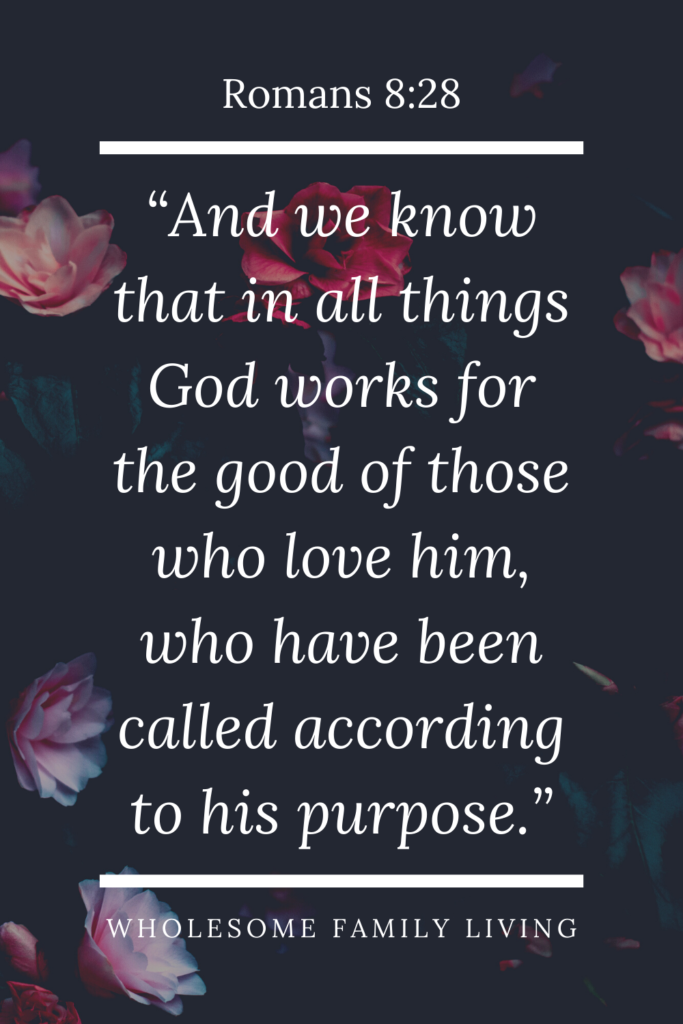 So How Should We Respond to Trials in Our Life?
So now we KNOW that we are going to have trials and that these trials serve a purpose to not only mature us in our faith, but also to bring God glory.
But our human nature wants to respond to trials with a "woe is me" mentality.
How do we break our thought patterns?
How can we start seeing hardships in life as a GOOD thing?
It comes down to your mindset.
You need to change what you focus on.
The Bible says it better than I could put it into words so check out this passage!
‭‭2 Corinthians‬ ‭4:16-18‬
"Therefore we do not lose heart. Though outwardly we are wasting away, yet inwardly we are being renewed day by day. For our light and momentary troubles are achieving for us an eternal glory that far outweighs them all. So we fix our eyes not on what is seen, but on what is unseen, since what is seen is temporary, but what is unseen is eternal."
First, did you catch that reference again for an eternal reward??
This verse once again confirms that our momentary troubles are achieving for us an ETERNAL GLORY.
Folks there are not just GOOD things in store for us for persevering, but AMAZING, WONDERFUL, ONLY GOD KNOWS things in store for those who remain faithful to Him!
Raise your hand if THAT sounds like something you want signed up for?
I've got both hands and a foot in the air for that one!!
But more than just that, this verse also addresses that things might not be pretty on the outside, but no matter what is going on outwardly, we can be renewed inwardly every day!
So no matter what we are going through, we can keep our eyes focused on eternity and it will help us trudge through whatever valley of life we are in.
You see, by focusing our attention and thoughts on eternity and on Jesus, we realize that everything thing here on earth is temporary anyways.
Our family, friends, possessions, health, career, etc. are all TEMPORARY!
None of it goes with us to heaven.
It is all disposable.
The only thing that matters when you die is where you stand with Jesus.
So those "bad things" that happen to you DON'T CHANGE ETERNITY unless you let them.
You see the Bible says it this way:
Romans‬ ‭8:38-39‬
"For I am convinced that neither death nor life, neither angels nor demons, neither the present nor the future, nor any powers, neither height nor depth, nor anything else in all creation, will be able to separate us from the love of God that is in Christ Jesus our Lord."
NOTHING CAN SEPARATE US FROM GOD UNLESS WE LET IT!
You have got to stay eternally focused!
So let's quick talk about some practical ways that you can help keep your eyes on eternity so that you can view trials through a new lens.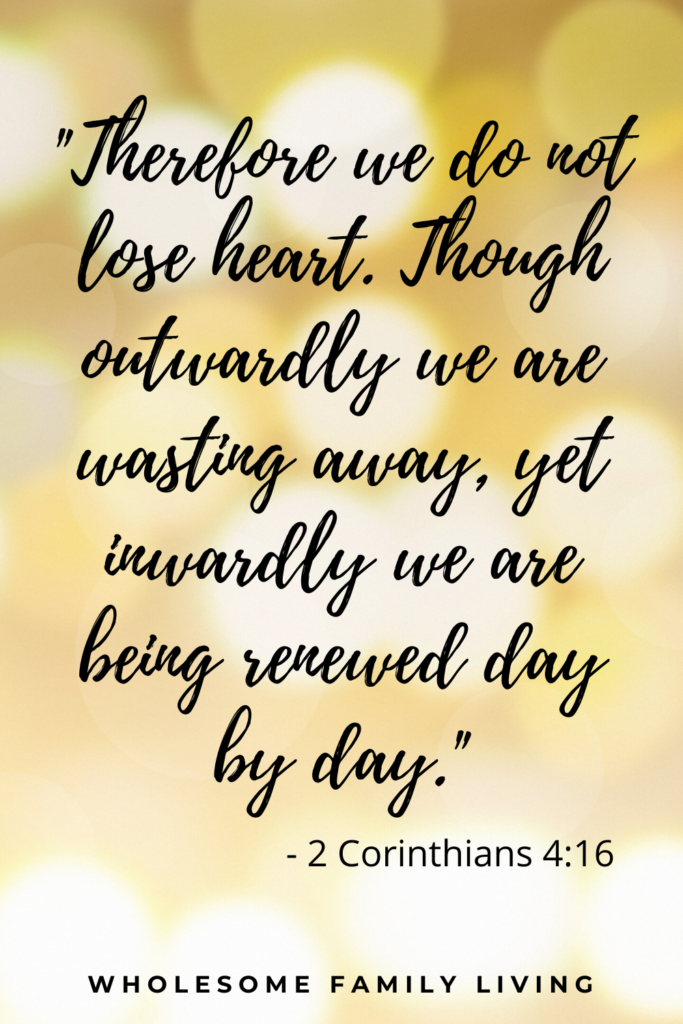 How To Stay Eternally Focused
Pray All the Time
In order to be renewed daily, you need to be praying daily to God!
Staying connected to God through prayer is ESSENTIAL for that eternal focus!
And this is not just a pre-meal event that happens once a day with some prescribed prayer you learned from your grandma.
Not that I have anything against praying before meals or prayers you learned from your grandma!
But our prayer life needs to be more active than that!
The Bible encourages us to not just pray daily, but to always be praying!
Check out perhaps the shortest, yet most powerful verse in the Bible.
‭‭1 Thessalonians‬ ‭5:17‬
"pray continually,"
Read the Bible
And coupled with prayer is being in the Bible daily.
Have you ever wanted to hear the voice of God talk to you?
THEN OPEN YOUR BIBLE AND READ IT OUT LOUD!
The Bible is THE WORD OF GOD and is one of the main ways that God speaks to us.
And it's not just the words that are in red that are important, but the WHOLE BIBLE.
2 Timothy‬ ‭3:16-17
"All Scripture is God-breathed and is useful for teaching, rebuking, correcting and training in righteousness, so that the servant of God may be thoroughly equipped for every good work."
Memorize Scripture
And more than just reading the Bible, we need to memorize key verses that can help us in spiritual warfare!
Warfare you say?
Yes, we are at war every day.
I don't have time to unpack this idea now, but please read more about this in my post on how to pray for the armor of God.
For example, what good is the firehouse unless someone is at the ready to come at a moments notice when there is a fire?
And what good is the Bible to us in our times of temptation unless we have spent time reading it and memorizing it?
Even Jesus had Scripture memorized to combat Satan when He was tempted.
It would serve us well to follow the example Jesus set.
You see Satan is crafty and is going to try to deceive you pretty much all the time.
The best way to cut him down is with the infallible truth found in the Bible.
Hebrews‬ ‭4:12‬ ‭
"For the word of God is alive and active. Sharper than any double-edged sword, it penetrates even to dividing soul and spirit, joints and marrow; it judges the thoughts and attitudes of the heart."
Go to Church
This isn't just to get churches more money or to ruin your weekend plans.
Going to church gives us a chance to corporately worship God, take communion together to remember Christ's sacrifice for us, and have our faith spurred on through teaching of the Bible.
What better way to keep our eyes focused on eternity than to practice what we will be doing for all of eternity-praising our God!
So get yourself to a Biblically sound church!
It's also a great way to keep the sabbath holy as God commanded the Israelites to do in the Old Testament.
Hebrews‬ ‭10:24-25‬
"And let us consider how we may spur one another on toward love and good deeds, not giving up meeting together, as some are in the habit of doing, but encouraging one another—and all the more as you see the Day approaching."
Join a Small Group
And more than just going to church, we need to be connected with other believers in close community.
Being connected to other believers is so important for keeping your eyes eternally focused and not walking away from your faith.
God can use other believers to encourage us and strengthen us when we feel like giving up.
Other believers can help us when we are weak.
The body of Christ is a powerful tool, but only if we are plugged in and being an active participant.
So if the church you are going to offers Sunday school, small groups, community groups, tribes, etc. then you need to get plugged in!
Hebrews‬ ‭3:12-14‬ ‭
"See to it, brothers and sisters, that none of you has a sinful, unbelieving heart that turns away from the living God. But encourage one another daily, as long as it is called "Today," so that none of you may be hardened by sin's deceitfulness. We have come to share in Christ, if indeed we hold our original conviction firmly to the very end."
Leave Yourself Reminders
Whether you like leaving little sticky note verses everywhere around the house or if you want to set your phone lock screen to verse artwork or use some other reminder, use SOMETHING to remind you about God everywhere you turn.
When I was in school, I had verses all over the inside of my locker door.
When I had a desk job, I always covered my desk and even my monitor with sticky note verses.
And now that I'm home all day, I leave my Bible out where I will see it every day to remind me to read it.
And we have verse artwork on different walls of our house.
These little reminders can offer you encouragement and also remind you of your eternal mission.
You see, you might work a J-O-B but your REAL mission and purpose in life is to make disciples.
So find something to remind you of your eternal focus and mission here on earth!
Deuteronomy‬ ‭6:6-9‬
"These commandments that I give you today are to be on your hearts. Impress them on your children. Talk about them when you sit at home and when you walk along the road, when you lie down and when you get up. Tie them as symbols on your hands and bind them on your foreheads. Write them on the doorframes of your houses and on your gates."
Listen to Worship Music
Have you ever heard the phrase "garbage in, garbage out"?
What we fill our mind with is SOOOO important!
We cannot expect to keep our eyes on Jesus throughout our day and through our trials if we are constantly listening to the news, latest pop music, or some sappy country song.
We need to fill our mind with things that will remind us of Jesus.
There's no better way to do that than with praise music!
Tabatha at A Joy Fueled Journey is a dear blogger friend of mine and has created a great Spotify playlists of Christian music if you have no idea where to start or need some inspiration!
Philippians‬ ‭4:8‬
"Finally, brothers and sisters, whatever is true, whatever is noble, whatever is right, whatever is pure, whatever is lovely, whatever is admirable—if anything is excellent or praiseworthy—think about such things."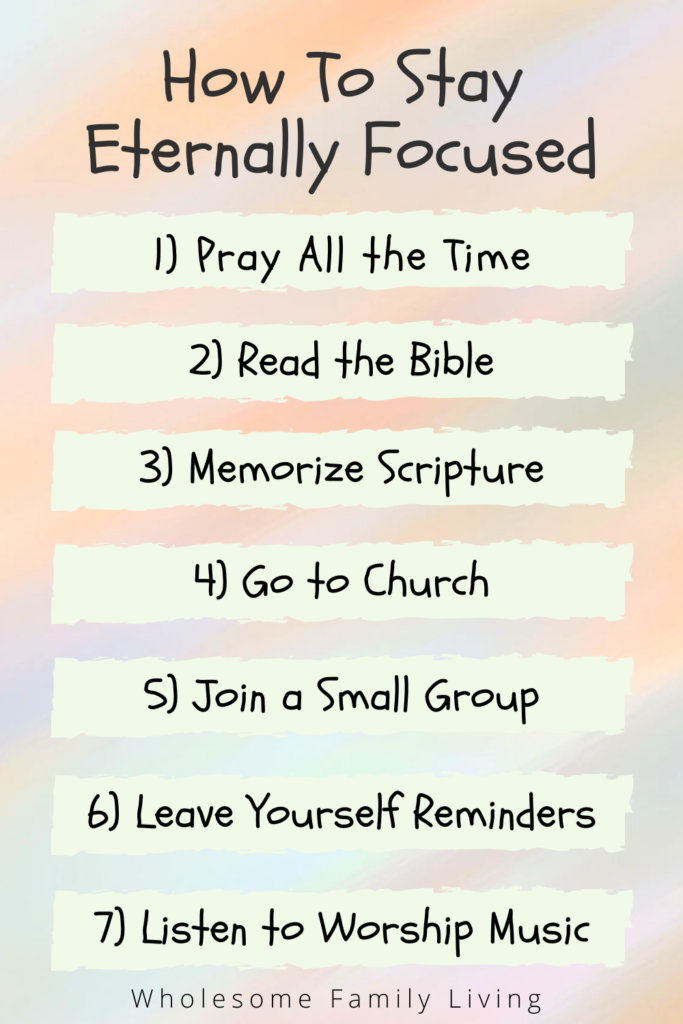 Praise God that Good Things Happen to Bad People
Can I get an amen for that section title?!
Here so many people get caught up and sometimes even walk away from their faith because they can't understand how a good God could allow "bad things" to happen to "good people".
But now we know that this question is phrased completely wrong!
And when we switch the "bad things" to "good things", and change "good people" to "bad people", then God's goodness is completely revealed!
Now the question becomes "why do good things happen to bad people?".
And that's a question that still baffles me.
Our good GOOD God still blesses us even though we sin on a daily basis.
How amazing is that?!
GOD IS SO GOOD!
So the next time you catch yourself wondering why things aren't turning out the way you expected, remind yourself of God's goodness.
Remind yourself that God is in control and things will work out for your good and His glory.
Remind yourself that you aren't striving for comfort here on earth, but that you are willing to mature through trials for a promised eternal reward.
Stand firm in your faith even through difficult seasons in life.
I can 100% guarantee the reward will be worth it!!