This post may contain Amazon or other affiliate links. As an Amazon Associate I earn from qualifying purchases.
Do you want to be a Biblical husband, but don't know where to start?
Perhaps you aspire to be a great husband, but find that you aren't getting any traction in your marriage.
I'm going to be honest up front, there is no "be a great husband quick" trick in this post.
This is not a post on how to change "just enough" to get your wife to want to have sex with you every night.
And pursuing being a Biblical husband is definitely not for the faint of heart.
Being a Biblical husband is a journey.
In fact, it's a journey that will take you a lifetime to complete.
You see, the Bible has pretty high standards for husbands.
What are these "high standards" you ask?
Let's check it out!
What the Bible Says About Husbands
Let's look at a great passage from Ephesians that will help us uncover what the Bible says about the role and actions of husbands.
Ephesians‬ ‭5:21-33‬
21 Submit to one another out of reverence for Christ.

22 Wives, submit yourselves to your own husbands as you do to the Lord. 23 For the husband is the head of the wife as Christ is the head of the church, his body, of which he is the Savior. 24 Now as the church submits to Christ, so also wives should submit to their husbands in everything.

25 Husbands, love your wives, just as Christ loved the church and gave himself up for her 26 to make her holy, cleansing her by the washing with water through the word, 27 and to present her to himself as a radiant church, without stain or wrinkle or any other blemish, but holy and blameless. 28 In this same way, husbands ought to love their wives as their own bodies. He who loves his wife loves himself. 29 After all, no one ever hated their own body, but they feed and care for their body, just as Christ does the church— 30 for we are members of his body. 31 "For this reason a man will leave his father and mother and be united to his wife, and the two will become one flesh." 32 This is a profound mystery—but I am talking about Christ and the church. 33 However, each one of you also must love his wife as he loves himself, and the wife must respect her husband.
Here is also a quick snippet from Colossians that sums things up.
Colossians 3:19
19 Husbands, love your wives and do not be harsh with them.
And there are a couple of passages from the Bible describing elders that I think add value to this discussion.
You might be thinking, wait a minute!
I'm not signing up to be a church leader!
Why do I care about what the Bible says about elders?
Well elders in the Bible were considered to be wise, older men and it was a position of great honor.
I think that if you desire to be a Biblical husband, then these passages about being a wise man in general will give additional insight into how a Biblical husband should act.
1 Peter 5:1-5
1 To the elders among you, I appeal as a fellow elder and a witness of Christ's sufferings who also will share in the glory to be revealed: 2 Be shepherds of God's flock that is under your care, watching over them—not because you must, but because you are willing, as God wants you to be; not pursuing dishonest gain, but eager to serve; 3 not lording it over those entrusted to you, but being examples to the flock. 4 And when the Chief Shepherd appears, you will receive the crown of glory that will never fade away.

5 In the same way, you who are younger, submit yourselves to your elders. All of you, clothe yourselves with humility toward one another, because,

"God opposes the proud
    but shows favor to the humble."
And we also read about the role of elders (aka being a wise, God honoring man) in 1 Timothy.
1 Timothy 3:2-4
2 Now the overseer is to be above reproach, faithful to his wife, temperate, self-controlled, respectable, hospitable, able to teach, 3 not given to drunkenness, not violent but gentle, not quarrelsome, not a lover of money. 4 He must manage his own family well and see that his children obey him, and he must do so in a manner worthy of full respect.

Qualities of a Biblical Husband
There are so many nuggets of knowledge in those passages we just read!
So let's highlight some of the main qualities of a Biblical husband.
Biblical Husbands are to Love Their Wives as Christ Loves the Church
I'm just going to start off with the bombshell and tackle what I think the hardest command is for husbands.
From our passage in Ephesians, we see that husbands are to love their wives as their own bodies.
We also read that a husband is to love his wife as Christ loves the church.
This includes being willing to give EVERYTHING up for her.
DID YOU CATCH THAT?
If you aren't blown away with how HARD of a command that is, then I don't think you understand how deep Christ's love is for the church.
It is no small task for husbands to fill their role as God commanded.
In fact, I would say it's impossible!
Why?
In a word, SIN!
NO ONE loves perfectly like Christ did!
But is that any reason to give up?
NO!!!!
What this passage does do is gives husbands something to strive for THEIR ENTIRE MARRIAGE!
To care for your wife as you would your own body is a life-long commitment to cherish and treasure your wife.
Biblical Husbands are Not Harsh, but Self-Controlled
As Colossians so succinctly puts it, husbands should not be harsh to their wives.
And more thoroughly we read in 1 Timothy that wise men are temperate, self-controlled, not violent but gentle, and not quarrelsome.
I know that women can be emotional and irrational and sometimes we don't even understand ourselves.
And I'm sure that causes no small amount of frustration for husbands!
But in those moments where you want to throw your hands up, make a cutting remark or insult your wife, and leave the room, recall that verse from Colossians.
Don't be harsh.
Don't be hostile.
This is a hard command too, especially in the heat of an "I want to be right" battle.
But men, you honor God when you commit to not being harsh and instead being gentle with your wife.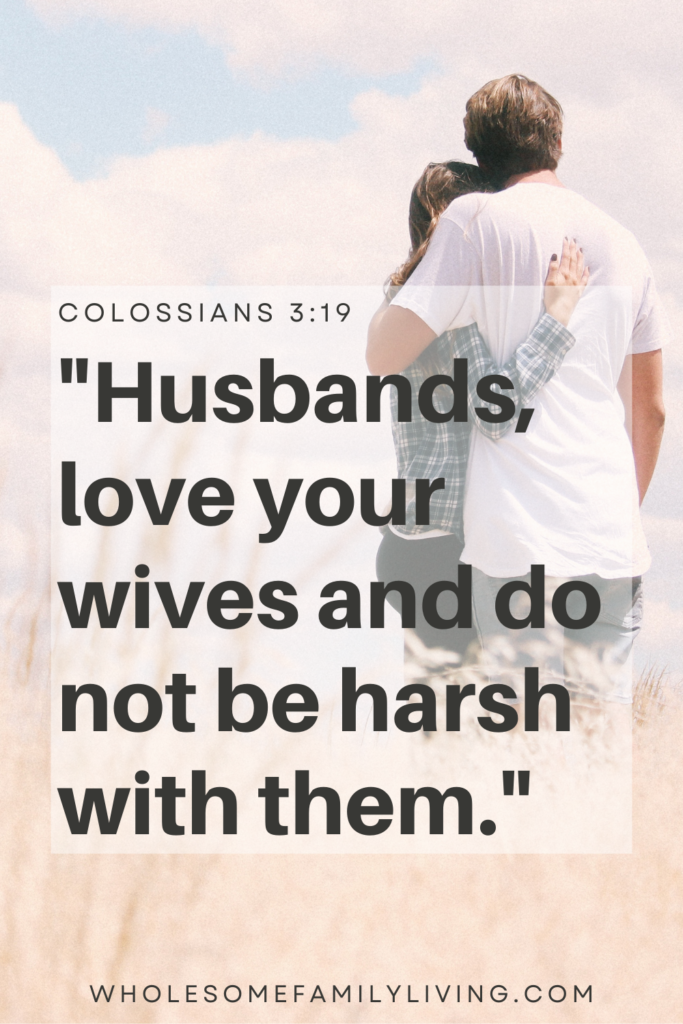 Biblical Husbands Should Serve Their Wives
Have you ever heard of the term servant leadership?
When I worked in corporate America, I heard this term A LOT.
But it always made me chuckle that business leaders thought that they came up with this term and "discovered" servant leadership as the "best way to lead people".
I'm gonna let you in on a little secret, the Bible has given instruction on being a servant leader LONG before corporate America discovered the idea.
And here's the proof.
In 1 Peter we read that wise men don't just serve, but should be EAGER to serve and not lord their leadership over those entrusted to them but be examples.
And what are they being an example of?
SERVANT LEADERSHIP.
The passage from Ephesians also gives evidence to the idea of serving your wife.
As we discussed above, a husband is to love his wife as his own body.
In verse 29, the passage from Ephesians talks about feeding and caring for the body.
You can't do that unless you are serving and caring for your wife!
Biblical Husbands Should Be Humble
If you don't want God working against you, then you might want to make sure being humble is on your list of character traits to work on.
Did you catch that last verse from 1 Peter?
If not, it's worth another read:
1 Peter 5:5
5 In the same way, you who are younger, submit yourselves to your elders. All of you, clothe yourselves with humility toward one another, because, "God opposes the proud but shows favor to the humble."
While this command is not only to husbands, it's too important not to mention.
Why?
Consider this:
Can a proud husband serve his wife?
Is a husband who struggles with pride willing to love his wife more than he loves himself?
Probably not!
HUMILITY is critically important to being able to execute everything we just discussed!
And as a bonus, this verse tells us that God will show FAVOR to those who are humble!
I know I definitely don't want God to oppose me, but I would certainly take His favor!
Humility is HARD.
Especially in our culture where being RIGHT seems to be SO IMPORTANT.
But husbands (and anyone else who is reading this for that matter), if you can practice humility, especially in your marriage, it is going to be WORTH IT!
Guaranteed (since the Bible says so!).
So how can a husband strive for filling his Biblical role and growing in all these areas?
I'm glad you asked – let's discuss!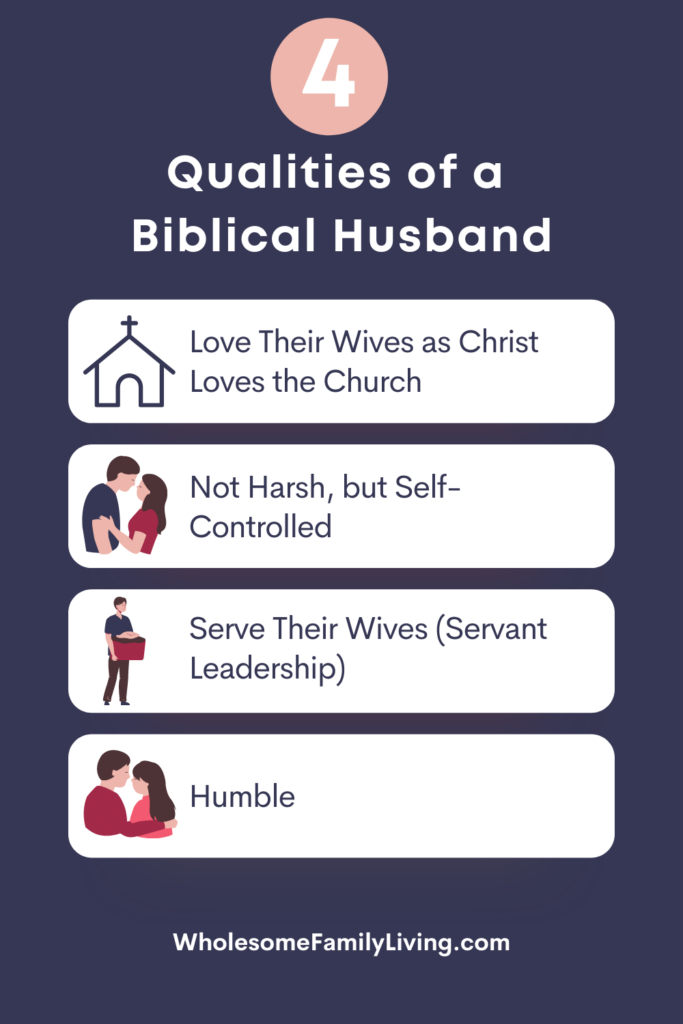 6 Ways to Grow in Your Role of Being a Biblical Husband
Are there any husbands out there overwhelmed with the instructions the Bible has for being a Biblical husband?
It's a LOT!
I mean, loving your wife as Christ loves the church?!
Those are BIG shoes to fill!!
Like I said up front, these are HIGH standards and this is a LIFELONG journey to pursue!
So how can husbands strive for filling their Biblical role?
Where does one even start this journey??
Let me offer a few suggestions!
1. Study Jesus
First things first – if you are going to love your wife as Christ loves the church, then it might be helpful to know HOW CHRIST LOVES!
So start by reading through the gospels with the intent of studying Jesus' personality.
You can't imitate someone that you don't know!
Study how He responded to those around Him, how He prayed, how He handled teaching the disciples (this is especially important if you have kids!), and how He managed His time.
Keep a notebook to write down key characteristics of Christ that you want to work on.
Write down key verses that you want to memorize on sticky notes and leave them in places where you will see them so that you can commit the verses to heart!
2. Dedicate Time to Be With God
Dedicate time each day for your relationship with God.
As I was attempting to explain to my daughter the other night – prayer is SO IMPORTANT because it helps us grow our relationship with God!
Sure, Bible reading is important (hence point #1), but you can't stop there.
We need to talk to our creator and take time to listen back.
You need time to be still and know God!
This is very Biblical – check out these verses:
Psalm 46:10
10 He says, "Be still, and know that I am God;
    I will be exalted among the nations,
    I will be exalted in the earth."
Exodus 14:4
14 The Lord will fight for you; you need only to be still."
Psalm 37:7
7 Be still before the Lord
    and wait patiently for him;
do not fret when people succeed in their ways,
    when they carry out their wicked schemes.
Have I convinced you yet?
YOU NEED QUIET TIME WITH GOD!
Pick a specific time (usually first thing in the morning or last thing before bed work best) and place (someplace where you will be uninterrupted) where you can have 15 minutes with God to read in your Bible, pray, and BE STILL!
Pray specifically for your marriage and for the Holy Spirit to work on you and through you to love your wife better.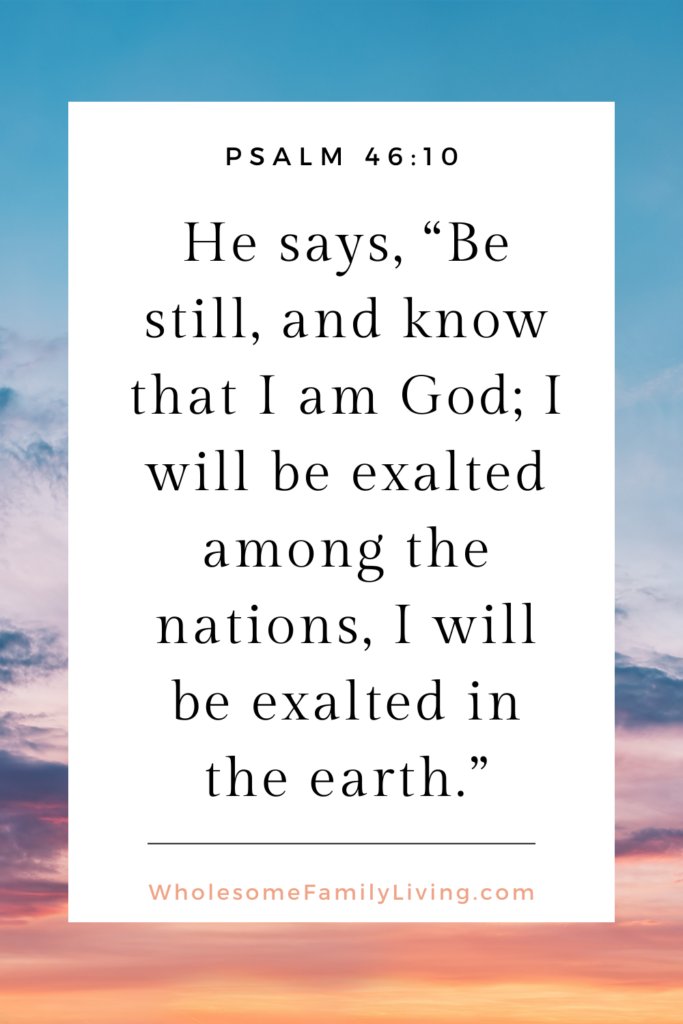 3. Pray for Your Wife
Speaking of prayer, are you praying specifically for your wife?
If not, START!
Don't know what to pray about for her?
Check out The Power of a Praying Husband which has reading prompts and prayers written out for you to pray about for your wife!
It's a great place to start if you don't know what to pray about for your wife!
4. Complete The Love Dare
Okay so you know that the Bible says that you should LOVE your wife.
But what exactly does that look like??
If you don't know where to start when it comes to showing your wife love, try completing The Love Dare!
This book (which the movie Fireproof is based on) is a 40-day challenge for husbands (and wives can do it too!) to learn more about and practice unconditional love.
Each day has a short reading and a challenge for you to execute!
5. Read the Book Love & Respect
Very appropriately named book based on what we read above in Ephesians, this book ROCKS!
I HIGHLY recommend reading the book Love & Respect to learn more about this entire topic of showing your wife love (and also understanding your need for respect!).
My husband and I agree that this has been THE BOOK that has impacted our marriage the most!
This book has also given us words to use to "break the ice" when we think our spouse is upset.
We always start with "did I step on your air hose?" (I know that doesn't make sense now, but READ THE BOOK!) and this takes down the defenses for us to have a PRODUCTIVE conversation instead of a destructive one!
6. Learn about the 5 Love Languages
Probably second to Love & Respect has been the book The 5 Love Languages!
Did you know that you can be trying to love your wife in ways that don't make her feel loved?
If you have ever been met with eye rolls, huffy sighs, or gotten a cold shoulder when you tried to do something to show your wife that you love her, you might have been speaking in the wrong love language to her!
It is SO important for us to learn how to show our spouse love in ways that make THEM feel loved (not in ways that we would want to be loved!!).
Reading The 5 Love Languages was VERY eye opening for our marriage!
And it has led to great weekly check-in's to make sure our marriage is on track.
It also makes sure that when we show love to one another, we are doing it in ways that "count" (aka fill up their love tank!).
For more information about the 5 love languages, check out Your Marriage Needs the 5 Love Languages as well as my list of Practical Ideas for the 5 Love Languages.
You can also head to the 5 love languages website to take the quiz to see what your primary love language is!
Growing as a Biblical Husband
I hope this list has given you some ideas of how you can grow in your role of being a Biblical husband!
Growing as a Biblical husband will be hard and is going to have its ups and downs.
It will be difficult to humble yourself and daily love your wife as Christ loves the church.
BUT YOU CAN DO THIS!
Take it one day at a time.
And if at all possible, find another husband to help keep you accountable in your journey of becoming a more Biblical husband.
Maybe the two of you can read one of the books mentioned above together.
Perhaps you could both do The Love Dare at the same time so that you have someone to help you maintain momentum and not give up!
Or maybe you can both read through a gospel together and talk about the characteristics of Jesus you want to imitate in your life.
Having someone walking through this with you is going to help keep you on track.
To start your journey, comment below with one thing you are going to start doing this week to make your first step towards pursuing being a more Biblical husband!