This post may contain Amazon or other affiliate links. As an Amazon Associate I earn from qualifying purchases.
If you are interested in switching to a non-toxic hand soap, this easy, DIY organic foaming hand soap is the perfect way to switch to a healthier option!
This foaming hand soap is made with organic castile soap and water, and if desired, you can also add essential oils to scent the soap.
All you need is a foaming soap dispenser and a mason jar to put it in and voilà, you've made own foaming hand soap!
But why switch from store bought foaming hand soap?
I know it's more convenient to buy hand soap, but let me share with you some of the reasons that compelled me to start making my own hand soap!
Most Soap Isn't Actually Soap!
Did you know that most hand soaps contain toxic chemicals?
It's true!
Even the FDA states that there are very few true soaps on the market.
The FDA states that true soap is made by combining fats or oils and an alkali, such as lye.
When properly made, there should be no lye remaining in the product.
Instead, most "soap" on the market today is actually synthetic detergents, but companies are still able to label them as "soap" (check out the FDA page here).
These synthetic detergents are classified by the FDA as cosmetics.
And check out what the FDA says about cosmetics:
If it's a cosmetic, it's regulated by FDA. Neither the product nor its ingredients need approval by FDA, except for any color additives it contains. It is your responsibility to make sure your product is safe for consumers when it is used as intended, and to make sure it is properly labeled.
You read that right – the FDA regulates these products, but NONE of the ingredients or even the product itself needs approval by the FDA (unless it contains a color additive).
Is your mind blown right now like mine is?
So truly no one is testing and approving any of the chemicals or ingredients that are in the hand soap you buy from the store.
This is why you need to take your health and wellness journey into your own hands!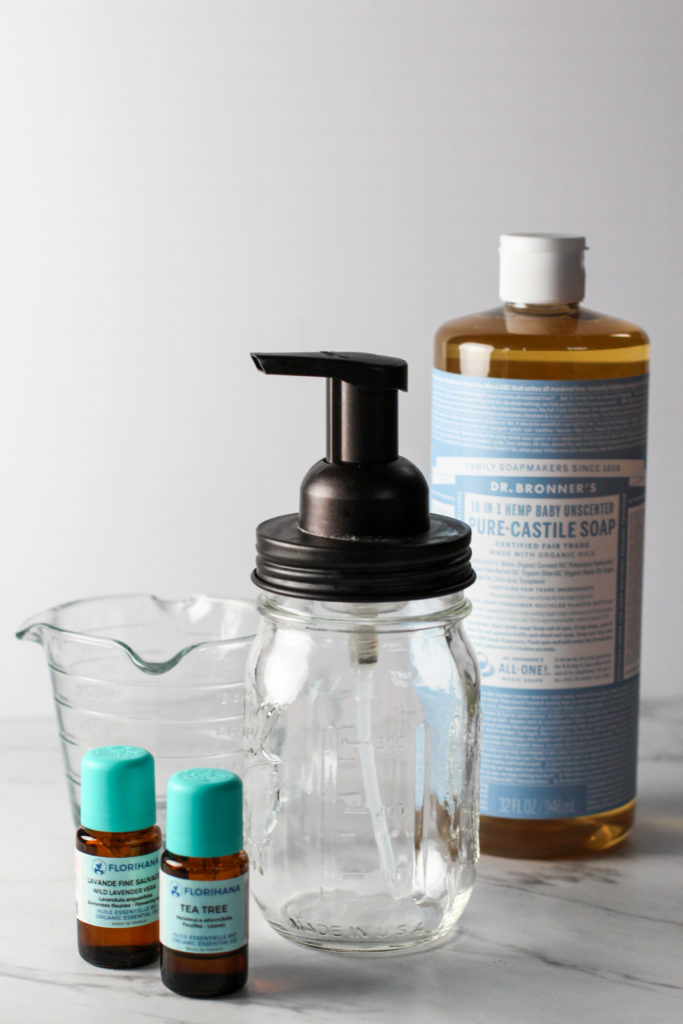 Most Soaps Contain Harmful Fragrances
Not only is your soap actually a synthetic detergent, it also probably includes an ingredient labeled as "fragrance".
While fragrance might make your soap smell good, fragrance certainly is not good for you!
Fragrance is another unregulated ingredient that the FDA does not require approval of before use.
And synthetic fragrances may cause asthma attacks, dermatitis, skin allergies, hormone disruption, reproductive problems, or even cancer! (source here)
I wrote about fragrances more extensively in my guest post for Warrior Mama Life if you are interested in learning about the dangers of fragrances in not only your hand soap, but in ANY product that uses synthetic fragrances (think cleaning products, air fresheners, and even candles!).
This is why our family has invested in buying some high quality, organic essential oils.
The great thing about essential oils is that they not only smell great, but each essential oil has additional unique health properties.
You can read more about how essential oils work and some of their benefits here.
Our family uses essential oils not only to scent our soap, but also in many of our other DIY household and beauty products.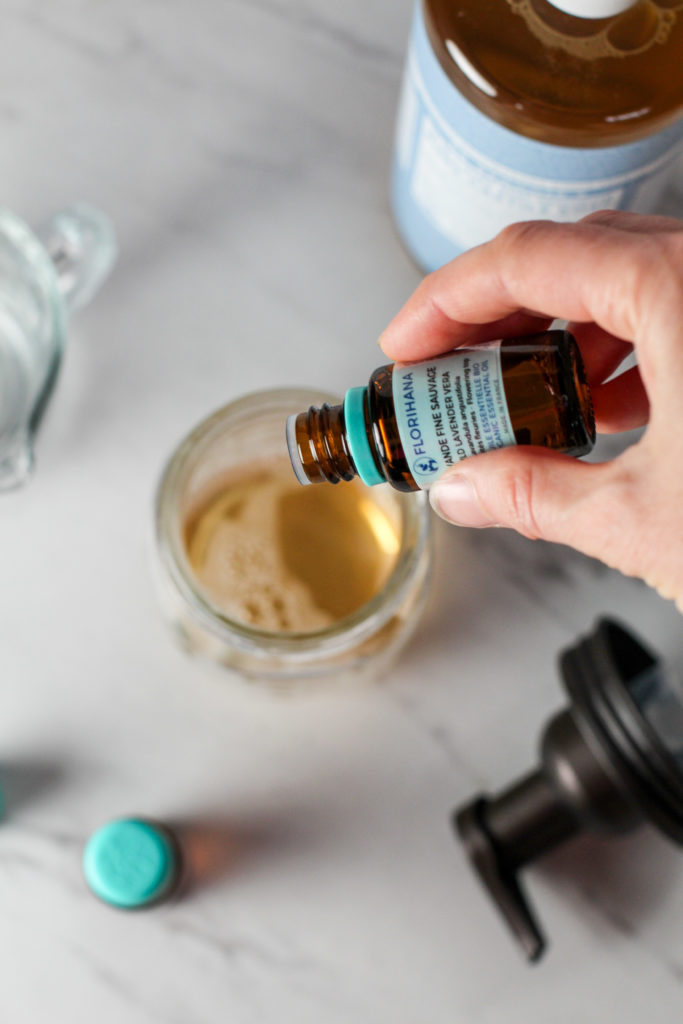 Why You Should Avoid Antibacterial Hand Soaps
Probably what surprises me EVEN MORE is that the FDA itself is against a lot of the hand soaps on the market!
What do I mean?
The FDA speaks out AGAINST antibacterial soap!!
They say that consumers should AVOID products that contain antibacterial active ingredients.
Why?
Check out this quote from the FDA page linked above:
Because the manufacturers haven't proven that those ingredients are safe for daily use over a long period of time. Also, manufacturers haven't shown that these ingredients are any more effective than plain soap and water in preventing illnesses and the spread of certain infections.
And further down in the article the FDA states:
Many liquid soaps labeled antibacterial contain triclosan, an ingredient of concern to many environmental, academic and regulatory groups. Animal studies have shown that triclosan alters the way some hormones work in the body and raises potential concerns for the effects of use in humans. We don't yet know how triclosan affects humans and more research is needed.
Umm…YIKES!
Have I convinced you yet to make your own soap?
I hope so, especially considering how EASY it is to make this organic foaming hand soap!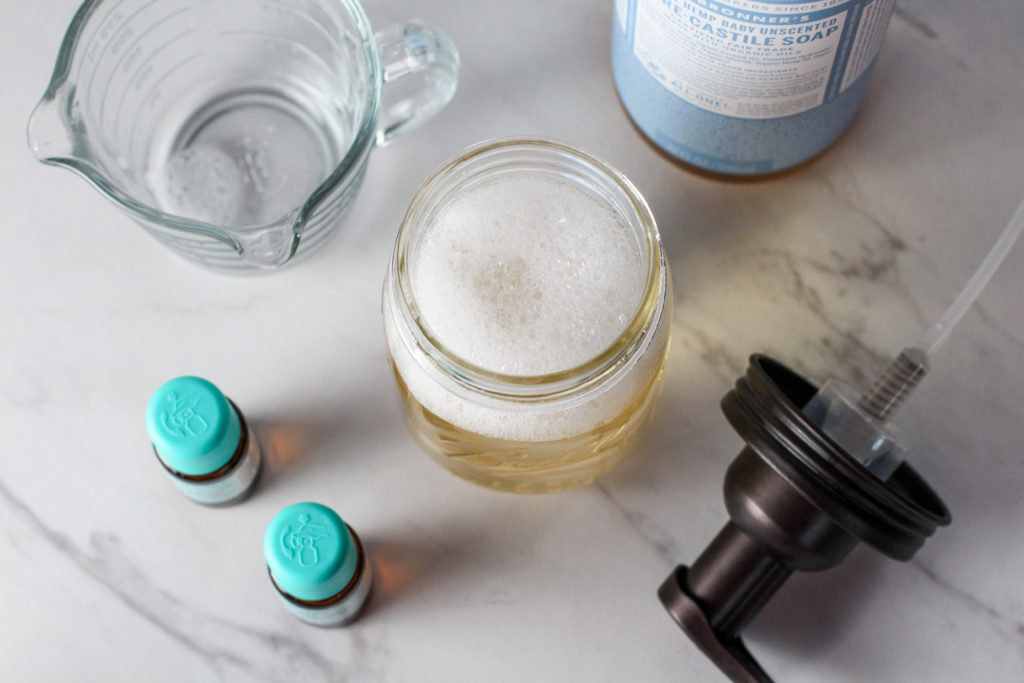 Why Foaming Hand Soap is the Best Homemade Hand Soap
After researching hand soaps a little, I was concerned as a mom about what we were washing our hands with.
So I went to Google for help and found hundreds of homemade hand soap recipes.
I tried SO MANY HAND SOAP RECIPES!
From stringy to clumpy, my family tried the gambit of not great soaps.
I'm sure they cleaned our hands just fine, but the strings of soap all over the counter were a mess!
I wanted a non-toxic hand soap that was EASY to use.
Enter a foaming hand soap dispenser!
My husband has, for a long time, liked foaming soaps over liquid soaps.
So as a last ditch effort to make my own soap, I convinced him that we should buy a couple of foaming dispenser tops that would fit on mason jars.
They work like a DREAM!
No more soap strings everywhere and it's actually WAY easier to work up a lather on my busy toddler's hands.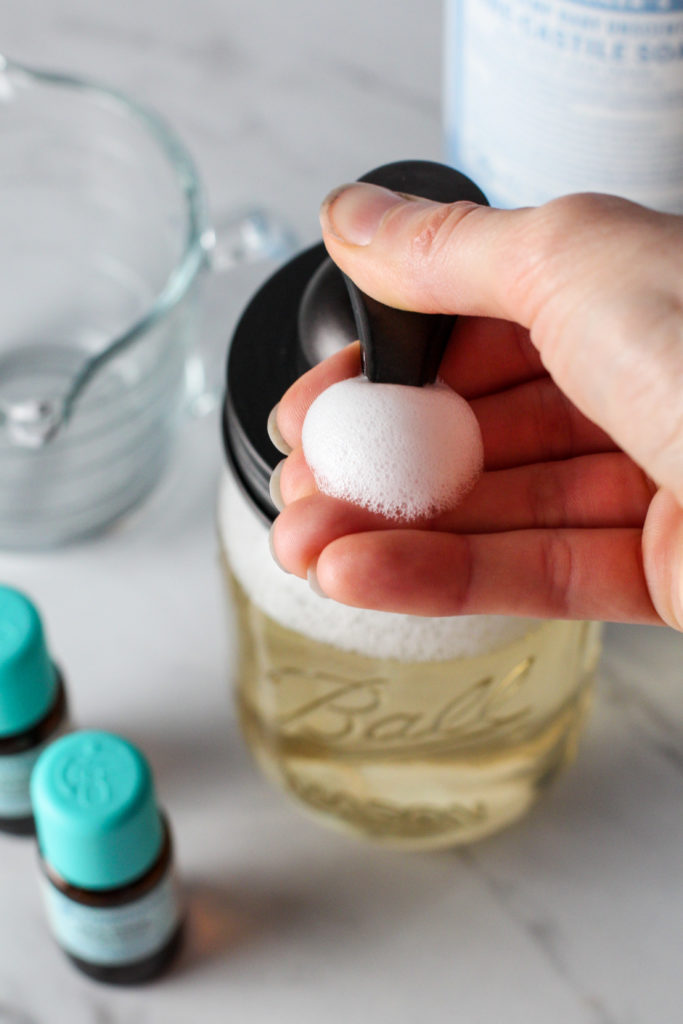 How to Make Easy DIY Organic Foaming Hand Soap
So how do you make foaming hand soap?
First, you need a foaming soap dispenser.
I bought a couple foaming dispenser tops (like this one in the picture below) that I can put on a mason jar.
You can also recycle an old foaming soap container from a store-bought hand soap.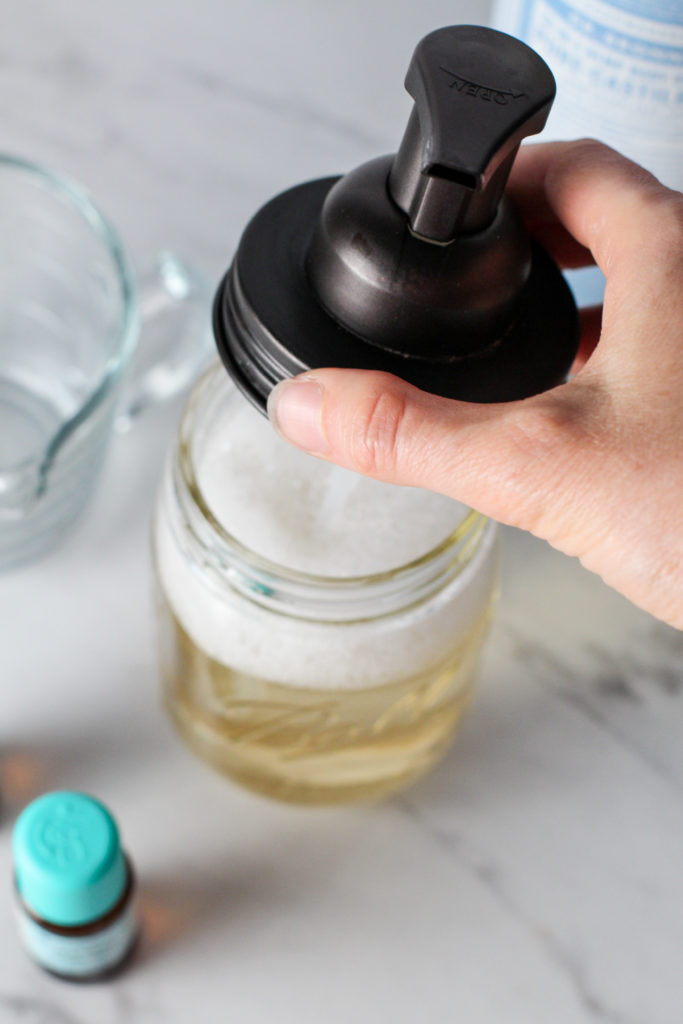 Next, you need a couple of ingredients: liquid soap and water.
And then as I mentioned above, if you want to, you can also add some essential oils (please keep reading below for my note on citrus essential oils).
For liquid soap, my personal favorite to use is Dr. Bronner's Unscented Baby Soap.
To fill your mason jar or dispenser, use a 4-to-1 ratio of water to liquid soap.
So for my pint sized mason jar, I start by adding a third cup of liquid soap.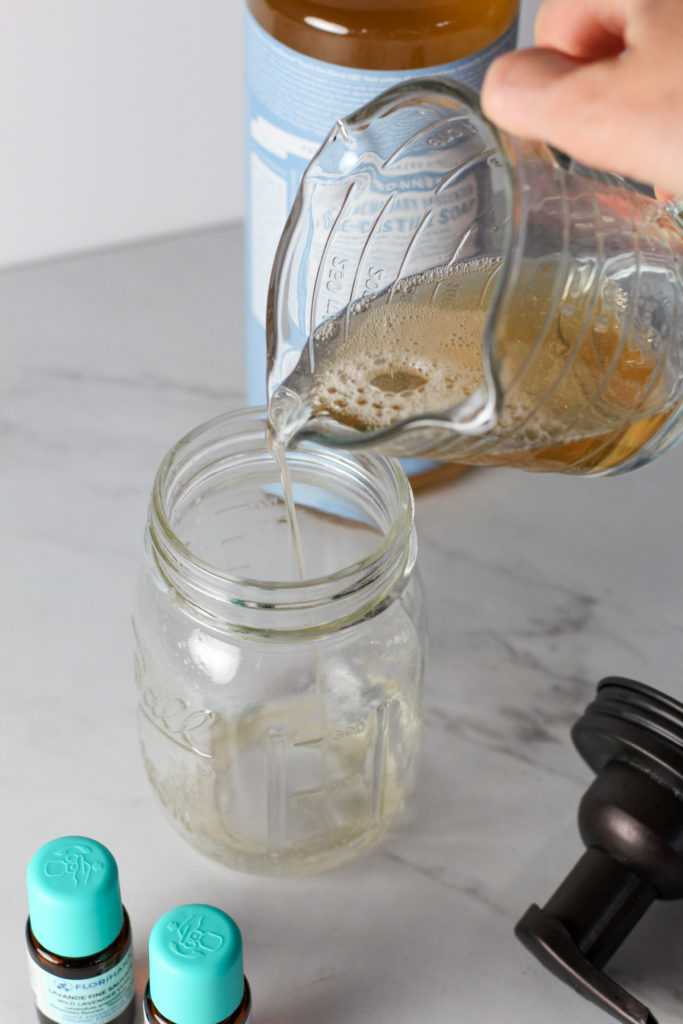 Then if desired, you can add your own essential oils to scent the soap without the use of chemicals!
We enjoy using a blend of 5 drops of tea tree and 5 drops of lavender.
Or use a family favorite blend!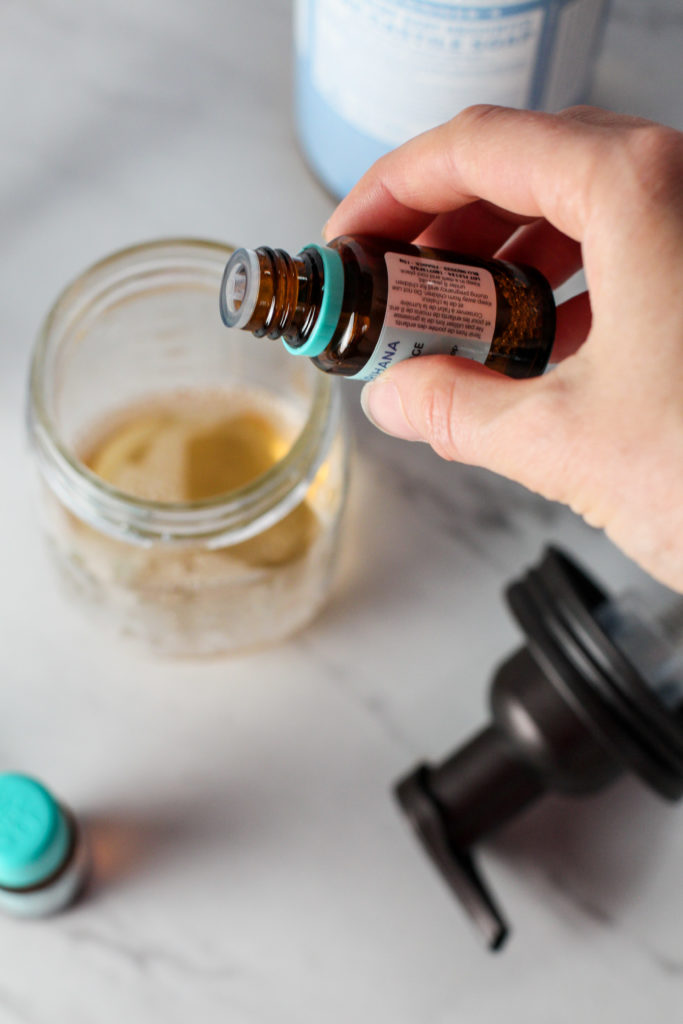 Then add your water (this would be 4 times the amount of soap you put in your container).
So for my mason jar, I add 1-1/3 cup water.
I add the water second to help rinse any remaining soap out of the measuring cup (don't want to waste a drop!).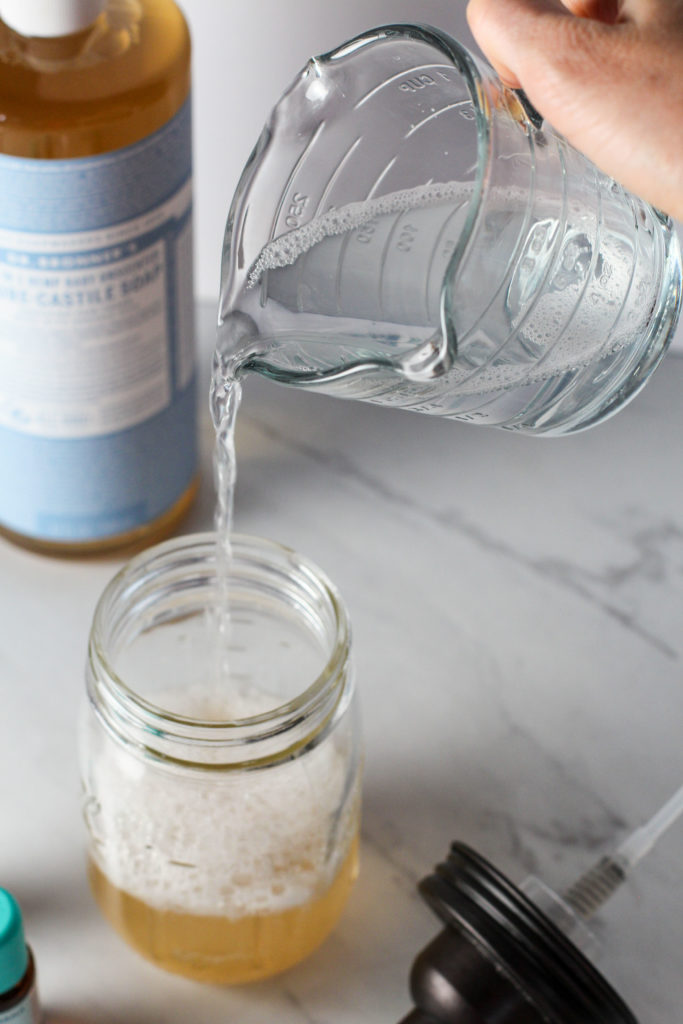 Screw on the foaming top and you are ready to use your foaming soap!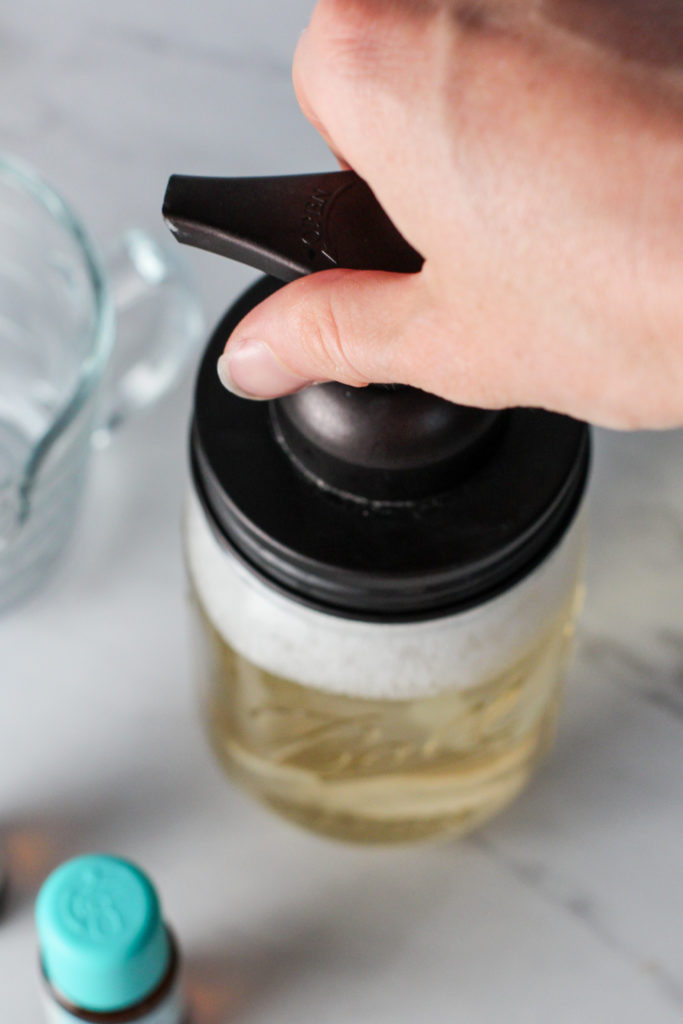 A Note About Citrus Essential Oils
While citrus essential oils smell really fresh and make great scents, they may not be the oils you want to use in your foaming soap.
Here is why!
Citrus oils are also photosensitive.
This means that they can cause skin damage if they are on your skin and then exposed to sunlight.
Symptoms can be redness, itching, burns, blisters, or permanent skin discoloration!
YIKES!
The American College of Healthcare Sciences recommends waiting 12 hours after application of photosensitive essential oils before sun exposure.
I don't know about you, but that seems like a pain, so I don't put citrus oils in our soaps.
I realize that the oils are pretty diluted in the hand soap, but it's still not a risk I want to take.
Personally, I know someone who badly burned their back from using citrus essential oils and then going outside in the sun.
So I don't include citrus essential oils in any product that we use on our body.
Instead, I use my citrus essential oils for great aromatherapy and for household cleaning products!
Speaking of other household cleaners, what other products would you like to know how to make yourself?
Comment below and I will try to share my best tips and recipes!
Print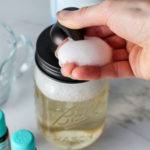 Easy DIY Organic Foaming Hand Soap
---
Author:

Total Time:

10 minutes
Description
If you are interested in switching to a non-toxic hand soap, this easy, DIY organic foaming hand soap is the perfect way to switch to a healthier option!
---
1/3 cup

liquid castile soap (I use Dr. Bronner's Unscented Baby Soap)

1

–

1/3

cups water
Optional: essential oils
Other equipment needed: Foaming soap dispenser (either an old, used container, or you can use a mason jar topped with a foam dispenser like this one)
---
Instructions
Add the liquid soap and water to a mason jar or other foaming soap container.
Add essential oils if using (please see my note about using citrus essential oils).
Screw on the foaming dispenser top and foam away!