This post may contain Amazon or other affiliate links. As an Amazon Associate I earn from qualifying purchases.
Are you looking for family friendly ideas for spending New Year's Eve at home?
Just because you spend New Year's Eve at home as a family doesn't mean that you can't still have a fun night together!
In fact, I remember having several fun New Year's Eve's growing up with just my parents and sister!
We would have a great time just the four of us!
New Year's Eve parties are fun, but being together as a family can be just as fun.
So what can your family do to celebrate the New Year?
18 Family Fun Ideas for Your New Year's Eve at Home
From fun and games to reflection and commemorating, let's run through some different ideas for your New Year's Eve at home!
1. Game Marathon
One of my favorite New Year's Eve celebrations at home growing up was when we decided to see how many games we could play before midnight!
Take turns picking out games to play and watch the stack of completed games grow!
You can also keep a tally of who wins which games and see who the winner is of the ultimate family game night!
If you are in need of some new family favorite games, here are some of the ones that we love!
For Little Kids: 

Hide and Seek (the kids hide and you find them around the house!)

For Elementary School Aged Kids:
For Middle School Aged Kids:
For High School Aged Kids:
Games for Two:
Strategy Games:
Quick Games:
Simple Games:
There are so many more games that we love, but hopefully this gives you some fun ideas for a great game night at home!
Make sure you snap a selfie next to your stack of games to remember your fun New Year's Eve game night!
And if you are keeping record, make sure you track how many games you play before midnight, who the winners were, and who the ultimate New Year's Eve winner was so that you can compare your list to another year!
Perhaps keep the list of games and winners in a New Year's Eve time capsule (see below!).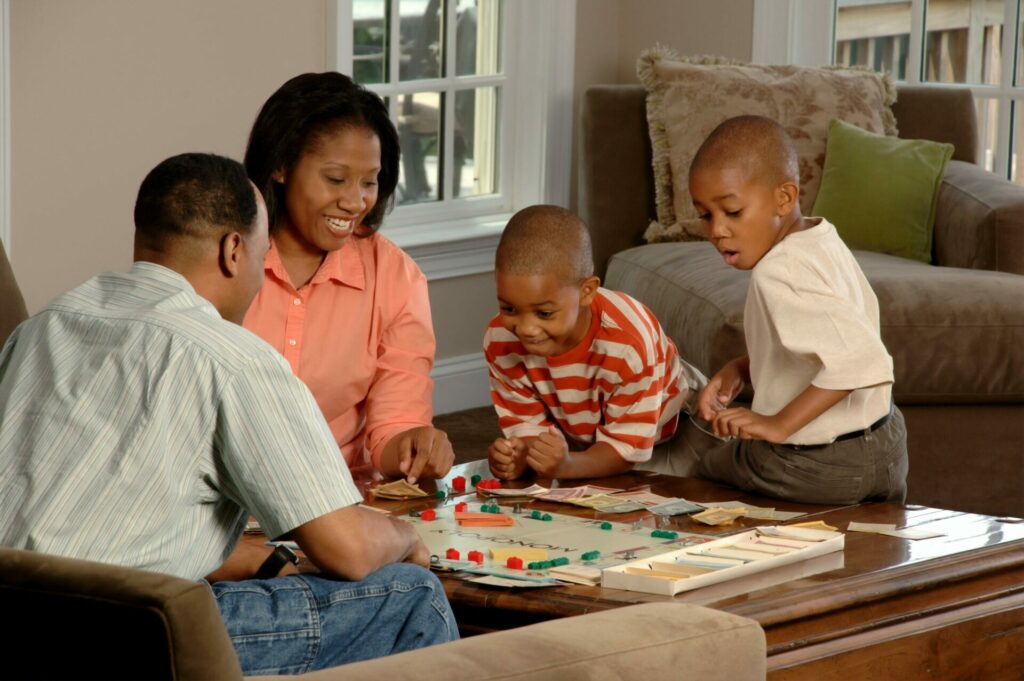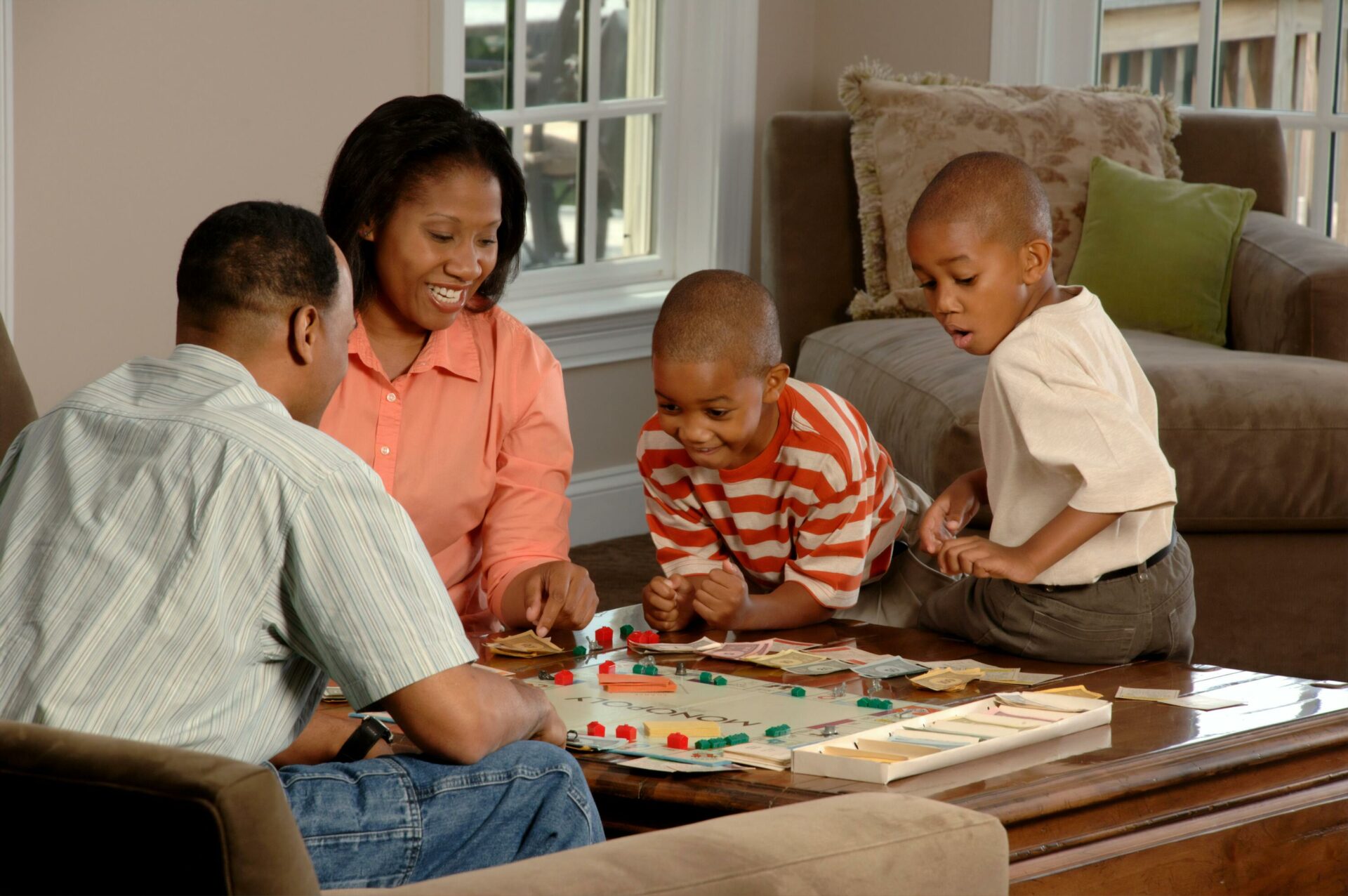 2. Puzzle Mania
If perhaps games aren't quite your family's thing, another fun activity would be building puzzles!
Why not see how many puzzles you can complete before midnight for a fun New Year's Eve at home idea?
Or pick a really hard puzzle and see if you can get just that one done before the ball drops.
At midnight, snap a selfie of everyone next to the puzzle or puzzles you were able to complete!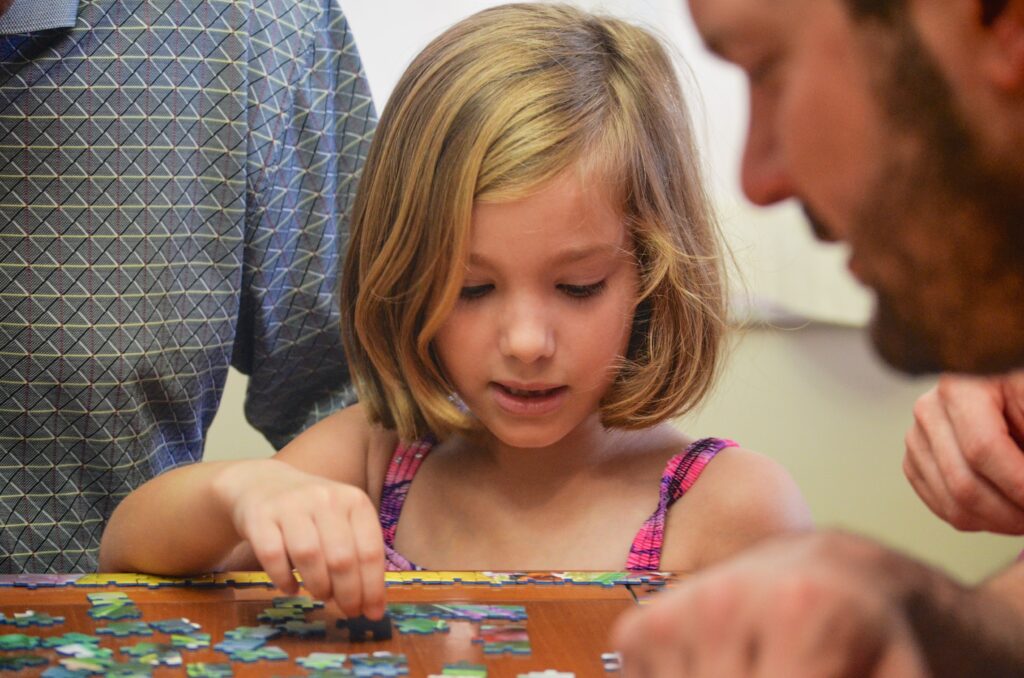 3. Time Capsule
Instead of a time capsule that you bury in the ground, why not make a small time capsule box that you get to look at each year on New Year's Eve?
Grab a large manila envelope (or something similar) and fill it with things that commemorate the year.
You can include anything that highlights the year!
The goal would be to try and focus on the good things that happened over the year instead of focusing too much on the bad things that happened.
But we also grow a lot in our low moments, so it's important to include those too!
Maybe it was a terrible year.
It's okay to write about it, but try to include some of the small things that you can be thankful for too!
Ideas of Things to Include in Your Time Capsule:
Photos (preferably with a description so 10 years from now you remember where you were and what you were doing!)
Newspaper articles or print a page of top headlines of the year
A written list of the best things that happened that year
Top 10 funny family moments
For small kids: write down major milestones that took place that year
For older kids: make a list of their hobbies and accomplishments for the year
Mom and Dad: make a note of where you are working, what hours you work, and what your family life looks like
Quick descriptions of the family trips you took
A note of how tall each kiddo is
List of the prices of what common items cost: gallon of gas, gallon of milk, loaf of bread, average price for a new house, average price for a new car, average household income, etc.
A list of new inventions or technologies on the market
A list of everyone's favorite foods
Top 10 family favorite recipes
A list of the games your family enjoys playing together
Quick description of where you were and how you celebrated all of the major holidays for the year
Write a quick description of how you think (or want) next year to go
Self written notes (keep reading for writing prompts)
As you can see, the time capsule is just meant to be an annual snapshot of what is meaningful to your family!
For the self written notes, have each family member write a one page summary of the year (or you can transcribe for little ones).
Ideas of Topics to Include In Your Summary of the Year:
A general description of how the year went and how you felt about the things that happened. The idea is to be honest and capture the raw emotion of the year.
Any major events that happened: first tooth lost, broke an arm, first place in a race, etc.
Hobbies
Favorite Foods
Year in School, Teacher, and Names of Best Friends
Best Family Trip and Why
New things you tried and how they went (like riding a bike, playing a new sport, baking a new recipe, etc.)
Anything else that captures how the year went!
And the idea is to make a time capsule each year (it's never too late to start!)
Each year, look at all of the envelopes and remember all the big things that happened in previous years!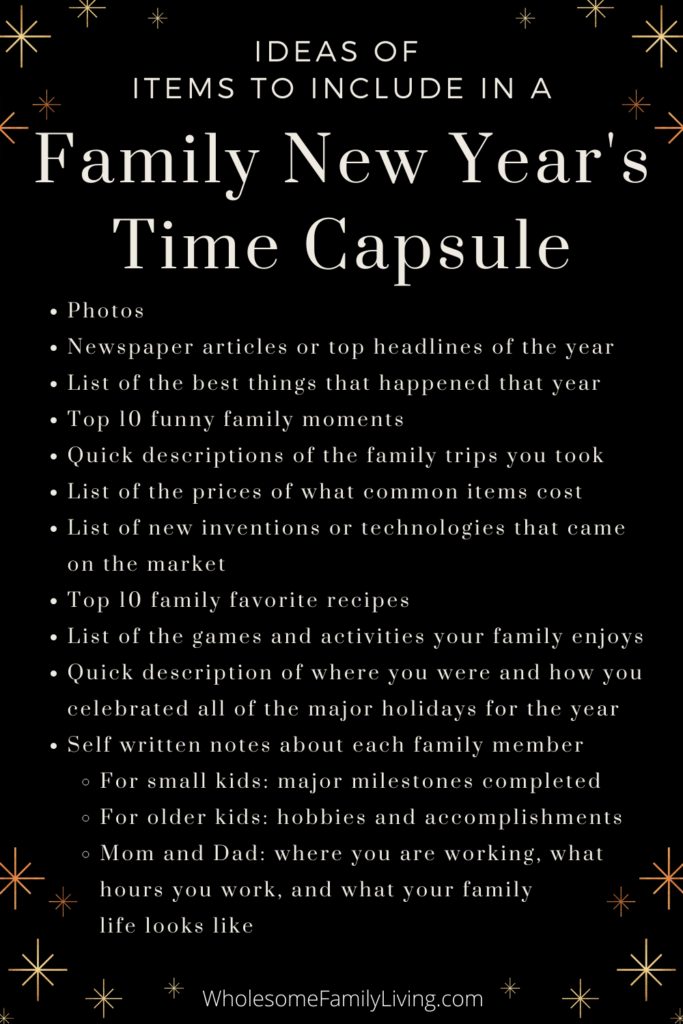 4. Highlight Reel of the Year
Take a walk through memory lane for a fun New Year's Eve at home idea!
Remember all of the great moments from the year by flipping back through your phone to the first photo you took in January.
Connect to your TV so everyone can see the photos!
Or cozy up together and have everyone view the photos on your device.
Laugh at all of the year's funny faces and great moments.
Watch any videos that captured major events or fun family moments.
And if you have printed photos, break those out too and pass around for everyone to remember what happened that year!
The goal of your highlight reel time is to look back on all of the major things that happened that year in picture or video format and spend time reflecting on the year as a family!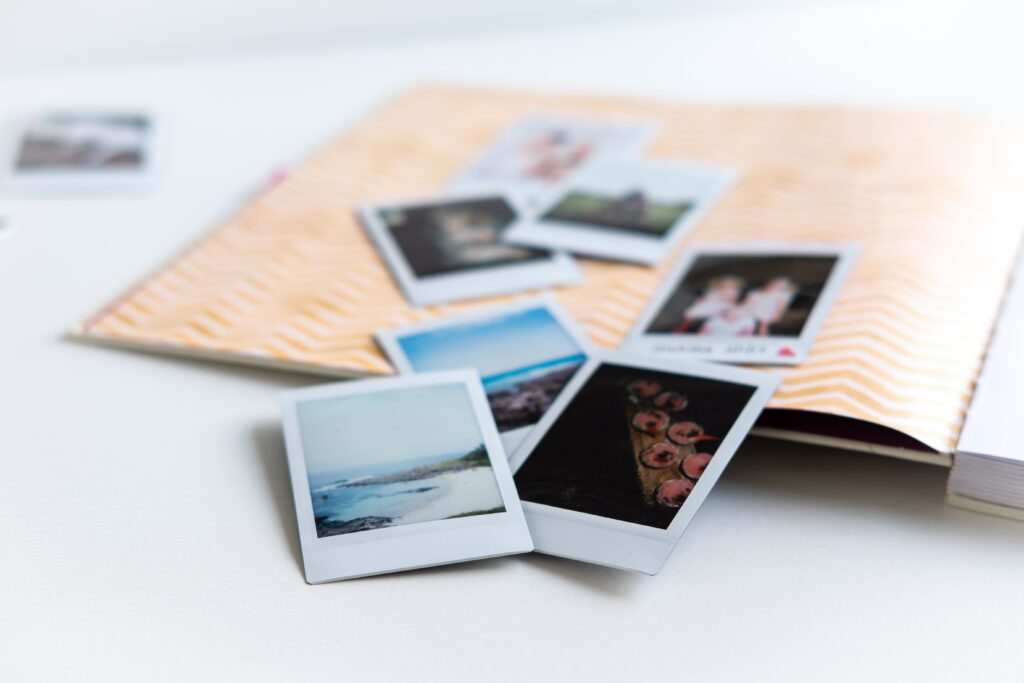 5. Enjoy All of Your Family's Favorite Things
For a fun theme for New Year's Eve at home, try and do only things that are your favorite things!
Make and eat your family's favorite finger foods and snacks.
Play one of everyone's favorite games.
Dance or sing along to your family's favorite music.
Video chat with some of your favorite family friends.
Drive by some of your favorite Christmas light displays in town while listening to some of your favorite Christmas music.
And if you have time to make a day of it (and the weather is nice), go to a favorite park or hike a favorite trail.
Or maybe it snowed and your family loves to sled or build a snowman!
Or maybe you live in a tropical place and your family loves the beach!
The goal here is to do any of your favorite family activities!
It can be LEGO building, fort making, hide-and-seek, or pillow fights!
ANYTHING YOUR FAMILY LOVES!
This is also a great one to get your kids involved with to make up the evening's activities.
Solicit their opinions on what their "favorite" things are (you might learn something new about them in the process)!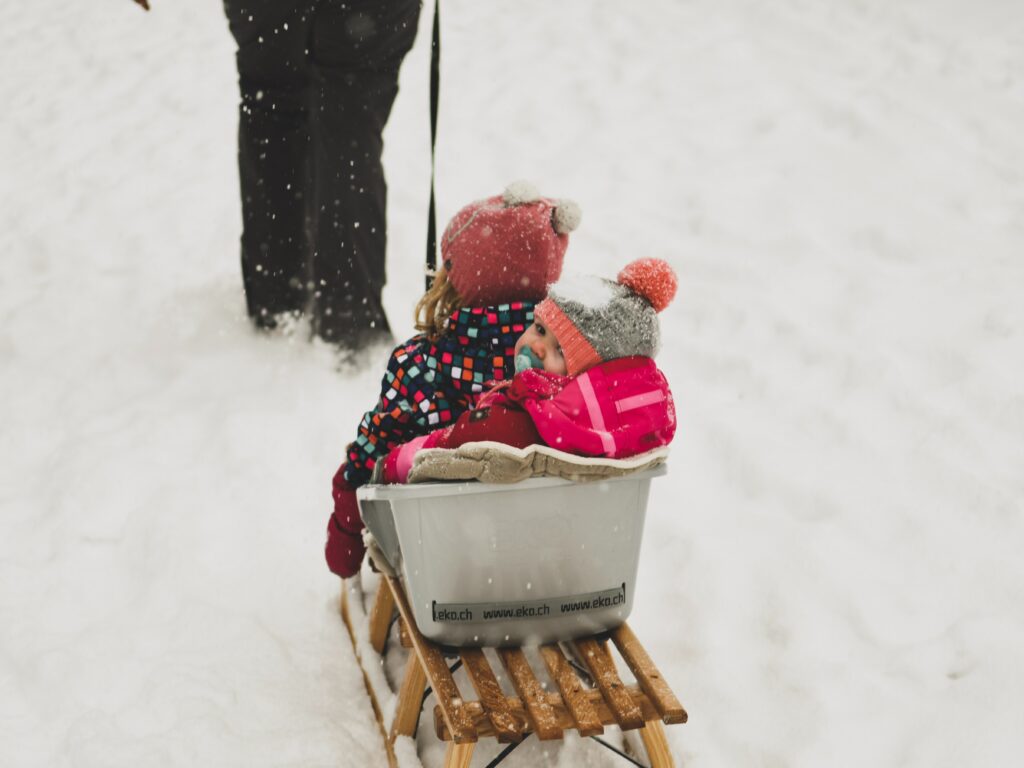 6. Around the World Tour
If your family is a foodie family, perhaps a fun theme for your New Year's Eve at home would be an adventure around the world!
This might take a little prior research, but it would be a great cultural experience too!
Each hour (or every two hours depending on how many activities you have planned for each country), have a new country picked out.
Pretend to travel to Mexico, Brazil, Spain, Italy, India, China, Japan, Australia or any other country in the world.
Or pretend to revisit countries you have been to before!
What do you do during that country's hour?
If you have actually been to that country before, share some of your memories or pictures from your time there!
Research interesting facts about the country.
Share how that country rings in the New Year and what fun traditions they have.
List off some of the famous world events that have happened in that country over the course of history.
Make a dish or serve a snack popular in that country.
Find a popular game from that country and learn to play it.
Listen to popular music from the country.
And if you can, dress in something festive for the country!
If your kids are old enough, you could let everyone choose a different country and plan the dish or activities for that country!
Enjoy an enriching cultural night at home, learn new customs and traditions from around the world, and most importantly, have fun with it!!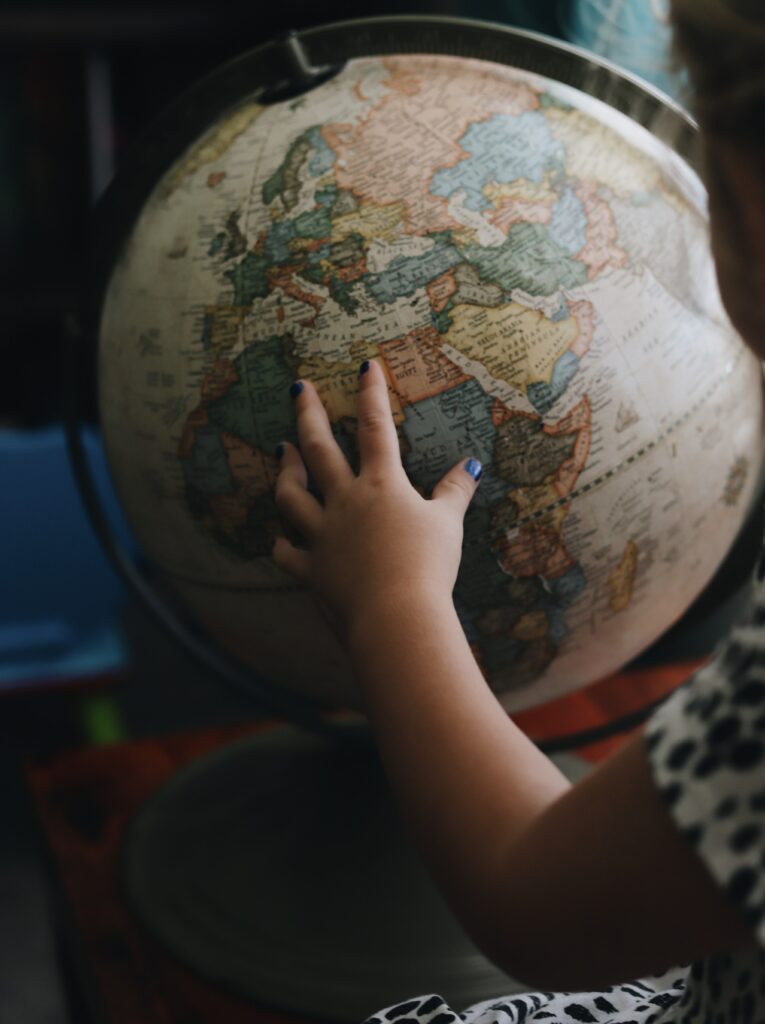 7. Family Rock Band or Karaoke Night
Ever thought of having a family rock band?
Well perhaps not, but why not put your talent to the test with some family Guitar Hero or Rock Band!
This obviously requires you to have these games though.
Don't own them?
Why not have a family karaoke night?!
There are lots of karaoke song options available on YouTube.
Look for some of your family's favorite songs as karaoke or instrumental versions.
From "You Say" by Lauren Daigle to "Don't Stop Believin'" by Journey to "Let It Go" from the movie Frozen, you are sure to be able to find some songs your family will know!
Sing King and Sing2Piano on YouTube have quite a few options if you are looking for somewhere to start your search.
Go all in and make pretend microphones and dress up in performance worthy outfits.
Grab your sunglasses or fake boas!
And if you can't sing, play the real version of the song and lip sync!
There's no excuse not to have a fun family band night, jamming to some of your favorite songs!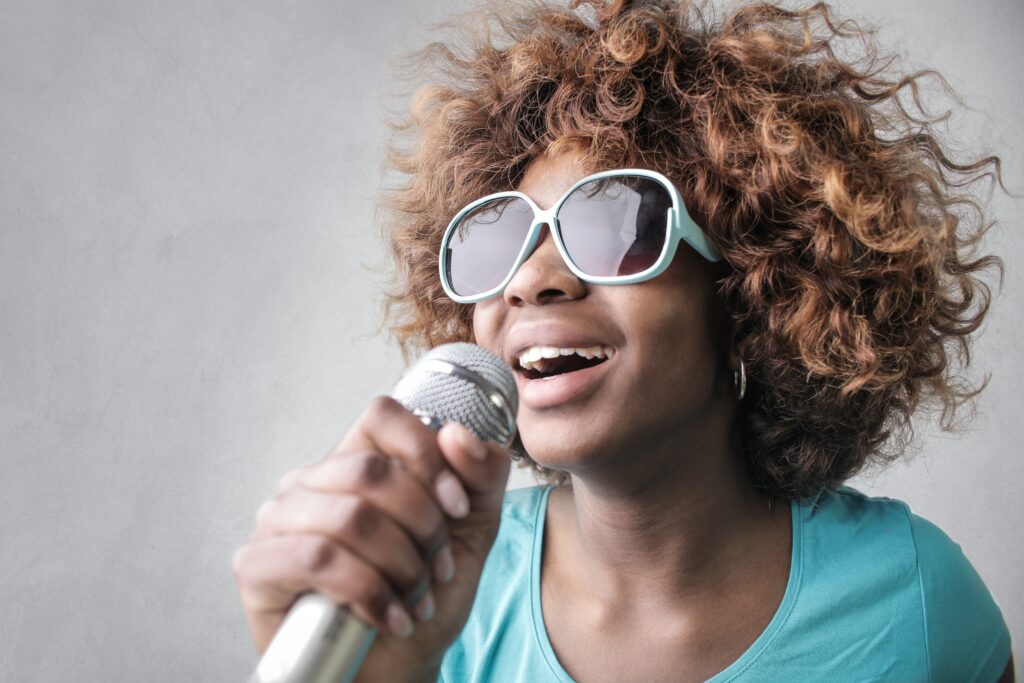 8. Dance Party
And either simultaneously with the karaoke singing or as a separate event, help your kids burn some energy by having a dance party!
Our toddler loves dancing with her stuffed animals to all kinds of music.
So if you have a kiddo like mine, perhaps they would enjoy a whole family dance party!
And you can also try group dancing songs like hokey pokey, YMCA, or the chicken dance.
While I might suggest doing this right before midnight to help keep everyone awake and to build up some hype for midnight, you can have a mini dance party at any point!
This will also make sure your kids are ready to crash after the ball drops!
So put on some of your family's favorite tunes and dance the night away for your New Year's Eve at home!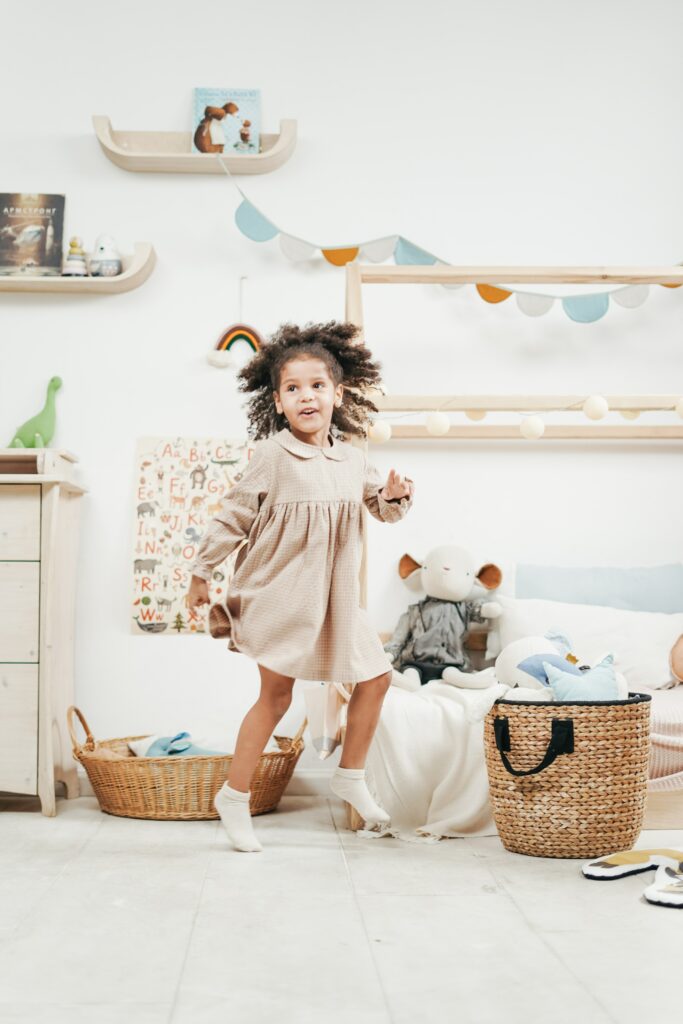 9. Make an Indoor Obstacle Course
As another great option to keep kids entertained and moving around for your New Year's Eve at home, why not build an indoor obstacle course?
Put on athletic gear, wear sweatbands, pick team names (if you have enough family members to do teams), and use an announcer voice to talk about their progress through the course.
If you have more than one kiddo, you can either make them do the course simultaneously, time them individually, or make the course tasks in such a way that they have to work together to complete the course!
And I have a hunch that your kids would LOVE to set up a course for you to complete too!
Just have fun with it!
Here are some ideas of "obstacles" to have them achieve.
Indoor Obstacle Course Ideas
Alternate climbing under and over a row of chairs
Climb under a table
Go around objects
Crawl under the sheets of a bed
Or crawl under a sheet laid over a table or two chairs
Jump over stuffed animals or other soft objects
Hula hoop for 30 seconds
Toss a ping pong ball in an empty egg carton
Match together 5 pairs of socks and toss them into a laundry hamper or other container
Walk across a "balance beam" (could be a wooden board or as simple as painters tape on the floor)
Tape pieces of string at random angles in a narrow hallway and have them walk through it
Toss rings on a cone
Bounce ping pong balls into a plastic cup
Use an empty wrapping paper tube like a golf club and hit a ball into a "hole" (could be a cup cut in half or anything else that would pocket whatever sized ball you have)
Do jumping jacks while singing a certain song
Leapfrog over pillows
Put together a simple puzzle
Stack cups or blocks or dominos into a pyramid shaped tower
And there are so many other great ideas you can find with a quick internet search!
But just take a look around your house and get creative!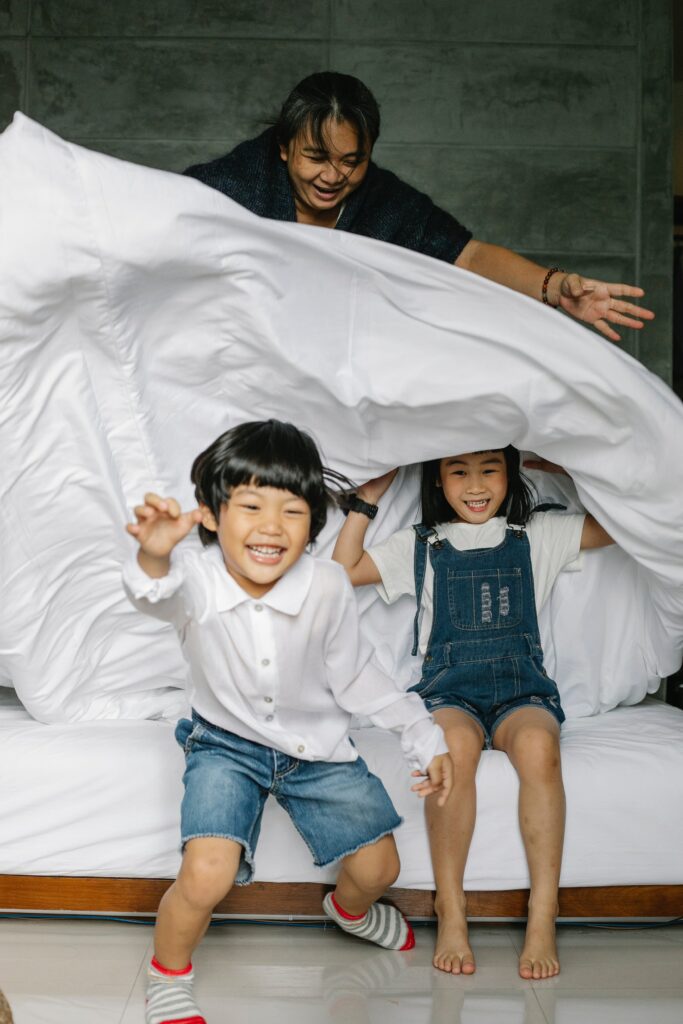 10. Minute to Win It Games
For a fun game to play for your New Year's Eve at home, try a family version of the game show "Minute to Win It."
If you have never heard of the show, let me quickly explain the premise.
Basically, you have a silly task that you have to complete in one minute.
Most tasks use simple, household items which is why this is an ideal game to play at home!
I will give some examples below.
Keep in mind that all of these examples should be tailored to your crew.
And let your kids help think of funny things to try!
If you have smaller kids, make them just do one of something!
Or do something REALLY easy like "carry 5 stuffed animals across the room and put them in a laundry hamper."
There's no reason your little one can't get involved in the family fun!
If you have older kids, increase the number or choose harder objects to transport or move.
And don't forget that mom and dad should be part of the challenges too!
So what are some examples of things you can try to do in 1 minute?
Minute To Win It Game Ideas
Stack 4 apples on top of each other
Make a stack of playing cards 5 stories high
Stack up 10, 15, or 20 dice in a single tower
Bounce or throw 6 ping pong balls into cups or other containers stacked different distances away
Blow 3 cotton balls a certain distance across a table or floor
Use only your nose to push an obscure shaped object across a certain distance on the floor (you could use a sweet potato, apple, or other object!)
Make a paper airplane and get it to fly a certain distance across the room or land in a laundry basket
Roll 5 coins on their side a certain distance across the floor on the first try (so if it doesn't make it across the finish line you have to try again)
Use suction with a straw to pick up 10 small puzzle pieces and place them in a cup
Use a pair of chopsticks to pick up 10 small objects and race them across the room, and if you drop the object, you have to take it back to the start and try again (objects could be frozen peas, marbles, etc.)
Find and match 10 pairs of socks in a pile of laundry
Use a spoon in your mouth to transport 5 cotton balls across the room and into a cup
Balance 5 books on top of your head
Stand up 10 colored pencils on a table
Keep 2 or 3 balloons in the air at once and hit them across the room and into a bin. If you drop one, you have to start over!
And just as I mentioned above with the obstacle course, there are SO MANY more ideas online!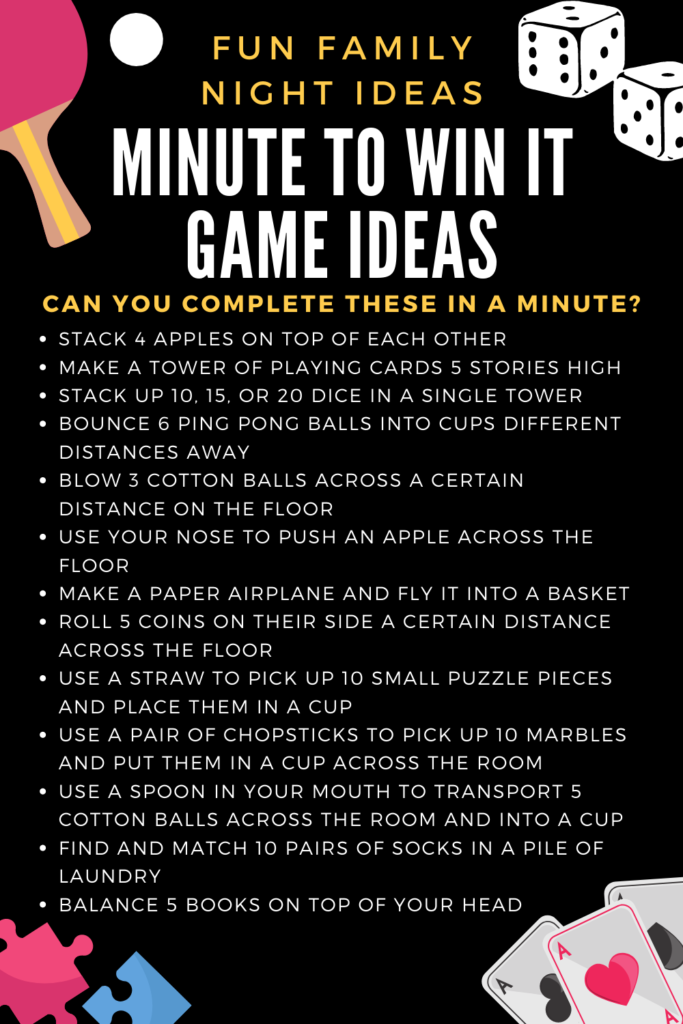 11. Virtual Calls Every Hour
If you normally would be at a party on New Year's Eve, but find yourselves at home this year, why not set up virtual calls to chat with family and friends.
Set up one call during the whole night or make a night of it and set up a different call each hour!
Spend some time catching up and then have fun together!
Play a game together.
Let the kids try Minute To Win It games simultaneously!
Answer fun trivia questions that are age appropriate for your groups.
Play charades.
Fill out a Mad Lib together.
Complete a scavenger hunt for different household items.
You can still spend fun time together with your friends even if you are physically apart!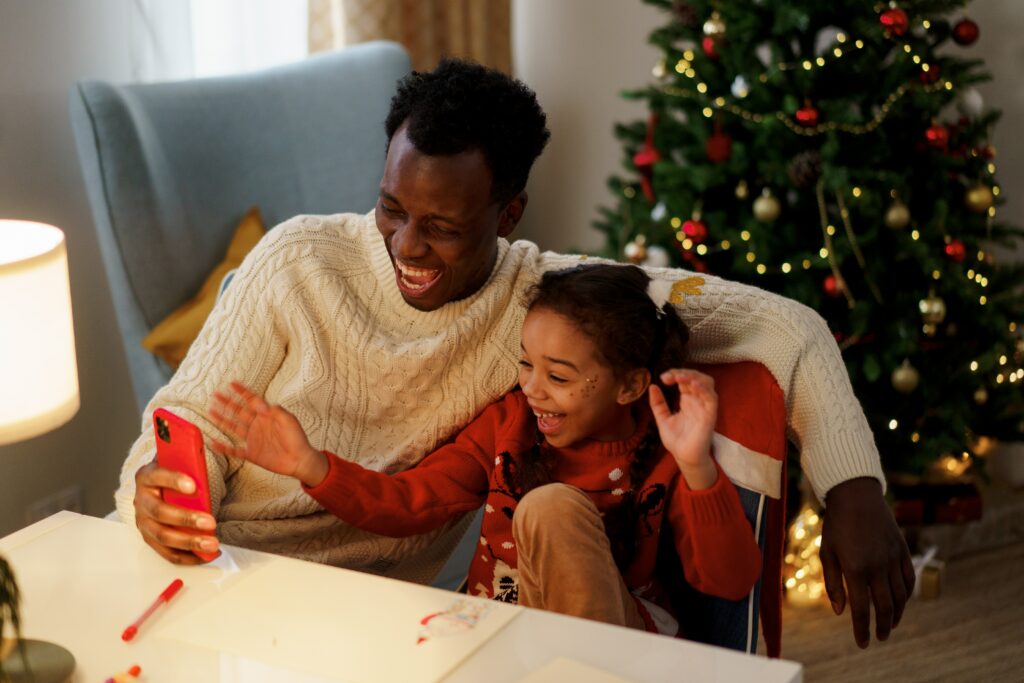 12. Give a Gift Every Hour
There are a couple of ways you can give gifts for your New Year's Eve at home!
You can either have gifts for your family to open and use or you can give gifts to others!
Let me explain!
Family Fun Gifts
The first option is to have a new gift for your kids to open together each hour that you can then use!
Lay out the gifts across a table or counter.
Label the gifts with a tag that lists what hour they are supposed to be opened.
This could be a scavenger hunt list.
It could be the ingredients to a fun dish for you to all make together.
You could also give them a new puzzle for you to all make together.
It could be a printed copy of the Minute To Win It games listed above!
Or it could be a new (or old) game for your family to play!
For your last box of the night, you could list 11:55PM as the open time and include fun party hats or confetti poppers to let off at midnight.
The idea is to make each hour something new and fun for your family to do together!
You can buy new things to wrap up, or just wrap up items that you already have around the house!
Give Away Gifts
The second option is to deliver gifts to others in your local area.
You could deliver a new game to some family friends.
If you have smaller kids, you could have them color a festive holiday picture and drop it off for Grandma and Grandpa (or other friends and family that might live nearby).
You could randomly go sing carols at a few houses.
Your family could deliver freshly baked cookies to neighbors.
Or you could shop for warm items like gloves and mittens and give them to the homeless if you live near an area where you know they will be out.
You could also pick up some inexpensive gift cards like $5 Starbucks gift cards and pass them out to strangers or ding-dong ditch drop them off at a friends house.
The idea is to spread some cheer and show your kids how fun it can be to give things away and surprise others!
13. Make a Scavenger Hunt
Growing up, I always thought it was so fun to do scavenger hunts around our house!
Even now as a grown up, I still make clues for my family to follow around the house to find their gifts sometimes!
There are a few fun ways you can do your scavenger hunt during your New Year's Eve at home depending on what age your kids are!
Scavenger Hunts for Young Kids
For really small kids, try a "clue to clue" version of a scavenger hunt.
Write a starting clue like "Check the pillow on your bed."
Then hide another clue on the pillow of their bed.
With each clue, you could put a fun gift for them to find, or for a free option, place one of their stuffed animals at each clue for them to collect.
Or you can just have one fun gift or item at the very end for them to find.
Either way, with small kids keep it short since their attention span won't last long.
I would recommend starting with 5 clues and seeing if it holds their interest.
Scavenger Hunts for Elementary Aged Kids
Here's where things start to get interesting!
There are two forms of a scavenger hunt you can do with kids that can read on their own.
You can do exactly what I described above for the small kiddos, but make the clues harder!
Instead of "check the pillow on your bed", you could instead write "your bed has a comfortable one of these, look under here for next clue if you please."
It's a little more obscure and the rhyming makes the clues more fun!
If you have more than one kid, they can either work together or you can make clues for each child and have them race one another.
Your second option is to make a list of household items to find and have your child or children race against the clock or each other!
If you only have one child, have them see if they can find everything in a certain time period, like 5 minutes.
If you have more than one child, have them race against each other to see who can collect the most items on the list in a certain time period.
Ideas of Things to Search for in an Indoor Scavenger Hunt:
Whisk
Pair of Blue Socks
CD
Book
Pencil
Backpack
Coat
Red Shirt
Ball
Stuffed Animal
Watch
Necklace
Lego Piece
Deck of Cards
Remote Control
Car
The idea is that your kids can be creative.
Perhaps their backpack is a Pixar movie Cars themed – that can count as a backpack and a car!
Or maybe your child has a stuffed animal that is wearing a watch. That counts for both a stuffed animal and a watch!
Make this list as long or as short as you want!
And the great thing is that if they have fun doing it, it's easy to quick whip up another list of items for them to find!
Scavenger Hunts for Older Kids
All of the ideas above can still apply to older kids, but again, you just want to make the clues harder or the list of items to find be more complicated!
But there is another fun scavenger hunt option!
If one or two of your kids can drive (or if the parents want to split up and each drive a "team" around), make your scavenger hunt a photo scavenger hunt around town!
You will obviously need a much longer time limit.
But the idea is to make a list of photos that your team has to get within a certain time limit.
Give teams 30 minutes to capture their photos and meet back at the house.
Just remind everyone that driving safely and not speeding from stop to stop should be most important!!
And all of these photos should be done selfie style or include at least one team member so that you have funny family pictures to remember the night!
Ideas for a Photo Scavenger Hunt:
Swinging on swings
Walking on a cross walk
Pushing a shopping cart
Photo in front of a friend's house
Peeking out from behind a tree
Walking on railroad tracks
Standing next to a fountain
Photo with a church in the background
Selfie at a school
Picture with a red car
Pretending to mail letters at the post office drop-off
Photo with an American flag in the background
Walking someone else's dog (with their permission of course)
Photo in a parking lot
Feel free to modify this list to whatever works for the town you live in!
And you can decide to give bonus points for the best goofy picture or the best serious pose.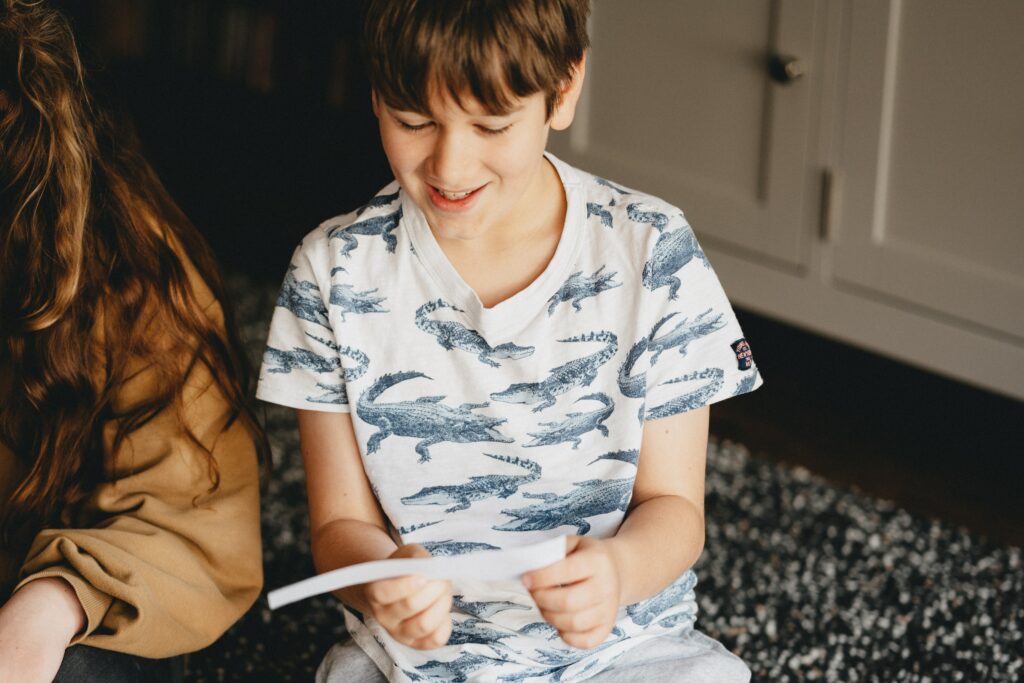 14. Decade Theme for Each Hour
Similar to the Around the World Tour idea above, instead of visiting a country each hour, pretend each hour is a different decade!
You could work straight with the clock and start at 6pm with the 60's and work your way to 2020 by midnight.
Or feel free to jump around and start with the roaring 20's and then jump to a disco for the 70's the next hour.
Have fun dressing up in clothes that represent that decade.
Listen to music that was popular from that decade.
Serve a dish or snack representative of that decade.
Discuss major historical events, who the major political leaders were and other issues of that time.
Look up famous people that were born in that decade.
Research fun facts such as what the world population was at the time or what the cost was for different items like new homes, cars, a gallon of gas, or a dozen eggs.
Look up what the top movies were that were released that decade and watch a short YouTube clip (if possible!).
And as with all of the ideas on this list, get your kids involved as much as possible!
For older kids, assign everyone an hour, decide who wants what decade, and have your kids plan that hour's events.
And for younger kids, they can still help, just with mom and dad's assistance!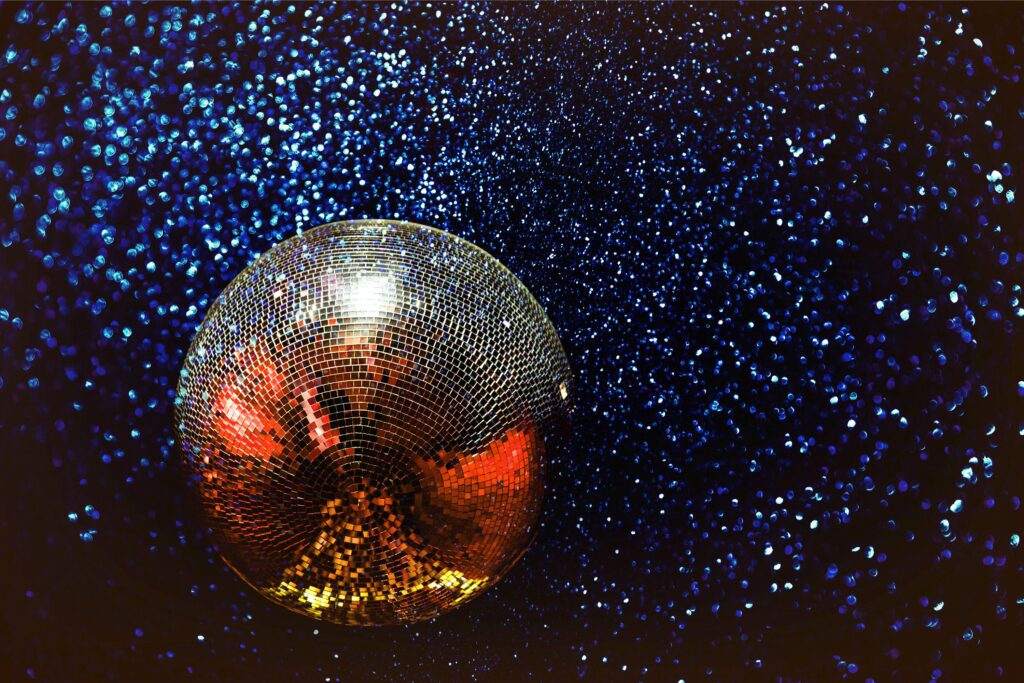 15. Write Family New Year's Resolutions
Perhaps one of the most common traditions to do around the New Year is to write New Year's resolutions.
So why not include writing resolutions as part of your New Year's Eve at home?
Instead of personal goals, think of goals that involve your whole family!
Maybe now is the time to get everyone on board with healthier eating.
Or perhaps your family could have a resolution to take a walk around your neighborhood together once a week.
If you have older kids, perhaps everyone could commit to turning their phones off during dinner and family nights.
Maybe your family would like to eat more meals together.
Or maybe your family wants to commit to attending church together every Sunday this next year.
Another great idea is to commit to reading the Bible together each week (or every night!).
Perhaps your family could commit to blocking off Friday nights as Family Friday's, meaning that you will all spend Friday night together doing something as a family!
You could also have a resolution to spend less time watching TV.
Or maybe you could have a resolution to serve or volunteer together.
You could commit to giving away a trash bag full of items – whether they be old clothes, toys, or books.
There are so many great ideas that your family could make resolutions for.
And while most resolutions are broken, family resolutions have more accountability if everyone is on board!
So write just one or two things that your family wants to try to do this year and keep it on the fridge or other highly visible place.
And even if you get off track, there's no reason you can't start again at any point throughout the year!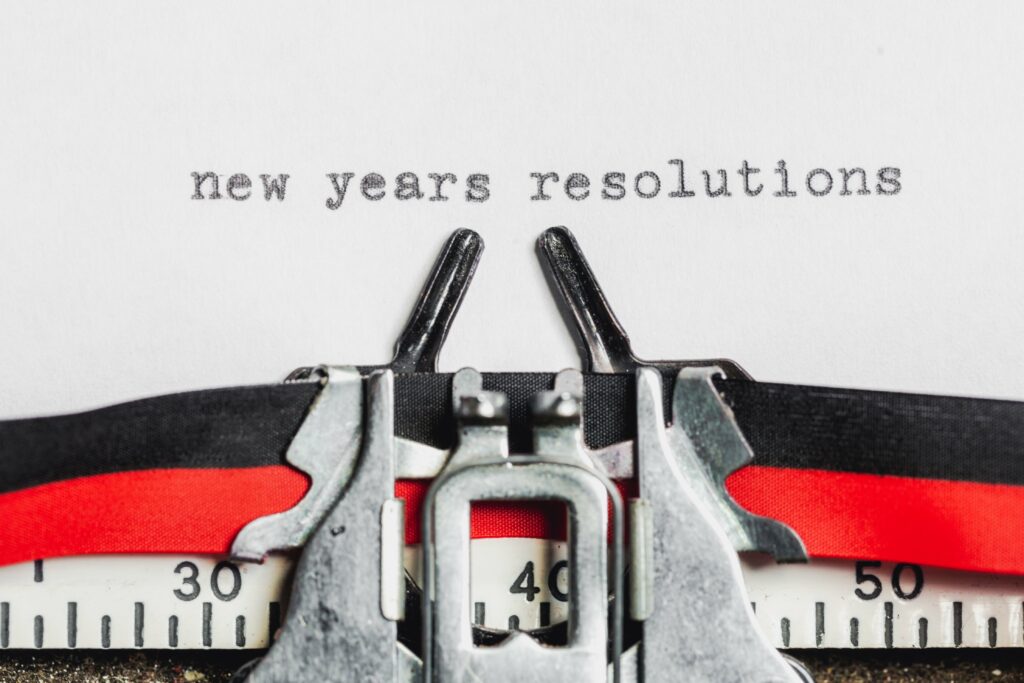 16. Set Up A Photo Booth
Do your kids love to dress up and make silly faces?
Why not set up a DIY photo booth for your New Year's Eve at home?
Make a pile of fun props, silly accessories, and fun hats.
Make your own signs with paper and markers.
Set up a back wall of streamers, garlands, or balloons.
Use a phone camera to take selfies or go big with a camera on a tripod with a timer.
Gather everyone in and take some wacky pictures together!
Get creative with how everyone poses or what face you are all making.
Spell words with your arms.
Hold someone upside down.
The goofier the better!
This is a great way to capture fun New Year's Eve memories at home!
And if you are doing any of the themed ideas above like the Around the World Tour or the Decade theme, make sure you snap photos for each hour's theme!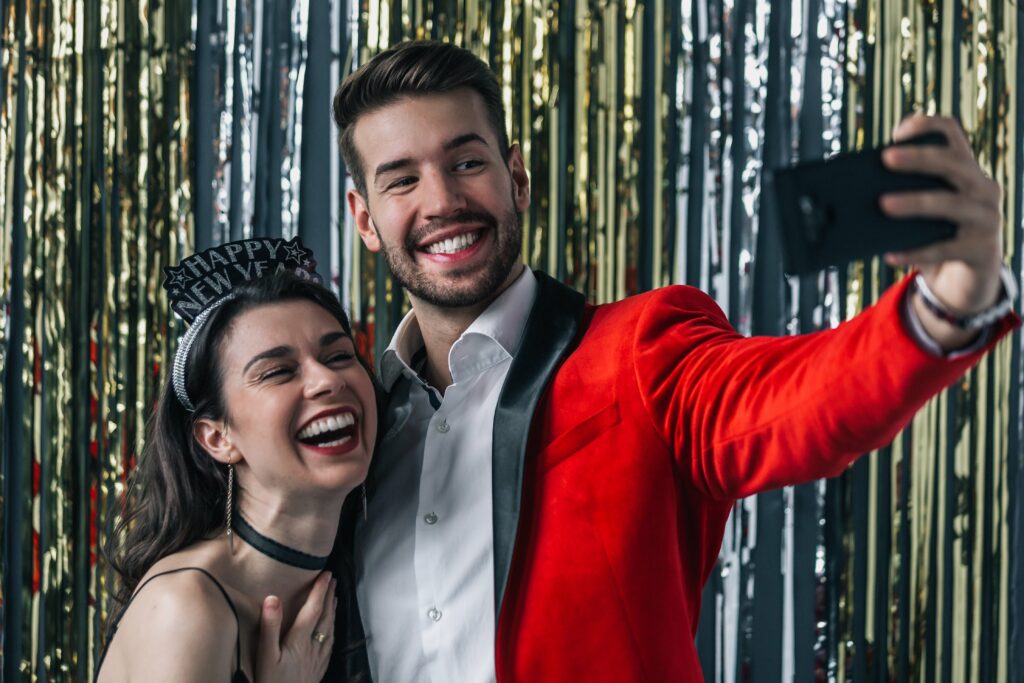 17. Family Bucket List of Things to Do Next Year
For another fun New Year's Eve at home idea, have your family take 30 minutes to make up a family bucket list for the next year!
You can just make a list of ideas, or write down one idea for each month.
Try not to get too many on your list.
Set a limit of say 12 (one per month) or no more than 20 for the year.
Decide what you reasonably have time for that way your family can accomplish the bucket list in a year!
And make sure your kids help come up with the ideas!
Ask them what new things would be fun to try as a family.
To get the creative juices flowing, here are some suggestions of things you could include on your list.
Family Bucket List Ideas
Make a new recipe together
Have a family game night
Visit all of the parks within a 10 mile radius of your house
Go to the zoo
Visit a local museum
Go on a hike
Visit a new city
Enjoy a picnic at a local park
Go fishing
Try rock climbing
Take a family bike ride
Watch a sunset together
Visit a beach
Go camping
Try ice skating
Build a snowman
Go sledding
As you can see, your family bucket list is very easy to tailor to what your family enjoys doing and to the age of your kids.
Once your list is complete, hang it on your fridge or other visible place.
As you complete things throughout the year, mark them off the list.
See if you can get everything marked off by the next New Year's Eve!
18. Pray for the Coming Year
At midnight, toast and kiss one another.
Shoot off poppers and confetti into the air.
Do a happy dance.
Celebrate the New Year!
And then pause as a family and pray over the new year.
Ask for God's blessing over your family and pray for the health and safety of your family and loved ones.
Pray that your family would stay rooted and focused on God over the course of the year and not get caught up in the hustle and bustle of the world.
Seek His will for your family and ask that He give you strength for the trials that lie ahead.
Pray that God would show you things and priorities that need to change over the coming year.
Seek wisdom for how to handle all of the difficult things next year might hold.
Ask God to give your family opportunities to be His hands and feet and that you would take advantage of every opportunity He gives you to share the love of Christ with others.
Pray for peace for our nation and wisdom for our leaders.
These are just a few ideas of what you could pray for.
Stop and pray for anything that God has placed on your heart.
And while it seems appropriate for the head of the family to start and/or end the prayer, that doesn't mean everyone can't take a turn!
Ask everyone to pray for the new year.
There's no better way you could start off your new year than by seeking the Lord as a family.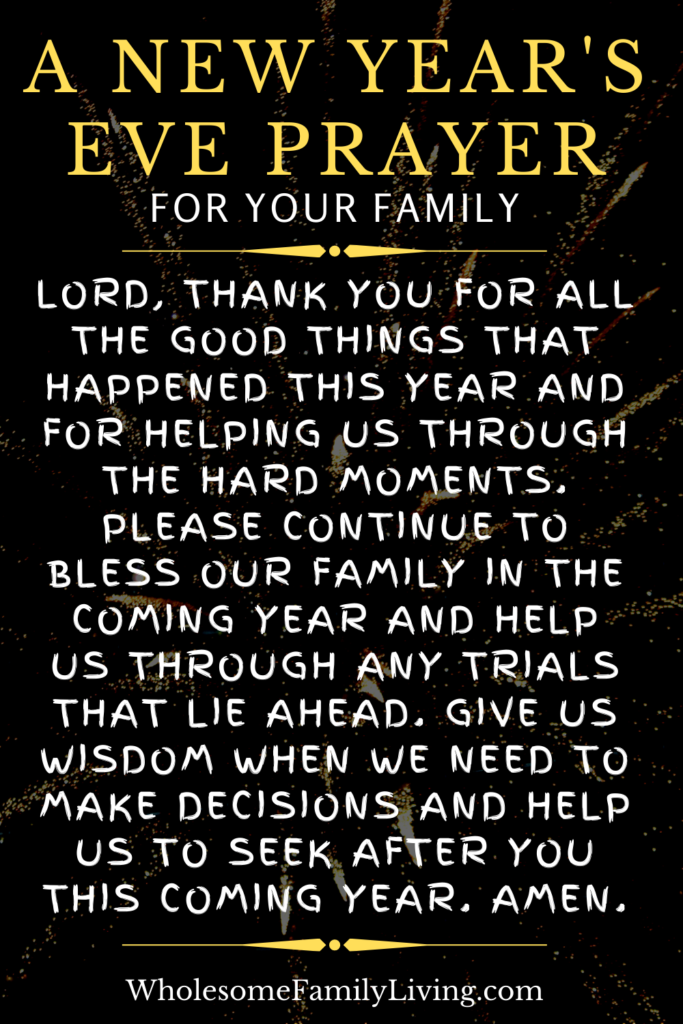 Fun Family Ideas to Celebrate New Year's Eve at Home
So there you have it, 18 ideas for how you can have a fun family New Year's Eve at home!
No matter how this past year went, don't let it hold you back from celebrating!
This past year may not have turned out how you expected.
Perhaps it was surprisingly better than you thought it would be.
Or maybe things went terribly wrong.
There's nothing like the start of a New Year to freshen things up!
God is still in control and is working His story throughout all of history.
Don't worry about tomorrow or this coming year.
Jesus reminds us of this in Matthew 6:27:
27 Can any one of you by worrying add a single hour to your life?
So spend your New Year's Eve at home celebrating what you have.
Enjoy time with your family!
Laugh and be silly!
Count down to midnight and then let's tackle this New Year!
Wishing you and your family all the best for the coming year!