This post may contain Amazon or other affiliate links. As an Amazon Associate I earn from qualifying purchases.
Are you trying to figure out what healthy shelf-stable foods you can stock your pantry with?
When you are changing your diet to a more whole foods diet, you might be wondering what foods you can stock up on during sales or pandemics like we are going through right now.
Let me tell you, there are plenty of healthy shelf-stable pantry food options out there!
Even if you are eating keto, paleo, or a different diet, there are lots of healthy shelf-stable food items to buy!
Don't feel like you have to buy overly processed foods just to have a full pantry.
So let's go on a mini "tour" of my pantry and I will share what items I keep stocked up on!
Healthy Shelf-Stable Fresh Produce
When stocking the house with food, I try to prioritize my fridge and freezer space for produce that will go bad the fastest.
That means all shelf-stable produce gets an A+ in my book!
Shelf-stable produce that I stock up on includes:
Squash
Sweet Potato
Onion
Garlic
Squash
I love keeping a supply of squash in my pantry!
When kept in a cool, dark place, squash is VERY shelf stable!
When I say squash, I mean spaghetti squash, butternut squash, acorn squash, buttercup squash, delicata squash, and pumpkins!
In general, squash will stay fresh for 1-3 months in the pantry.
Just try to take a look at them every week or so to make sure that soft spots aren't developing.
If my squash looks like it needs to be used soon, I will also freeze and can the squash.
To freeze your squash, first roast the squash in the oven at 350 degrees for 1-2 hours (depending on the size of the squash).
Just don't over roast it – you want the squash to still be a little firm so that you can dice it into large chunks.
Store in the freezer for 8-10 months for best freshness.
To can your squash, check out this great post by Prairie Homestead!
Sweet Potatoes
Sweet potatoes (and also regular potatoes, if you eat them) will stay fresh in your pantry for 3-5 weeks.
Personally, I have kept sweet potatoes in my pantry for months without problems, but you do want to periodically check on them to make sure they aren't developing bad spots or mold.
To get an even longer life out of your sweet potatoes, you can store them in the fridge. This allows them to stay fresh for 2-3 months.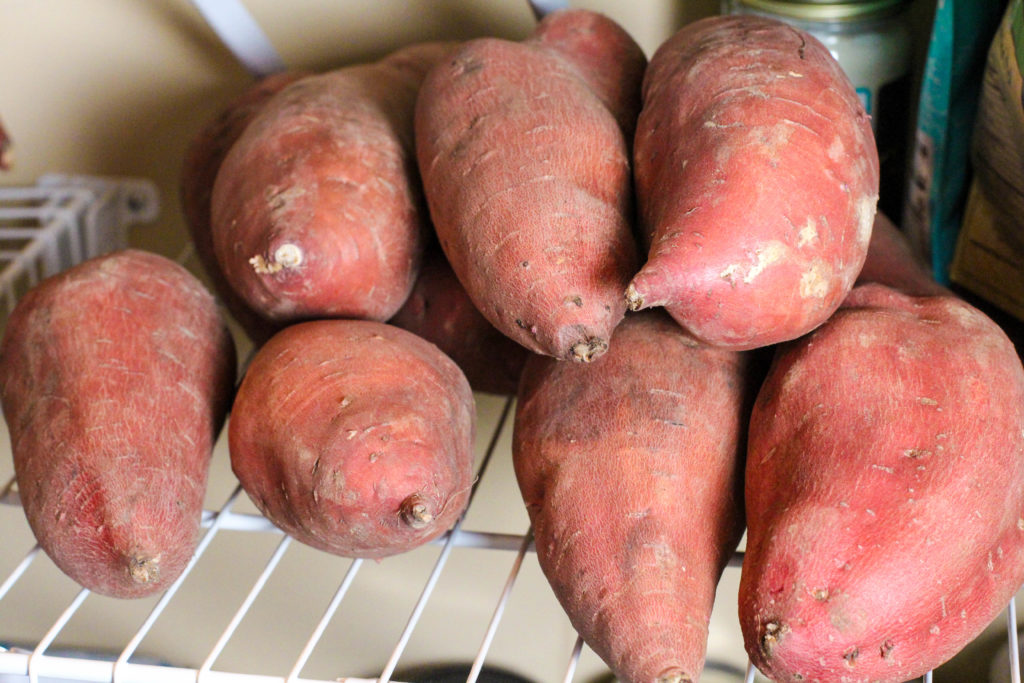 Onions
Fresh onions will keep on the counter for 4-6 weeks.
Again, keep an eye out for bad spots and/or mold.
Onions are also another great candidate to go ahead and dice and store in the freezer, if you have the space.
I like to freeze one onion per container, and then it's super easy to pull out for recipes!
Frozen onion lasts for 6-8 months for best freshness.
Garlic
Garlic is a great cancer-fighting food that is also a natural antibiotic, so I ALWAYS have garlic on hand!
Keep garlic in a well vented container on the counter.
Garlic will last for 3-6 months on the counter if you keep the bulb intact.
You can also pre-chop the garlic and store it in the fridge in an air-tight container with some olive oil.
A pre-made jar of chopped garlic will keep for 2-3 months.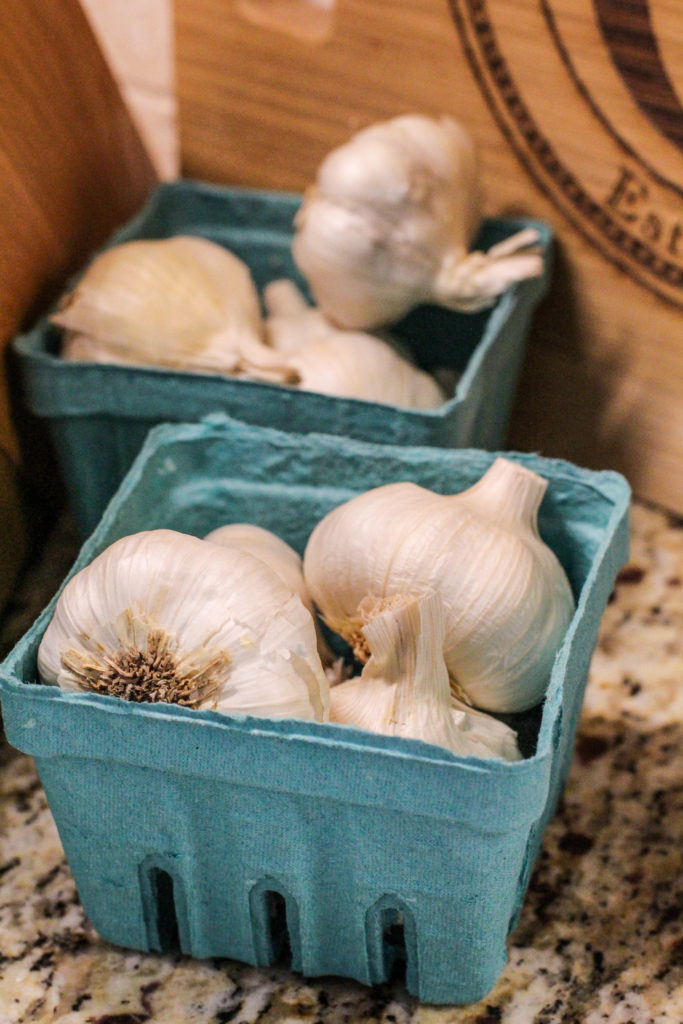 Healthy Shelf-Stable Canned Produce
I tend to buy most of my vegetables fresh and prepare them to store in the freezer for long-term storage.
But most people don't have a lot of freezer space.
This is where canned produce can come in handy.
Personally, I also can produce with a pressure canner when foods are in season and there are lots of sales!
Things that I can with my pressure canner include:
Green Beans
Diced Tomatoes
Beets (I prefer pickled)
Carrots
Butternut Squash
Pumpkin
Applesauce
Pears
Homemade Chicken Broth (from making Instant Pot Shredded Chicken)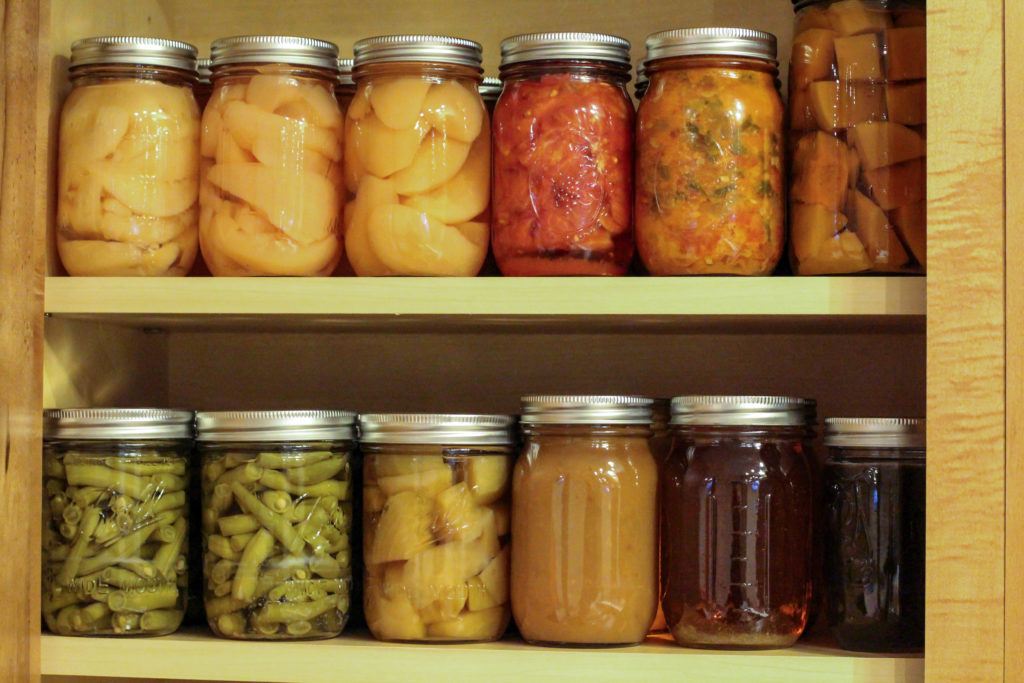 Obviously if you don't have a pressure canner, these are all great things that you can buy pre-canned from the store.
You will see in many of the pictures of my pantry that I use canned products too!
Some of the store-bought canned produce items I buy include:
Peaches
Mandarin Oranges
Tomato Paste
Fire Roasted Tomatoes
Diced Tomatoes with Green Chiles
Diced Jalapeños and Diced Green Chiles
Salsa
Pasta Sauce
Pumpkin Puree (since it's a different consistency from the chunks of pumpkin that I can)
Olives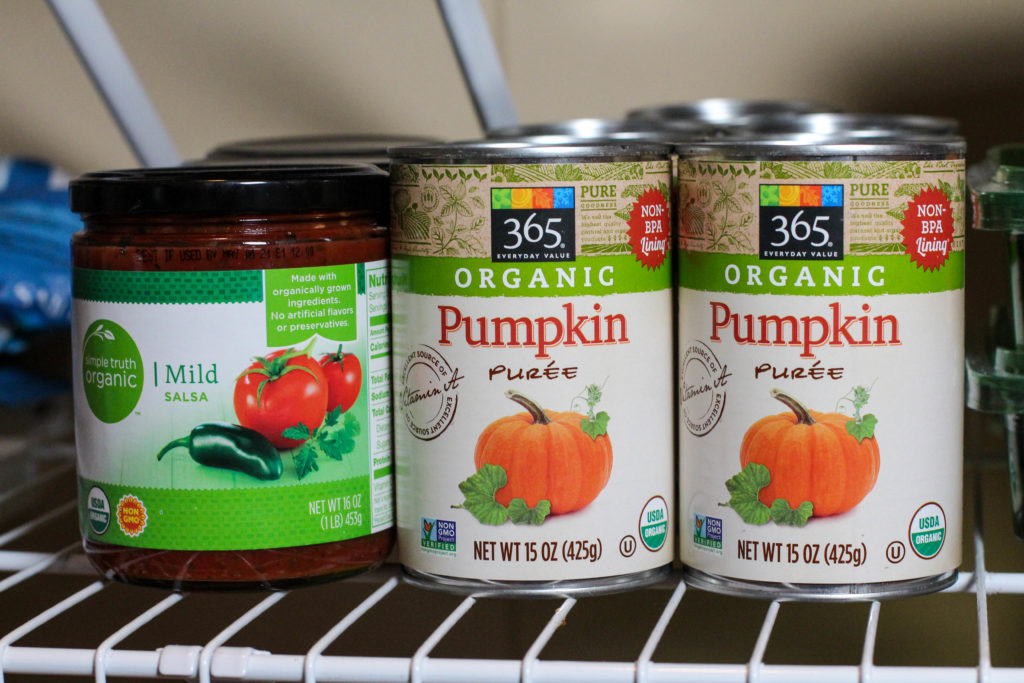 Other canned produce items that you might consider purchasing include:
Pineapple
Mango
Mixed Fruit
Peas
Corn
Asparagus
Mushrooms
Artichoke Hearts
Canned produce is a great way to stock up if you don't have the fridge and freezer space to store a lot of fresh produce!
Other Healthy Shelf-Stable Produce Options
Besides canned produce, you can also get creative with dried and dehydrated produce as well!
Dried and dehydrated fruits can be used to snack on or sweeten recipes.
I commonly have raisins in the pantry to add a sweet note to homemade trail mix (used in combination with nuts and seeds for my husband as I mention below).
You just have to be careful to not overeat, since the sugar content is very high in dried foods.
More recently, I picked up some dates to try using them as sweeteners for dessert recipes (although I haven't had time to try yet!).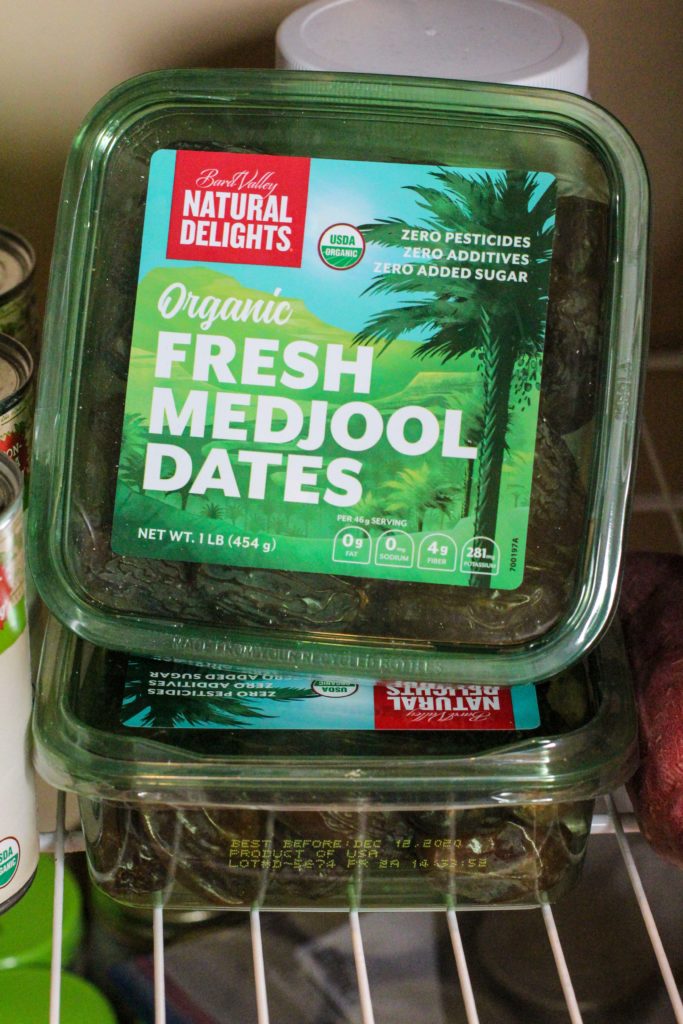 I picked these up on sale from Whole Foods (although I saw that they are sold at Fresh Thyme as well!).
Recently shopping through Costco, I was also surprised at their large selection of dried and dehydrated organic fruits!
So dehydrated and dried produce are another great option, especially if you are limited on space!
Healthy Shelf-Stable Protein Sources
There are a couple of options for healthy shelf-stable protein sources.
You can pick up canned meat, protein powder, bone broth, or even foods like nut-butters and seeds for a protein boost.
I will cover nuts and seeds in the next section, but let's discuss canned meats, protein powders and bone broth first!
Canned Meats
While canned meat isn't my first preference, sometimes it is a convenient way to get dinner on the table quickly.
It's also a great backup for if you lose power and don't want to open your freezer door!!
I know most people are probably thinking of spam right now, but let me try to sway you to stick with healthier options.
These are the canned meat products that I have purchased before:
Canned Organic Chicken
Canned Wild Caught Fish – safest choices are light tuna, sardines, and salmon
I just try to make sure that the fish is wild caught and sustainably sourced in order to reduce the chance of heavy metals and other toxins.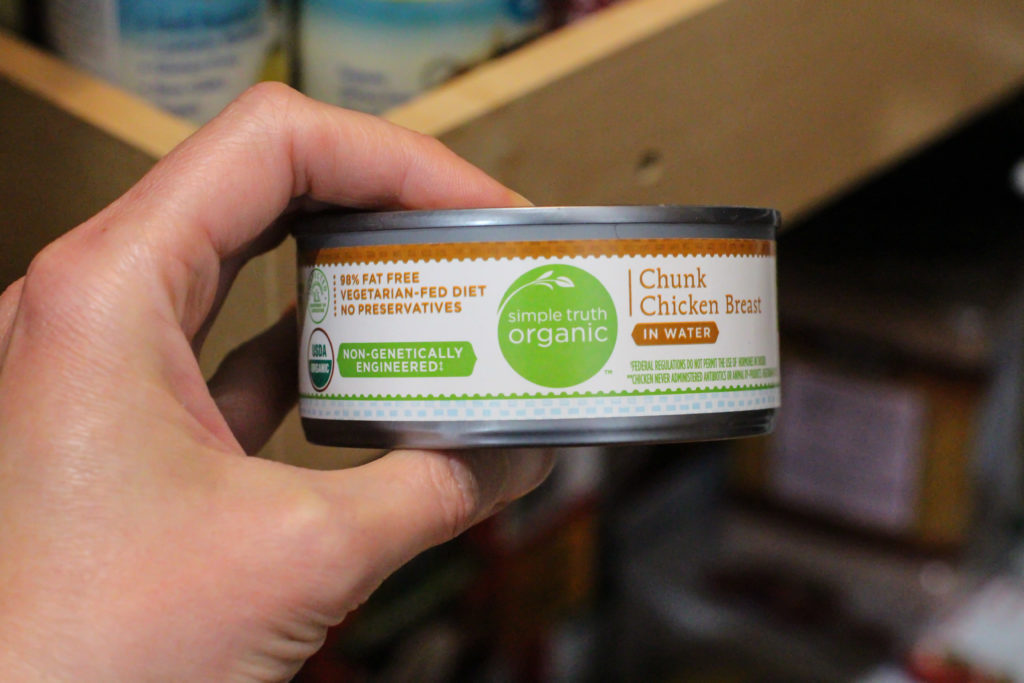 Protein Powders
Protein and collagen powders are great shelf-stable protein sources!
Being that these are protein sources, it's still really important to make sure that you are getting a high quality powder to reduce artificial ingredients, chemicals, and pesticides.
But how do you know what to buy when there are SO MANY CHOICES?!
For our family, we are mostly concerned about eating organic, responsibly sourced food. We also like simple ingredient lists, so we like the Tera's Whey, which only has 4 ingredients and is sourced from cows raised in Wisconsin!! That's the least amount of ingredients I have seen for a flavored protein powder!
We also use the CERTIFIED truly grass-fed Garden of Life sport protein powder.  What does the truly grass-fed certification mean? You can check out the full program details here. In summary, these cows are raised on small farms in Ireland and they are checked every 18 months to ensure the farmers adhere to using best practices in animal welfare, sustainability, product quality, traceability, and soil and grass management.
But these protein powders won't meet your needs if you are on different diets, so let's list out some other options!
If you eat an AIP diet, you are probably more used to an unflavored collagen or gelatin powder. I prefer the Great Lakes collagen. You can see that I like to keep Great Lakes gelatin on hand as well down below in the condiments section pictures.
For those on a paleo diet, besides the option listed for the AIP diet, you could also use an egg white protein powder or even a PaleoPro protein powder, which is a beef and egg protein.
If you are on a vegan diet, I would recommend using the Orgain organic plant based protein. Another great choice for those eating vegan would be Vega protein  & greens powder. Both of these are plant based protein powders that are keto-friendly, gluten-free, non-dairy, non-soy, and non-GMO!
Here you can see what I have stocked in our smoothie cabinet!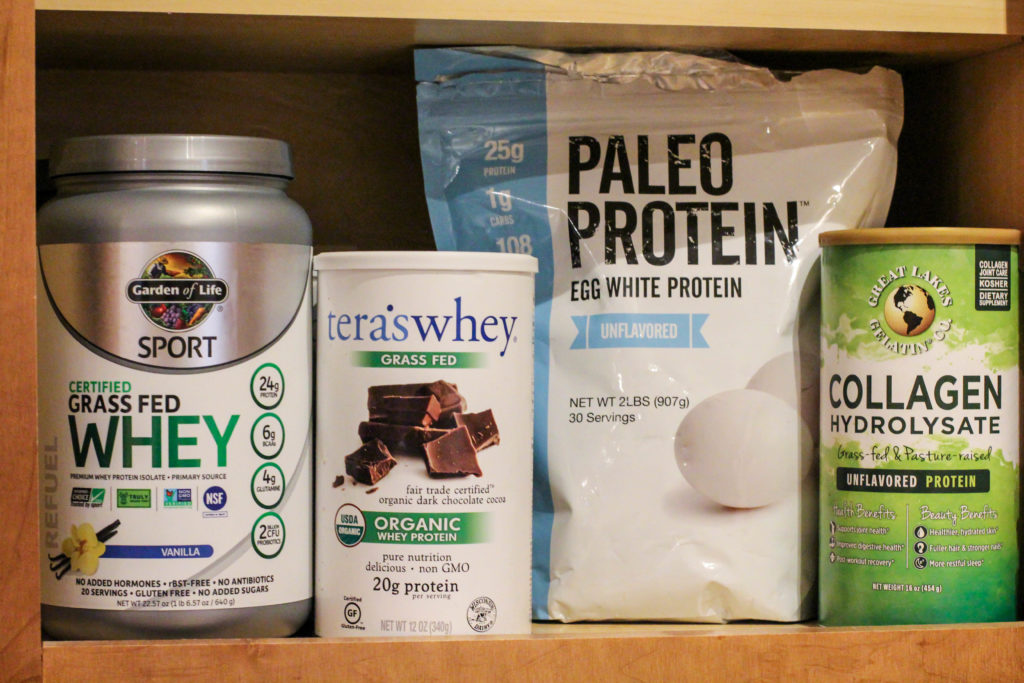 Bone Broth
I know what you are thinking – wait broth? For a protein source?
But that's right!
One cup of bone broth has 10 grams of protein in it! (per Kettle & Fire Bone Broth nutrition label)
Bone broth is a broth made by simmering bones for long periods of time, which allows them to release amino acids, collagen, gelatin, and trace minerals into the broth!
Benefits of drinking bone broth include improving hair, skin, nail, and joint health, reducing inflammation, boosting the immune system, and also helping to heal a leaky gut.
There are tons of great recipes out there on how to make your own.
I also stock up on bone broth from these trusted brands:
Both brands use bones from organically raised, grass-fed animals with organic vegetables.
Healthy Shelf-Stable Nuts and Seeds
This is a great category for most folks, but unfortunately, I am allergic to both nuts and seeds.
The only "nut" butter I can eat is peanut butter, and technically peanuts are a legume.
Legumes are in the "No" category for a lot of diets – such as paleo, Whole 30, and AIP.
However, if you eat a keto or vegan diet, then peanut butter can be consumed as part of these diets, assuming you aren't allergic.
And obviously, if you eat a free for all diet, then have at the peanut butter!
Check out this double wide row of peanut butter I have! (not pictured, additional peanut butter on the floor, lol)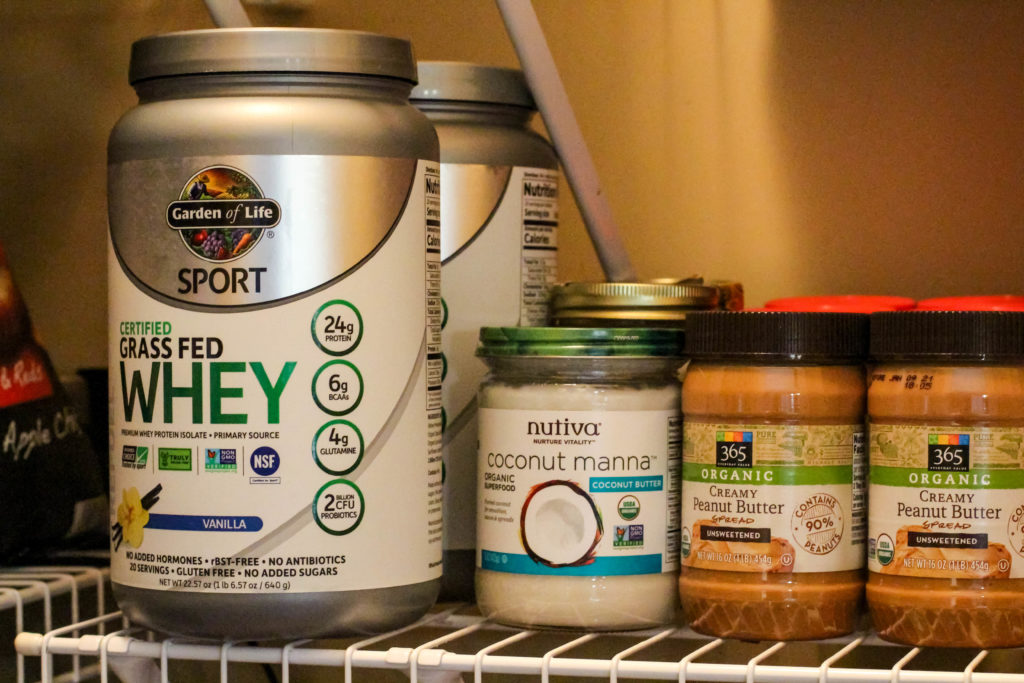 So consider stocking up on any nuts and seeds that your family consumes!
I do keep some seeds and nuts for my husband.
When buying nuts and seeds, I try to make sure that they are organic and not cooked in an oil.
I have discussed this in other posts, but I will just quickly explain why I look for no oil (or certain types of oil).
Oils oxidize under heat, such as when roasting nuts and seeds, and cause inflammation in the body.
Two oils I'm okay with are coconut oil and avocado oil since they can withstand higher heats.
But my preference is still for seeds without oil, and then I roast them myself so I can control the oil and temperature used to help prevent oxidation.
On that note, I also keep all of the seeds from the squashes I cook and roast them for my husband.
This includes seeds from spaghetti squash, butternut squash, and especially pumpkins.
Most people throw them away, but they are perfectly good (and basically free) seeds that you can roast!
How to Roast Seeds Yourself
Just clean the seeds and let them thoroughly dry.
I also cheat and put them on a baking sheet and heat at 180 degrees for about 30 minutes to 1 hour to make sure they are really dry.
Then I toss them with avocado oil and sprinkle on sea salt.
Next, roast the seeds in the oven at 350 degrees for 15-20 minutes.
The seeds are done when they have turned a golden color or you hear them "popping".
Healthy Shelf-Stable Fats
Following the note about only using certain oils for roasting seeds and nuts, I want to share with you what healthy fats I keep stocked in my pantry!
As mentioned above, my two favorite healthy shelf-stable oils are avocado oil and coconut oil (you can see both of these pictured in the section on Condiments).
The one other fat that I keep in the pantry is organic, fair-trade, sustainably sourced palm shortening for baking.
If you are still wondering about oils and oxidation, check out this article by Wellness Mama (certified health coach).
Dr. B.J. Hardick (a chiropractic doctor and nutritional author) also has a great article explaining oils and which ones to use and avoid at different heat levels.
Healthy Shelf-Stable Condiments
Condiments are a fast way to add flavor to a dish and are so convenient to have on hand!
From mayonnaise to salad dressing to vinegar, there are a wide variety of condiments that are healthy and shelf-stable.
Condiments, like mayonnaise, are thought of as being "bad for you", but they don't have to be!
You just have to look for condiments that are made with organic ingredients and healthy fats and without sugar.
Then you will find healthy shelf-stable condiments that are tasty and don't come with a side of inflammation!
And some condiments even boast health benefits!
For instance, did you know that apple cider vinegar, which I use in my chicken salad, can help regulate blood sugar levels, aid in weight loss, and help improve digestion by improving your gut health? (you can read about more of the benefits here)
So don't shy away from condiments!
Just look for HEALTHY ones!
Healthy, shelf-stable condiments that I keep stocked in my pantry include: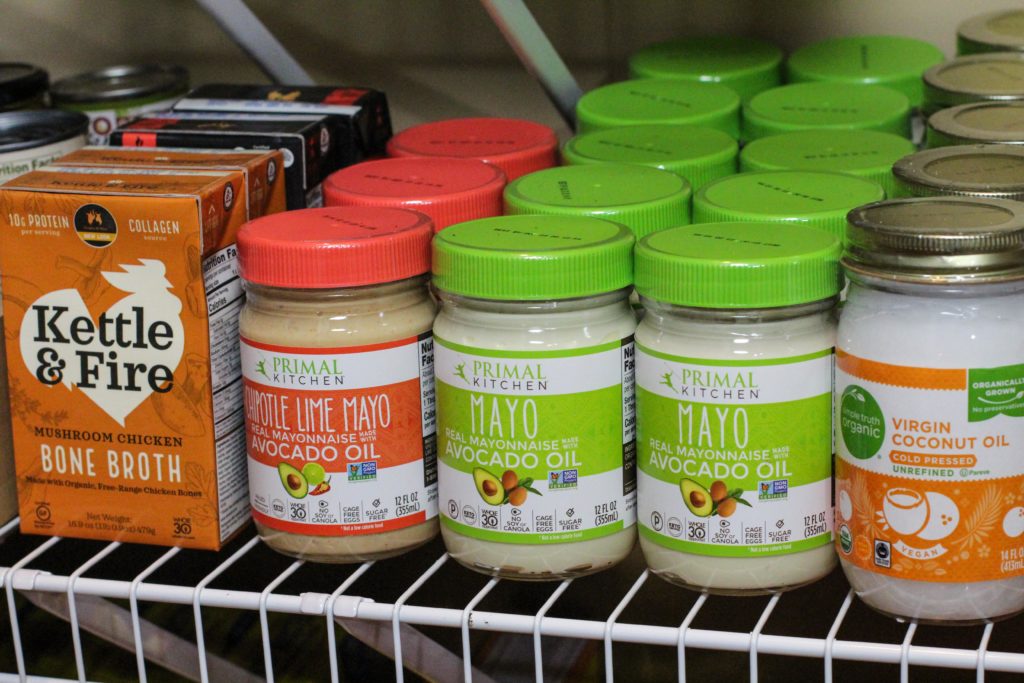 Coconut Secret Coconut Vinegar
Balsamic Vinegar (this is seriously the best tasting organic balsamic vinegar!!)
Coconut Aminos (I keep multiple bottles on hand for dishes like spaghetti squash fried rice!)
Lemon Juice (I buy large bottles like the double pack pictured because when used with avocado oil and balsamic vinegar, they make the best fresh-tasting salad dressing!)
Organic, unsweetened Classic BBQ Sauce (if you haven't tried my BBQ chicken casserole, you are missing out!!!)
Organic, unsweetened Ketchup (this is the most legit unsweetened ketchup I have been able to find!!)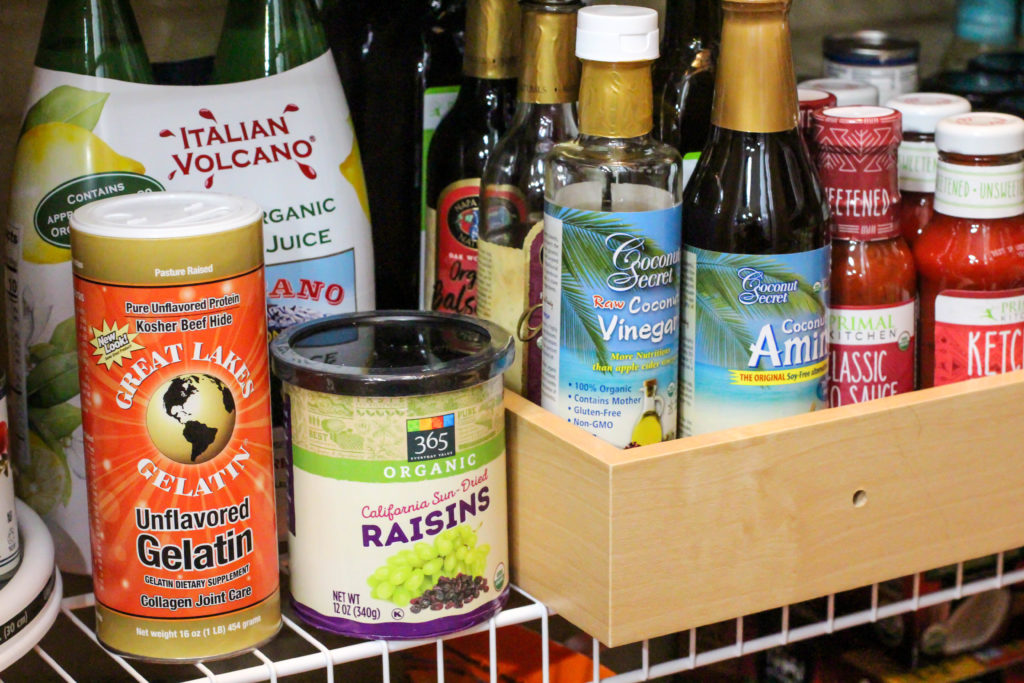 Salad Dressings made from Avocado Oil (I will link to our favorite flavors)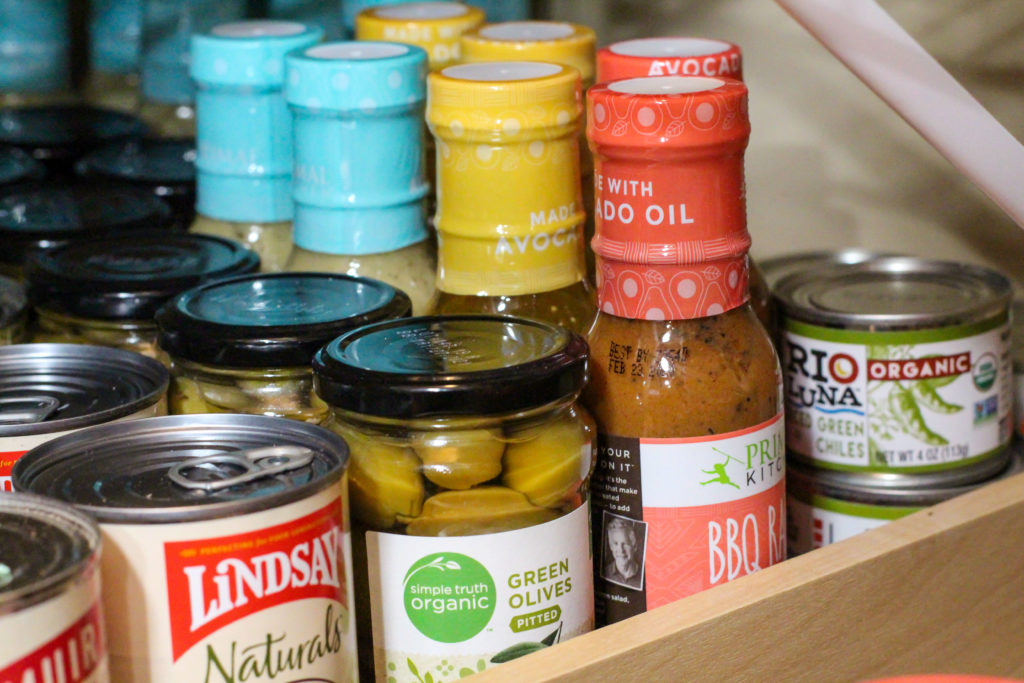 Summary of Healthy Shelf-Stable Pantry Items
I haven't covered my entire pantry yet, but I hope that this post gets you thinking about healthy shelf-stable foods that you can stock up on!
Every family and diet is different, so stock up on things that your family eats!
I just wanted to give you a sneak peek into what our family uses, but every family and situation is unique! (just check out the comment I got from Kelsey in Uganda on my How to Make a Meal Plan post!)
As always, I try to focus on stocking our pantry with nourishing, health-promoting foods.
In summary, consider these areas when you are stocking your pantry:
Produce – squash, sweet potatoes, onion, and garlic
Canned Produce – either store-bought or canned yourself!
Dried and Dehydrated Produce
Protein Sources – canned meats, protein powders, and bone broth
Nuts and Seeds – consider roasting your own from squash seeds!
Fats
Condiments
And be sure to check out Part 2 of Healthy Shelf-Stable Foods where I show you the baking supplies I stock up on, what I stash in my spice cabinet, the chips we snack on, and other household products that I store in my pantry!