This post may contain Amazon or other affiliate links. As an Amazon Associate I earn from qualifying purchases.
If you need a quick way to make moist, delicious chicken for dinner, try this easy recipe for Instant Pot shredded chicken!
Shredded chicken is the #1 recipe I make with my Instant Pot!  
By using the Instant Pot to cook the chicken, not only is it done quickly, but it keeps the chicken nice and moist! 
I also love that you can start with fresh or frozen chicken – dinner procrastinators rejoice! 
Step-by-Step Directions to Make Instant Pot Shredded Chicken
So this is my normal chicken routine – pull my frozen chicken (normal 4-6 breasts depending on how big they are) out from the freezer and layer the breasts in the Instant Pot.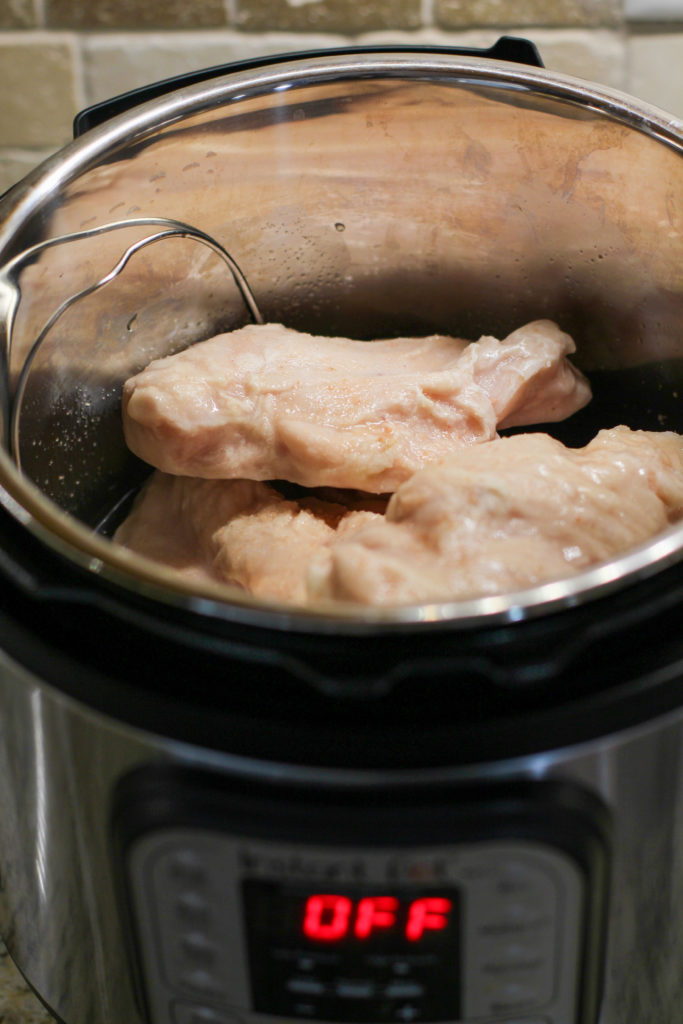 Pour in vegetable broth or water and sprinkle a little salt on top.
Now twist on the Instant Pot lid and make sure the valve is set to seal.
Press "pressure cook" and change the time to 12 minutes (or 8 minutes if you are using fresh/thawed chicken).
Turn off the "keep warm" function.
About 20 minutes later, I hear the Instant Pot beep that it has finished!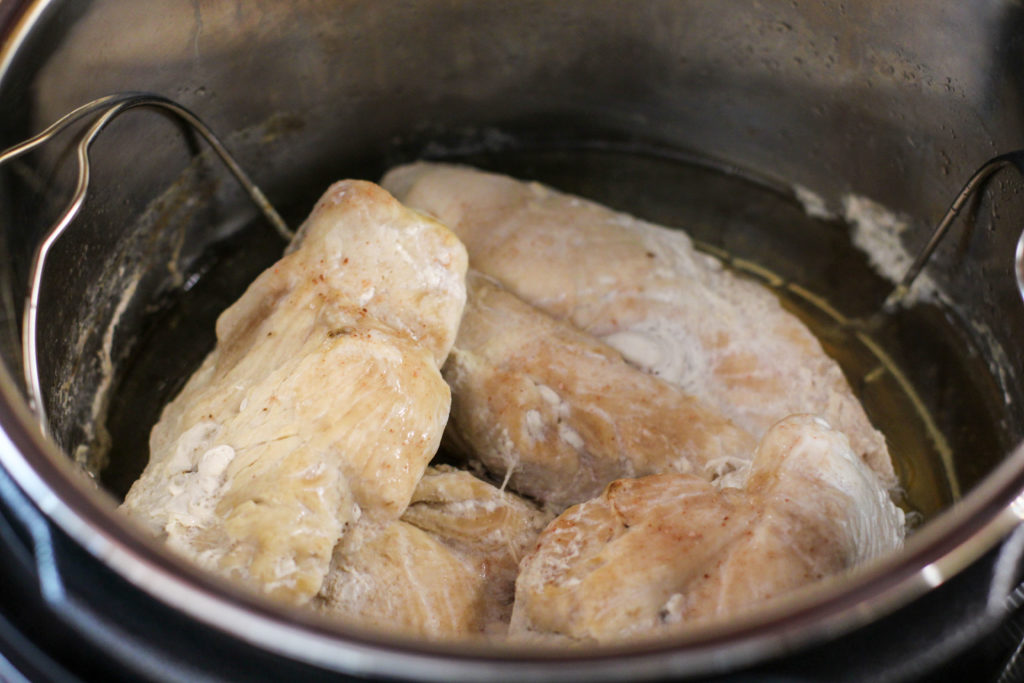 Now once you cook the chicken, DON'T YOU DARE THROW OUT THAT BROTH!
You have transformed it into a delicious chicken broth that can be used to enhance other recipes or it can be canned using a pressure canner.
I also drink it as a warm broth on a cold day.
It warms you from your head to your toes! 
So pull the chicken out and put it in a bowl to cool for like 5 to 10 minutes – trust me, shredding scalding hot chicken is no fun for those finger tips!
Then shred the chicken by hand (my preferred method) or using two forks.
Alternatively, you can also use a fork and knife to cube the chicken if that's how you like your chicken.
We just prefer shredded chicken in recipes over cubed chicken, but either form is fine!
Voilà, now you have shredded chicken that you can use in a million different recipes!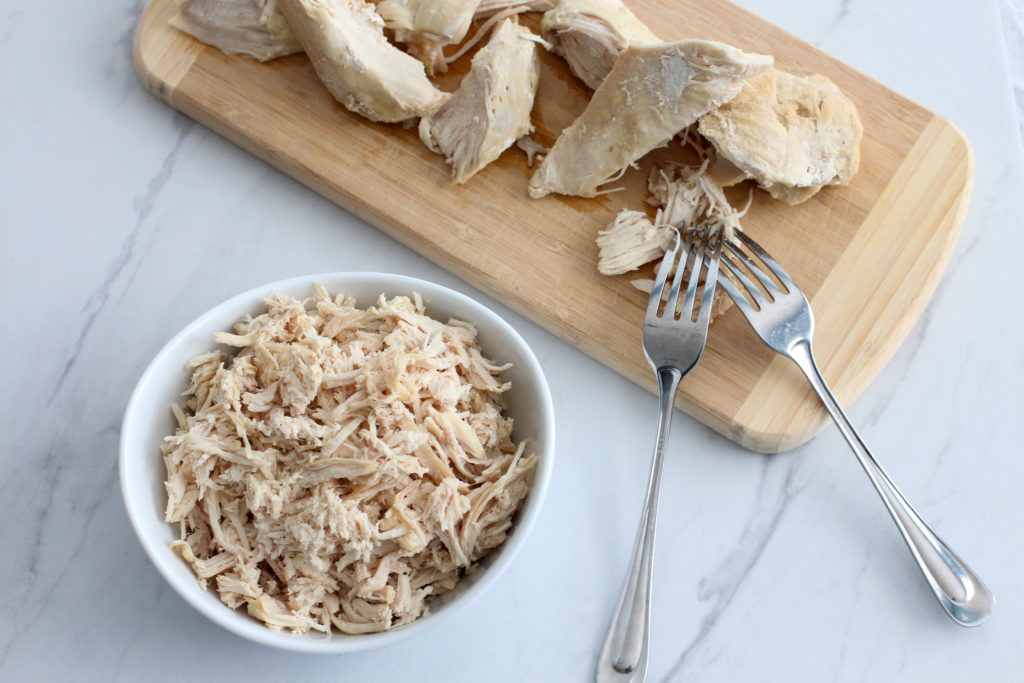 Should I Quick Release the Instant Pot or Let it Naturally Release
So you can really do either, but I do have a preference.
If you are in a rush to get dinner on the table, let the Instant Pot sit 5 minutes and then quick release the rest of the pressure.
The chicken will be cooked all the way and is perfectly fine to use in any recipe.
However, if you aren't in a rush, feel free to let it naturally release entirely.
This is my preferred method, especially anytime I'm cooking meat in the Instant Pot.
I think the chicken comes out more tender (or it could all be in my head lol).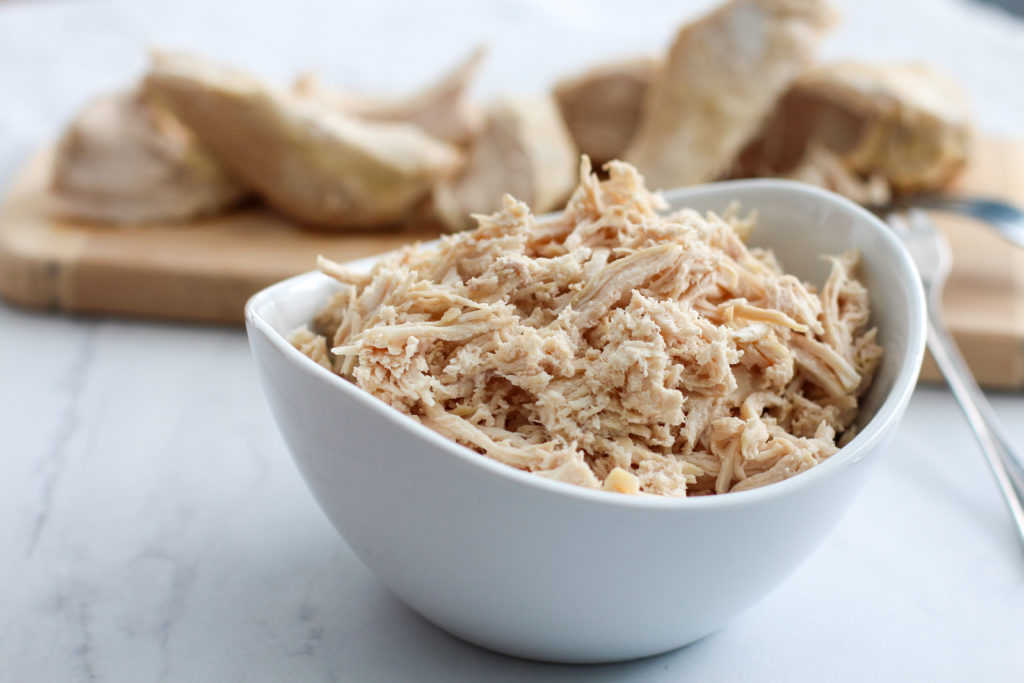 Do I Have To Use 3 Pounds of Chicken?
Of course not!
Say you are just making dinner for two and you only need to cook up two chicken breasts.
Use the same cook times for if it's fresh versus frozen.
And if you were thinking of doing MORE than 3 pounds of chicken, just make sure you follow the rule for the max fill line on the instant pot.
You might also have to increase your cook time to make sure everything is done all of the way.
But the first time you try a larger batch, I would start with using the times listed below and then check to see if everything is done.
What Recipes Use Instant Pot Shredded Chicken
So really any recipe that calls for cooked breasts or cubed chicken can be made using shredded chicken.
As I mentioned earlier, my husband and I prefer shredded chicken in our dishes, especially casseroles.
Why?
That way you aren't trying to cut up the chicken once it's slathered in sauce, covered in vegetables, or hidden under melty cheese!
So how should you use your chicken?
In any recipe calling for chicken!
I also can't eat shellfish, but I have found that for any recipe that calls for shrimp, shredded chicken is the perfect substitute!
I also love having shredded chicken on hand to throw on top of a salad with some other vegetables, avocado, and berries – talk about a quick, healthy dinner!!
Looking for some inspiration on how to transform your shredded chicken into dinner? 
Below are some of my recipes that use shredded chicken: 

Instant Pot Shredded Chicken (Fresh or Frozen)
Difficulty Level: Easy 
Prep Time: 2 minutes
Cook Time: 8 minutes for fresh chicken or 12 minutes for frozen chicken (this does not include the time it takes for the Instant Pot to come up to pressure)
Servings: 12
Ingredients:
3 pounds of chicken

 

2 cups

 

vegetable 

broth

 (or water) 

 

2 teaspoons s

alt (optional but I do think this makes for tastier chicken)

 
Directions:
Add the 

trivet and p

our the broth into the empty

Instant Pot

.

Position the chicken on top of it as evenly as possible. Sprinkle with salt if using.

Put on the lid and position the vent valve to the sealing position.

 

Select Pressure Cook and set to the correct cook time depending on if you are starting from fresh or frozen chicken.

Frozen Chicken:

12 minutes

 

Fresh Chicken: 

8 minutes

 

For fresh and frozen, after the pressure cook time has

elapsed,

 allow it to naturally release the pressure for 5 minutes

. Put a wet wash cloth over the vent valve (to reduce liquid spraying all over your kitchen)

 and then turn the vent valve to quickly release the remaining pressure.

 

Remove the lid and allow it to sit for a couple of minutes before using a large fork to remove the chicken breasts to a plate or bowl to rest for 10 minutes before shredding.

 

Using two forks or your hands (yes this is my preferred way to shred chicken), shred the chicken to your liking. Use in your favorite recipe or see above for suggestions!
Storage
Store cooked, shredded chicken in the fridge for up to 4 days according to the USDA.
Now I'm going to be honest, I normally make our meals on Sunday and sometimes we don't finish them until Friday, so I have definitely pushed the 4 day rule.
But, the recommended allotment of time for cooked chicken in the fridge is 3-4 days.
Cooked, shredded chicken is also great to have on hand in the freezer for quick dinner prep.
Store in the freezer in an airtight container or freezer bag for up to 4 months if the chicken is plain or up to 6 months in a casserole according to the USDA.