This post may contain Amazon or other affiliate links. As an Amazon Associate I earn from qualifying purchases.
This healthy chicken fajita casserole is the perfect way to sneak in extra veggies while enjoying all those classic bold and delicious Mexican flavors!
In case you haven't heard me say it yet, I love me some Mexican food!
Usually my go-to is beef taco meat, but sometimes I like to mix things up and make chicken the star of my Mexican dish.
To do this, I usually turn to the classic Mexican dish of chicken fajitas!
Now since we are trying to eat low-carb, we don't eat a ton of chips and taco shells anymore (but we do like the Siete brand of chips and shells if you aren't trying to do low-carb and are looking for a grain-free option!)
So how is a person to enjoy fajitas without chips or shells??
Enter cauli-rice! It makes a great base for this recipe and holds the casserole together!
Chicken Fajita Casserole Directions:
So start with cooking and seasoning the cauli-rice. No time to take a head of cauliflower and transform it into cauli-rice? To make this step faster, use pre-made cauli-rice like the organic cauli-rice sold at Costco!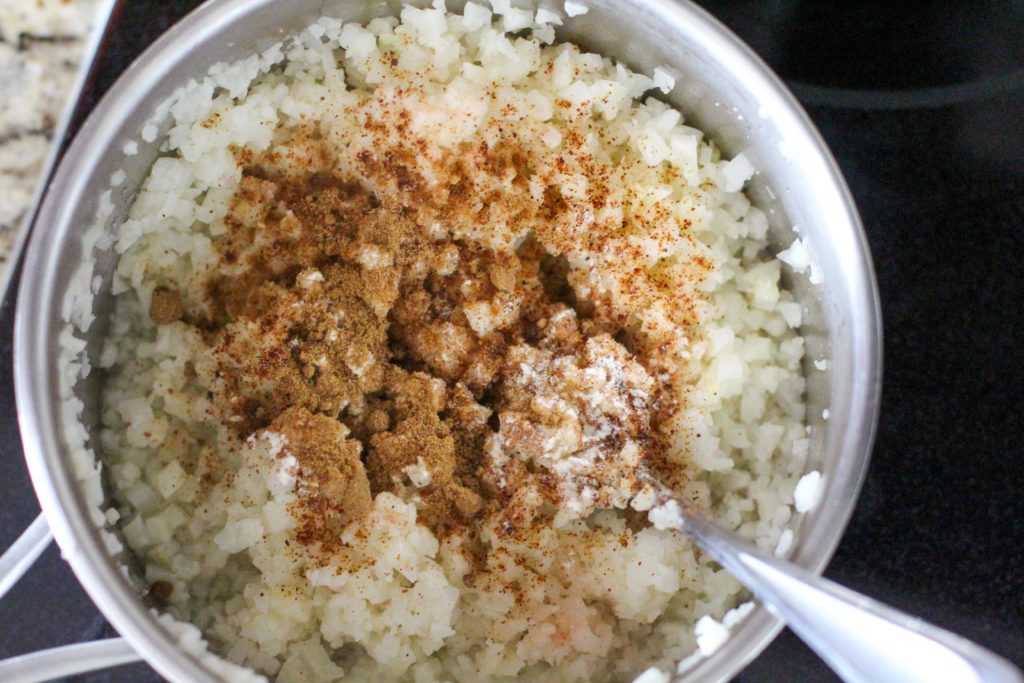 Now spread the seasoned cauli-rice into your baking dish. This recipe will fit in an 8″ x 8″ dish but for larger crowds, I double this recipe and make it in a deep dish 9″ x 13″.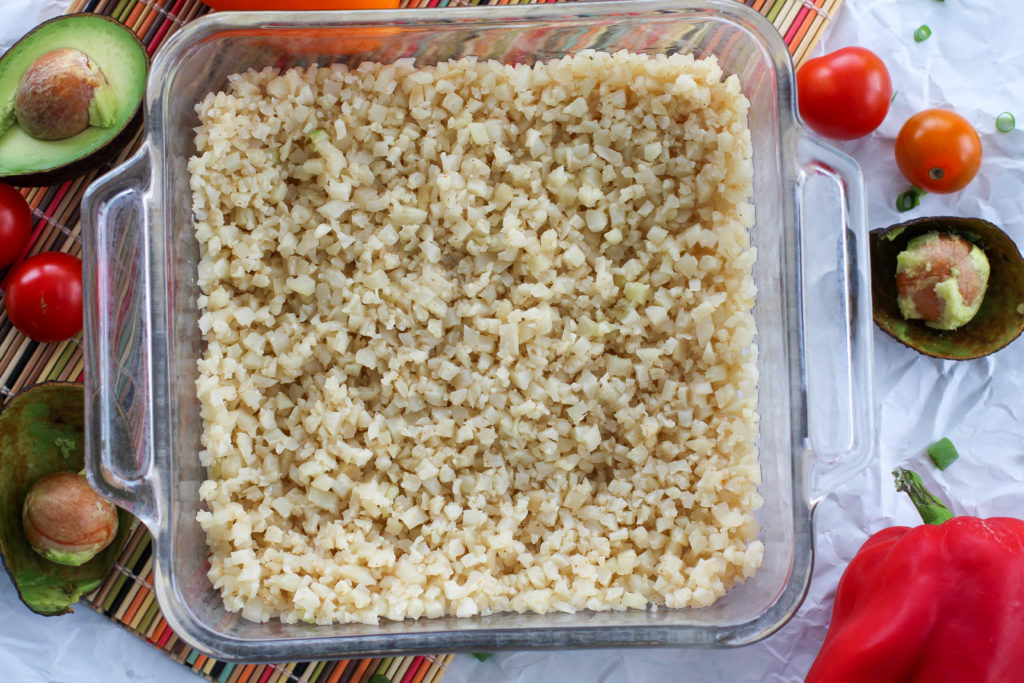 Spread out the salsa on top of the cauli-rice and add on your chicken fajita meat. It is easier if the meat is already made (see recipe notes below), but you can also start with uncooked chicken fajitas. Just plan a little extra cook time. So instead of 20 minutes, plan on 35-45 minutes and cook the casserole until the meat reaches 165 degrees.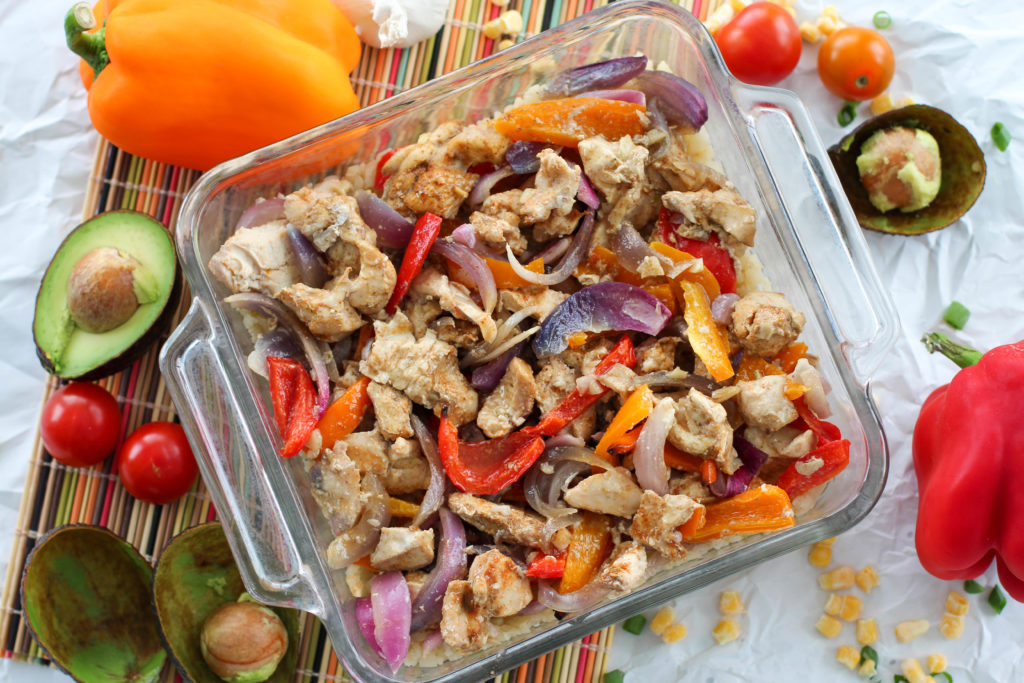 Layer on organic, non-GMO corn if using (omit for keto). The corn can either be frozen or canned – makes no difference! Then sprinkle on the cheese if using (omit for paleo).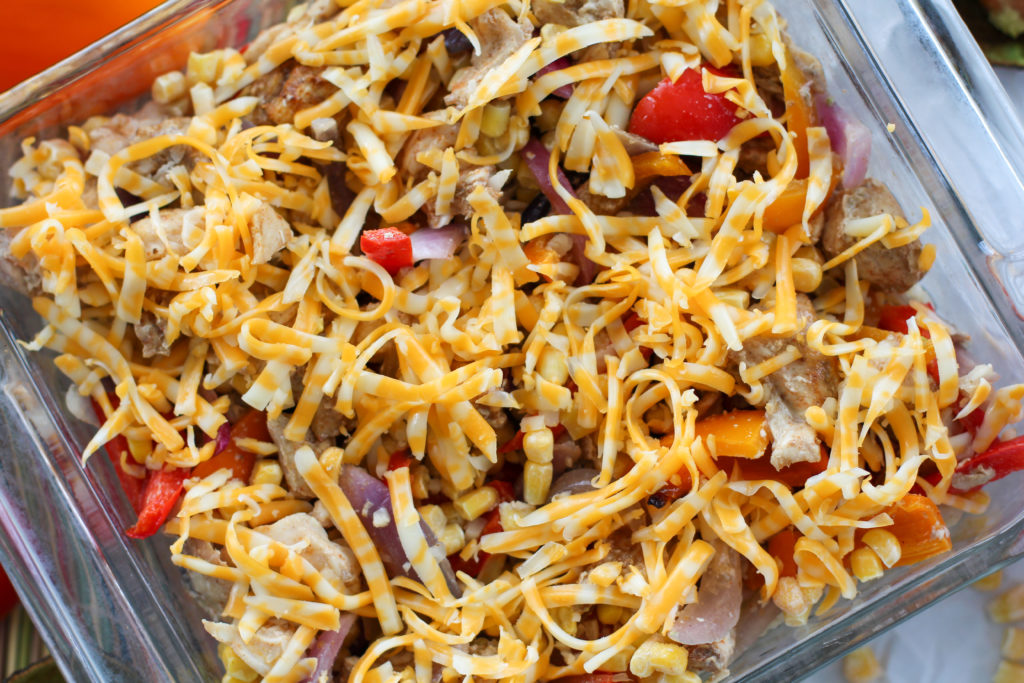 Now pop it in the oven and wait for that cheese to get all nice and gooey! Top with green onion and enjoy!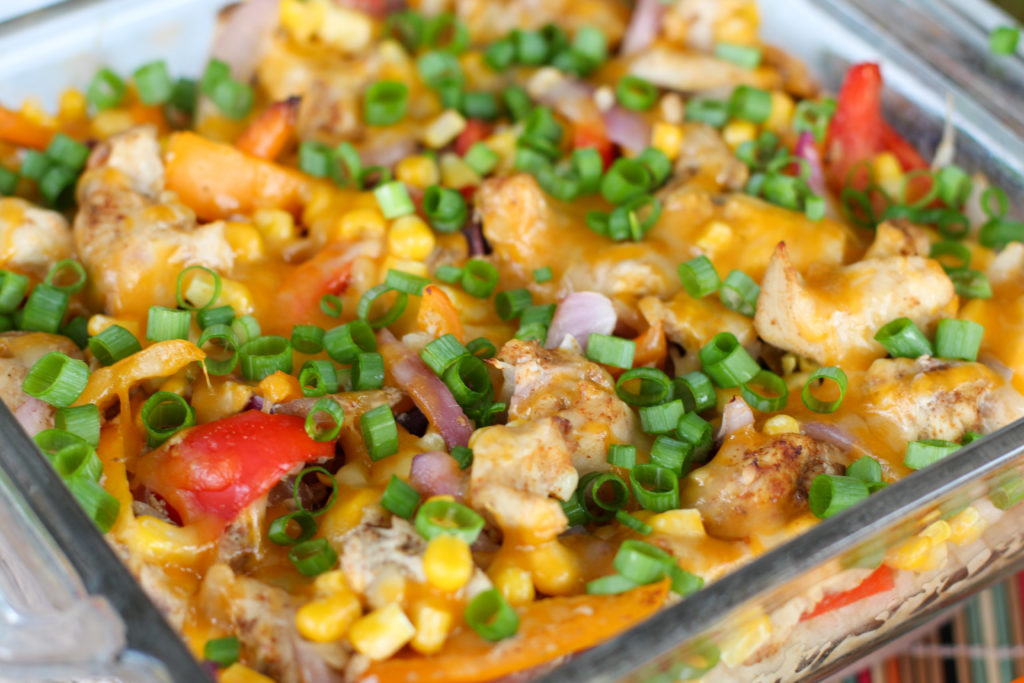 Chicken Fajita Casserole Recipe Notes
I like my fajita onions and peppers cut into longer strips. It gives the dish a more authentic feel. The longer pepper stripes are also easier for a baby to pick up with their hands if you are doing Baby Led Weaning.
The way this normally works into my week is that on say Sunday night, I will make a double batch of my chicken fajita recipe (which is part of this recipe).
Then on Tuesday, I will take those already made chicken fajitas and convert them into this casserole.
It takes hardly any effort to convert those pre-made chicken fajitas into this casserole, and you feel like you have a totally new dish!
Then I don't feel like a slacker for serving the same chicken fajitas 5 nights in a row.
And I also feel like a winner because this casserole came together in a snap and I don't feel like I spent all night laboring in the kitchen to prepare dinner.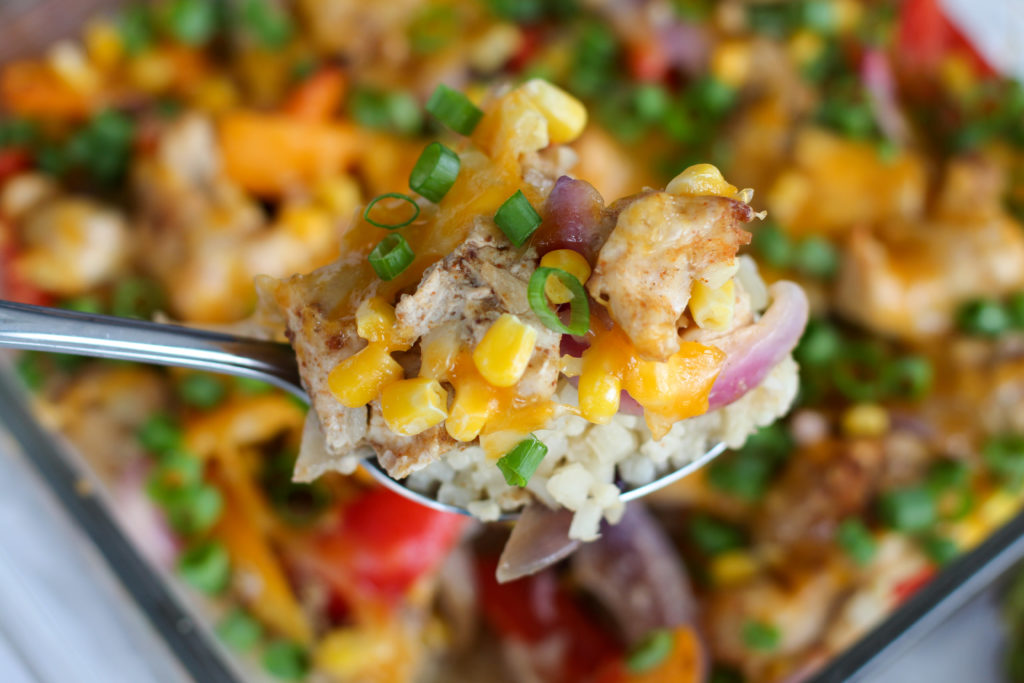 Healthy Chicken Fajita Casserole Variations
I always like to have recipe options so that I'm not making an extra run to the store just for one or two ingredients. It also helps keeps things interesting if I decide to serve this two weeks in a row because bell peppers are on sale – I can't pass up a good sale. I can hear my husband now, "Honey, why are there 20 bell peppers in the fridge?". Just close the door and don't look. I promise we will use them 😉 I digress….So recipe variations:
I use colby-jack cheese in the recipe, but this should not require a trip to the store just for cheese – use whatever you have on hand. Cheddar, Monterey Jack, or Pepper Jack cheeses would all work just as well.
Feel free to leave out the corn if you want this dish to be strict keto. Also for my keto friends, feel free to mix a block of cream cheese into the cauli-rice and spices if you so desire.
And for my paleo and/or dairy-free friends, just leave the cheese off of the top and consider adding homemade guacamole instead to add back some of that creamy, richer flavor. Or you could top this with nutritional yeast if you want some of that cheese flavor (and sneak some extra B-vitamins in on your kids!).
You should also know that I'm kind of a wimp when it comes to spicy food, so my recipes aren't super spicy.
So for all you spicy fans out there, add some green chilies and/or chopped jalapeño in with the chicken. You might also want to consider using Pepper Jack cheese instead of Colby Jack. And definitely break out your hot sauce to pour all over the top.
Don't like green onion? Top this with fresh chopped cilantro instead, or serve it without like in this picture!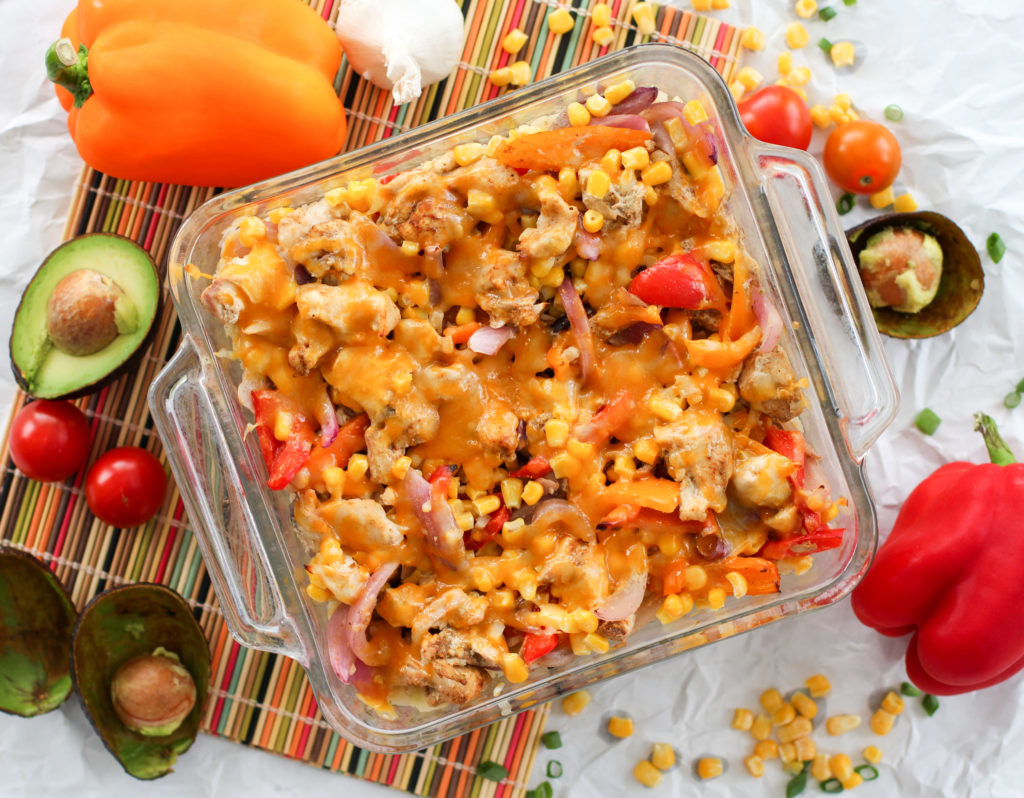 Other Healthy Sides to Serve With Chicken Fajita Casserole
I think we can probably all agree that this casserole already has a lot going on. In fact, it's plain fabulous as is!
But sometimes it's nice to have some sides to sit out if you have company over so that the table looks a little fuller.
In that case, for more Mexican flair, serve your fajita casserole with:
And consider adding MORE VEGGIES! I just seriously can't get enough vegetables so sometimes I serve green beans on the side too.
Take a look at this – chicken fajita casserole with bean-less refried beans, guacamole, and green beans with glorious melty butter. See how this can all come together?!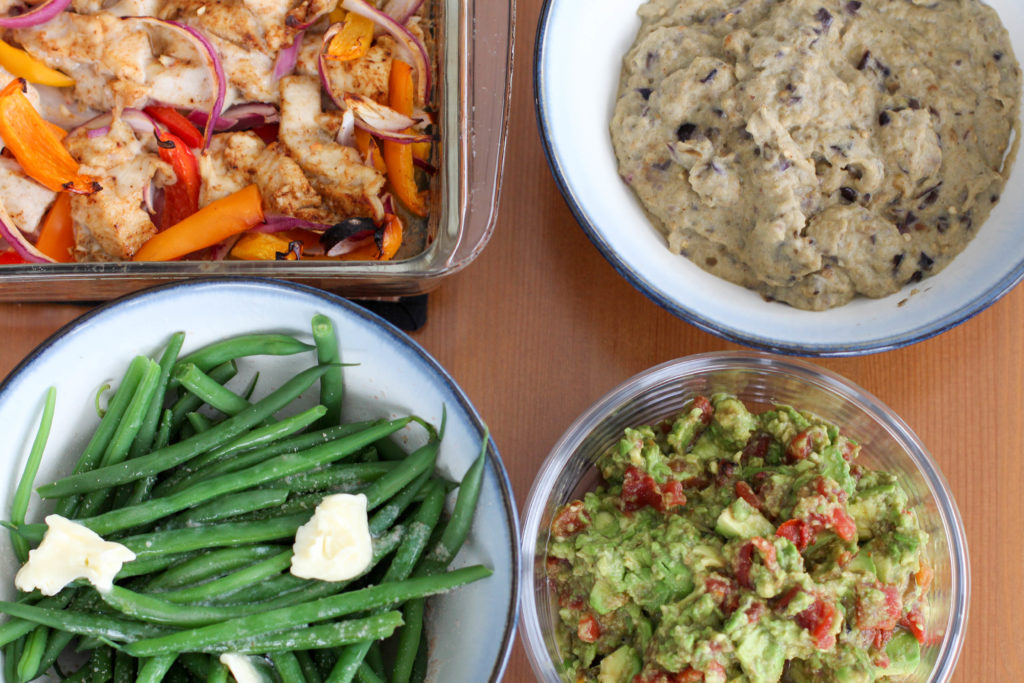 And to finish things off right, let's not forget adding a decadent dessert like Layered Chocolate Pudding Brownies!
Now that's a MEAL!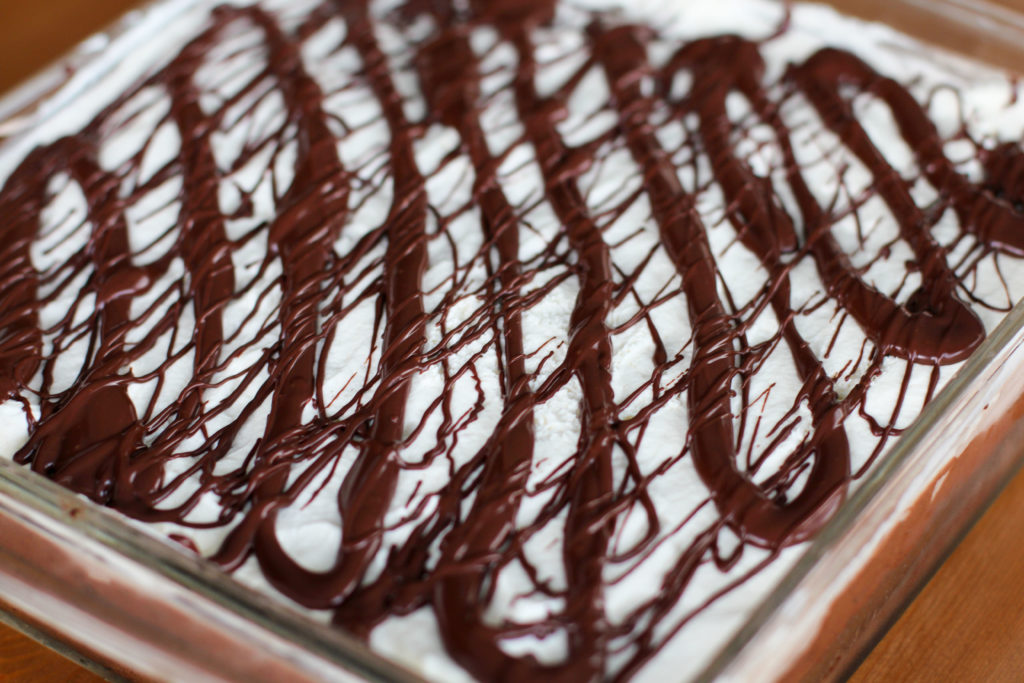 Easy Chicken Fajita Casserole
Difficulty Level: Medium
Servings: 6
Ingredients:
1 batch of 

Chicken Fajitas

 

2 cups cauli-rice, cooked

(about half a head of cauliflower)

1 teaspoon chili powder

 

1 teaspoon cumin

 

½ teaspoon salt

 

¼ teaspoon oregano 
¼ teaspoon paprika

 

Dash of cayenne pepper

 

1 cup salsa, store-bought or homemade

 

1 cup frozen organic, non-GMO corn, thawed OR 1 can of corn, drained (omit for keto)

 

4 ounces Colby Jack cheese, shredded

(omit for paleo)
Directions:
Preheat oven to 350 degrees.

 

In a bowl, mix together the cauli-rice with the chili powder, cumin, salt, oregano powder, paprika, and cayenne pepper.

 

Put the seasoned cauli-rice in the bottom of an 8×8" dish.

 

Smooth the salsa out on top of the cauli-rice.

 

Spread out the chicken fajita meat and vegetables on top of the salsa. 

 

Sprinkle the corn on and top with the shredded cheese.

 

Bake in the oven for 20 minutes, or until cheese has melted and the casserole is bubbling on the edges.

 

Serve with sour cream, guacamole, refried beans, or other desired toppings!