This post may contain Amazon or other affiliate links. As an Amazon Associate I earn from qualifying purchases.
Looking to ditch the carbs and still enjoy a classic Mexican side dish? Try making this easy bean-less refried beans recipe!
I don't know which Mexican side I like better, guacamole or refried beans…
Both are rich in flavor and have this wonderful creaminess about them.
So when I started eliminating carbs from our diet, I was really sad to see refried beans leave the scene on Mexican food night.
Served with basically any dish you order at a Mexican restaurant, refried beans are an anchor to any Mexican plate.
And what about one of my all time favorite appetizers, 7 layer taco dip?
How in the world can you make killer taco dip without refried beans??? (doesn't it look amazing?!)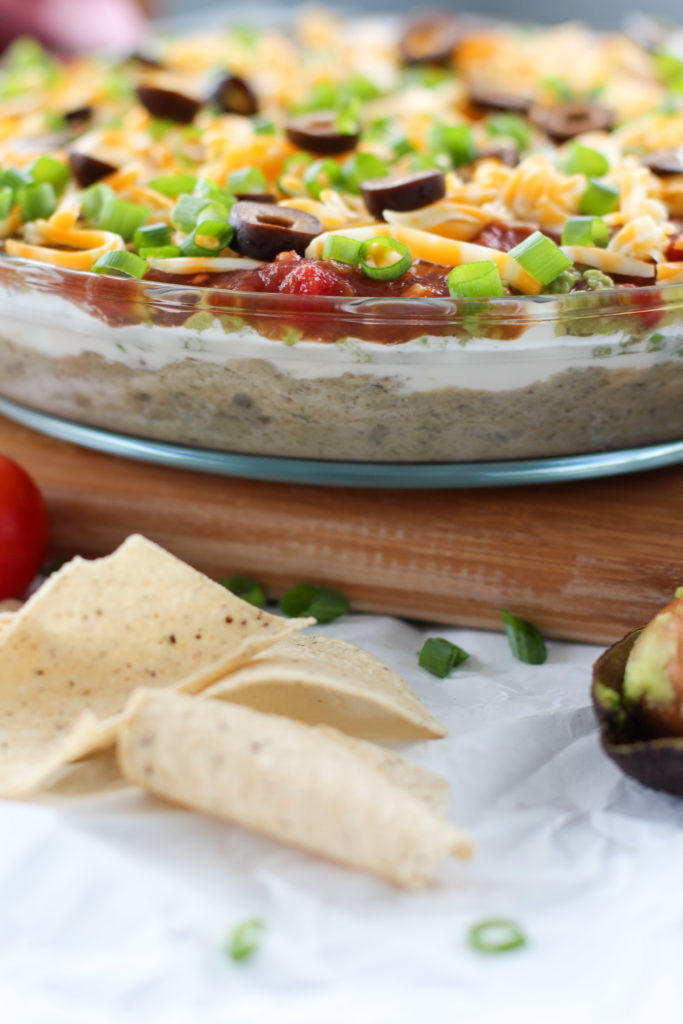 Life just couldn't go on like this…
So of course this dish needed to be recreated to fit into a low-carb, whole foods diet!
Recreating Refried Beans Without the Beans
It took a bit of experimenting to get this one right.
Sure there are recipes that use cauliflower, but do we always have to use cauliflower as our low-carb replacement?
Need a new pizza crust? Make it with cauliflower!
Missing mashed potatoes? Make faux-tatos with cauliflower!
Looking for a rice replacement? Rice up cauliflower! (although don't get me wrong, I LOVE this substitution and use it ALL the time).
So when the question was: "Need a 7 layer dip? Make the base from cauliflower!", I just couldn't take it anymore!
While a decent substitution, cauliflower was just missing that rich base that I loved about refried beans.
So the hunt began for a different substitution.
Enter eggplant.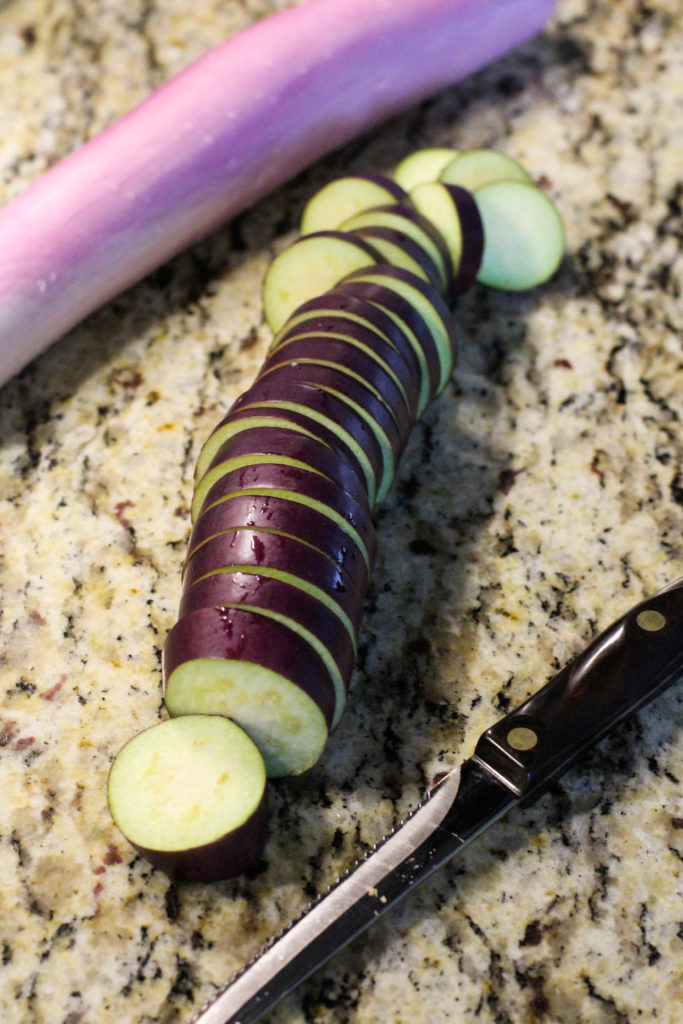 I know what you are thinking – NO WAY!
But I say – YES WAY!
Seriously, do NOT walk away from this recipe yet, hear me out!
Eggplant is a great vegetable to add into your diet and has a mild enough flavor that it makes a great canvas for these bean-less refried beans!
I stumbled upon eggplant as a bean substitute when we started picking up produce from a local farmer after we joined a CSA (community supported agriculture).
One of our choices was to get eggplant. Sure there's classic Eggplant Parmesan which is delicious, but I can only eat that so many weeks in a row before I need something new on my plate.
I remembered once seeing a recipe for bean-less refried beans made with eggplant and thought I would give it a try – BEST DECISION EVER!
Transforming eggplant into "beans" was super easy with a blender.
And the result?
It had the rich texture and flavor I love about refried beans – I was ecstatic!!
FINALLY – this is what my tacos had been missing!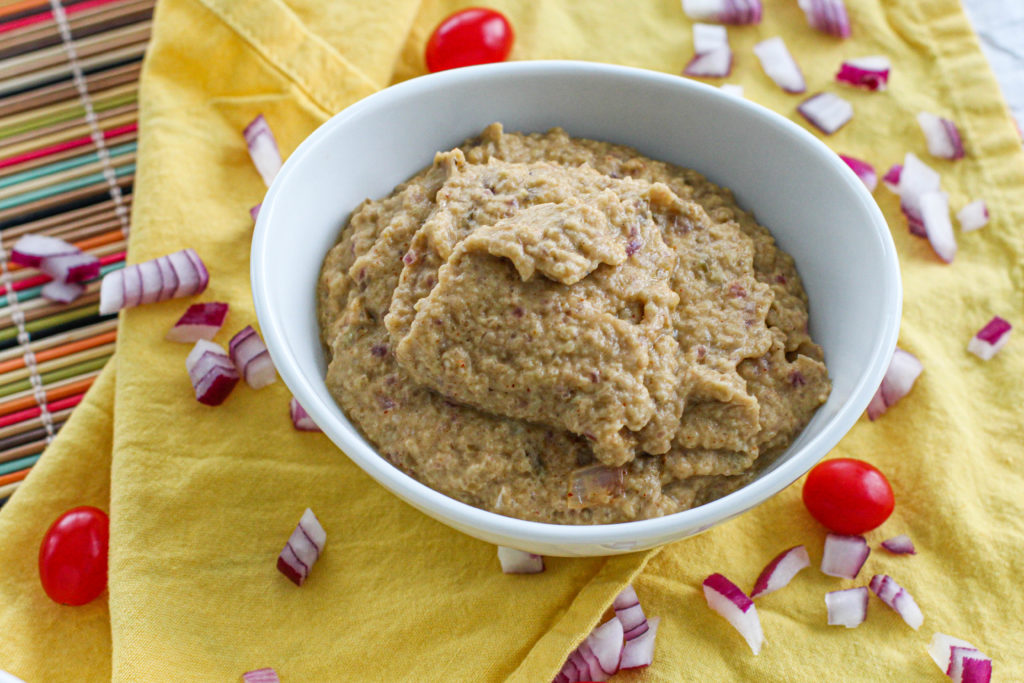 Do I Need to Salt the Eggplant First?
Absolutely not necessary for this recipe in my opinion, but this it totally a personal preference.
I'm honestly too lazy to take the time to salt them and wait 30 minutes to pat them dry.
For recipes like Eggplant Parmesan, this is more important so that the eggplant holds the breading better (although still optional in my book).
For a recipe like this where there are other strong flavors such as chili powder and cumin, the eggplant flavor seems totally masked to me and I don't even notice it.
But some people also report that it helps mellow out the flavor of the eggplant more, so if you find the eggplant flavor to be too strong in this recipe, you could give salting it a go!
Other Mexican Toppings to Serve with Bean-Less Refried Beans
While I could eat bean-less refried beans as a meal on their own, that would kind of defeat the fun of Mexican food night.
I mean, think of when you order fajitas at a Mexican restaurant and they bring you 3 plates just for all of the sides!
Mexican food night needs more than just taco meat and bean-less refried beans.
Here are some of the other sides that I break out:
Queso Blanco 

or shredded Mexican cheese (omit for dairy-free)

 

Shredded lettuce

 or spinach

Sour cream (omit for dairy-free)

 

Fresh diced tomatoes

Chopped black olives

 

Fresh lime juice

 

Fresh chopped cilantro
I mean, just look at how beautiful these tacos are with bean-less refried beans as the base, topped with taco meat and guacamole!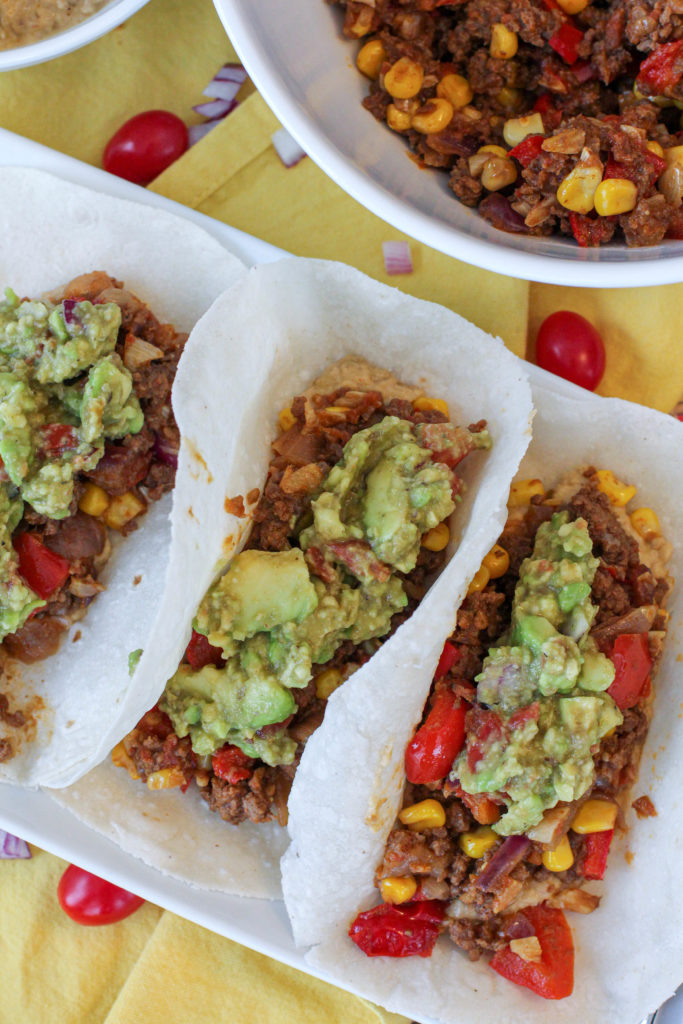 Also, wondering what taco shells we use since we don't eat gluten? Check out Siete brand shells and chips! They are the best gluten-free substitutes I have found!
So what are you waiting for?!
Bring back this star Mexican side dish for your next family Mexican food night, or use it as the base for a 7 layer taco dip for a great party appetizer!
This bean-less refried beans recipe has been perfected so that you can enjoy all that rich, creamy Mexican flavor without all the carbs!
Trust me, no one will ever guess that the "beans" have been replaced with eggplant!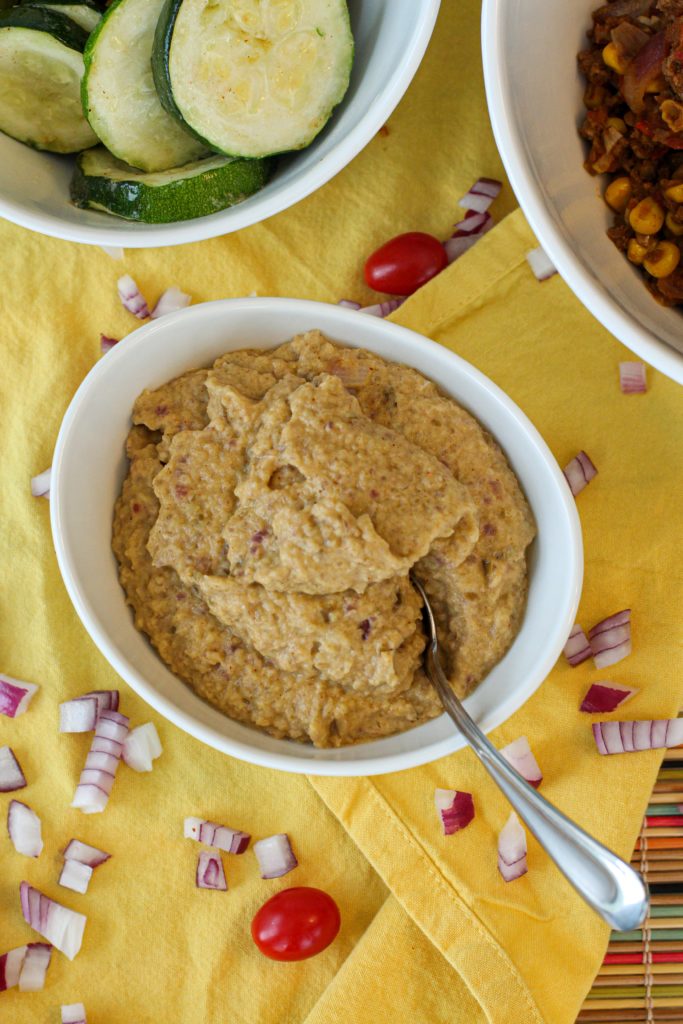 Bean-less Refried Beans Recipe
Difficulty Level: Easy
Servings: 6
Ingredients:
1 large eggplant

1 small red onion, chopped

 

4 cloves of garlic, minced

 

½ cup butter

(or avocado oil for paleo)

½ teaspoon of salt

 

1 teaspoon chili powder

 

1 teaspoon cumin

 

¼ teaspoon oregano
¼ teaspoon paprika

 

Dash of cayenne pepper

 

OPTIONAL: 2 Tablespoons sour cream

 

OPTIONAL: 4 ounces Monterey jack cheese

 
Directions:
Wash and slice the eggplant into ¼ inch thick slices.

 

In a large pan, melt the butter. Add the onion and garlic and sauté for 5 minutes or until fragrant.

 

Add the eggplant and seasoning, stirring to make sure everything is combined. Continue to cook over medium-low until the eggplant is soft (about 10 minutes), stirring occasionally.

 

Remove from heat and let cool for 10 minutes.

 

Pour the mixture into a blender and pulse blend until the desired consistency is reached.

If using sour cream, stir in now.

 

If you are not serving immediately, refrigerate at this point until ready to serve.

Once you are ready to serve the bean-less refried beans, reheat them on the stove or in the oven.

If you want to top with cheese, put the mixture in an oven safe dish and top with cheese. Turn the oven to low broil and add the dish to the top rack. Broil for about 4 minutes or until cheese has melted and is starting to brown.

 

Serve immediately.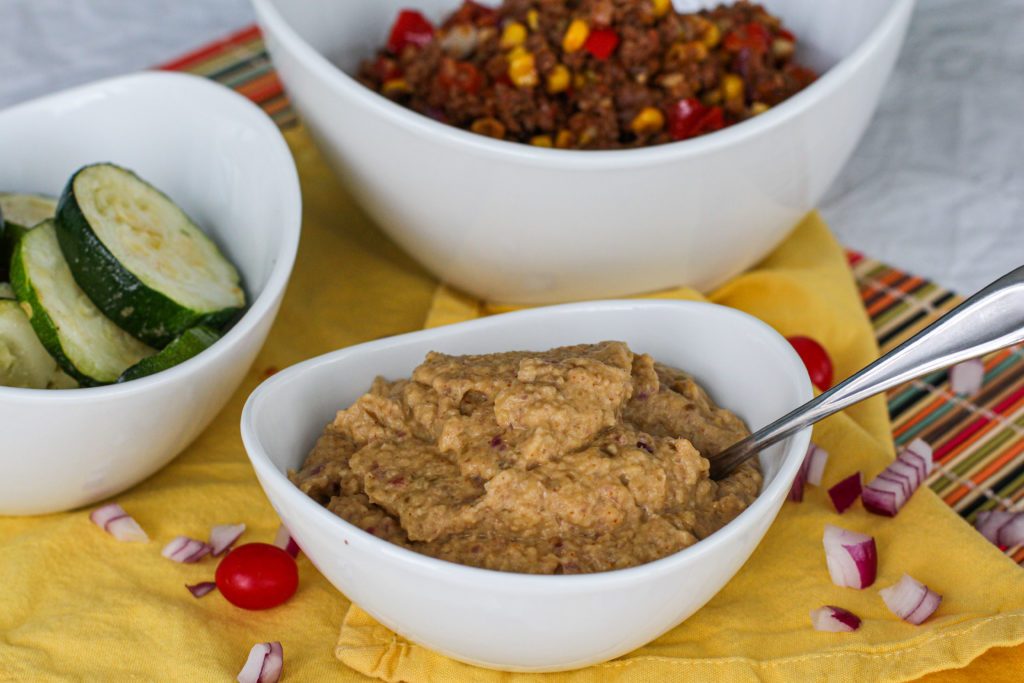 Looking for other Mexican mains and sides? Try one of these: