This post may contain Amazon or other affiliate links. As an Amazon Associate I earn from qualifying purchases.
As one of the fastest meals to throw together on a weekday night, these easy baked chicken fajitas will not disappoint your Mexican food craving!
For some reason, I always thought making fajitas would be really hard to do.
Maybe it's because the name sounds so fancy, but can I let you in on a secret?
Making chicken fajitas is SUPER EASY!
No need to wait until your next stop at a Mexican restaurant to eat fajitas!
So Just How Easy is Easy?
One of my pet peeves is when a recipe claims it's "easy" and then I'm about an hour in and wondering which part of the recipe was supposed to be easy. 
Ain't no momma of a toddler got time for them lies! 
Delicious food that is simple and fast to make is the best gift for your family, because they get to eat delicious food and it doesn't tie you up in the kitchen, meaning you have more time to invest in your family!
So when I say this is EASY, I mean that it's EASY! 
Plus, what I love about chicken fajitas is that it's a one pan kind of a dish – throw everything in raw, pop it in the oven, and then out comes dinner!
Seriously, look at how this whole thing starts: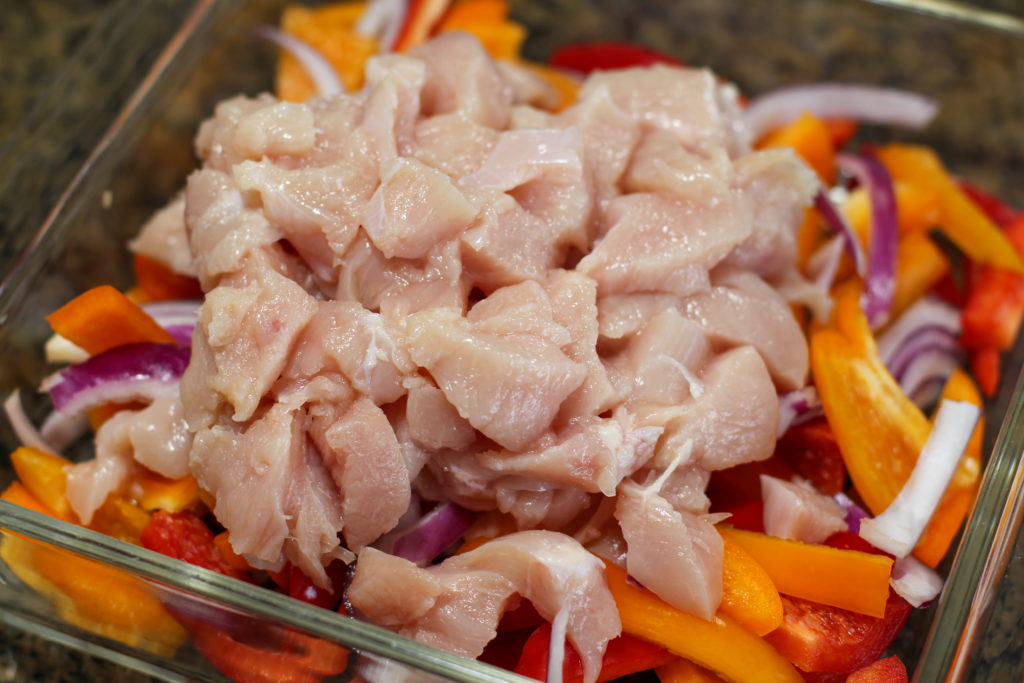 Oven Baked Chicken Fajita Directions:
And check out how easy the directions are…
Preheat the oven.
Slice up onion and peppers and put them on the bottom of a glass baking dish. I like leaving them in longer strips to make the chicken fajitas look more authentic, but feel free to dice the veggies up too if you like smaller bite-sized pieces.
Mince up your garlic – let it sit (this is important for those anti-cancer properties!!) while you cube the chicken. Toss the chicken in the dish on top of the veggies.
Pop your butter into the now hot oven in a glass bowl to melt quick, and then mix in the garlic and other spices. Then, pour it all over the chicken.
Bake and devour!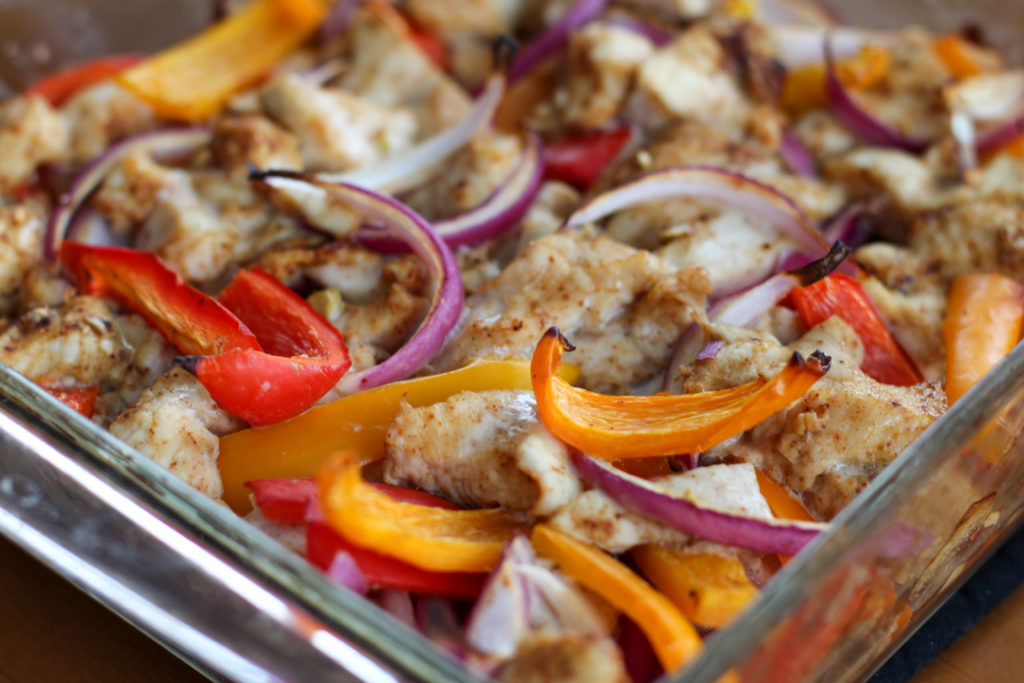 Other Methods to Make Chicken Fajitas
I hear you – it's the middle of summer and the last thing in the world you want to do is turn on the oven.
Why add more scorching heat to your already warm and humid house?
That's another great thing about this recipe – there are multiple cooking methods!
Stove-Top Chicken Fajitas
These directions are literally the same as above, but instead of tossing everything into a glass baking dish, you toss everything into a stove-top pan.
Put a large frying pan or pot on your stove and add the butter. Turn on the burner to low heat and let the butter slowly melt.
Start by mincing the garlic this time, so that it has the ten minutes to sit before you add it to the pan.
Go ahead and chop up all the veggies next, as mentioned above. Then add the onion and garlic to the pan and set aside the pepper for later (this keeps it from turning to mush).
While the onion and garlic sauté, cube the chicken.
Sauté the onion and garlic until they reach the amount of caramelization you want and then add the peppers, chicken, and the spices to the pan.
Cook over medium heat until the chicken is cooked through and the veggies are cooked to your preferred level of doneness.
Enjoy!
Slow Cooker Chicken Fajitas
Want to come home to dinner already made? Chicken fajitas are a great slow cooker recipe!
Mince your garlic, chop up your veggies, and cut the chicken into strips (if you cube it, you might end up with more of a shredded chicken fajita) and then add to the slow cooker.
To get the seasoning to coat everything, substitute the butter with avocado oil (or melt your butter, but I'm just trying to save you on the clean-up!).
Pour the oil over everything, add the seasoning, and toss everything to coat.
This recipe doesn't require you to add additional liquid, but if you are concerned about things burning to the bottom, you can add 1 can of organic fire roasted tomatoes with green chilis to the bottom of the slow cooker, which will add some moisture. The onion and bell pepper should add enough liquid though.
As another variation, if you want the bell pepper strips to be crunchy, only add them for the last 30 minutes. In this case, I would suggest adding the can of organic fire roasted tomatoes with green chilis for that extra liquid or adding 1/4 cup of water, vegetable broth, or chicken broth to the slow cooker to keep things moist.
Put on the lid and cook it on low for 6 hours or high for 3 hours.
By slow cooking the recipe, you will allow the seasoning to cook into the meat longer, which will result in great flavor! I just don't normally plan far enough ahead for this which is why baked fajitas are my preferred method 🙂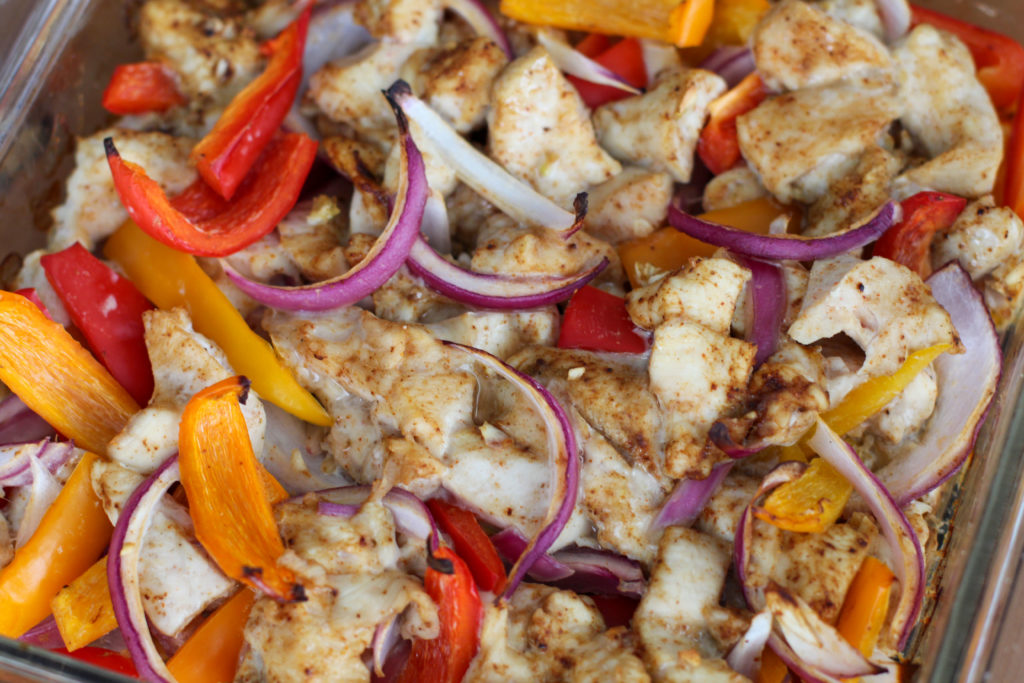 Instant Pot Chicken Fajitas
This would be my LEAST recommended way to make chicken fajitas since an Instant Pot requires water to build up pressure, which in turn will result in watery chicken fajitas, but it is another way to make these without turning on the stove!
Also, please note that you have little control over how "crisp" your veggies will be using this method, so expect very tender vegetables if you use this method.
Start by adding a 1/2 cup of water to the Instant Pot and add the trivet (this helps keep everything out of the water).
Mince your garlic, chop up your veggies, and cut the chicken into strips (if you cube it, you might end up with more of a shredded chicken fajita) and add to a large bowl.
To get the seasoning to coat everything, substitute the butter with avocado oil (or melt your butter, but I'm just trying to save you on the clean-up!).
Add HALF of the seasoning to the bowl of veggies and chicken and toss everything to coat it.
Did you catch that – HALF! DO NOT ADD ALL OF THE SEASONING BEFORE COOKING!
Due to the watery nature of using the Instant Pot for this recipe, if you put in all of the seasoning now, it's just going to be tossed out with the water.
The other half of the seasoning gets added after everything cooks.
So back to that Instant Pot – add your coated veggies and chicken to the Instant Pot and put the lid on.
Set the valve to the "sealing" position and turn the Instant Pot on to high pressure for 10 minutes.
Once the Instant Pot is done, quick release the pressure and check the temperature of the chicken to make sure that it reached 165 degrees.
Drain off the water, remove the trivet, and add the other half of the seasoning.
If your chicken is still too "wet", consider using the sauté function to remove more of the water.
Again, this is NOT my preferred method, but it can be done!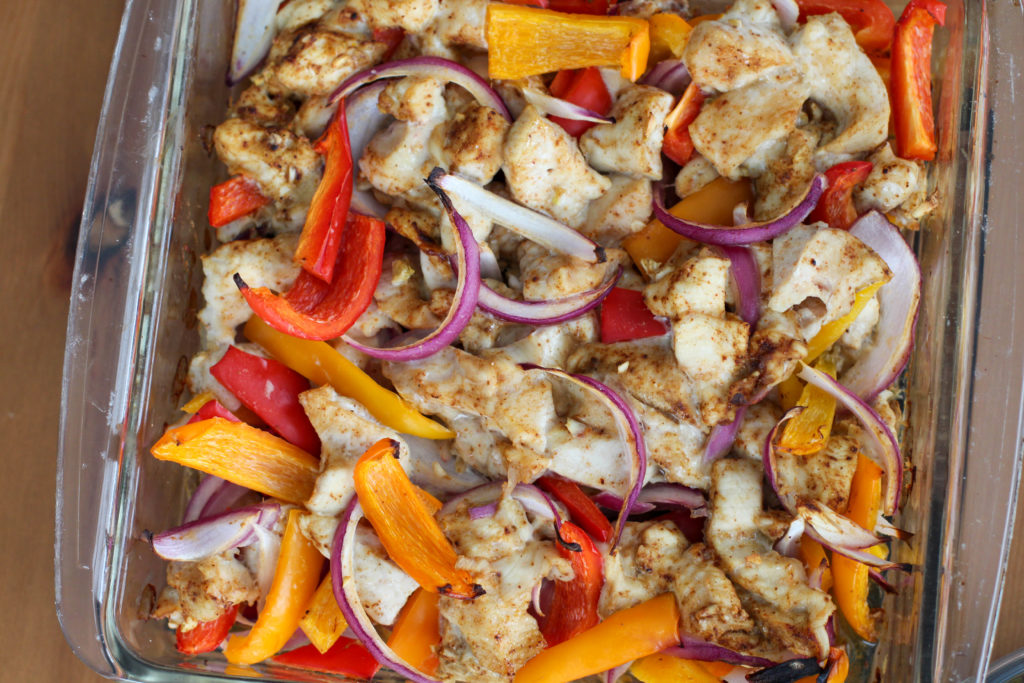 How to Make Spicy Chicken Fajitas
It's no secret that I'm a wimp when it comes to spicy seasoning.
My face turns red, I sweat, and I inevitably get acid reflux later, so I keep things on the mild side.
But if you love spicy food, then let me help you out with some suggestions!
Try adding finely diced jalapeño or other preferred spicy pepper to the chicken while you cook it.
You could also up the cayenne pepper to whatever heat level you want.
Also, when serving this, make sure you pair it with some hot salsa or hot sauce!
What to Serve With Chicken Fajitas
While chicken fajitas themselves are great, Mexican food is known for its bold flavored sides!
I mean, have you noticed how many plates come with your food when you order chicken fajitas from a Mexican restaurant??
So when you are trying to figure out what sides to serve with your fajitas, think about what sides you like them served with at the restaurant!
In case you are having a lapse in memory of what comes all over those bright plates of food at the restaurant, here are a list of my go-to sides:
Looking for a veggie side? I'm always trying to get more green colored food on our table. Can't have too many veggies! For some reason growing up, we ALWAYS had green beans with Mexican so that's my favorite!
Are you having a larger party? If so, I would suggest adding in a beef option for your Mexican Fiesta. Try my favorite homemade taco seasoning and taco meat!
Putting it all together, here's what fajita night looks like at our house!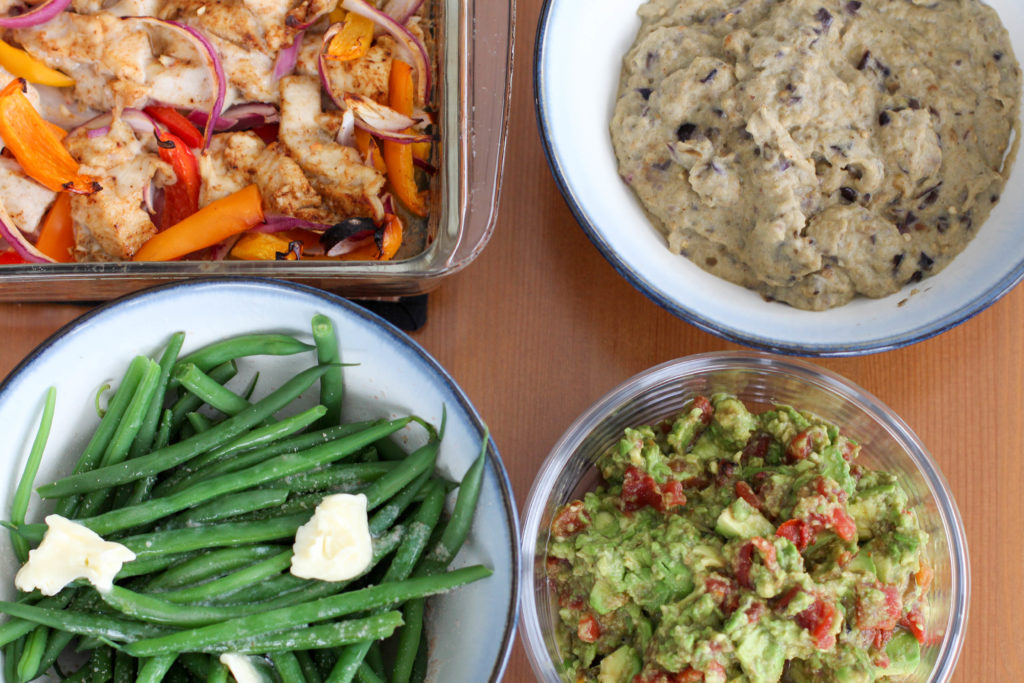 Chicken Fajitas
Difficulty Level: EASY!
Servings: 6
Ingredients:
1 small red onion, sliced

 

2 bell peppers, sliced

 

1 pound of chicken, cut into long strips or cubed

 

3 cloves of garlic, minced

 

¼ cup of butter, melted

 

1 Tablespoon chili powder

 

½ Tablespoon cumin

 

1 teaspoon salt

 

½ teaspoon paprika

 

¼ teaspoon oregano
Dash of cayenne pepper

 
Directions:
Preheat the oven to 400 degrees.

 

Spread out the onion and bell pepper in the bottom of a glass 9×9 pan. Sprinkle the minced garlic over it and then spread out the chicken over the vegetables.

 

In a small bowl, mix together the butter and the seasoning. Pour evenly over the chicken to coat everything.

 

Bake for 20-25 minutes or until the chicken is cooked through and the vegetables have softened.

 

Remove from oven and let rest for 5 minutes before serving.

 

Serve on romaine boats, Siete shells, or use to make Chicken Fajita Casserole (pictured below!).