This post may contain Amazon or other affiliate links. As an Amazon Associate I earn from qualifying purchases.
Are you looking for a quick fall breakfast to make? There's no better start to a crisp fall morning than with these healthy pumpkin waffles!
Growing up, it seemed like our Saturday morning breakfast was always waffles or pancakes.
I wanted to have a fun, fall recipe for waffles, since we already have a beloved recipe for pumpkin pancakes.
A few test batches later, and now we have a fabulous pumpkin waffle recipe that allows us to enjoy all of those fall flavors we love!
But don't feel like you have to wait until fall to enjoy these waffles.
Our family loves these waffles so much that we eat them year round!!
Whether you are in a rush or if you have a little extra time, let me explain the best ways to whip up these delicious pumpkin waffles.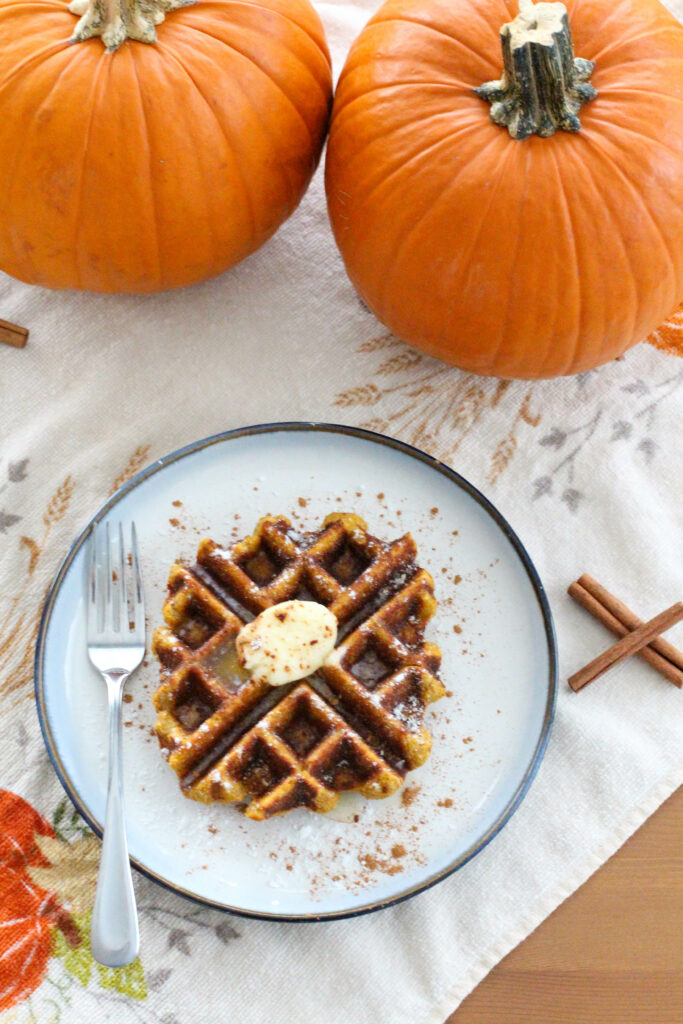 How to Make Pumpkin Waffles the Fast Way
If you are in a hurry to have breakfast on the table, you are in luck.
These waffles can be mixed together in a jiffy if you are in a rush!
Simply add the ingredients into a mixer (I recommend adding them in the order listed in the recipe below) and mix until well combined.
I mean, it doesn't get much more simple and quick than that!
BUT…
If you can spare an extra 10 minutes, there is a better way to whip up these pancakes that will result in a fluffier and crispier waffle!
Let me share my secret with you.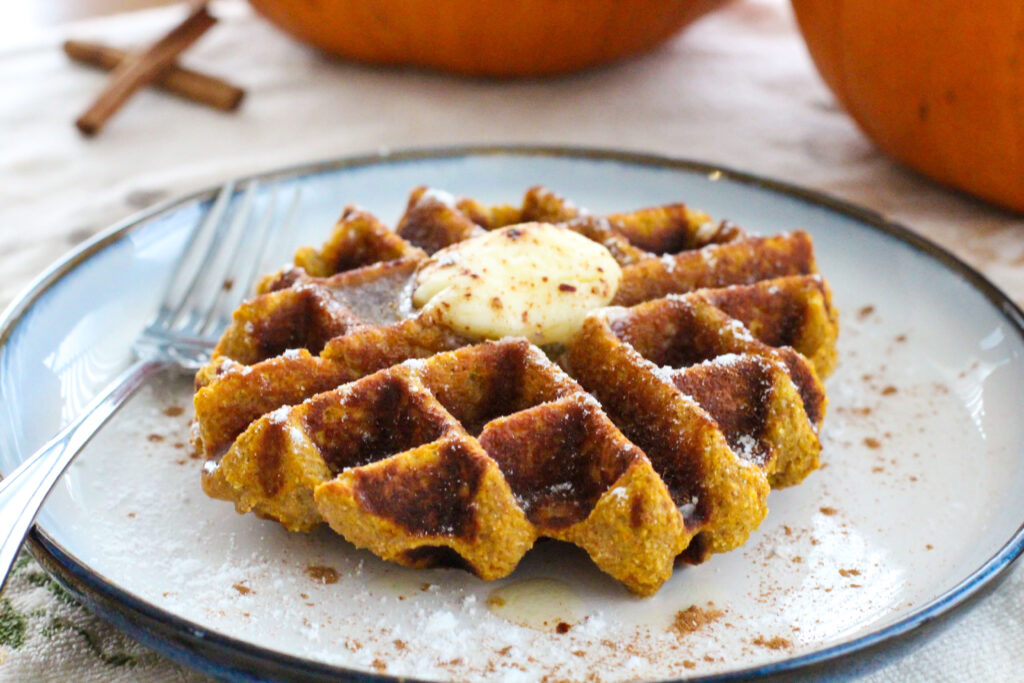 How to Make Pumpkin Waffles the Long, But Better Way!
Okay, are you ready for this?
It's going to take a little extra work, but it is SOOOOO worth it!!
The secret to getting fluffy, crispy waffles is to separate the egg whites and egg yolks so that you can whip the egg whites into firm peaks.
When the firm egg whites are gently folded into the batter, they add in this beautiful fluffiness.
This in turn allows the batter to actually crisp up a bit better when you bake it!
So to make your waffles using this method, start by separating the egg whites into a clean and dry mixing bowl and set the egg yolks aside in another bowl.
Beat the egg whites until firm peaks have formed.
Firm peaks for me is semi-glossy looking egg whites that will make a soft peak when you lift the beater.
Once the egg whites are whipped up, switch them to a new bowl and then re-attach the empty mixing bowl to your mixer.
Now add the egg yolks to the mixing bowl along with the other ingredients (I recommend adding the ingredients in the order listed below).
Mix until the batter is well blended.
Once your batter is ready, add about a quarter of the egg whites at a time and carefully fold them in until fully incorporated.
We are NOT going for a smooth consistency – it is very normal for me to still have egg white "chunks" in my batter.
Just fold until you have all of the egg whites sort of mixed in.
Now add your batter to the waffle maker and wait for these beautiful, fluffy waffles to pop out!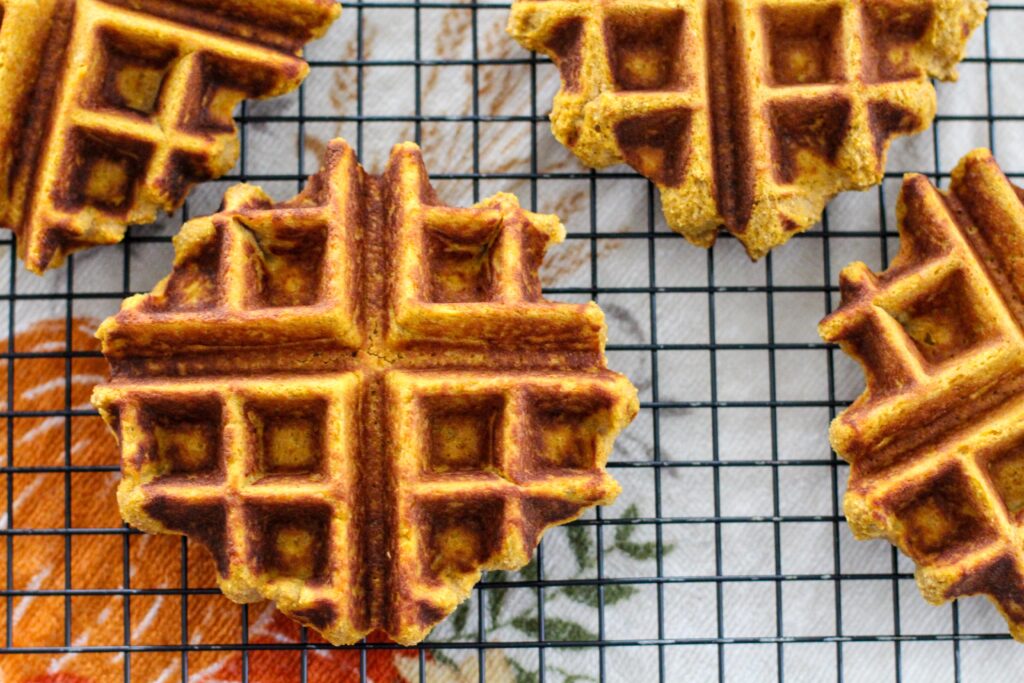 What Protein Powder Should I Use for the Best Pumpkin Waffles?
Really any protein powder that your family uses will work great for this recipe!
Please note that if you use an unflavored protein powder, consider adding a teaspoon of vanilla extract to make up for the lack of vanilla flavor!
If you don't have a family favorite protein powder, keep reading and I will share what our family uses!
For our family, we are mostly concerned about eating organic, responsibly sourced food. We also like simple ingredient lists, so we like the Tera's Whey. Their protein powder only has 4 ingredients, which is the least amount of ingredients I have seen for a flavored protein powder! I also like that their protein powder is sourced from cows raised in Wisconsin!
We also use the CERTIFIED truly grass-fed Garden of Life sport protein powder.  What does the truly grass-fed certification mean? You can check out the full program details here. In summary, these cows are raised on small farms in Ireland and they are checked every 18 months to ensure that the farmers adhere to best practices in animal welfare, sustainability, product quality, traceability, and soil and grass management.
Either the Tera's Whey or the Garden of Life protein powders can be used for those on the keto diet.
For those of you on a paleo diet, you could use an egg white protein powder or even a PaleoPro protein powder, which is a beef and egg protein. Another option is to use an unflavored collagen or gelatin powder. I prefer the Great Lakes collagen brand. Just remember to add the extra vanilla extract if you use an unflavored protein powder!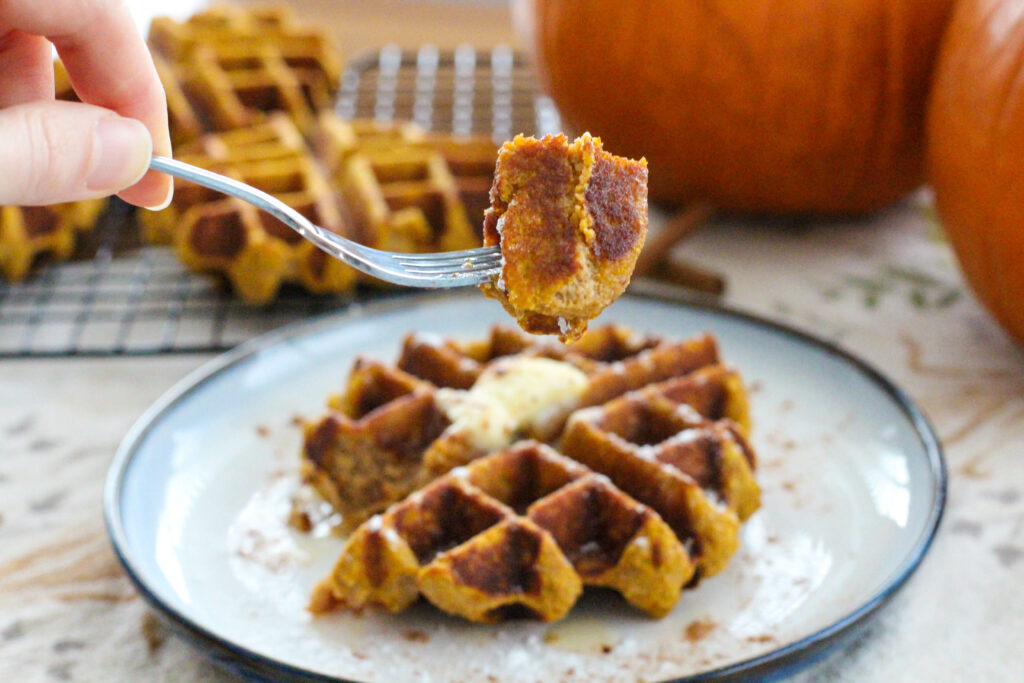 The Best Waffle Iron
If you are in the market for a new waffle iron, or are in need of an upgrade, let me share with you the BEST waffle iron!
We absolutely LOVE our ceramic Presto Flipside Belgian waffle maker!!!
What makes this waffle iron the best?
First of all, it is made of ceramic, which is non-stick by nature.
So instead of coating the plates with layers of toxic, non-stick chemicals, these plates are just pure ceramic material!
And good to their non-stick claim, I have yet to have a waffle stick to it, and I have made A LOT of test batches of waffles!
Second, the flip function works really well on this waffle maker and I think it helps make fluffier waffles, especially for those on a gluten-free diet.
Most waffle batters are made with wheat flours, so they have gluten to help them rise.
Without gluten, being able to flip the batter over helps force the batter to "fluff" out and cover both sides of the waffle maker.
Last but not least, the ability to store this waffle maker in the upright position is THE BEST!
Upright storage saves so much space, and I can actually fit mine in my Lazy Susan cabinet to tuck it out of the way.
So like I said, if you want a GREAT non-toxic, non-stick, easy to store waffle maker, you have GOT to check out the Presto Flipside Belgian waffle maker!!!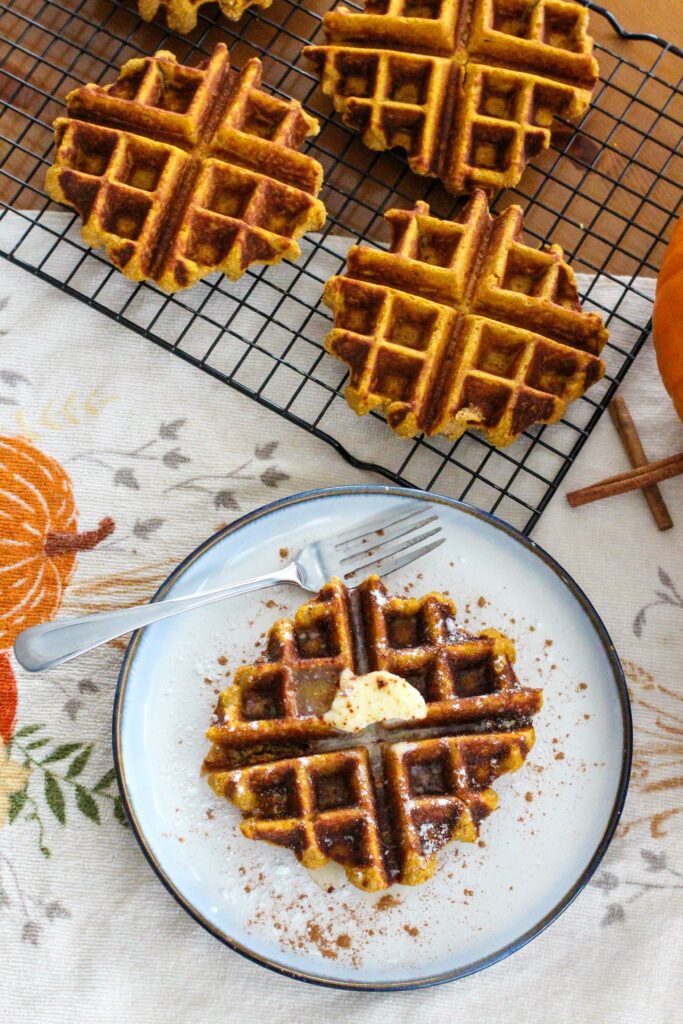 Pumpkin Waffle Toppings
As you can see in all of the pictures, our family usually just tops these waffles with butter and sprinkles on some extra cinnamon and powdered Lakanto sweetener (and yes it's sugar-free!).
Sometimes we get fancy and add some syrup. Our family enjoys the sugar-free Lakanto maple syrup, but you could also use a regular maple syrup. Maple is the perfect flavor to go with these pumpkin waffles!
I don't know about you, but I also love pumpkin and cream cheese together, so feel free to smear cream cheese on top of these warm waffles. The cream cheese gets a little gooey and it is delightful!
Another option would be to top them with homemade whipped cream (like you would pumpkin pie!).
Some people also like to top the whipped cream with fresh berries.
Alternatively, you could top the whipped cream with a homemade berry compote (or skip the whipped cream and just serve with the compote!).
You could also serve these waffles with a chocolate syrup. The fastest way to make chocolate syrup is to melt a 1/2 cup of chocolate chips with 2 Tablespoons of butter. Drizzle over the waffles like you would syrup.
Another possibility that I have not yet tried is apple butter, but I have to believe these waffles would taste great that way!
Any way you choose to top them, these waffles are sure to be a great start to your day! Enjoy!!
Print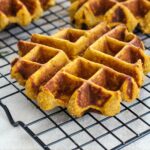 Pumpkin Waffles
---
Author:

Total Time:

50 minutes

Yield:

8

waffles

1

x
Description
There's no better start to a crisp fall morning than with these healthy, protein filled, pumpkin waffles!
---
12

eggs

1

can pumpkin

1/2 teaspoon

salt

2 teaspoons

aluminum-free baking powder

1 Tablespoon

cinnamon (or pumpkin pie spice)

1/4 cup

granular sweetener (our family uses the Lakanto brand)

1/2 cup

vanilla protein powder (see above for suggestions!)

1 cup

coconut flour

1

can coconut milk
---
Instructions
Plug in your waffle iron to start heating up (see above for the non-toxic waffle iron our family uses!)
In the order listed above, add the ingredients to a slowly running mixer. Mix until well combined (see above for the "fancier" directions – it takes about 10 minutes longer to make, but we think it makes fluffier, crispier waffles!).
Pour 3/4 cup to 1 cup of batter onto your waffle iron depending on the size of your waffle iron.
Cook for two minutes on each side, or until the waffle is cooked and crispy on the outside.
Enjoy hot with butter or any of the suggested toppings above!
Notes
Storage: Keep in the fridge for up to 5 days in an airtight container or storage bag.
Freezer: These waffles freeze really well! Store in an airtight container or bag for up to 3 months for best freshness (although they are safe to eat indefinitely in the freezer!).
Reheat: To reheat, toast in a toaster oven (or you can low broil in a regular oven) for 5 minutes, flipping halfway through for crispy waffles, or you can reheat in the microwave for 30 seconds (this will result in "soggy" waffles).
Prep Time:

15 minutes

Cook Time:

35 minutes