This post may contain Amazon or other affiliate links. As an Amazon Associate I earn from qualifying purchases.
I have a confession to make – I eat peanut butter by the spoonful, straight out of the jar. 
Dare I confess that I even keep a jar of peanut butter at my desk at work. 
I LOVE PEANUT BUTTER! 
And the one food I always eat peanut butter with is bananas! 
While bananas are not considered keto, it makes for a great gluten-free flour replacement. I also try to use green bananas (ripened just to the point where you can get the peel off without too much trouble) to try and keep the sugar content down and increase the fiber that will feed my good gut bacteria. 
I even store my bananas in the fridge to help keep them from ripening.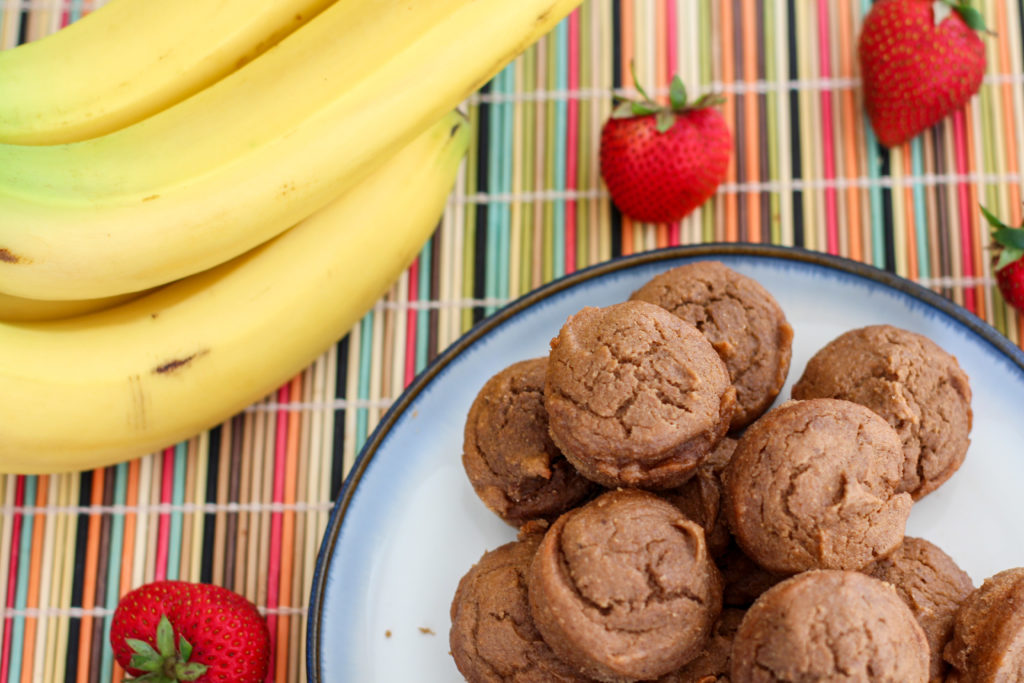 Why do I include green bananas in my diet when I'm trying to eat lower carb? 
Let's look at the numbers: medium-sized bananas have about 23g of carbs (per 100g). So if I make this recipe with 7 medium-sized bananas and it makes 36 regular-sized muffins, that's only 4.5g of carbs per muffin from the bananas (even less if you go by net carbs).  
Since I'm not trying to stay strict keto, but just low carb, these muffins fit in my diet. 
Benefits of Bananas
Green bananas contain a lot of resistant starch which helps feed the good bacteria in your gut.  
Banana antioxidant's do increase with ripeness, so if you can't stand the taste of green bananas and you aren't concerned with staying low carb, feel free to make this recipe with bananas that are riper (which will also increase the sweetness of the muffins) 
Now as per usual for me, this recipe makes A LOT of muffins – 3 dozen regular-sized to be exact (even more if you make mini-muffins).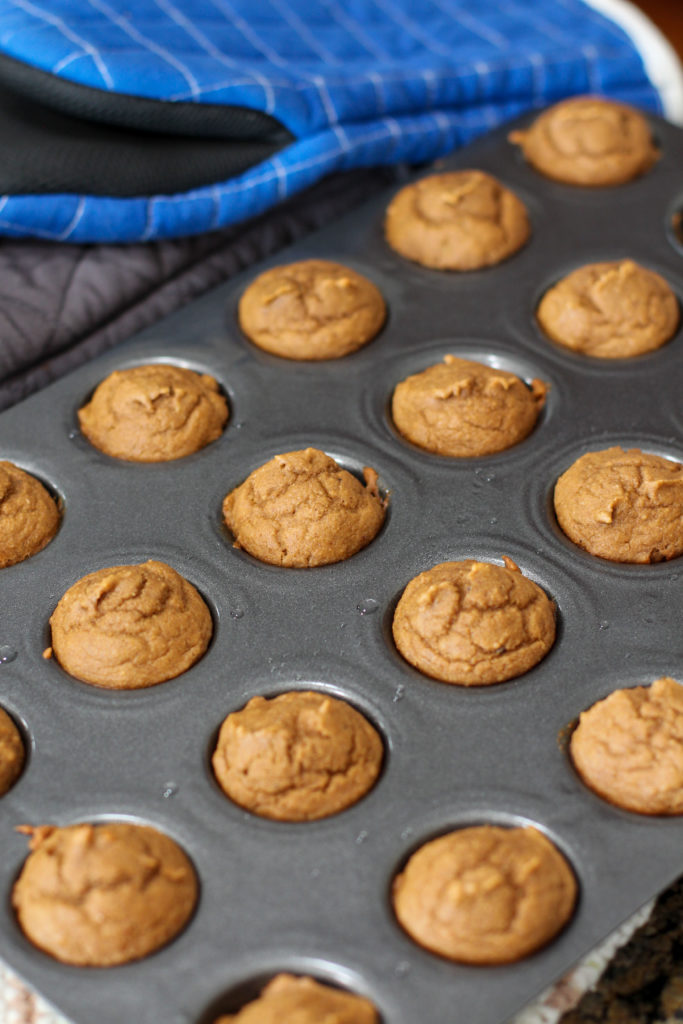 That may seem like a lot to you, but that's the only way I can keep up with the demand in our household and not make a pan every few days. If you don't want such a large batch, simply cut the recipe in half. 
I like to make this on a Saturday morning where we all eat some fresh out of the oven for breakfast. I then stash some of the leftovers in the fridge for lunches or snacks through the week. Normally I still have some left that I can also put in the freezer, so that I don't have to make these every weekend.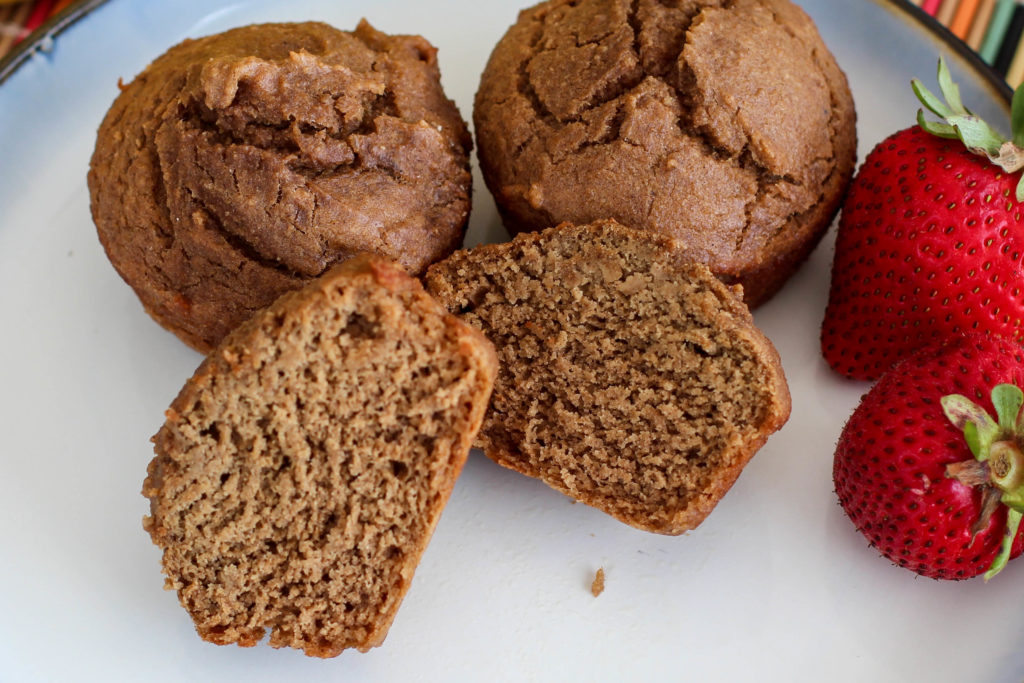 These muffins freeze extremely well and make for a great snack or breakfast on the go.  
My favorite is to eat them hot out of the oven with butter! Mmmmmmm………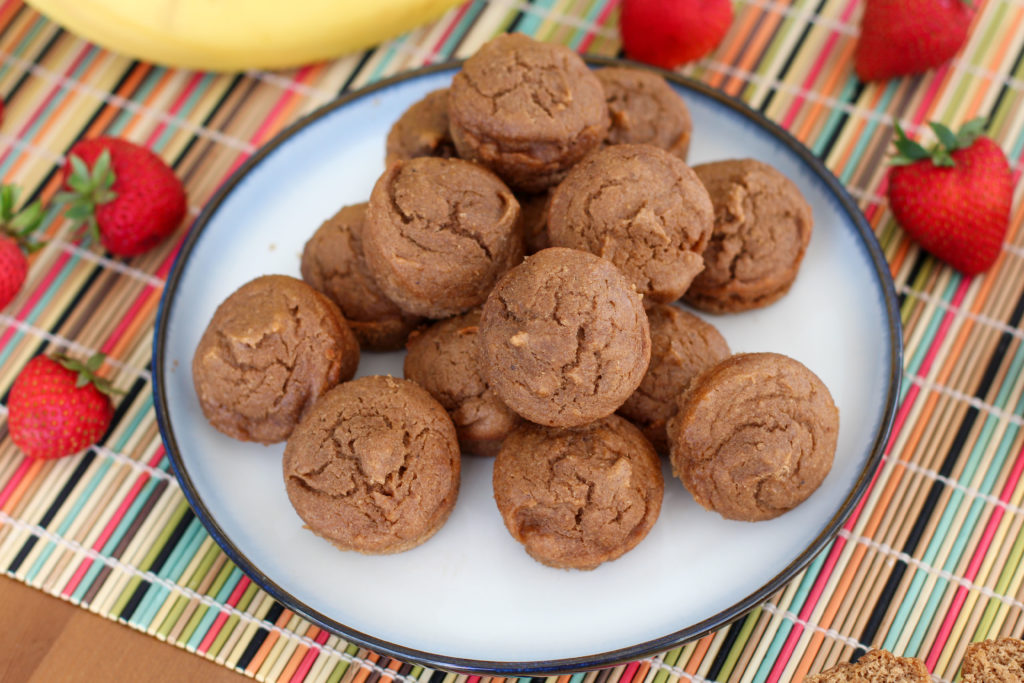 Peanut Butter Banana Muffins
Difficulty Level: Easy 
Servings: 36
Ingredients:
6-8 bananas, peeled (6 if the bananas are really large, 8 if they are really small, and 7 if they are somewhere in the middle – it should be about 4 cups total)

 

1 cup melted butter

 

16 ounce jar of organic creamy peanut butter

 

8 pasture-raised eggs

 

1 Tablespoon vanilla

 

1 cup coconut flour

 

2 teaspoons baking soda

 

2 teaspoons aluminum free baking powder

 

1 Tablespoon Ceylon cinnamon

 

¼ teaspoon pink Himalayan or Celtic sea salt

 
Directions:
Preheat oven to 350 degrees and grease 3 muffin pans with palm shortening, coconut oil, or melted butter (if you don't have 3 muffin pans, you will have to make this in batches, storing the batter in the fridge in between batches).

Put the peeled bananas, peanut butter, eggs, vanilla, and melted butter in a large blender (such as a ninja pitcher). Blend until thoroughly combined and pour into a large bowl.

 

Alternatively, if you don't have a large blender pitcher, mash up the bananas with a fork. Add the bananas to a mixer bowl and mix together with the other wet ingredients (this will make for chunkier muffins).

Add the remaining ingredients and stir or mix until well combined.

 

Pour the batter into the prepared muffin pans and bake according to the corresponding muffin size you are making:

 

Bite-sized muffins: 8 minutes

 

Mini-muffins: 10 minutes

 

Regular muffins: 12 minutes

 

The muffins should spring back when you gently press on them.

Let the muffins cool in the pan for 5 minutes before removing, then cool completely on a wire rack before storing.

 
Storage:
Store in the fridge and eat within one week. To freeze, store in an airtight container or bag and consume within 3 months for best quality (although they will remain safe to eat beyond that).