This post may contain Amazon or other affiliate links. As an Amazon Associate I earn from qualifying purchases.
Soft biscuit topping, gooey cheesy goodness, and full Mexican flair, this easy to make Mexican Beef Cobbler recipe is what you want for dinner TONIGHT!
I. LOVE. MEXICAN. FOOD.
Can I get an amen? 
Tacos are so easy to throw together! Don't believe me? Try this homemade taco meat recipe. It's a game changer! 
But sometimes you need to change up your Mexican food game from tacos to something a little more interesting.  
Enter a Mexican casserole. And not just any Mexican casserole, but a Mexican beef COBBLER. 
Step aside shells and enter biscuit topping!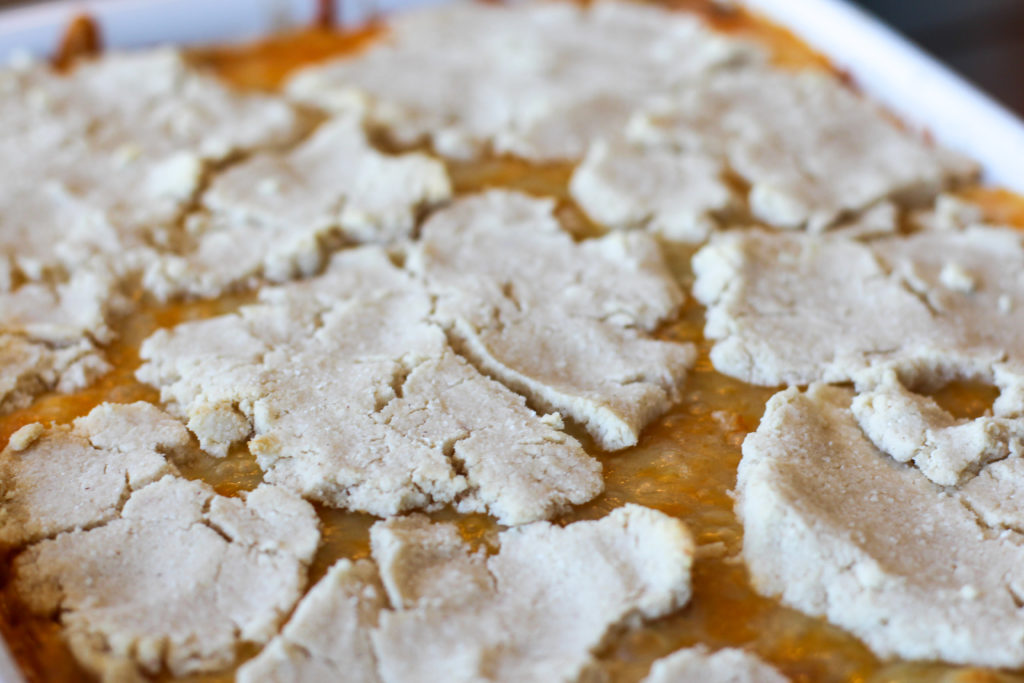 Seriously, stop making whatever it is you were going to make for dinner and try this. You will have no regrets! 
Can I use Pre-Made Seasoning?
Yes, of course!
If you have a homemade taco seasoning that you regularly use and your family loves, by all means use it! Just add enough for what you would use for 2 pounds of taco meat.
If you already have my homemade taco seasoning pre-made, omit the seasoning listed in this recipe and substitute with 2 portions of taco seasoning (since this recipe has 2 pounds of meat). 
You can also use a pre-made taco seasoning pouch from the store, you will just want to use two of them since this has two pounds of beef.
How do I make this a Keto Mexican Beef Cobbler?
I know at first glance this Mexican beef cobbler recipe may not seem at all keto friendly and you are going WHAT??
But hang with me!
It's super simple to modify this recipe to make it keto!
Omit the corn, and double down on the cheese for that extra gooey cheesy goodness.
Now for the biscuit topping…
The easiest option would be to just leave off the biscuit topping. That will make this recipe less like a cobbler and more like a Mexican casserole, BUT IT WILL STILL BE DELICIOUS!!
I'm allergic to tree nuts, so I can't make a biscuit topping with almond flour. That means that I use a higher carb flour called cassava flour (keep reading to learn more about cassava flour).
If you are following strict keto, cassava flour is most likely NOT going to fit in your diet since it has almost 80g of carbs per cup and almost no fiber to offset the carbs.
So for 3/4 cup of cassava flour, that's 60g of carbs. Split that over the 12 servings of this cobbler, that's 5g of carbs per serving just from the cassava flour. Then add in the 20g of carbs from the coconut flour, the carbs naturally in the vegetables and you can quickly see why it's not going to fit into your macro count for the day.
That being said, if you are LAZY keto, this recipe will be fine for you…but there is still a more keto-friendly approach…
If you aren't allergic to tree nuts, then you CAN use an almond flour biscuit topping!
I obviously haven't made these recipes myself, since they would send my husband running for my epi-pen…YIKES! But if you can have almond flour, I would try one of these recipes for the biscuit topping:
Southern Style Fluffy Biscuits
So leave out the corn, double the cheese (if desired), and leave off the biscuit topping or sub with an almond flour biscuit topping.
And with those substitutions, you now have a delicious KETO Mexican Beef Casserole for dinner tonight!
How do I make this a Paleo Mexican Beef Cobbler?
This recipe for Mexican beef cobbler is pretty much already paleo fit! Just don't add the cheese and the corn (I made notes in the recipe below to remind you to leave them out!).
Why leave out the corn?
I know at first glance corn seems like a good paleo fit, it's a vegetable right??
Actually….no.
Corn is technically a grain, which puts it on the "NO" list for paleo.
The great news is that corn does not make or break this dish.
You honestly won't notice a difference by leaving it out and there are plenty of other good veggies in here like zucchini, bell pepper, and cauliflower!
So if corn isn't paleo, you may be wondering…
Is the Biscuit Topping Paleo Friendly?!
Good news here – YES!
Hands down all of the ingredients in the biscuit topping are paleo friendly!
And not just paleo friendly, but the biscuit topping is actually AIP-Paleo friendly!
No almond flour (which is not AIP approved) and no eggs are required to make the topping!
Instead, the biscuit topping uses a blend of paleo approved cassava flour and coconut flour.
Additionally, the garlic and onion powder add flavoring to the biscuit topping and they are also paleo-AIP friendly!
The stars that hold these biscuits together are the cream of tartar, baking soda, and gelatin, which are all also AIP-paleo approved!
So What is Cassava Flour?
Cassava flour is made from cassava – super helpful right?! Just teasing…
Cassava, also known as yuca, is the starchy root of a tropical tree native to South America.
You probably have eaten byproducts of cassava at some point in your life already – have you ever consumed anything made with tapioca?
Well, tapioca is made from extracted cassava starch!
While high in carbs, cassava is low on the glycemic index, full of vitamins and minerals, naturally gluten-free, and has good resistant starches to help feed the good bacteria in your gut!
What Brand and Where to Buy Cassava Flour
This flour is becoming increasingly popular which means that most grocery stores carry this type of flour!
There are multiple brands that are all good: Otto's (the most common/popular brand), Bob's Red Mill, and Terrasoul would all be in my recommended supplier list.
Just this past week I got a couple bags of cassava flour during the Kroger baking sale ($5 off $15 in baking items) because Bob's Red Mill Cassava flour was on sale for $7.13!
Not a bad deal with the additional savings!
For online shoppers, Amazon, Thrive, and other online grocery retailers all carry this flour as well.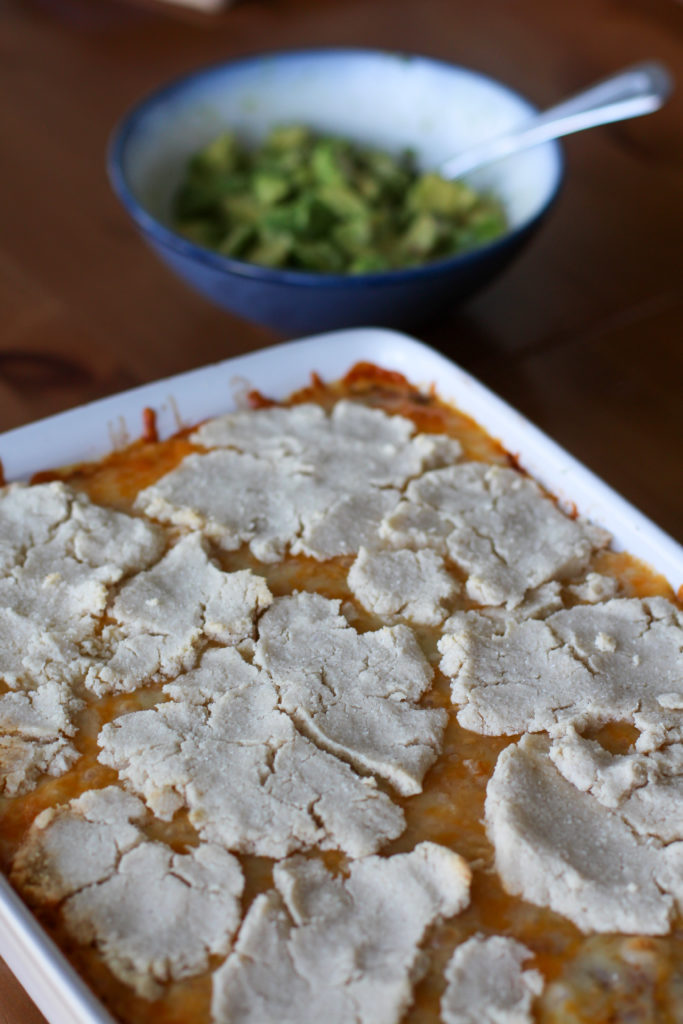 So ditch those dinner plans you had and have a Mexican fiesta!
Give the taco shells a break and say hello biscuit topping!!
Mexican Beef Cobbler
Difficulty Level: Medium
Prep Time: 40 minutes
Cook Time: 20 minutes 
Servings: 12
Beef Mixture Ingredients: 
2 pounds of 

beef

 

1 medium onion, chopped (or ½ teaspoon onion powder)

 

3 cloves of garlic, minced (or ½ teaspoon garlic powder)

 

1 Tablespoon chili powder

 

1 Tablespoon cumin

 

2 teaspoons salt

 

1 teaspoon paprika

 

½ teaspoon oregano powder

 

1 bell pepper, chopped

 

1 medium zucchini, sliced and quartered

 

2 

cups 

cauli-rice

 

(or use 1 bag of riced cauliflower from Costco)

 

10 ounce bag of frozen organic, non-GMO corn (omit for paleo and Keto

)

 

16 ounces salsa

 

8 ounces shredded Mexican cheese (omit for paleo and dairy-free, or use 16 ounces for a really cheesy keto casserole!)

 
Gluten-Free Biscuit Topping Ingredients (omit for strict keto): 
¾ cup cassava flour

 

¼ cup coconut flour

 

1 Tablespoon gelatin

 

¼ teaspoon cream of tarter

 

¼ teaspoon baking soda

 

½ teaspoon salt

 

¼ teaspoon garlic powder (optional)

 

¼ teaspoon onion powder (optional)

 

2 Tablespoons coconut oil, melted

 

Water

 (about a ¼ cup)

 
Optional Toppings: 
Avocado chunks

or homemade guacamole

Lettuce

 

Additional salsa

 

Cilantro

 

Green onion

 

Sour Cream (Omit for dairy free)

 
Directions:
Preheat oven to 350 degrees

. 

 

Grab the biggest pot you have in your kitchen (seriously, it's going to get full) – if you don't have a large pot, cook the meat first, put it in the casserole dish, and then cook the vegetables in that pan and layer that on top of the meat.

 

Over medium heat, cook the beef, onion, garlic, chili powder, cumin, paprika, oregano powder, and salt until the beef is browned.

 

Add the bell pepper, zucchini, cauliflower, and corn and cook over medium heat for 5 minutes for crunchy vegetables or 10 minutes for softer vegetables. Stir continuously to make sure vegetables get cooked evenly throughout the pot.

 

Put the meat mixture in the casserole pan. Spread salsa over the top of the pan. Spread cheese over the top of the dish if using.

 

If you are using biscuit topping, mix all of the dry ingredients together in a bowl. Stir in the butter (will be very clumpy). Add enough water to form 

a dough

 (approximately a ¼ cup depending on the humidity).

 

Take spoonfuls at a time and flatten with your hands and scatter on top of the casserole to make that "cobbler" topping.

 

Bake for about 20 minutes. If you are using the biscuit topping, cook until biscuit is lightly browned. If you are not using the biscuit topping, bake until cheese is melted and edges are bubbly.

 

Serve in bowls with any of the desired additional toppings.