This post may contain Amazon or other affiliate links. As an Amazon Associate I earn from qualifying purchases.
The perfect summer on-the-go breakfast, simple snack, or guiltless dessert, this low-carb strawberry cheesecake chia pudding is quick and easy to make.
I love summer! Not just because the long days mean I can get more done in a day (or at least it seems like I can!), but because summer is the best time for loads of fresh fruits!
I especially love berries – blueberries, raspberries, and especially bright, red strawberries.
Have you ever noticed that the strawberries they sell in the stores during the winter seem less vibrant and more white?
Not only that but they are also WAY more expensive, so I try to only buy fruit when it is in season and cheap!
The other thing I strive to do in the summer is use my oven less so that the house isn't so stifling hot!
This strawberry chia pudding makes the most of summer using fresh, vibrant strawberries and also doesn't require an oven – a double win in my book!
As an added bonus, chia pudding is simple to make and stores well, making this a go-to breakfast or snack for the summer.
This chia seed pudding could also be eaten as a guilt-free dessert! Rich, creamy, and cold; grab a bowl and enjoy a summer sunset on the back patio!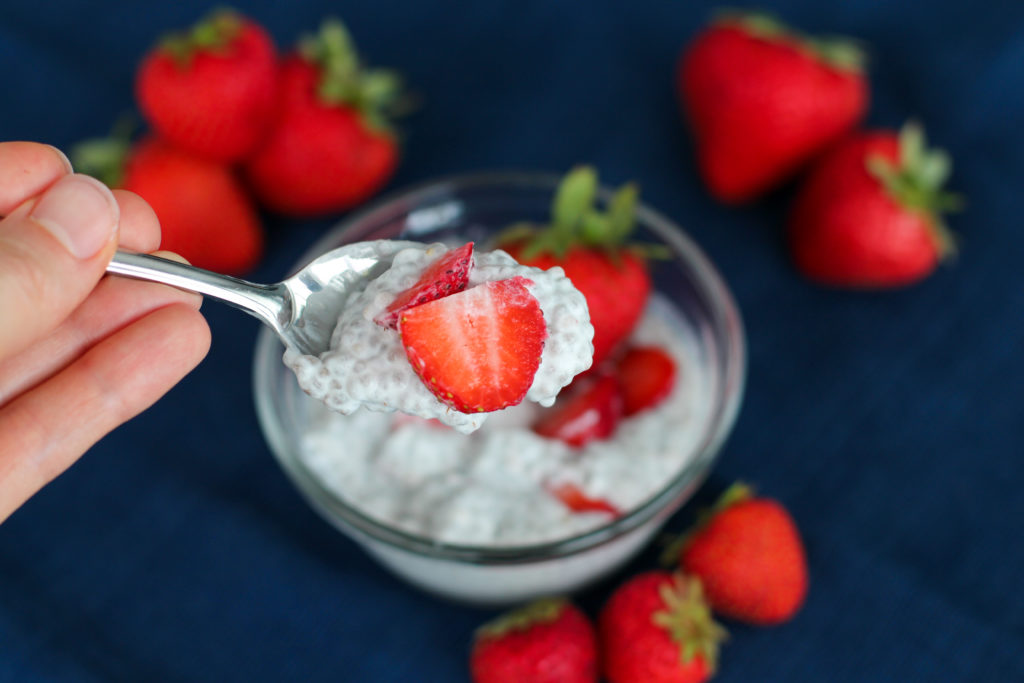 How To Make Your Strawberry Cheesecake Chia Seed Pudding Smooth
If you want your chia seed pudding to be a smooth pudding consistency, I recommend blending the entire recipe in the blender.
This will puree the strawberries to make the pudding less lumpy.
Blending up the ingredients will also chop up the chia seeds into even finer pieces, making them less lumpy.
So if you want a smooth, creamy pudding, try using the blender!
Can I Use Frozen Strawberries?
I get it, this recipe is so good that you are craving it come January and strawberries are $5 a quart. YIKES!
Or maybe you are wanting to make this for a festive red color for a Christmas party dessert. You take a side glance at those milky white strawberries in the middle of winter and you think this dish is out.
Think again!
Frozen strawberries CAN be used to make this recipe, but you do need to add the strawberries to step one of the recipe and blend them up.
Once thawed, frozen strawberries turn mushy, so they will not look pretty if you thaw and chop them.
Blending frozen strawberries up will not affect the taste of the recipe, so it's a great alternative if you are looking to either save money or avoid flavorless white strawberries.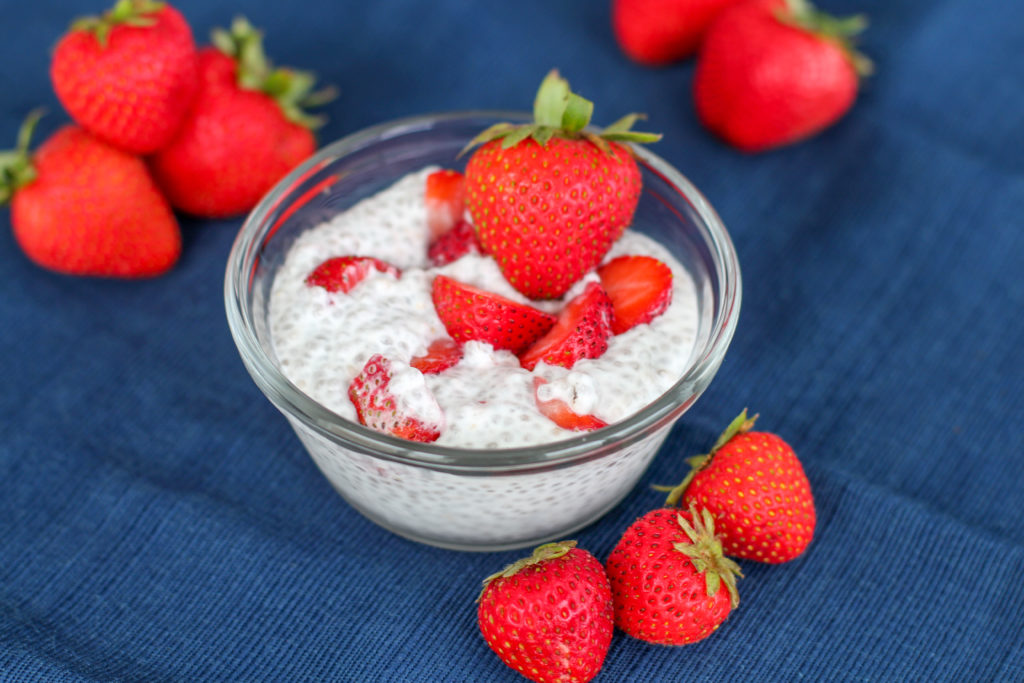 Is There A Way To Make This Strawberry Cheesecake Chia Pudding Dairy-Free?
Yes, of course!
Where there's a will, there's a way!
So instead of the heavy cream, you use full-fat coconut milk. That substitution is easy.
The cream cheese substitution is a little trickier.
The simplest way to remove the cream cheese from the recipe would be just to leave it out.
However if you want some cream cheese tang in your dish, I would try using a yogurt or a different dairy-free cream cheese recipe.
You could also buy a coconut or almond milk yogurt.
Next easiest substitution would be to make my coconut milk yogurt. The downfall is that the yogurt does take 24 hours to make. If you don't have any pre-made in the fridge and you are wanting to make this chia seed pudding NOW, that's not going to work.
You can also try this recipe for dairy-free cream cheese (contains nuts), but I've never tested it myself since I am allergic to tree nuts. If you try out this recipe for the cream cheese, let me know how it turns out!
And now you can enjoy this dish free of dairy!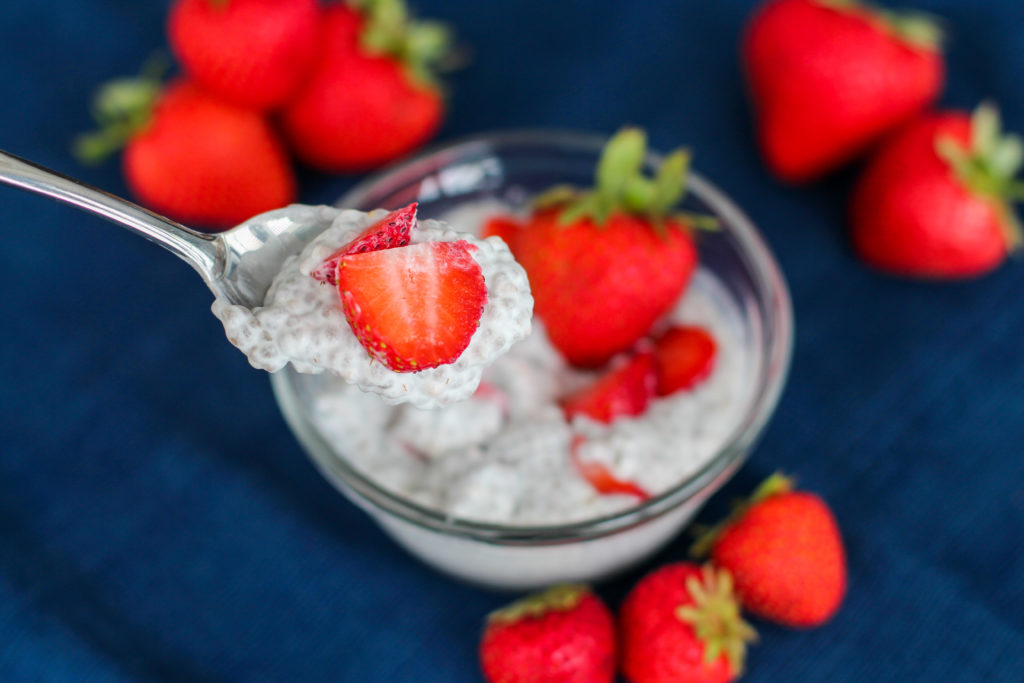 Strawberry Cheesecake Chia Seed Pudding
Difficulty Level: Easy 
Prep Time: 5 minutes
Total Time: 20 minutes (includes 15 minute rest period to let coconut milk absorb)
Servings: 4
Ingredients:
4 ounces cream cheese

 

2 cups of heavy cream, divided

1/3 cup chia seeds

 

1 teaspoon vanilla (or more to taste)

 

5 drops of liquid stevia (or more to taste)

 

Pinch of salt (or more to taste)

 

1 cup strawberries

, chopped

 
Directions:
In a blender cup, blend the cream cheese and 1 cup of the heavy cream.

Add the mixture to a bowl and stir in the remaining ingredients until thoroughly mixed.

 

Let the chia mixture sit for 15 minutes and then thoroughly mix again, breaking up any chia seed clumps that might have formed.

 

Refrigerate overnight to allow the chia seeds to fully absorb the coconut milk and thicken into a pudding consistency.

 

Taste the pudding and adjust the vanilla, stevia, and salt to your liking.



Storage:
Store in the fridge for up to 5 days.