This post may contain Amazon or other affiliate links. As an Amazon Associate I earn from qualifying purchases.
Creamy and chock full of raw vegetables, this is the perfect summer dish to use up any vegetables you have sitting in your fridge!
Do you ever have lots of little containers of leftovers and you throw them together just to use them up? That's how I stumbled onto this chicken salad recipe.
It has a little bit of everything, so if you don't have some of the mix-ins, feel free to substitute with something else you have hanging out in the fridge or just leave it out because there are so many other foods, that leaving one out won't make that big of a difference.
I would even venture to say that you could leave the chicken out on this and you might not even notice, but then it wouldn't be called chicken salad 😉
Also, this recipe makes A LOT of chicken salad (do you see how full that bowl is??).
You can freeze this recipe, but then the apples/grapes get a little soggy (although it's not that noticeable to me, so I have been known to freeze chicken salad).
Loaded Chicken Salad Directions:
First things first, get that chicken rolling in the Instant Pot!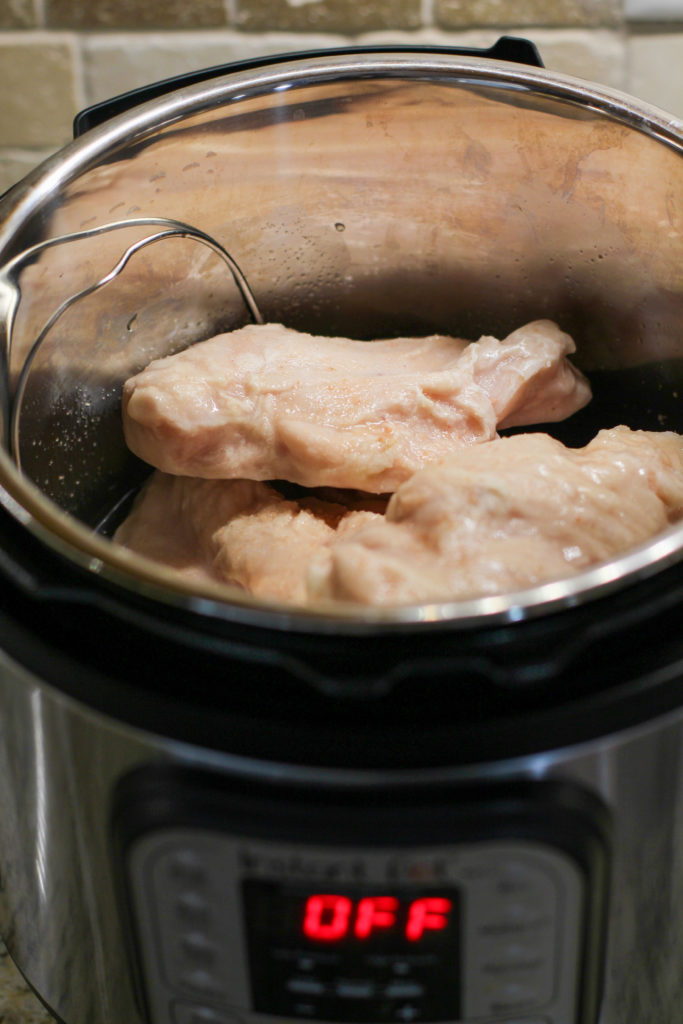 Next, get that riced cauliflower cooking!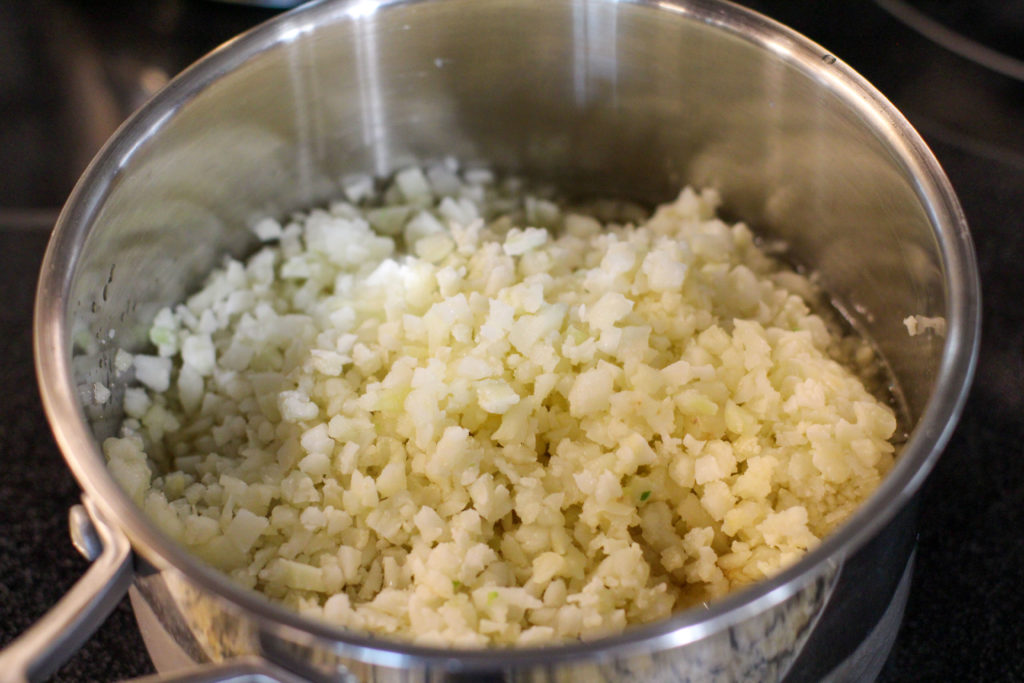 Then, grab your favorite cutting board and a large knife and get ready to chop up everything you have in the fridge!
Start with the classic chicken salad toppings like celery and grapes and then add some new toppings like cucumber.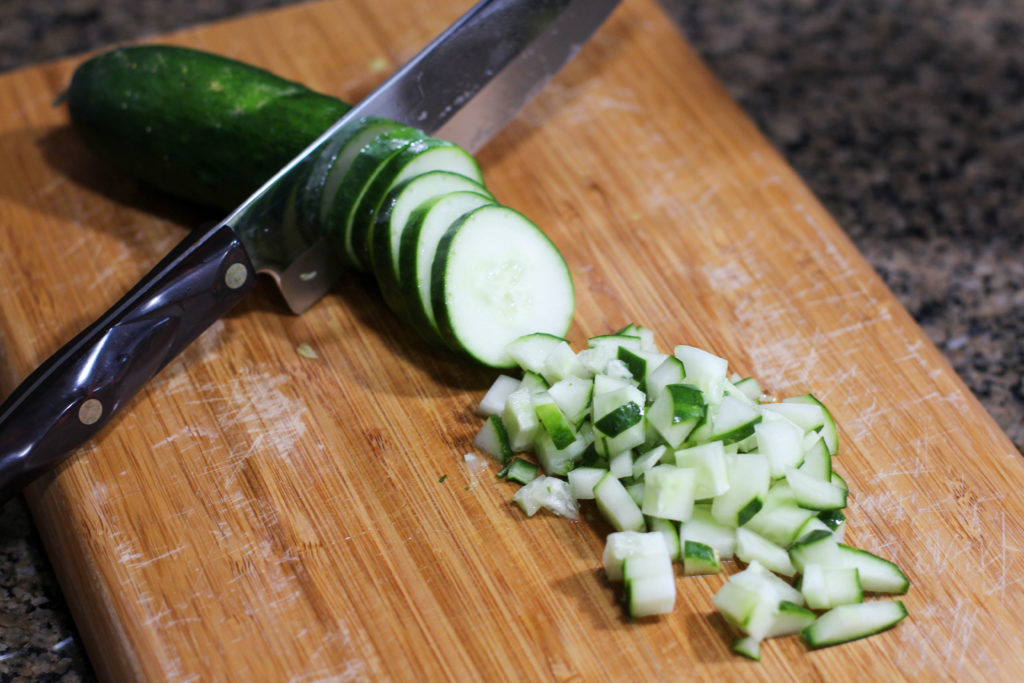 Shred the carrot.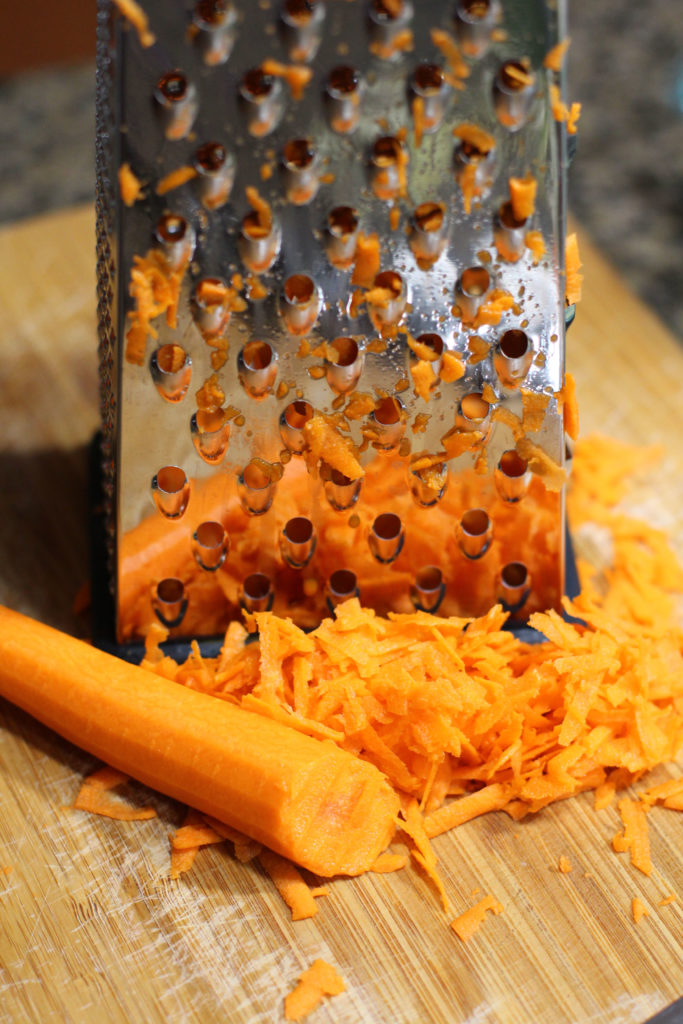 Is your Instant Pot full of chicken done? Remove the chicken from the Instant Pot and let it cool in a bowl while you keep chopping!
Chop up your apple.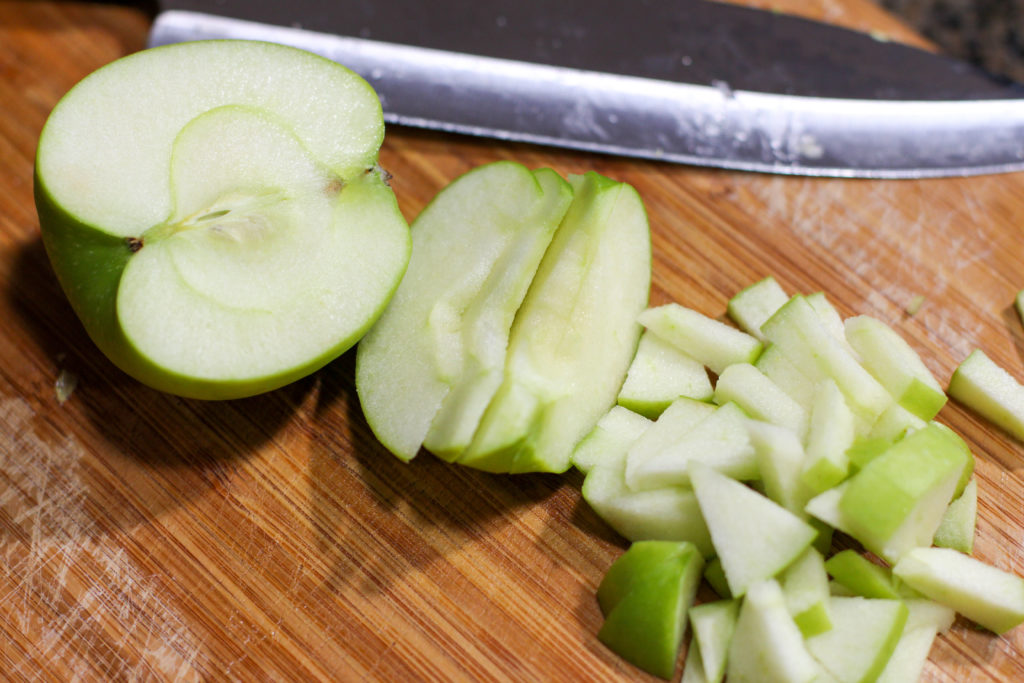 Whew! Done chopping! Now hopefully the chicken has cooled off enough that you can handle it – put those fingers to work shredding the chicken.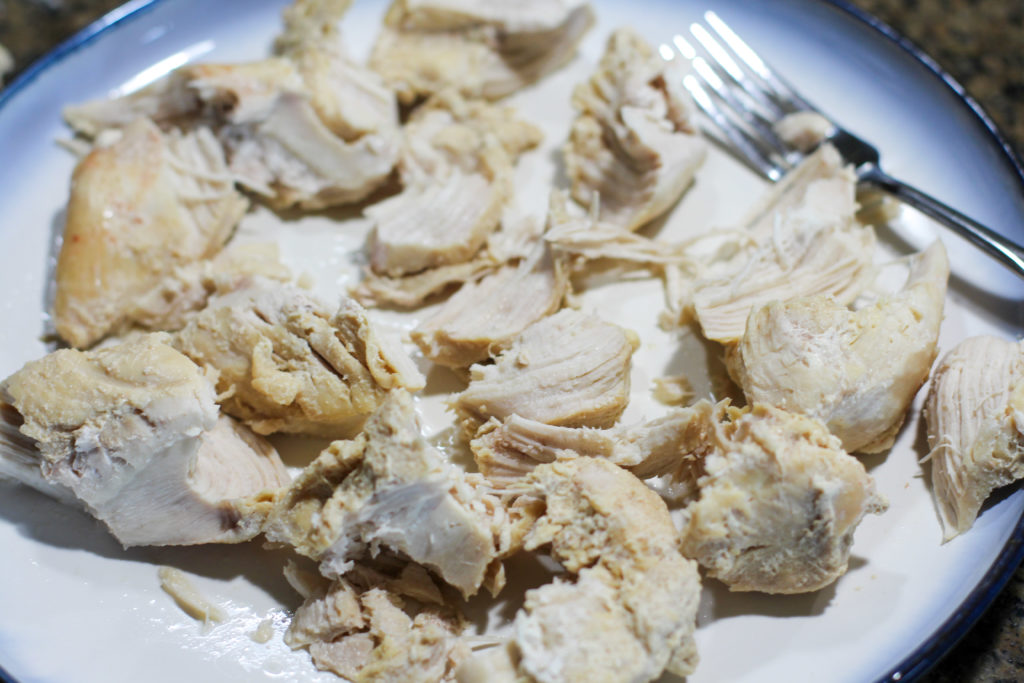 Add the frozen peas and don't forget the star of any chicken salad – MAYO!
Drizzle in the vinegar for some tang and bite.
Is your bowl getting full yet? Mine is!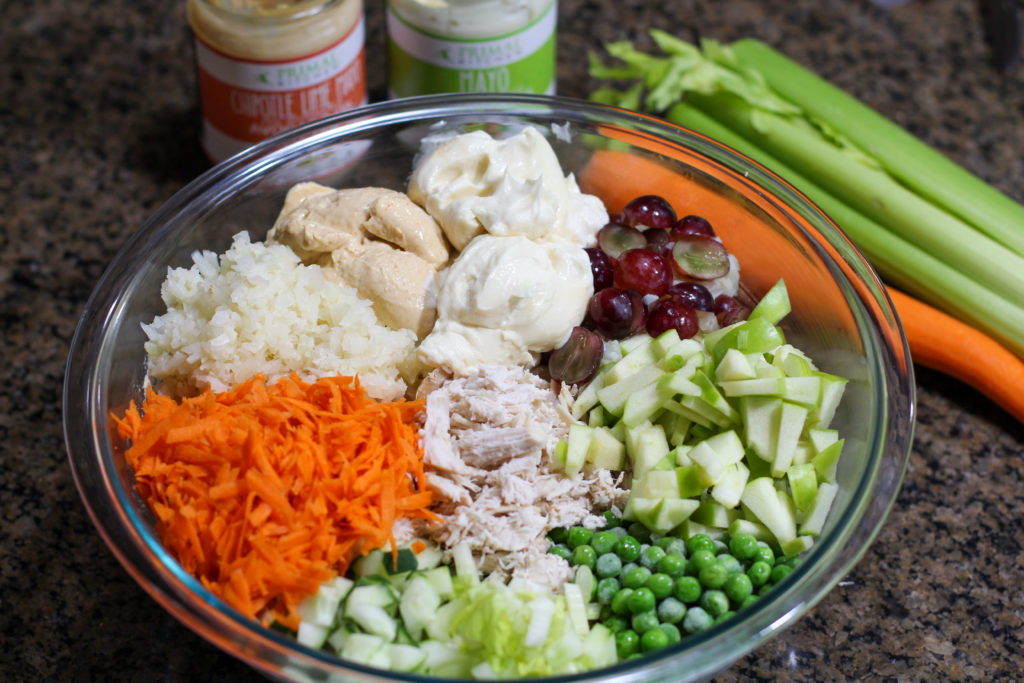 Now the magic – mix it all together….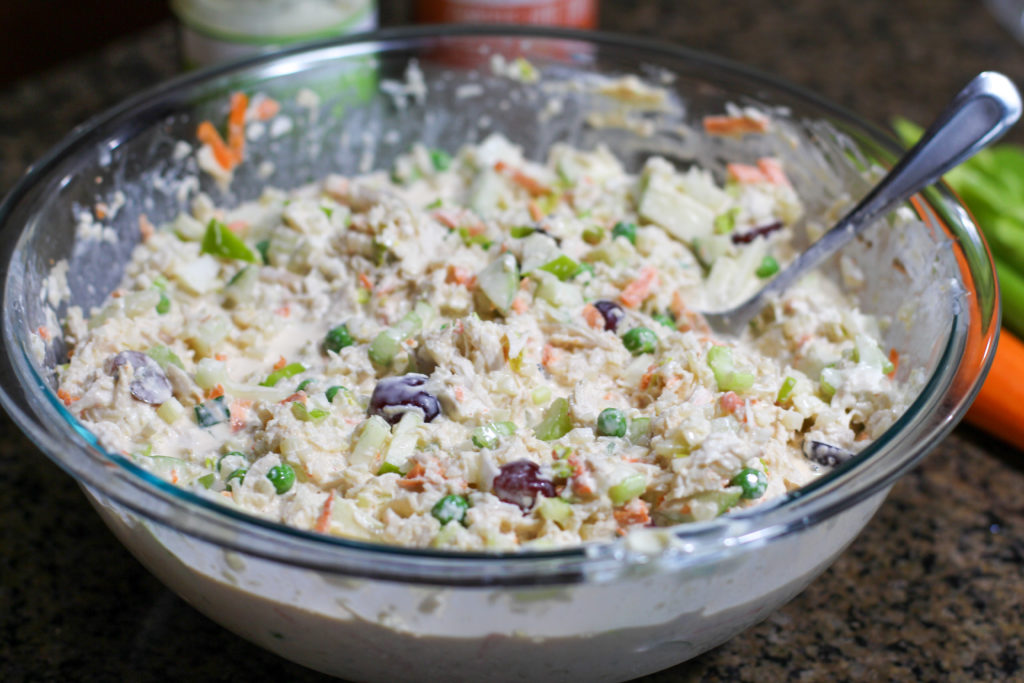 Hooray! Chicken salad for an army…or lunch for the week for you, Handsome, and the kids!
Loaded Chicken Salad
Difficulty Level: Easy
Servings: 12
Ingredients:
3 pounds cooked and shredded chicken
2 cups riced cauliflower cooked and cooled (or one bag of Costco frozen cauli-rice)
1 16-ounce jar avocado oil mayo (Primal Kitchen is my favorite brand)
½ cup chipotle lime mayo (Primal Kitchen is my favorite brand)
1 cup frozen green peas (omit for keto)
1 cucumber, chopped
4 stalks of celery, diced
2 carrots, shredded
1 Granny Smith apple, chopped
1 cup grapes, sliced in half (omit for keto)
3 teaspoons pink Himalayan or Celtic sea salt
¼ cup apple cider vinegar or coconut vinegar (Coconut Secret Organic Vinegar is my favorite brand)
(Optional) Top with chopped green onions
Directions:
In a VERY large bowl, mix all of the ingredients together. Adjust mayo and vinegar amounts to your desired creaminess and "zip".
Eat by itself or on romaine leaf boats, a Siete brand wrap, or a piece of Ezekiel bread.