This post may contain Amazon or other affiliate links. As an Amazon Associate I earn from qualifying purchases.
Ice cream that's sugar free, low-carb, packed with a strong vanilla punch, and simple to make.
SIGN ME UP!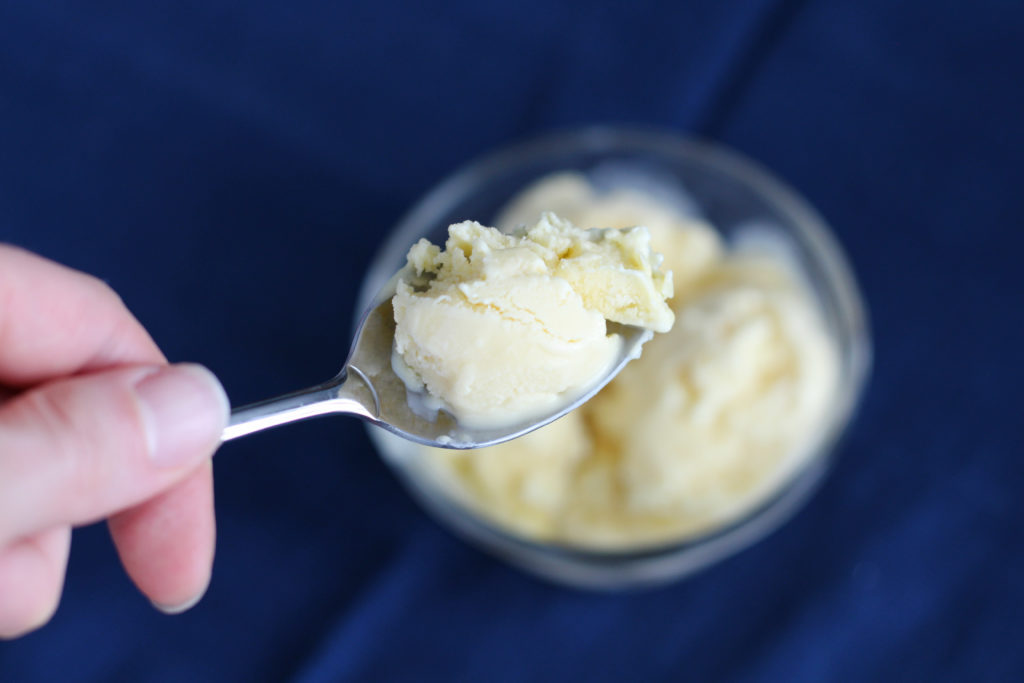 When you search online for a low-carb ice cream, there are a million variations, but something they were all lacking for me was the vanilla flavor – I love vanilla and this is a deal breaker for me.
Most recipes call for 1 teaspoon of vanilla per 2 cups of milk/cream, but I found that I needed 1 TABLESPOON to reach that vanilla flavor I desire.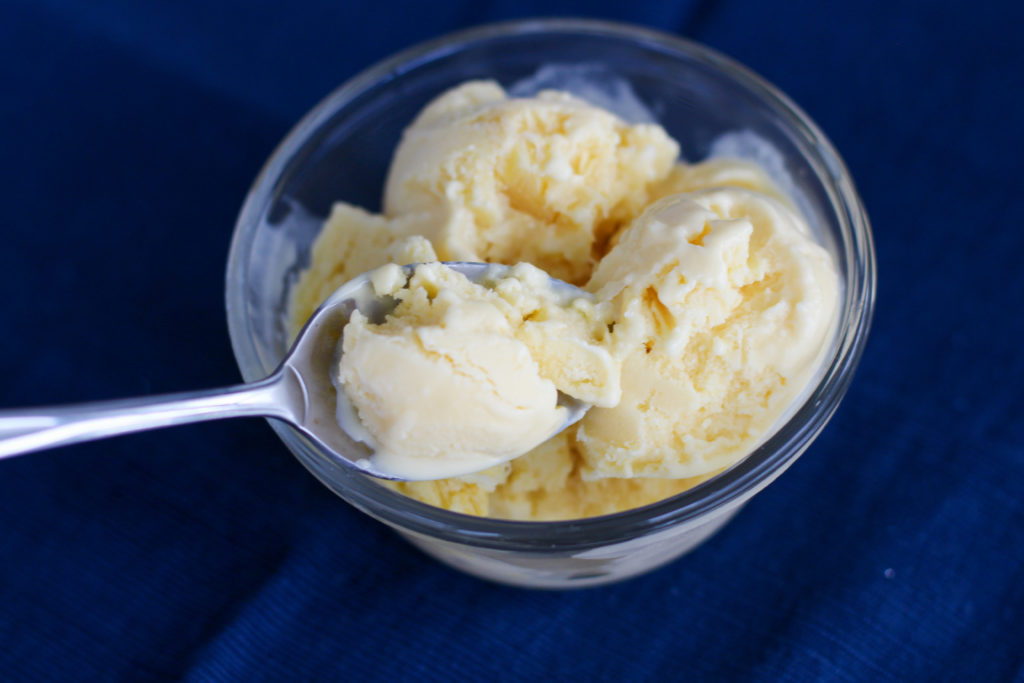 There are also tons of options on sweeteners. Most recipes call for erythritol, but my husband isn't a huge fan of the cooling sensation he gets in his mouth when I make recipes that aren't cooked, so I have been trying to switch all of our recipes over to liquid stevia. We enjoy the taste of liquid Sweetleaf stevia best, but if you have a different low carb sweetener that your family likes, feel free to substitute with it instead!
I have also struggled with the ice cream becoming a total block of ice in the freezer, and then even after thawing on the counter, it's all icy and breaks off in chunks.
Not so with this recipe!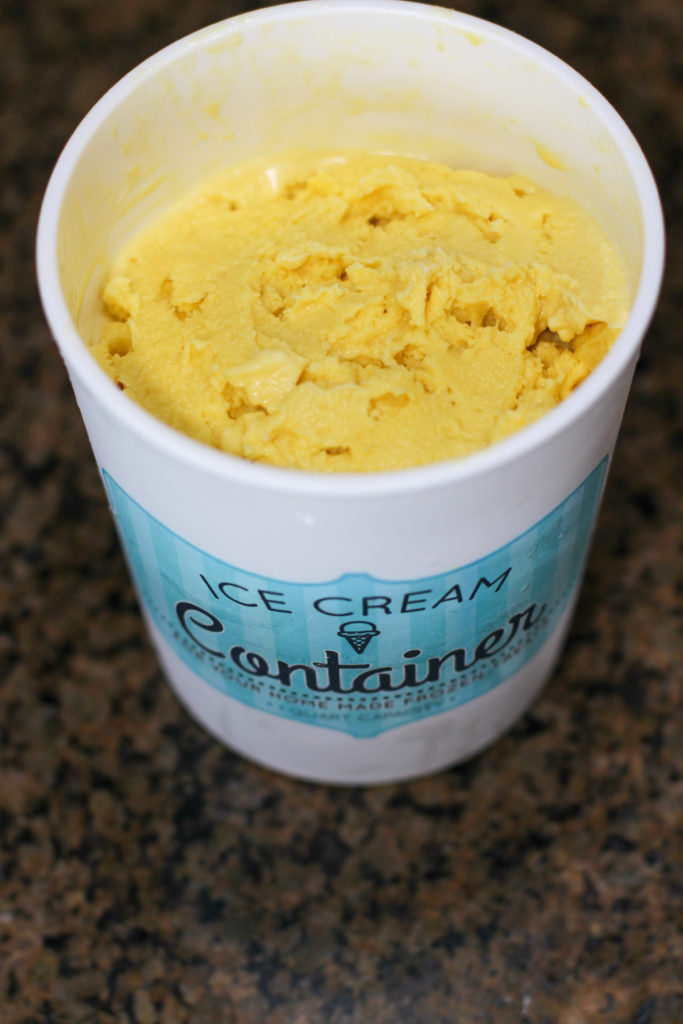 What I love about using the MCT oil and the little bit higher level of salt is that even though this recipe will still completely harden in the freezer, after setting the ice cream out for about 10 minutes, the ice cream thaws and is still creamy and holds together well enough to scoop it out.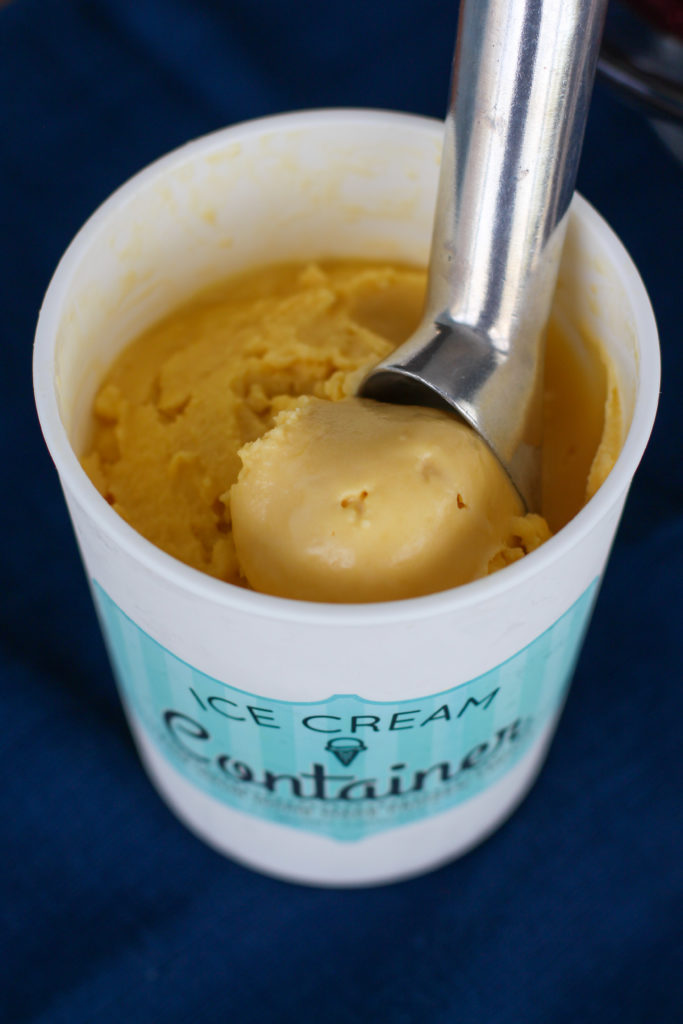 A word about raw eggs…
There is an optional step to heat the eggs if eating raw egg bothers you. I buy eggs from an organic farmer down the street, so I'm comfortable eating raw eggs yolks, but I totally understand if you want to heat the eggs.
The important thing to watch for if you heat the egg yolks is to not boil the mixture because that will cook the eggs (trust me, I have made that mistake before).
What you are looking for is small bubbles forming around the edge of the pan and lots of steam – that's the right time to pull it off the heat.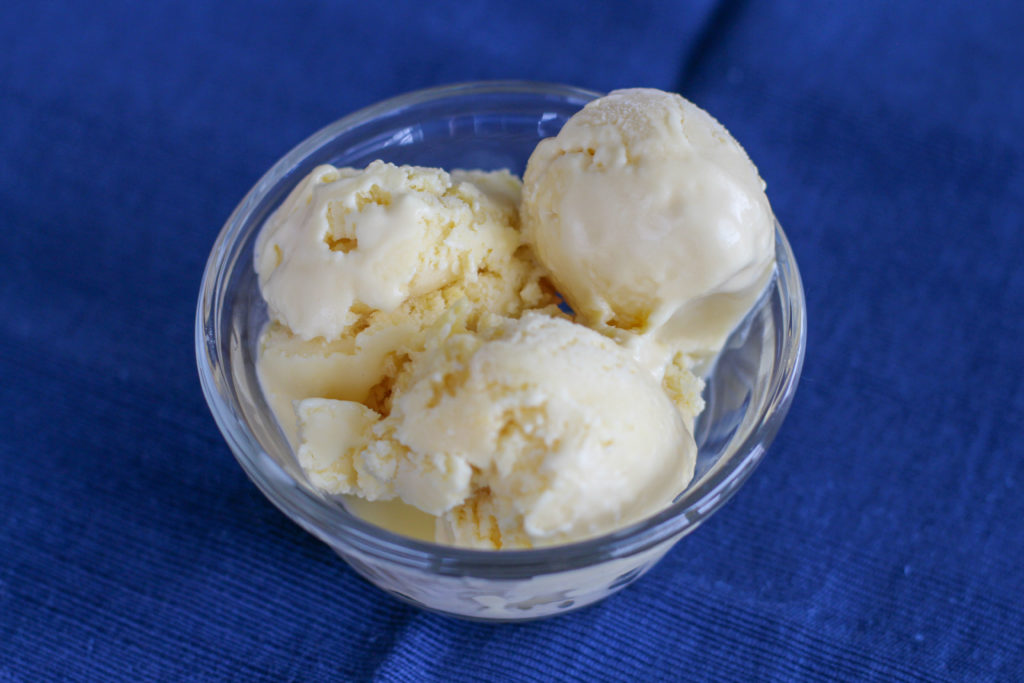 Vividly Vanilla Keto Ice Cream
Difficulty Level: Easy
Prep Time: 10 minutes (plus 4 hours cooling if you temper the eggs)
Cook Time: 30 minutes
Servings: 6
Ingredients:
6 egg yolks (make Angel Food Cake with the egg whites)
2 cups half-and-half
¼ cup MCT oil
1 teaspoon liquid stevia or equivalent 1 cup low carb sweetener*
1 Tablespoon vanilla extract
½ teaspoon pink Himalayan or Celtic sea salt
Directions:
Put the egg yolks in a mixing bowl and whip until they are light in color and have doubled in size.
OPTIONAL: Temper the egg yolks by heating the half-and-half in a saucepan over medium heat. Stir frequently. Once the half-and-half begins to steam and foam around the edge, remove from heat. In quarter cup increments, slowly add the heated half-and half to the eggs.
Add the remaining ingredients and taste to test the sweetness level. If you did not do the optional step, add the half-and-half at this time.
Cool at least 4 hours in the fridge, or if you didn't cook the egg mixture, you can put this in the ice cream maker immediately.
Turn for 30 minutes or according to your ice cream maker's directions.
If you are adding any mix-in's, now is the time to stir them in.
Freeze for 3-4 hours before serving and top with your favorite ice cream toppings.
*NOTE: Sweeten the ice cream for your personal taste – my husband still has a big sweet tooth so this might be a lot sweeter than someone may want if you have been low sugar for a while.
Did someone say cake? This ice cream is the perfect dessert side-kick!
Try it with Red Velvet Torte!