This post may contain Amazon or other affiliate links. As an Amazon Associate I earn from qualifying purchases.
This creamy vegetable soup is a hearty, thick, dairy-free soup, making it the perfect lunch to keep you fueled and filled on a cold day.
I know, I know…a lot of you are thinking of a broth-based vegetable soup, but that is NOT this recipe. 
This vegetable soup is crafted to be thick, hearty, and satisfying. 
Growing up, my mom would make a California medley soup that was white potato based. 
Why was it called California medley soup? 
It's actually not related to the state of California at all. 
It got its name from the bag of California medley vegetables used in the soup-cauliflower, broccoli, and carrots. 
It was one of my favorite lunches on a cold, snowy weekend, especially if we had been out shoveling or sledding that morning. 
We don't really eat white potatoes anymore, but I still wanted to enjoy this nostalgic recipe on a snowy day. 
Since the original recipe already had cauliflower in it, why not use cauliflower instead of the potatoes to create a thick soup base. 
Well my plan worked out fabulously – even my husband who is not a soup person enjoyed this hearty, creamy vegetable soup!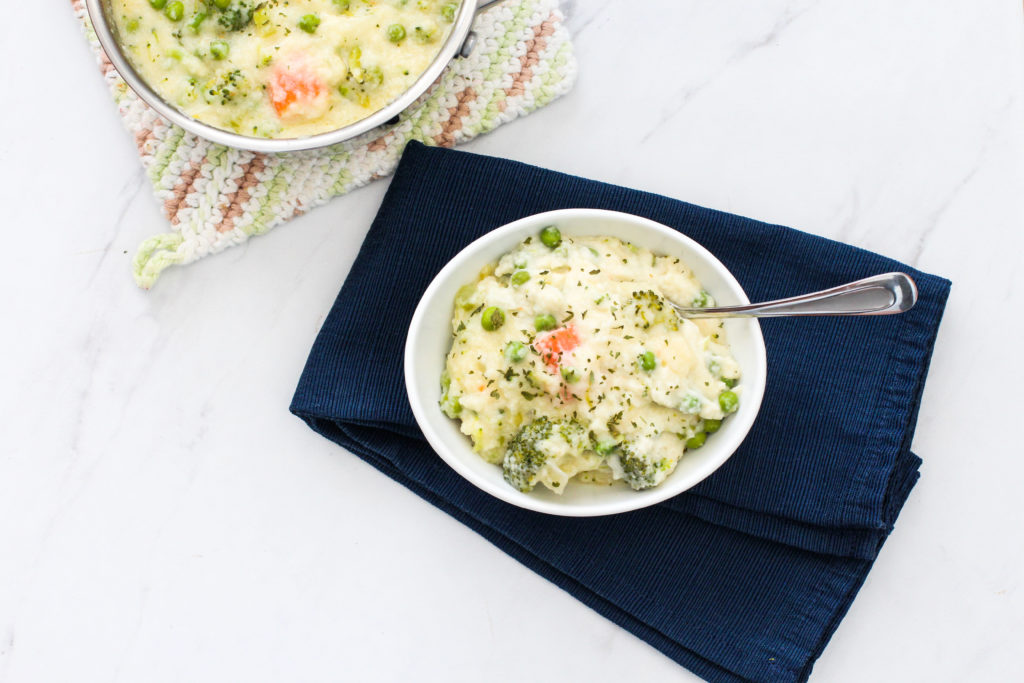 How to Make Thick and Creamy Vegetable Soup
The trick is to make a pureed cauliflower mixture for that thick, creamy soup base.
To do that, I use my immersion blender.
So we start by creating the cauliflower base – cooking the cauliflower with other ingredients like onion and garlic.
Then, you puree that mixture up to be the base of the soup.
In a separate pan, you cook up the remaining ingredients until the vegetables are done to your liking.
Finally, mix everything together for your creamy vegetable soup!
What if I Don't Have an Immersion Blender?
If you don't have an immersion blender, don't worry! There are other ways you can make this soup!
The most obvious substitute for the immersion blender would be to put the cauliflower mixture into a blender cup and blend it up. 
You could also cook the cauliflower until VERY soft and use a potato masher to break the pieces down – you might just end up with larger clumps than if you had a way to blend it up. 
If you don't have a blender, you could also fine chop or use a food processor to pre-grind up the cauliflower before cooking. 
Alternatively, you could also start with store-bought cauli-rice instead of heads of cauliflower. 
If you start with cauli-rice and don't have a way to blend it up, the texture will be more grainy than creamy, but it will still be delicious! 
I've even written in optional directions to follow where you don't even have to puree the cauliflower. Instead, you just cook all of the ingredients in one pot together.
The soup won't be as thick, but the flavor will be great!
So, there are plenty of options if you don't have an immersion blender!!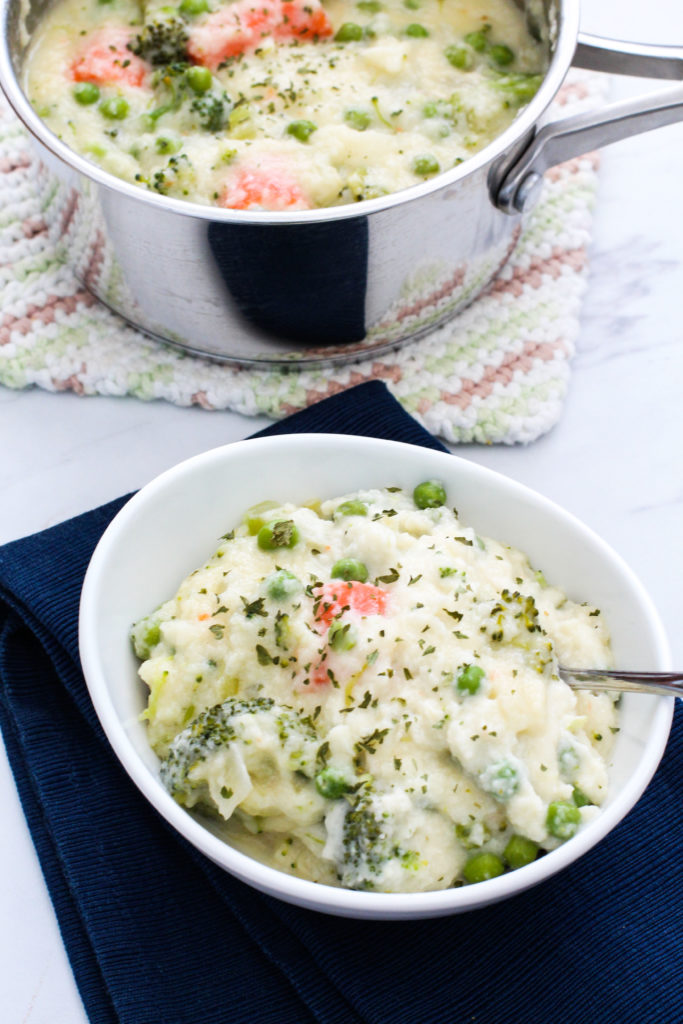 How to Make Dairy-Free Creamy Vegetable Soup
This recipe already calls for coconut milk, but I have still included butter in the recipe since our family consumes A LOT of butter (from my keto roots). 
But if you need this recipe to be completely dairy-free, simply substitute out the 8 Tablespoons of butter with these two easy changes: 
When cooking the cauliflower, 

instead of the 6 Tablespoons of butter, 

use the cream off the top of another can of coconut milk (preferably one that has been refrigerated) to replace the creaminess that the butter adds to the cauliflower puree.

 

Use 2 Tablespoons of coconut oil or avocado oil when you go to sauté the celery and onion.

 
There you go! 
Easy-peasy substitutions to make dairy-free creamy vegetable soup! 
Coconut Milk Substitutions
The recipe is written with coconut milk because we are trying to eat a more dairy-free diet, but there are plenty of other options to add the "creamy" part to this vegetable soup! 
Try 2 cups or one can of one of these other options instead: 
Heavy Cream

 

Whole Milk

 

Almond Milk

 

Cashew Milk

 

Hemp Milk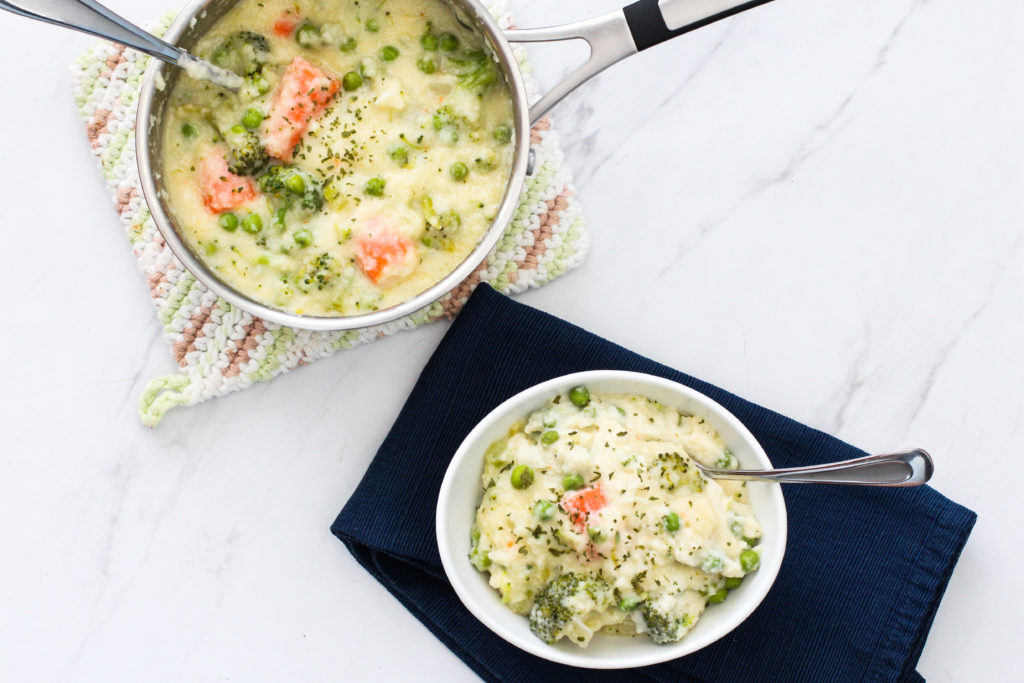 Other Creamy Vegetable Soup Recipe Options
Bacon
I'm just going to throw it out there that this dish would taste awesome with bacon bits and really all the bacon fat from cooking the bacon too.
To keep the bacon crispy, instead of adding it to the soup, keep it separate and top the soup with crispy bacon pieces right before serving.
Cream Cheese or Sour Cream
For an extra creamy factor (especially if you are doing keto), you could even consider adding one 8-ounce block of cream cheese or adding a cup of sour cream. 
To include cream cheese, add it to the pan of cauliflower while it is cooking. Stir until melted and incorporated.
For the sour cream, stir in at the end before serving (reheat if the sour cream cools it off too much).
Shredded Cheese 
In my mom's classic California Medley soup, there was plenty of melty cheese in the soup and more that we added on top. 
My top cheese pick for this soup would definitely be a cheddar cheese (the sharper the better in my opinion). 
Other good cheese options would be a Monterey Jack or Colby Jack cheese. 
Bone Broth
Feel free to swap out the chicken broth for chicken bone broth if you have some on hand! 
And if you want the soup thinner, just add bone broth until it's the consistency you want! 
Additional Broth
No joke, this soup is VERY THICK, and maybe that isn't your family's thing.  
Feel free to add additional chicken broth, vegetable broth, bone broth, or coconut milk to thin out the soup so that it pleases those picky eaters in your family.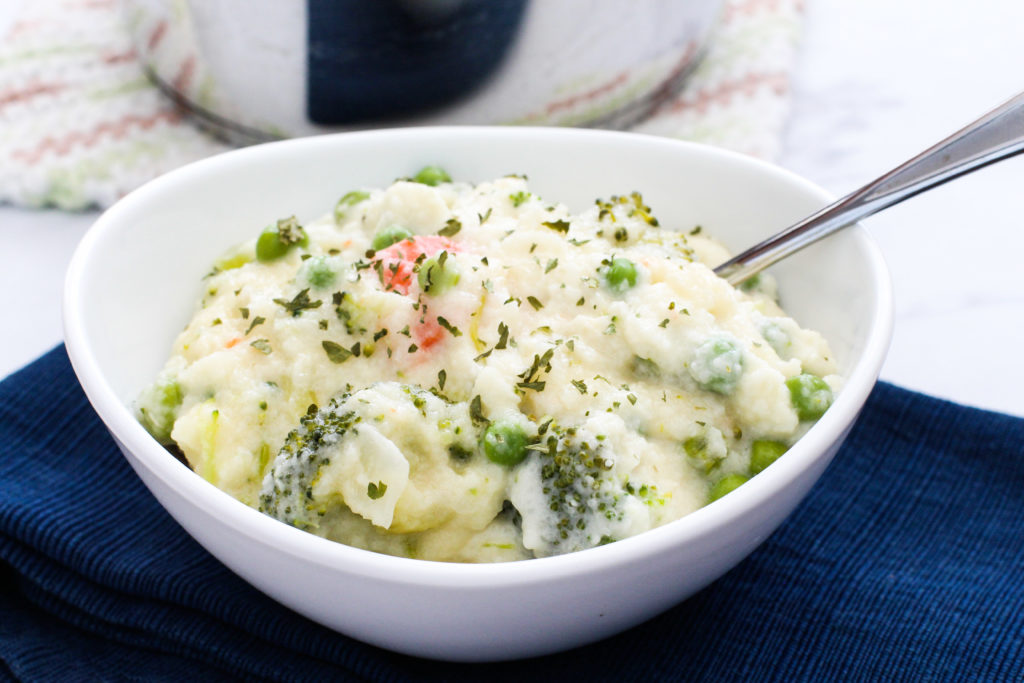 What Toppings to Use With
 Creamy Vegetable Soup
Growing up, we would top our California Medley soup with crushed up Ritz crackers, but it has been a long time since my pantry shelves have housed Ritz crackers!
Some of my suggested toppings would be: 
Bacon Bits (as mentioned above)

Crushed

Siete

 Chips

 

Sour Cream

 

Green Onion

 

Chives

 
What to Serve With Creamy Vegetable 
Soup
If you are serving this for a group of folks and are looking for other things to set out for guests, I would definitely set out little bowls of some of the suggested toppings above.  
Sides that you could include with this dish would be: 
Olives

 

Pickles

 

Sliced chees

e or cheese cubes

 

A brand of chips or crackers that your family likes

 

A different kind of soup or chili

(if you are serving lunch for a crowd)
And since the sides and toppings are more of a finger food feel, consider carrying that over into the dessert course with chocolate chunk banana muffins, no bake cookies, or chocolate covered bananas!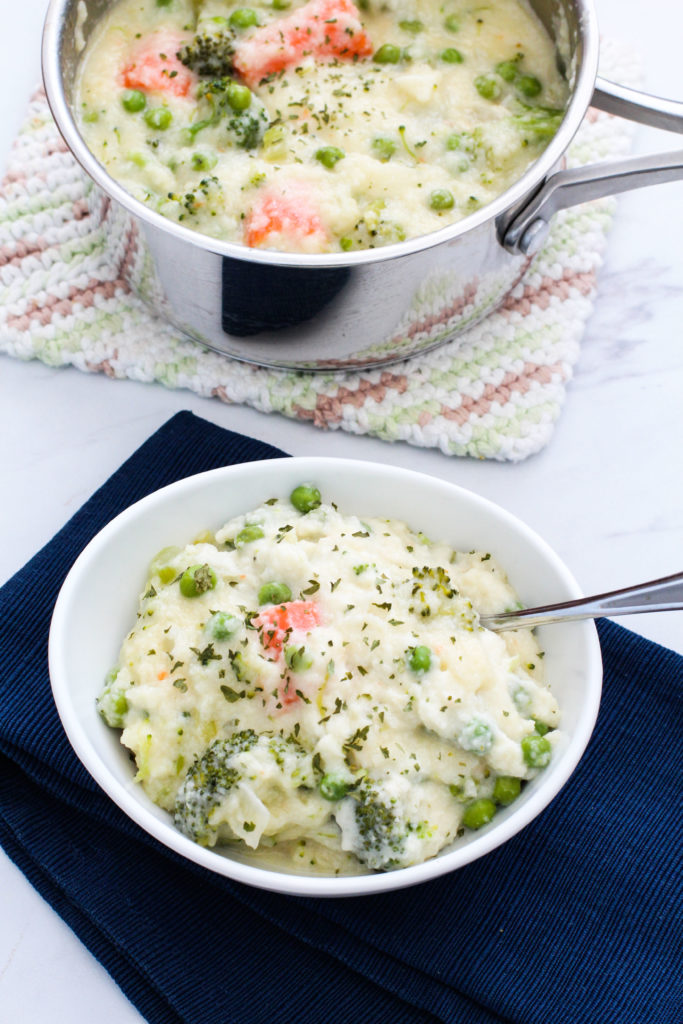 Creamy Vegetable Soup Recipe
Difficulty Level: Medium 
Prep Time: 25 minutes
Cook Time: 20 minutes
Servings: 6 
Ingredients:
4 cups of cauliflower (about one large head

 or

 two smaller heads

 cut into florets

, or two bags of frozen cauliflower

 – you can also use cauli-rice instead of florets)

 

1 onion, diced, divided

 

6 cloves of garlic, crushed and minced, divided

8 Tablespoons butter, divided

(or avocado oil for paleo/Whole 30/vegan)

1 can full fat coconut milk

 

4 stalks of celery, chopped

 

2 pounds of carrots, peeled and cut into 1-inch pieces

 

1 head of broccoli, cut into bite sized florets (or 1 bag of frozen broccoli)

 

1/2 cup peas (can omit for keto)

 

1 cup vegetable or chicken broth

(homemade or store-bought)

Optional: Top with parsley
For recipe variations, see above!
Immersion or Regular Blender Directions:
In a large pot, add the cauliflower, half of the diced onion, half of the garlic, 6 Tablespoons of butter

, and the can of coconut milk

.

 Simmer for 15-20 minutes

 

or until the cauliflower is very soft.

 

Meanwhile, add the other 2 Tablespoons of butter, celery, the other half of the onion, and the other half of the garlic to a second pot. Cook over medium-low heat for 5 minutes or until very fragrant.

 

Add the carrots, broccoli, and chicken broth to this second pot and cook for another 10 minutes, or until the vegetables are to the desired level of doneness.

 

Remove the carrots and broccoli from the heat and stir in the peas.

 

Now take the cauliflower pot and use an immersion blender to puree the cauliflower into a creamy "sauce".

Alternatively, use a regular blender to puree the cauliflower mixture.

Add the cauliflower sauce to the other vegetable pot and stir everything together.

 

Serve with desired toppings and sides (suggestions above).

 
Optional Directions:
This soup can also be made all in one pot if you want a more broth based soup and don't mind a "runnier" soup. Follow these directions for a one pot soup! 
Add 

all of

 the butter, onion, garlic, and celery into one pan. Cook over medium-low heat for 5 minutes or until very fragrant.

 

Add the cauliflower florets,

 coconut milk,

 carrots, broccoli, and chicken broth and cook for another 10 minutes, or until the vegetables are to the desired level of doneness.

 

Remove the 

pan

 from the heat and stir in the peas.

 

Serve with desired toppings and sides (suggestions above).

 
Storage:
Store the soup in the fridge for up to a week. 
To freeze, put the soup into a freezer safe container or bag and freeze for up to 6 months. When ready to eat, move to the fridge 24 hours before you want to eat it to let it thaw. Reheat on the stove or in the oven until hot all the way through. If reheating in the oven, stir occasionally to help everything heat evenly. 
Depending on how thick your soup is, you might consider adding more butter, coconut milk, or broth to the soup when reheating so that it doesn't stick or burn to the bottom of the pan.