This post may contain Amazon or other affiliate links. As an Amazon Associate I earn from qualifying purchases.
Are you trying to figure out what healthy shelf-stable foods you can stock your pantry with?
I'm giving you a sneak peek into my pantry to see what healthy, shelf-stable foods we keep on hand!
The goal is to stock up on foods that will nourish us and promote health and healing in the body.
Don't feel like you have to buy overly processed foods that will increase inflammation and disease in the body!
I hope you enjoyed Healthy Shelf-Stable Foods (Part 1).
If you didn't have a chance to read it, I covered these parts of my pantry in Part 1:
Produce – squash, sweet potatoes, onion, and garlic
Canned Produce – either store-bought or canned yourself!
Dried and Dehydrated Produce
Protein Sources – canned meats, protein powders, and bone broth
Nuts and Seeds – consider roasting your own from squash seeds!
Fats
Condiments
So let's continue the pantry tour and take a look at my healthy shelf-stable baking supplies, what's in my spice cabinet, what chips we snack on, and other household items I store in my pantry!
Healthy Shelf-Stable Baking Supplies
I love to BAKE!
So having baking supplies on hand is ESSENTIAL.
I bake for fun, for stress relief, and as a hobby!
My husband knows this and watched our daughter on Mother's Day so I could have free reign in the kitchen to bake!! (working on a new recipe for the blog – Blueberry Upside Down Cake!)
Obviously your baking supplies might look very different from mine depending on what diet you follow, but stock up on whatever baking supplies your family uses!!
Flours
Our family predominantly eats a keto/paleo diet mix.
That means the flours I keep on hand and use are: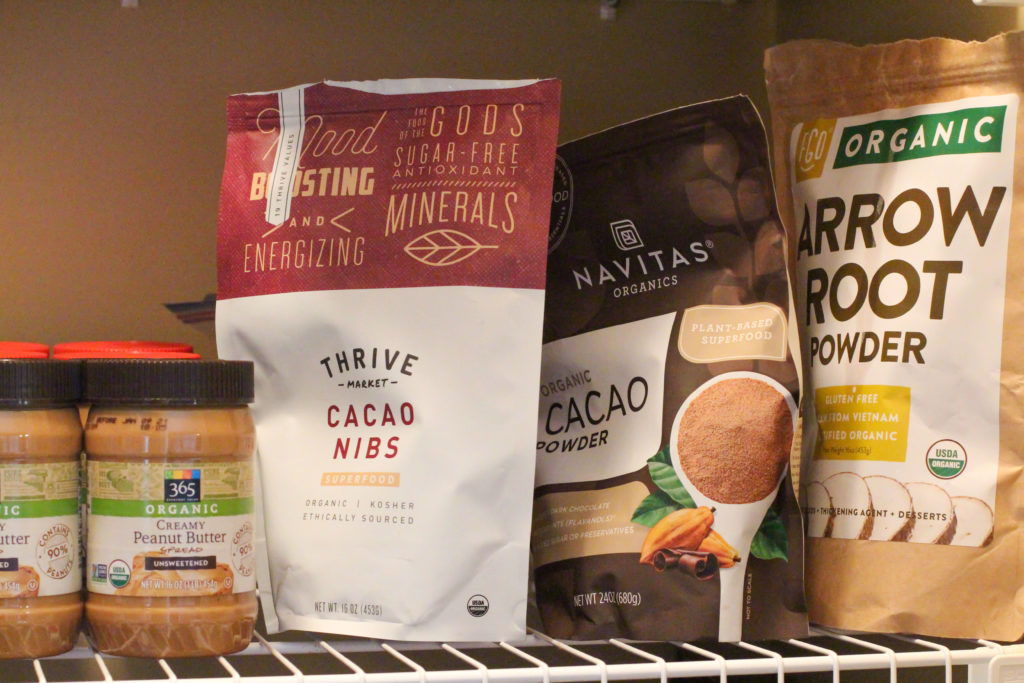 And more than likely your family uses different flours than we do, so stock up on whatever flour your family uses!
Keeping a supply of flour on hand allows for Saturday morning pumpkin pancakes or a batch of delicious chocolate banana muffins!
It's fun to have the flexibility to whip out a baked good whenever you want, so be sure you stock up on flour!
Sweeteners
When it comes to baking, we only use keto sweeteners (so no honey or coconut sugar on our list).
Check out this article from All the Nourishing Things to read about why you might consider doing the same thing if you follow a Paleo diet.
That means the sweeteners I purchase include:
I used to buy mostly Swerve products, but our family has really come to like Lakanto products more, as they don't seem to have as much of a "cooling" effect.
I have found that if you use A LOT of Lakanto though, you will still get that cooling aftertaste.
If your family is bothered by the taste of erythritol type products, use a combination of sweeteners, such as Lakanto granular plus some liquid stevia and yacon syrup, to reach your desired sweetness level.
Again, I'm almost positive your family uses different sweeteners than we do, so stock up on whatever your family likes to use to sweeten your recipes!

Chocolate Products
To say that I love chocolate would be a huge understatement!!
In fact, for my birthday each year, my husband makes me super rich, fudgey chocolate brownies instead of cake because I LOVE CHOCOLATE!
When I first switched over to keto, I wasn't sure what chocolate I could use anymore.
Luckily, Lily's chocolate has my back on this one!
And for folks eating paleo, check out the Enjoy Life brand.
For anyone following the AIP diet, carob powder is an AIP approved food that you can substitute for cacao or cocoa powder!
And yes, cacao powder is also a thing! Check out more details in my post The BEST Hot Chocolate (and seriously, it is the BEST!!!)
So chocolate products that I keep stocked in my pantry include:
Cacao Powder (I buy the Navitas brand from Costco, but the Terrasoul brand is definitely the better deal if you are purchasing on Amazon!) – again you can use cocoa powder or carob powder instead!
Cocoa Nibs (just a warning – cocoa nibs are BITTER if you aren't used to unsweetened chocolate!)
Lily's Chocolate Chips (I love them all – milk chocolate, semi-sweet chocolate, and dark chocolate)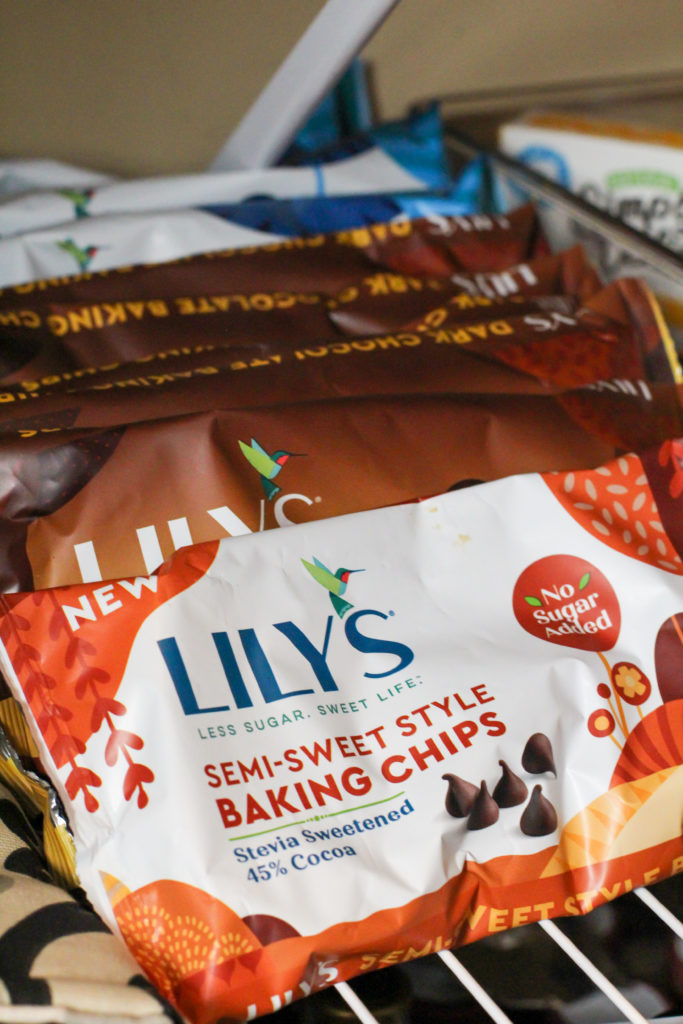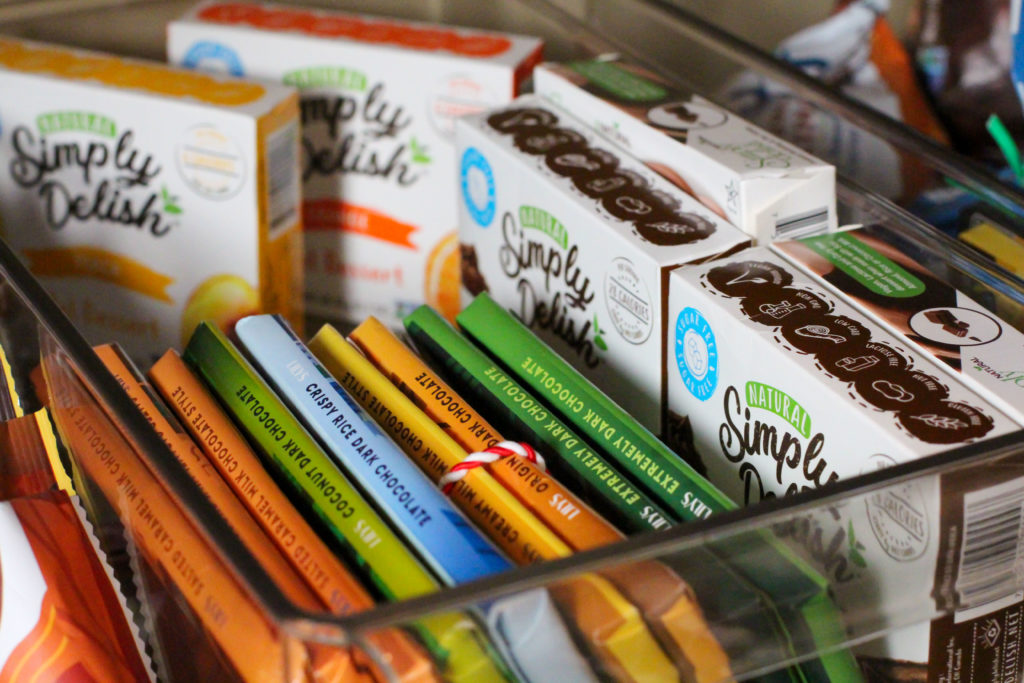 Coconut Products
While we hardly ever had coconut products growing up, my pantry is now stocked with almost every type of coconut product there is!
Why?
Because coconut is a great "staples" substitute for when you switch to keto/paleo eating.
White all-purpose flour gets replaced with coconut flour.
Regular milk gets replaced with coconut milk.
And since I'm allergic to nuts, shredded coconut (since it's technically a fruit!) makes a great substitute for nuts in recipes that need larger chunks in them.
In my Banana Bread Protein Bites recipe, multiple forms of coconut are used to create a delicious snack!
Coconut has become a new pantry staple in our household.
And coconut is a healthy food that boasts good nutrition and antioxidants (you can read more about the benefits of coconut here).
So even if you don't eat keto or paleo, you should consider adding coconut into your diet!
Coconut products that I keep copious amounts of all the time include:
Shredded Coconut – I buy the Let's Do Organic brand at Whole Foods, but on Amazon, the Terrasoul brand is cheaper (I like keeping both finely shredded and medium shredded on hand)
Coconut Butter (also known as coconut manna) – my favorite brand for flavor is Artisana Organics, but the Nutiva brand is more widely available at stores and is cheaper
Coconut Milk (do you see all those red boxes of coconut on my pantry floor?!) – I buy the Thai Kitchen brand by the box from Costco, but the 365 brand at Whole Foods is also good. If you are looking to purchase a different brand, just remember to get full fat coconut milk and check to make sure they don't add sweeteners! UPDATE: I recently found out that Thai Kitchen uses BPA lined cans so try the Native Forest brand instead!! The product I linked to is also their "Simple" coconut milk so it is also guar gum free!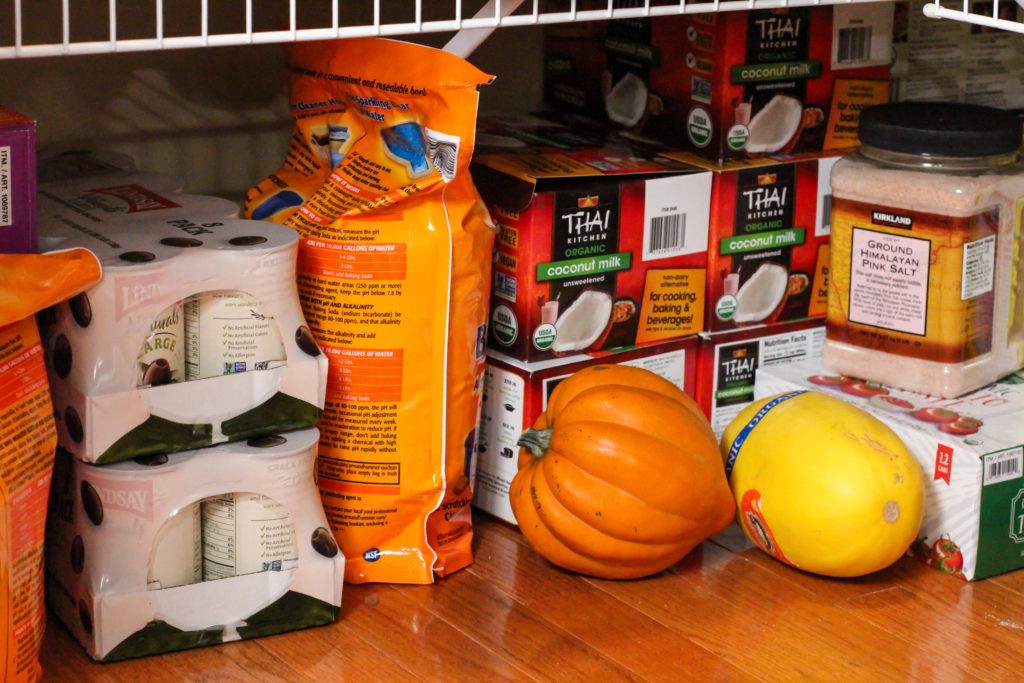 Healthy Shelf-Stable Spice Cabinet Staples
Having a well stocked spice cabinet is a MUST!
Spices can take bland ingredients and transform them into a delicious dish!
For example, take ground beef, add some homemade taco seasoning, and suddenly there's a fiesta on the table!
Or take mashed avocados, add some spices, and voilà you have homemade guacamole!
Spices bring out the best in your dish, so stocking up on your family's favorites is important!
My must have spices include:
Pink Himalayan Sea Salt
Garlic Powder
Onion Powder
Italian Seasoning
Chili Powder
Cumin
Paprika
Cinnamon
Basil
Oregano
Thyme
Rosemary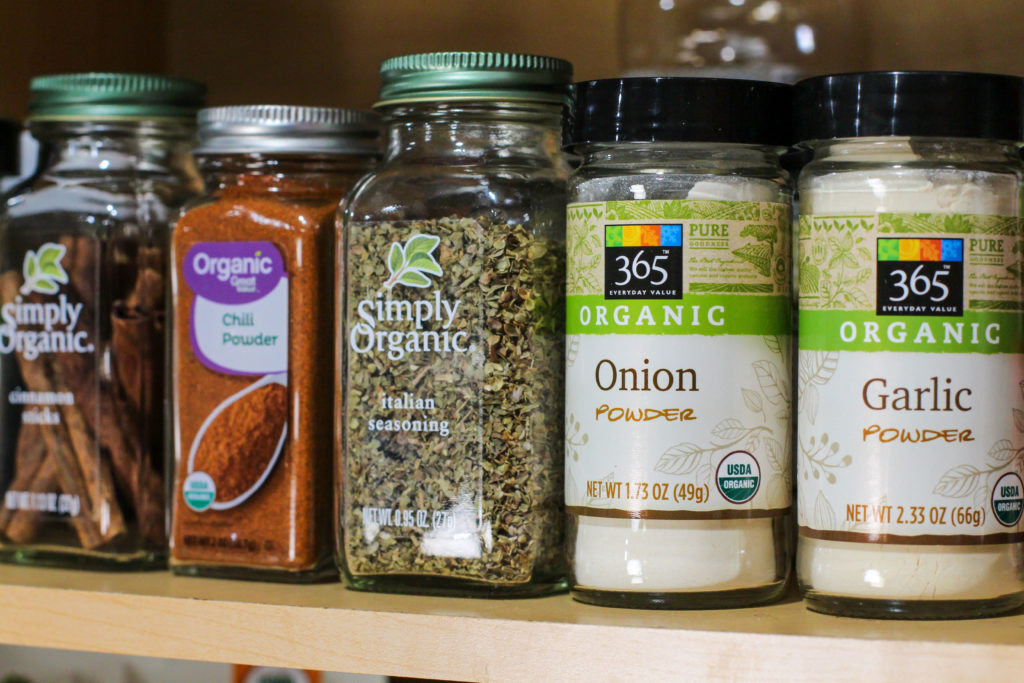 And here are some other spices that I like to have on hand but use less often:
Curry Powder
Tumeric
Ground Mustard
Cayenne Pepper
Bay Leaves
Cinnmamon Sticks
Cloves
Nutmeg
Allspice
And there are a lot of other staple items that I keep in my spice cabinet besides spices!
Other items I stockpile in my spice cabinet include: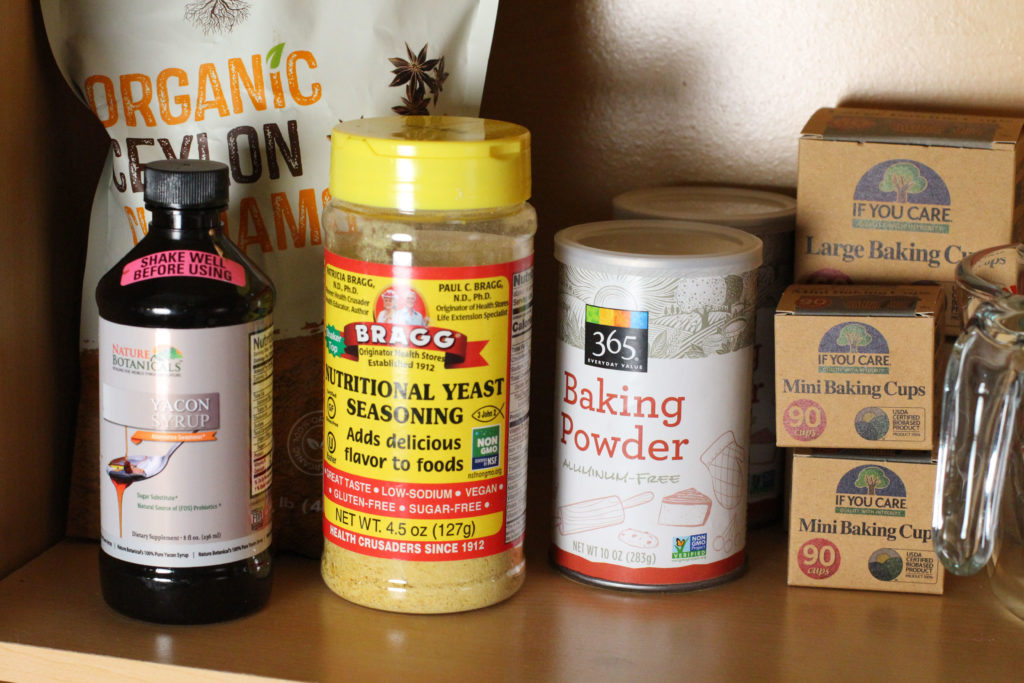 Healthy Shelf-Stable Chips
Let's face it, we all need a munchy snack from time to time.
There's something about a good crunch that is irresistible!
But there are a lot of snacks that are going to hold you back on your health journey.
So how do you get that crunch without powering through a whole bag of chemical and toxin laden chips?
Enter healthier for you chips!
Now I won't lie, this list is SMALL compared to the options that are out there, but that's mainly because I'm allergic to tree nuts.
Unfortunately for me, almond flour is the base of a lot of healthier snacks.
So you can probably find a lot more options out there for your family to enjoy.
Again, I just urge you to stick with healthy fats that won't oxidize when heated (look for snacks cooked or made with coconut oil and/or avocado oil).
And certainly when possible, buy organic!
Our family enjoys these three munchy snacks:
Siete Chips – these are tortilla chips made with cassava flour and cooked in avocado oil! They also have a couple flavors that are more like Doritos flavors (but with simpler ingredients). Our family favorites are:
Barnana Organic Plantain Chips – we just enjoy the sea salt kind since the other flavors have added ingredients
Bare Organic Baked Apple Chips – I love that these are just one ingredient, organic apples!! Eaten with peanut butter, these taste like a pb&j sandwich!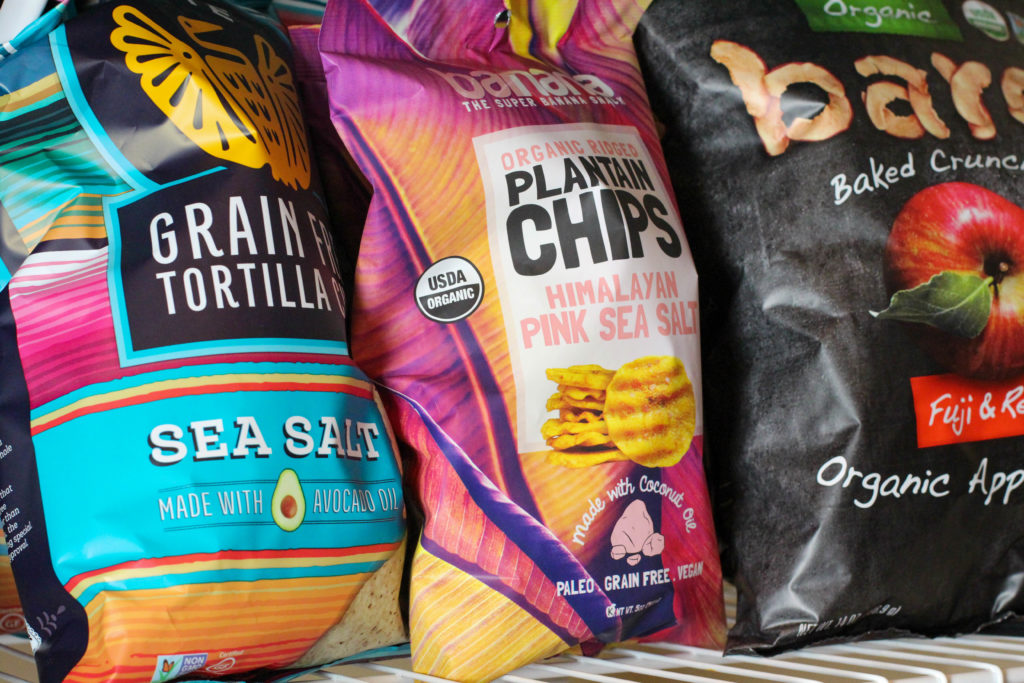 Non-Toxic Household Cleaning Items
Besides food, I also keep some household cleaning staples in my pantry.
I use these products to make my own non-toxic cleaning supplies.
These include things like hand soap, dishwasher powder, dish soap, counter sprays, bathroom cleaners, and more!
To make those items, I stock up on the following:
Dr. Bronner's Sal Suds
Distilled White Vinegar
Baking Soda
Super Washing Soda (the yellow boxes sitting in the back of the picture below)
Dr. Bronner's Soap (both organic unscented bars to grate and make hand soap and also liquid soap for foaming hand soap)
Essential Oils (I use the Florihana brand since they are certified organic and come from France, which has stricter regulations on essential oils than the US)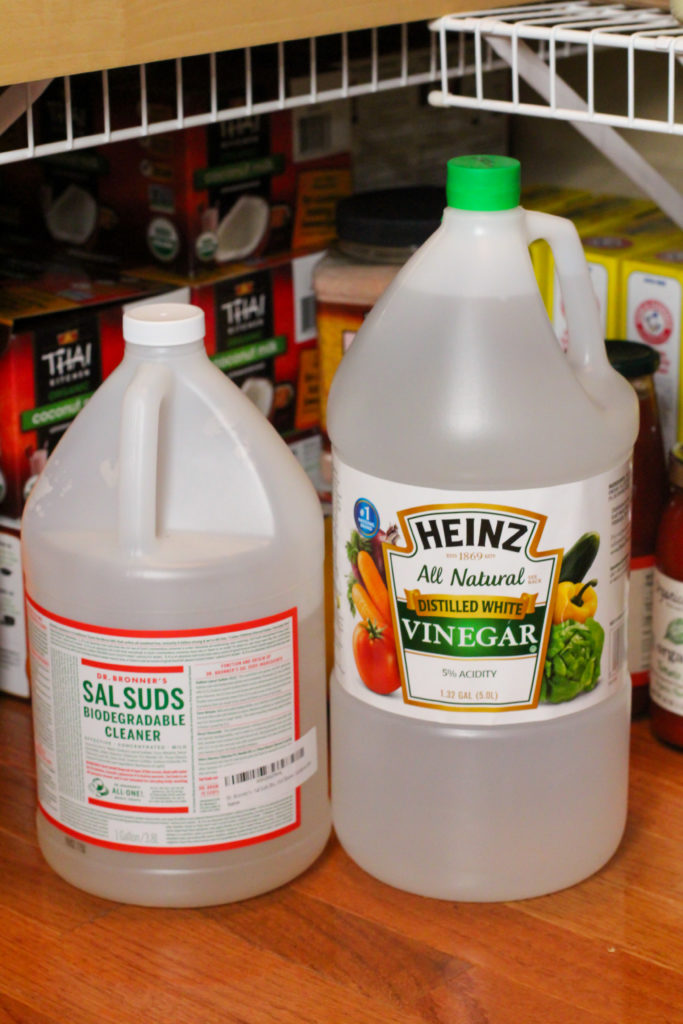 Summary of Healthy Shelf-Stable Pantry Items
WHEW!
That completes the tour of my pantry and the healthy shelf-stable foods we keep on hand!
What foods does your family stock up on that I missed?? Share in the comments below!
Every family and diet is different, so stock up on the healthy shelf-stable foods that your family will eat!
From this post, consider these areas when you are stocking your pantry:
Baking Supplies – flours, sweeteners, chocolates, and coconut products
Spices – think through what spices your family goes through the most and make sure you have spares!
Chips – include some healthier munchies for a quick treat
Other Non-Toxic Household Cleaning Items – think through any other cleaning or household items you keep tucked away in your pantry and make sure you have enough on hand!
And if you missed Part 1 of my pantry tour, check it out here!
Also, if you are trying to figure out how to meal plan and put together a large shopping list to make sure you stock up on all the right foods for your family, please check out my post How to Make a Meal Plan (large scale!).
No joke, this post has helped others go from grocery shopping every couple of days to shopping once every few weeks!
It's also the strategy I used to stock up on 2 month's worth of food for our family at the start of the coronavirus pandemic!