This post may contain Amazon or other affiliate links. As an Amazon Associate I earn from qualifying purchases.
Are you wondering how you can show thankfulness this holiday season despite your circumstances?
I know 2020 has been very difficult for a lot of people across the globe.
Many people have lost jobs, know someone battling a health issue, or are struggling financially.
Some people are fearful for their health due to COVID-19.
Or perhaps you are feeling lonely or separated from loved ones!
Due to COVID-19, many families haven't been spending time together like they normally have.
God created us for relationship, not for isolation!
This is why COVID-19 has mentally, physically, emotionally, and spiritually worn so many people down this year.
Is there still hope?
How can we have thankfulness this holiday season despite the craziness going on in the world?
Because thankfulness is a choice.
How can you choose to be thankful?
Let's figure out together how we can choose to be thankful this holiday season!
The Meaning of Thankfulness
In order to choose thankfulness, we have to know what thankfulness even means!
Are you ready for this mind blowing definition of thankfulness?
Thankfulness – the noun form of thankful.
Wow wasn't that so insightful!
Okay just kidding!
So if thankfulness is just another form of thankful, what does thankful mean?
Merriam-Webster offers these three definitions of thankful:
conscious of benefit received
expressive of thanks
well pleased: GLAD
Look at that first definition again: Being CONSCIOUS of a benefit received.
This is why I say that YOU have to choose thankfulness.
And this is why I can say with 100% confidence that we can all choose to be thankful this holiday season.
Thankfulness is not dependent on circumstances, but instead dependent on the attitude of your heart.
How can I be so bold in saying that?
Because all of us, regardless of our circumstances, can be thankful for (or conscious of) Jesus coming to Earth to save and redeem us.
You may or may not know that but YOU have already been chosen.
What do I mean?
You have already been chosen by God!
God loves you so much and sent Jesus to save and redeem us from this mess we live in.
Every one of us can be thankful for JESUS.
And Jesus has come for EVERYONE.
No one is left out of God's promise of eternal life through Jesus, check it out:
John 3:16
16 For God so loved the world that he gave his one and only Son, that whoever believes in him shall not perish but have eternal life.
JESUS is our hope and reason for thankfulness no matter what is going on in this world.
Through Jesus we have ETERNAL LIFE!!
And this is something we can always express thanks for and be glad about!
But perhaps you already knew this, but this holiday season still seems bleak, lonely, or hopeless.
Why is thankfulness still hard even once we know Jesus?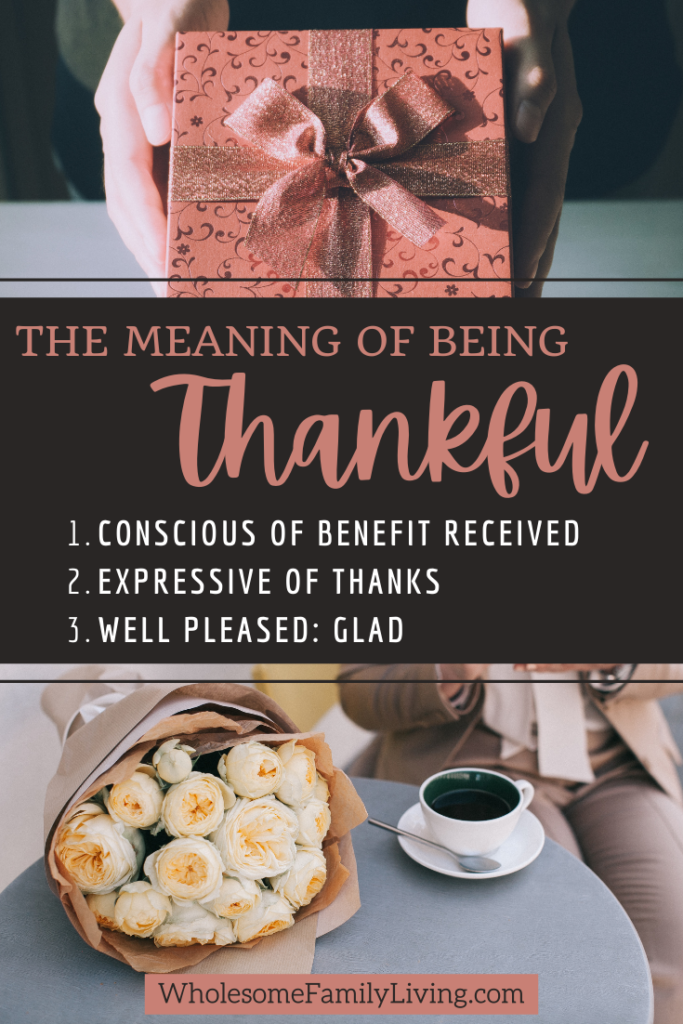 Why Thankfulness is Hard
It's so easy to get caught up in everything that is going wrong and completely ignore anything that is going RIGHT.
Satan so very much wants us to believe that there is no goodness left in the world.
He wants us to feel isolated and alone.
Satan doesn't want us to believe that anyone cares about us.
He wants us to feel scared, afraid, and panicked about our current situations.
Satan wants us to focus on everything BUT God.
And if we are thinking about God, he doesn't want it to be happy thoughts.
The devil tries very hard to get us to doubt God's goodness.
And Satan tries very hard to get us to question what God said.
In fact it's one of the 3 ways that Satan deceives us.
So how do we combat the doubt Satan puts in our mind?
By keeping our minds focused on God's Truth.
I mean check out John 10:10 which clearly shows the stark difference between Satan and Jesus:
John 10:10
10 The thief comes only to steal and kill and destroy; I have come that they may have life, and have it to the full.
Satan is out to STEAL, KILL, and DESTROY.
So pleasant, right?
KIDDING!
Honestly, this is serious!
The attacks of Satan are not meant to be taken lightly!
But isn't it beautiful how Jesus follows such a devastating statement with something filled with so much hope?
Jesus puts this totally contrasting picture out there by saying that He has come to give us LIFE.
And not just an okay life, but a life filled to the FULL!
What hope!
Now this is something to be THANKFUL for!
Do you see how powerful even just this one verse can be in battling Satan?
So how can we CHOOSE to be thankful?
By remembering that as Christians we are called to be thankful because God has done SO MUCH for us already!
And sometimes a reminder that you can expect trials and hardships can help you see them in a different light.
But more on that in a minute.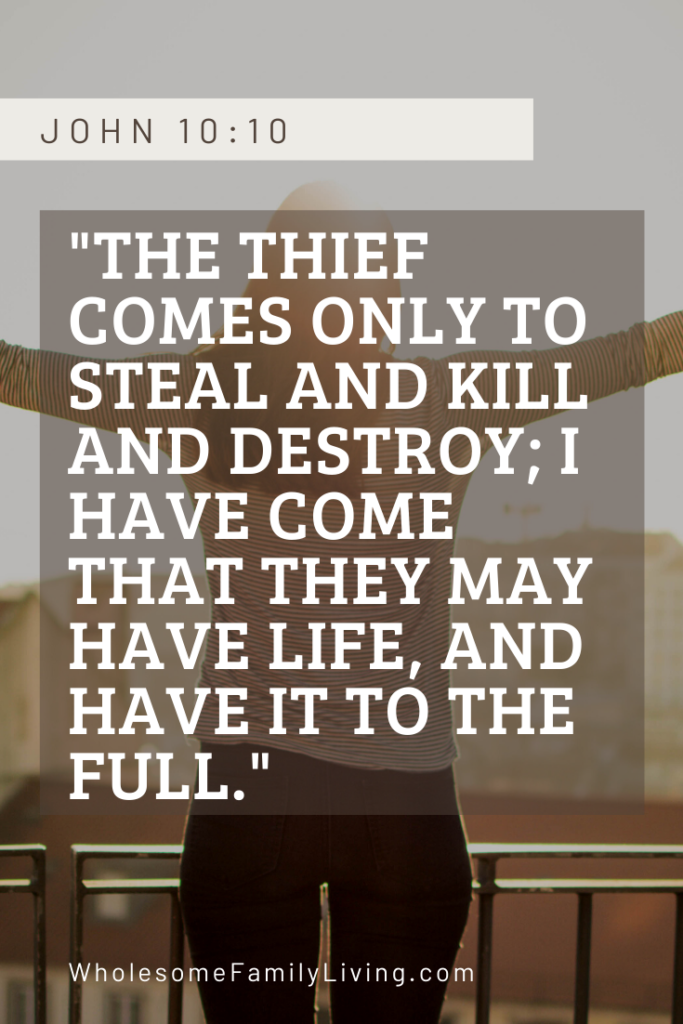 Verses About Being Thankful
First let's go over verses that talk specifically about thankfulness or being thankful.
Sometimes we need to be reminded that thankfulness is something that we should have.
This is the attitude that a Christian should have, no matter what your circumstances are.
Why?
Because we have the hope of ETERNAL LIFE through believing in Jesus!
You can always give thanks for and be glad that Jesus died on the cross for YOU!
Nothing here on Earth should take away your eternal hope!
If you struggle with having an attitude and heart of thankfulness, find one of these verses that really resonates with you and then write it down to post it in a spot where you will see it each day!
Or even better, try to memorize one of them and repeat it in your head whenever you need a reminder to be thankful!
1 Thessalonians 5:16-18
16 Rejoice always, 17 pray continually, 18 give thanks in all circumstances; for this is God's will for you in Christ Jesus.
Ephesians 5:20
20 always giving thanks to God the Father for everything, in the name of our Lord Jesus Christ.
Colossians 2:6-7
6 So then, just as you received Christ Jesus as Lord, continue to live your lives in him, 7 rooted and built up in him, strengthened in the faith as you were taught, and overflowing with thankfulness.
Colossians 3:15-17
15 Let the peace of Christ rule in your hearts, since as members of one body you were called to peace. And be thankful. 16 Let the message of Christ dwell among you richly as you teach and admonish one another with all wisdom through psalms, hymns, and songs from the Spirit, singing to God with gratitude in your hearts. 17 And whatever you do, whether in word or deed, do it all in the name of the Lord Jesus, giving thanks to God the Father through him.
Colossians 4:2
2 Devote yourselves to prayer, being watchful and thankful.
Hebrews 12:28
28 Therefore, since we are receiving a kingdom that cannot be shaken, let us be thankful, and so worship God acceptably with reverence and awe, 29 for our "God is a consuming fire."
Did one of these verses speak to you?
I personally love them all (hence why I shared them all), but I hope you were able to relate to one verse about being thankful!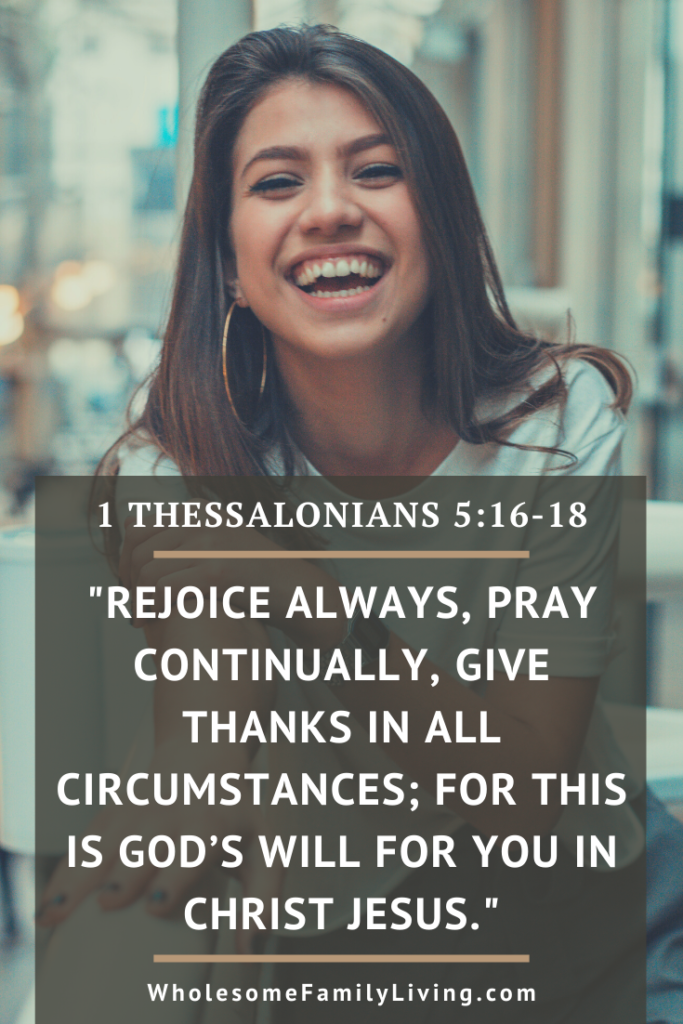 Verses Explaining Why We Experience Trials
And personally, I also need reminded that God said that we will endure trials.
Most of the time if I'm not feeling thankfulness in my heart, it's because I'm too focused on everything that's going wrong.
The trials around me seem too tough or hard.
I'm frustrated with God and wondering why He isn't acting in the ways I expect Him too.
Which can I just say that is TOTALLY the wrong mindset.
But sometimes I need a reminder that trials are actually helpful!
God uses trials to grow our character and faith in Him!
Check out these verses:
James 1:2-4
2 Consider it pure joy, my brothers and sisters, whenever you face trials of many kinds, 3 because you know that the testing of your faith produces perseverance. 4 Let perseverance finish its work so that you may be mature and complete, not lacking anything.
1 Thessalonians 3:2-4
2 We sent Timothy, who is our brother and co-worker in God's service in spreading the gospel of Christ, to strengthen and encourage you in your faith, 3 so that no one would be unsettled by these trials. For you know quite well that we are destined for them. 4 In fact, when we were with you, we kept telling you that we would be persecuted. And it turned out that way, as you well know.
1 Thessalonians 4:6-7
6 In all this you greatly rejoice, though now for a little while you may have had to suffer grief in all kinds of trials. 7 These have come so that the proven genuineness of your faith—of greater worth than gold, which perishes even though refined by fire—may result in praise, glory and honor when Jesus Christ is revealed.
God doesn't promise us an easy life, but instead promises a life of difficulty and trials.
James doesn't say IF we experience trials but WHEN – basically trials are going to happen!
1 Thessalonians 3 says that we shouldn't be unsettled by trials since we are DESTINED for them.
Isn't that comforting?
Okay just teasing again.
But seriously, you might be wondering to yourself, if Jesus promises trials and difficulties, why would I want to sign up for that?
Why be faithful to Jesus with all this hardship?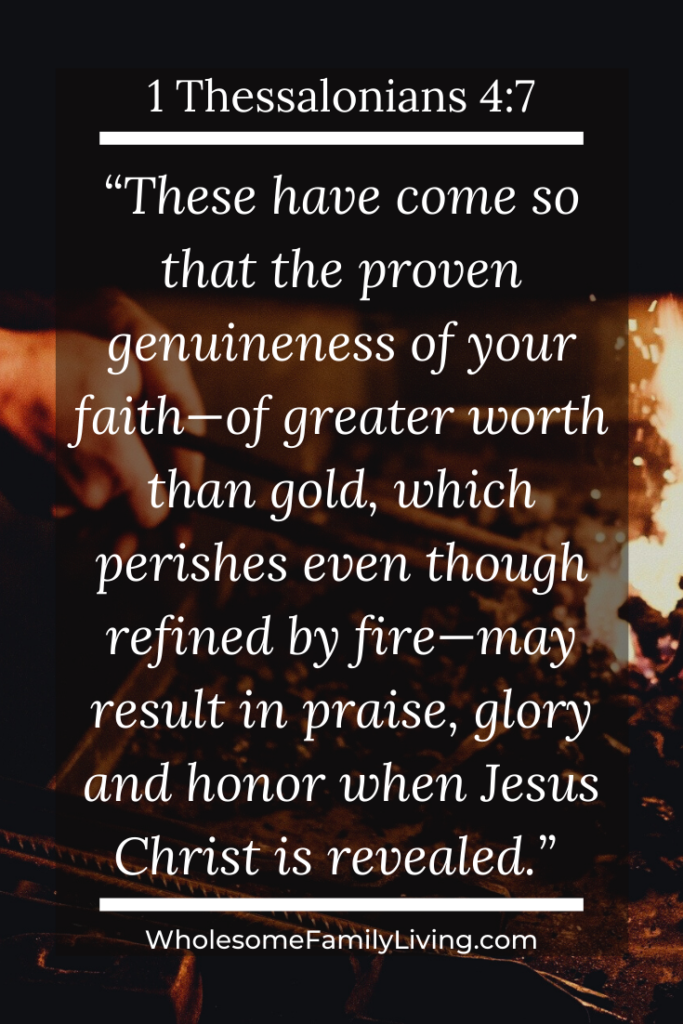 Why an Attitude of Thankfulness is Important
Take a look through James 1:2-4 and 1 Thessalonians 4:6-7 again (listed in the last section).
Do you see what trials can produce within you?
James says that trials will produce perseverance which will help you become mature and complete, not lacking in anything!
1 Thessalonians 4 says to GREATLY rejoice through the trials you experience now since it will prove the GENUINENESS of your faith.
And it tells us that our integrity through trials is more valuable than gold!
WOW!
This gives me a whole new perspective on the grumblings I say under my breath when I'm frustrated!
Perhaps instead, I should praise God for the trials He provides so that my faith can be tested and my character can be built up.
And I can be a witness of what perseverance and faithfulness looks like to a world that lacks commitment when things get hard.
Think of the example it is to your kids, family, and friends when you stick with things even when they are tough.
Even better if you have a good attitude about it while you are going through it!
And for another verse filled with hope, look at this verse from James where God also promises a crown of LIFE to those who love Him.
James 1:12
12 Blessed is the one who perseveres under trial because, having stood the test, that person will receive the crown of life that the Lord has promised to those who love him.
So the next time you are going through a trial that seems to be taking you down, you need this verse to remind you of why persevering will be WORTH IT!
And we are also not alone in our trials!
Jesus reminds us that even though we will face troubles in this world, we can take heart because He has already overcome the world!
John 16:33
33 "I have told you these things, so that in me you may have peace. In this world you will have trouble. But take heart! I have overcome the world."

What You Can Be Thankful About
So some of you are probably thinking, that's nice, the Bible says I should be thankful and then promises trials and troubles.
GREAT!
What encouragement for a weary soul, right?
NOT REALLY!
So what are some things that you CAN be thankful about?
1. Thankfulness For Jesus
First, God already sent Jesus to save you from your sins and if you believe in Jesus, you will have eternal life in heaven.
Romans 6:23 – "For the wages of sin is death, but the gift of God is eternal life in Christ Jesus our Lord."
John 6:40 – "For my Father's will is that everyone who looks to the Son and believes in him shall have eternal life, and I will raise them up at the last day."
John 17:3 – "Now this is eternal life: that they know you, the only true God, and Jesus Christ, whom you have sent."
2. Thankfulness For Heaven
Secondly, speaking of heaven, there is already a place prepared there for those who believe in Jesus and it's going to be a wonderful place to be for all of eternity.
John 14:2-3 – "

My Father's house has many rooms; if that were not so, would I have told you that I am going there to prepare a place for you?

 3 And if I go and prepare a place for you, I will come back and take you to be with me that you also may be where I am."
Revelation 21:3-4 – "A

nd I heard a loud voice from the throne saying, "Look! God's dwelling place is now among the people, and he will dwell with them. They will be his people, and God himself will be with them and be their God.

 4 'He will wipe every tear from their eyes. There will be no more death' or mourning or crying or pain, for the old order of things has passed away.""
Revelation 22:3-5 – "

No longer will there be any curse. The throne of God and of the Lamb will be in the city, and his servants will serve him.

 4 They will see his face, and his name will be on their foreheads. 5 There will be no more night. They will not need the light of a lamp or the light of the sun, for the Lord God will give them light. And they will reign for ever and ever."
3. Thankfulness For God's Faithfulness
Third, while we are here on earth, God promises He will never leave or abandon you. God is faithful!
Psalm 25:10 – "All the ways of the 

Lord

are loving and faithful

toward those who keep the demands of his covenant."

Proverbs 2:8 – "for he guards the course of the just

 

and protects the way of his faithful ones."

Isaiah 41:10 – "

So do not fear, for I am with you;

do not be dismayed, for I am your God.

I will strengthen you and help you;

 

I will uphold you with my righteous right hand."

Hebrews 13:5-6 – "

Keep your lives free from the love of money and be content with what you have, because God has said,

"Never will I leave you;

never will I forsake you."

6 

So we say with confidence,

"The Lord is my helper; I will not be afraid.

What can mere mortals do to me?"
4. Thankfulness For God's Promise to Reward You
Fourth, there is a reward for remaining faithful – persevering through trials WILL be worth it!
1 Samuel 26:23

– "

The 

Lord

 rewards everyone for their righteousness and faithfulness. The 

Lord

 delivered you into my hands today, but I would not lay a hand on the 

Lord

's anointed."
Revelation 21:7 – "Those who are victorious will inherit all this, and I will be their God and they will be my children."
Revelation 22:12 – "Look, I am coming soon! My reward is with me, and I will give to each person according to what they have done."
5. Thankfulness For All That God Has Done For You
And last but not least, consider that God has already done so much for us!
1 Samuel 12:24 – "But be sure to fear the 

Lord

and serve him faithfully with all your heart; consider what great things he has done for you."
Psalm 126:3 – "The 

Lord

has done great things for us,

 

and we are filled with joy."

Isaiah 25:1 – "

Lord

, you are my God;

I will exalt you and praise your name,

for in perfect faithfulness

 

you have done wonderful things,

 

things planned long ago."
I hope these verses remind you of things you can be thankful about!
And this list is by no means exhaustive – as Christians, we have so much to be thankful for!
Use these are starting points if you are feeling hopeless or dismayed.
The blessings and promises of God are what you need to focus on when Satan is attacking your mind.
Don't let Satan win the battle over your mind!
Use these verses or some of your other favorite verses to fight against the devil.
Tell Satan that today you are choosing thankfulness instead of unhappiness, gratitude instead of dismay, and hope found in Jesus instead of despair!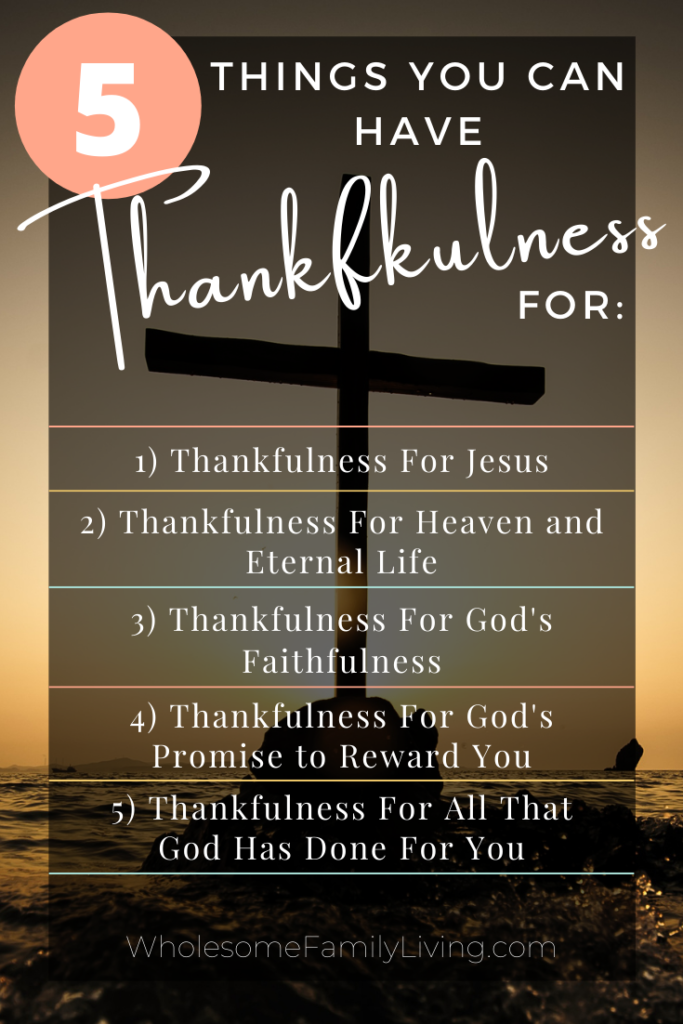 How You Can Have Thankfulness Despite Your Circumstances
So let's recap!
How can you always have thankfulness?
Think back to the definition of thankfulness that we covered in the very beginning.
Thankfulness is:
conscious of benefit received
expressive of thanks
well pleased: GLAD
By being conscious of all of the blessings we have received from God, by expressing our thanks for all God has provided despite our circumstances, and by being GLAD!
By doing those things, you can CHOOSE to be thankful.
It is your choice!
You choose:
Will you dwell upon all that the Lord has done for you, His faithfulness and goodness, and all of the blessings you do have?
Or
Will you dwell upon everything going wrong, how everything in the world is going wrong, and all of the things you don't have?
Fight to choose an attitude of thankfulness.
Psalm 119:30
30 I have chosen the way of faithfulness; I have set my heart on your laws.