This post may contain Amazon or other affiliate links. As an Amazon Associate I earn from qualifying purchases.
With today's clothing being covered in fire retardants, pesticides, and chemicals, having non-toxic kids clothing is essential to helping protect your precious kid's skin! 
I really didn't pay much attention to the clothing our family wore until our daughter broke out in a skin rash earlier this year. 
Reading up on skin rashes and eczema, a lot of sites mentioned checking what clothing your child is wearing and making sure they are wearing 100% cotton. 
This led me to start reading about clothing materials, and wow, was I surprised! 
Little did I know the neurotoxins and endocrine disrupters I was exposing my little baby to! 
Now, clothing material itself is probably not the sole source leading to poor health – there's also the detergents we wash the clothes in, the products we bathe with and rub all over our skin, the food we eat, the water we drink, and so many other factors. 
But in trying to reduce our toxin load and provide our daughter with the most toxin free lifestyle that we can, clothing seemed like an area that needed to be addressed. 
I will even include the non-toxic swimwear brands that we recently purchased from!
Scroll to the end to see a summary of the brands we use if you don't have time to read the whole article.
But if you have time, read the article to get my tips on making sure you are getting non-toxic kids clothes!
Some websites can be deceiving and appear to sell all organic clothing, but then the whole site is not actually organic, only certain items (Hanna Andersson for example). 
Or perhaps the whole site is organic, but not all of the clothes are 100% cotton (Pact clothing for example). 
You just have to decide what's important to you!
Also, remember to always double check the product label before adding something to your cart. 
So what brands are selling safe, non-toxic kids clothes?
Let me share with you the brands we have purchased and like!
Brands of Non-Toxic Kids Clothing We Use
I want to say up front that I'm not getting paid by any of these brands to review their products nor was I given any free products.  
These are all brands that I purchased from after doing my own research, and I want to share with you what I have learned in order to help you find comfy, affordable organic clothing for your kids (and family)! 
That also means that this is NOT an exhaustive list of non-toxic kids clothing brands.
I only want to share with you what brands our family has personally used!
And that's why I'm going to include pictures I have taken of the clothes we have bought.
I want you to be able to see what we have purchased!
So with that, let's jump in!
Pact
I first found out about Pact clothing when I saw a display at Whole Foods of organic cotton Christmas socks in child and adult sizes. 
Upon further research into the company, we decided to not only buy their kids clothes, but also clothes for ourselves! 
Not only does Pact make a line of 100% organic, non-toxic clothing, but as a company, they also make environmentally friendly choices and try to reduce their water consumption and chemical usage. 
This is from their homepage: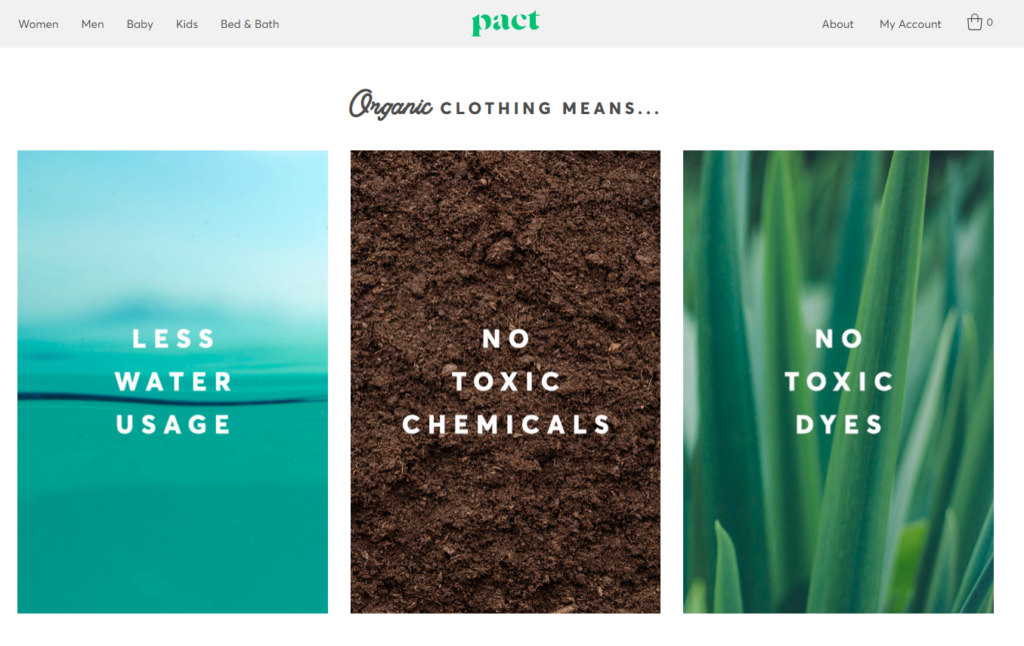 We have tried A LOT of their clothes!
The kids clothing items that we have tried from Pact are the pajamas, underwear, t-shirts, shorts, playground pants, leggings, and sweatpants.
Here's a sample of the variety of things we have purchased from Pact: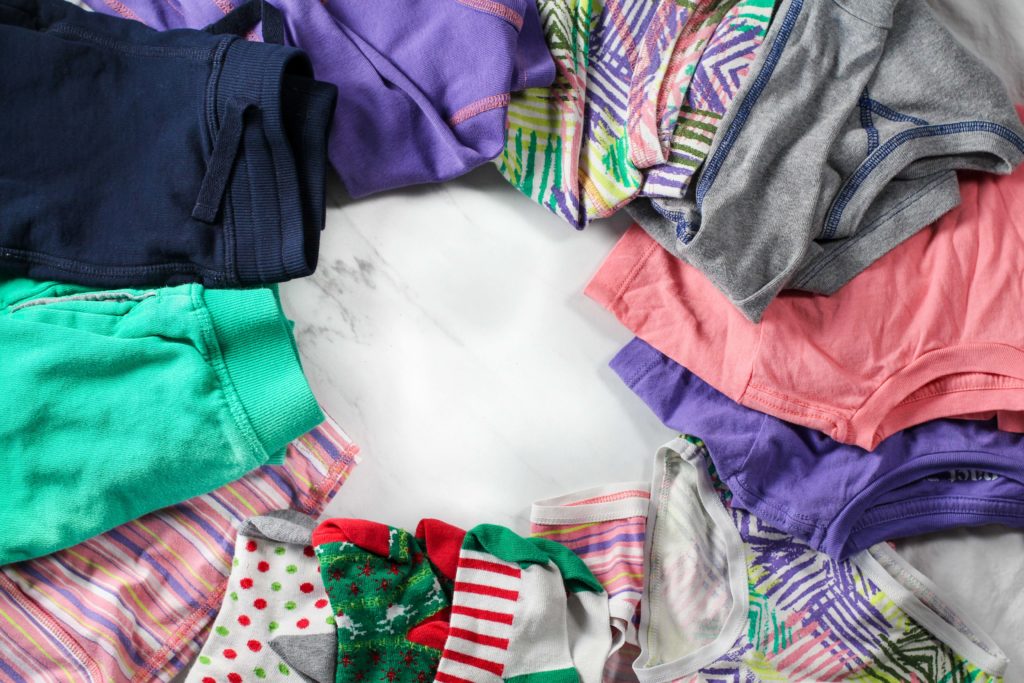 And of course, we requested (and received!) the cute Christmas socks I saw at Whole Foods.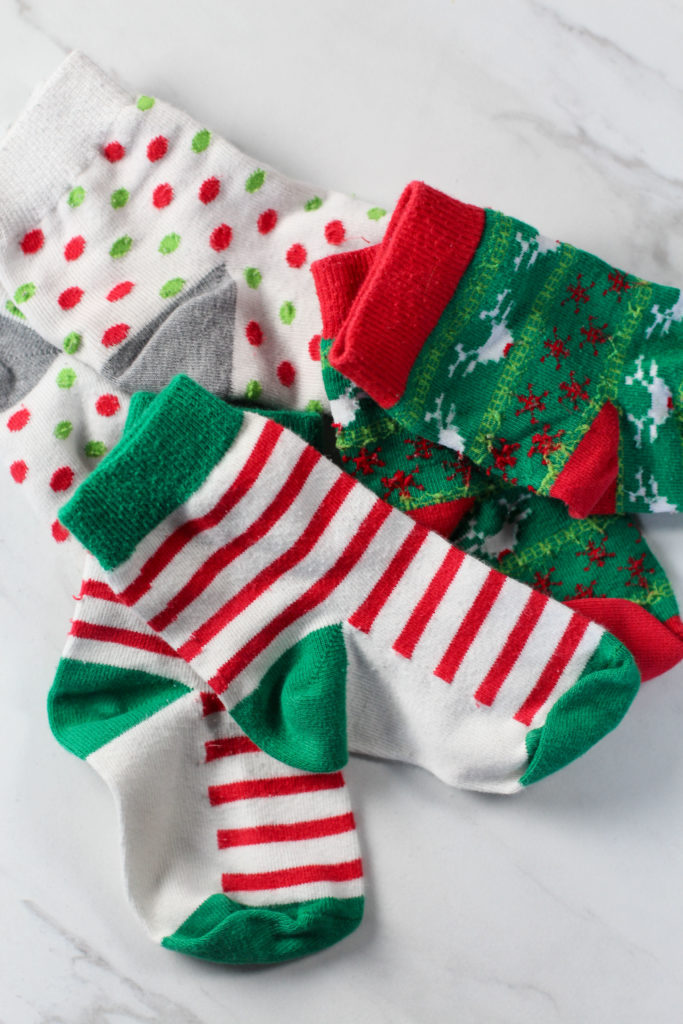 Everything has fit our daughter really well, even over her bulkier cloth diapers. 
Some of their items are not 100% organic cotton because they contain up to 5% elastic.
For us, that 5% elastic isn't a huge deal.
I think that's why we are able to get them over her diapers (a necessary tradeoff). 
But you can absolutely shop just the 100% organic cotton line of kids clothing on their website. 
To shop the 100% cotton items, follow these steps.
Select "Kids" from the top menu and it will take you to a Kids only page. See the red circle is in the picture below.
Notice that on the left side at the bottom, the last option is 100% cotton. See where the red arrow is pointing in the picture.
Click that, and you will know that you are only looking at the 100% cotton clothes!
We really like Pact and plan to continue purchasing their clothes for our entire family! 
You can visit their Kids Clothing website by clicking here.
Hanna Andersson
When I first did a quick search for non-toxic kids clothing, one of the first results I found was Hanna Andersson.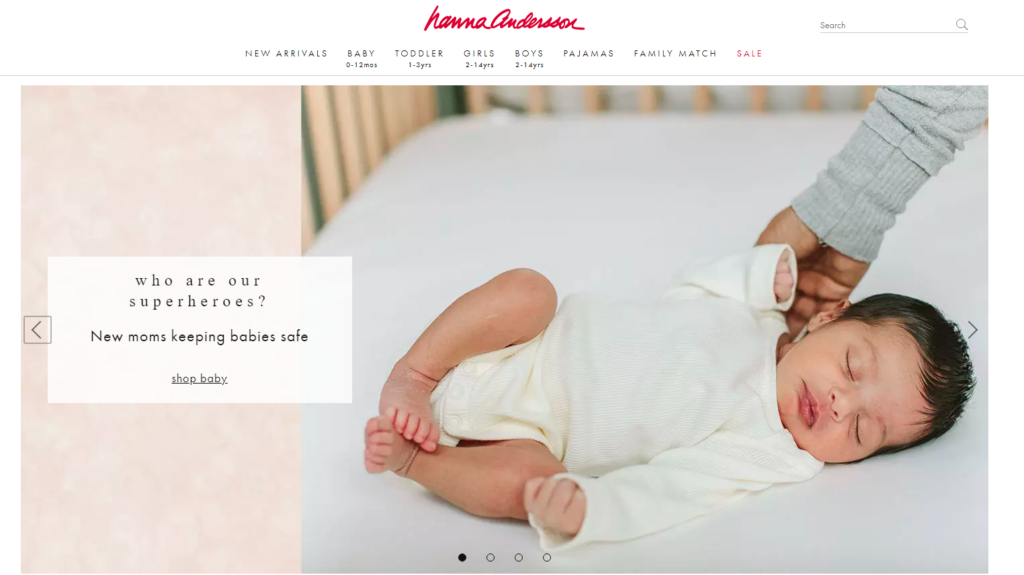 Browsing through their website, they sell lots of very cute clothes, including Disney patterns!
BUT you have to be careful if you want ORGANIC, because not all of their clothing is organic. 
However, what's great about their site is that it's easy to do a search for just organic clothes!
To do that, just type the word "Organic" into the search menu (circled in the picture below).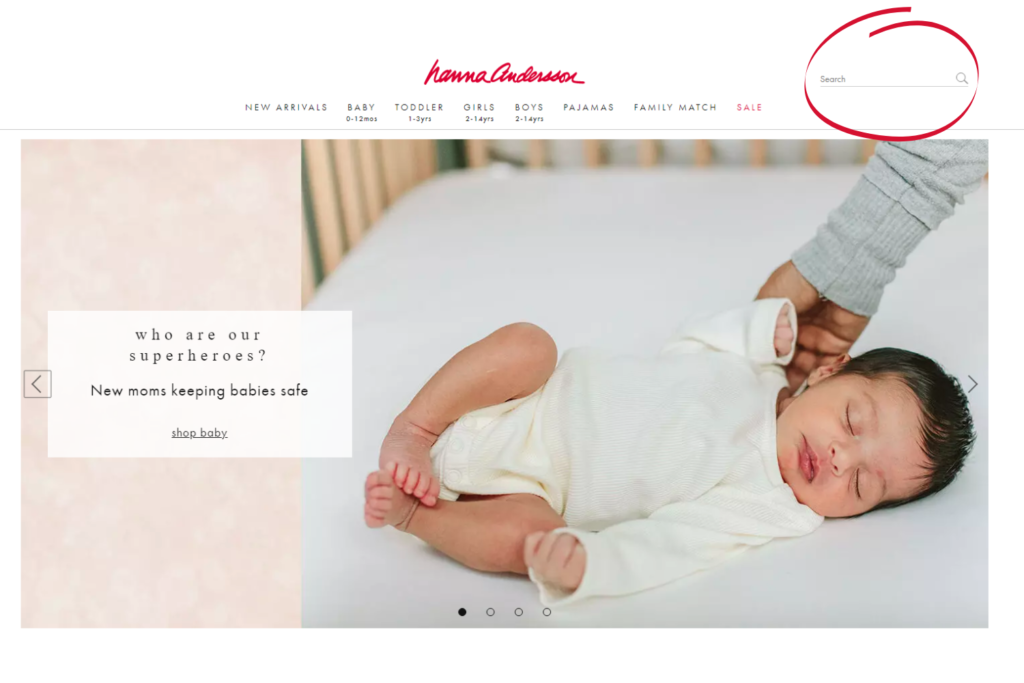 Then you can narrow down your results by clicking on "Filter" (circled in red in the picture below).
Select the size, gender, and/or type of clothing that you are looking for.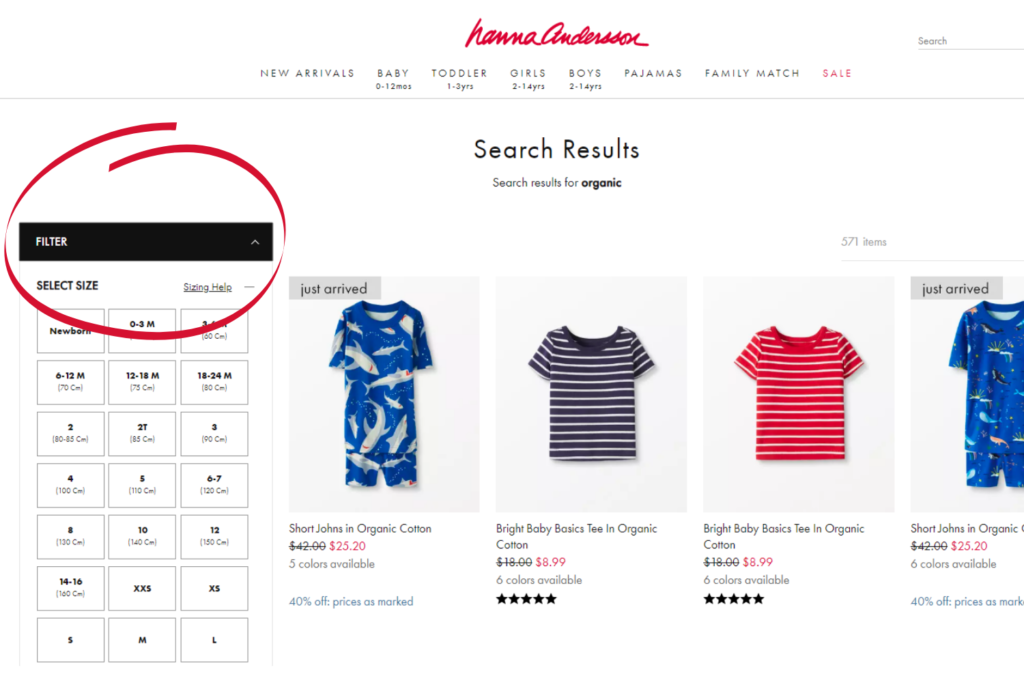 I also double check the product label quick before adding to my cart to make sure it has the word "Organic". 
So far we have a play outfit and some pajamas from Hanna Andersson. 
This is the cute pink outfit we have: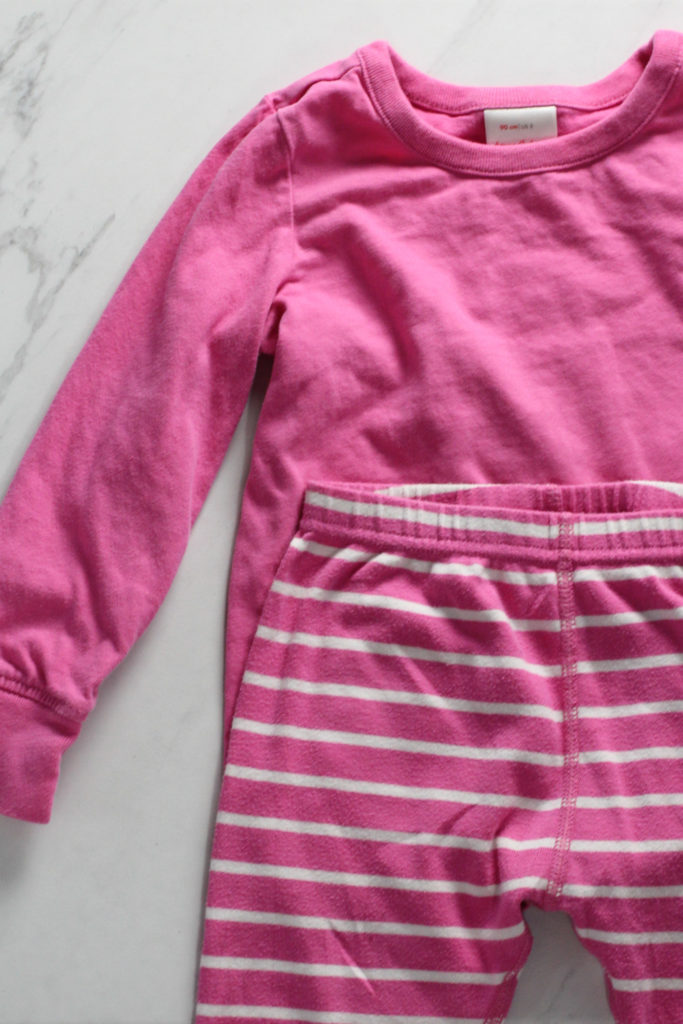 And look at how ADORABLE the print for these winter pajamas is!!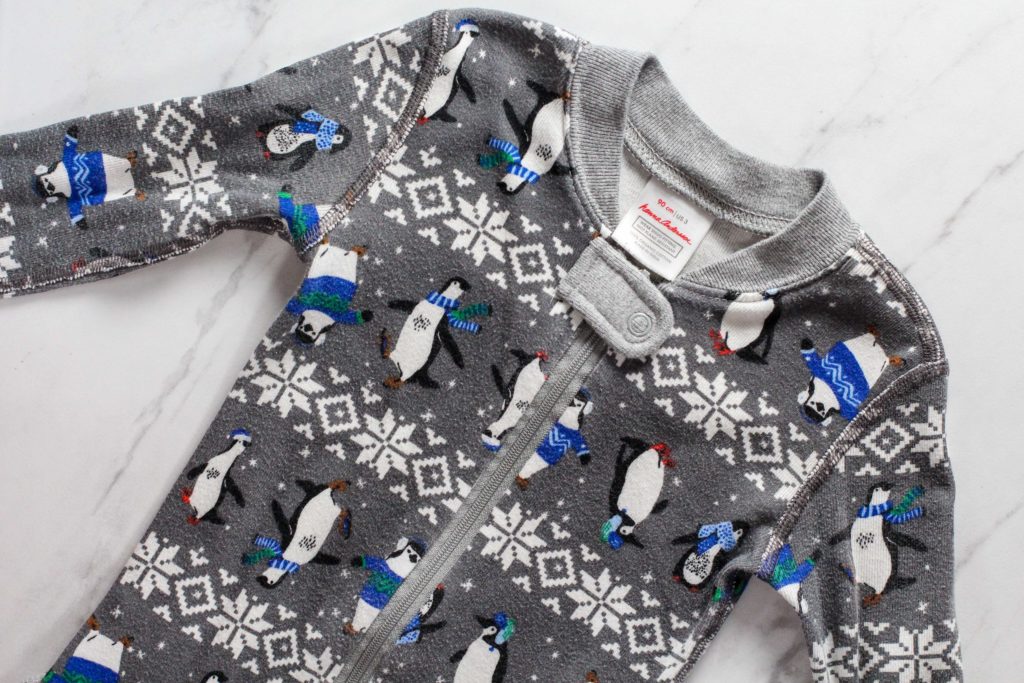 Just a heads up on their pajamas, the arms are kind of tight.
To get around this, I normally run my hands through the sleeves first to stretch them out a little. 
Another tip, sign up for their emails to find out when they are running sales. 
It's also worth checking out their clearance rack to find cheaper deals. 
Overall, I love their patterns, I just wish their prices were a little lower!
But I'm sure we will be purchasing more of their clothing in the future as more sales come up (Black Friday here we come!). 
You can visit the Hanna Andersson website by clicking here.
Or you can click here to view the results for "Organic" kids clothing.
I also want to note that you can find Hanna Andersson clothes on Amazon!
Burt's Bees
I was stoked when I walked through Buy Buy Baby the day after Christmas last year to find Burt's Bees 100% organic cotton Christmas pajamas on sale for $8.50 and I got to use my 20% off one item coupon!!  
Not bad for an organic pajama set! 
These are the pajama patterns I was able to get:
And on Amazon you can find TONS of CUTE prints!
Look at this adorable floral pattern we were able to find: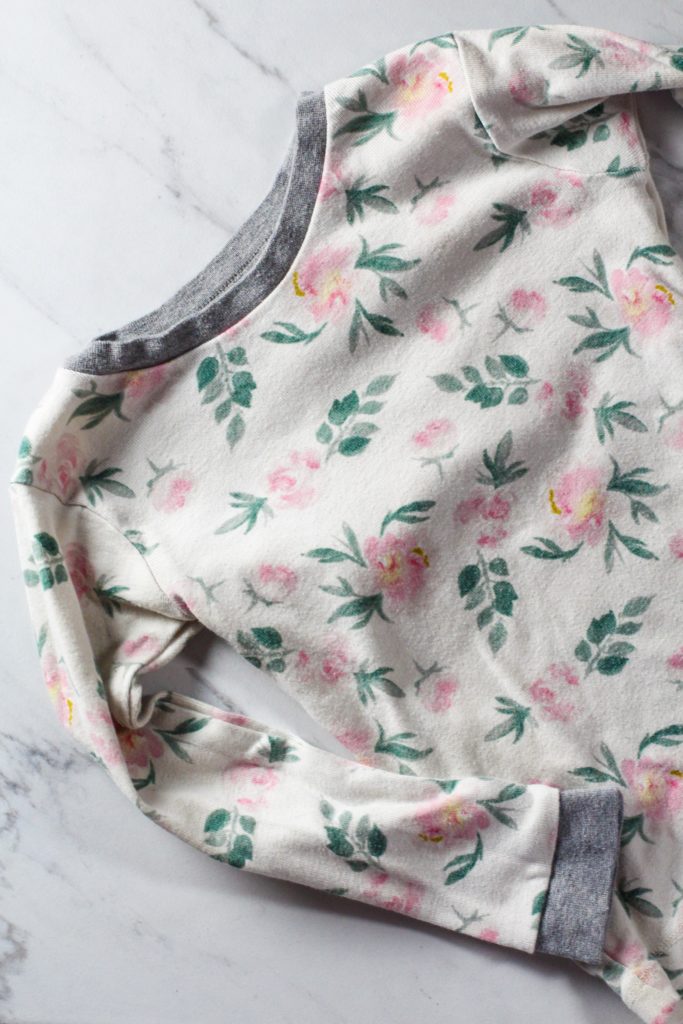 This pattern isn't available anymore, but they have lots of other cute floral pajamas here.
The pajama sleeves are a little tight, like the Hanna Anderson brand, so I run my arm through the shirt first to stretch out the sleeves. 
We also have one pair of their sweatpants, and they fit great and have really nice pockets for kids! Click here to see the sweatpants we bought.
Additionally, we have a top and pant set from Burt's Bees. Click here to see the set that we bought on Amazon.
The great thing about the top and pant set is that it fits loose and is SUPER soft.  
Here are all of our Burt's Bees clothing items: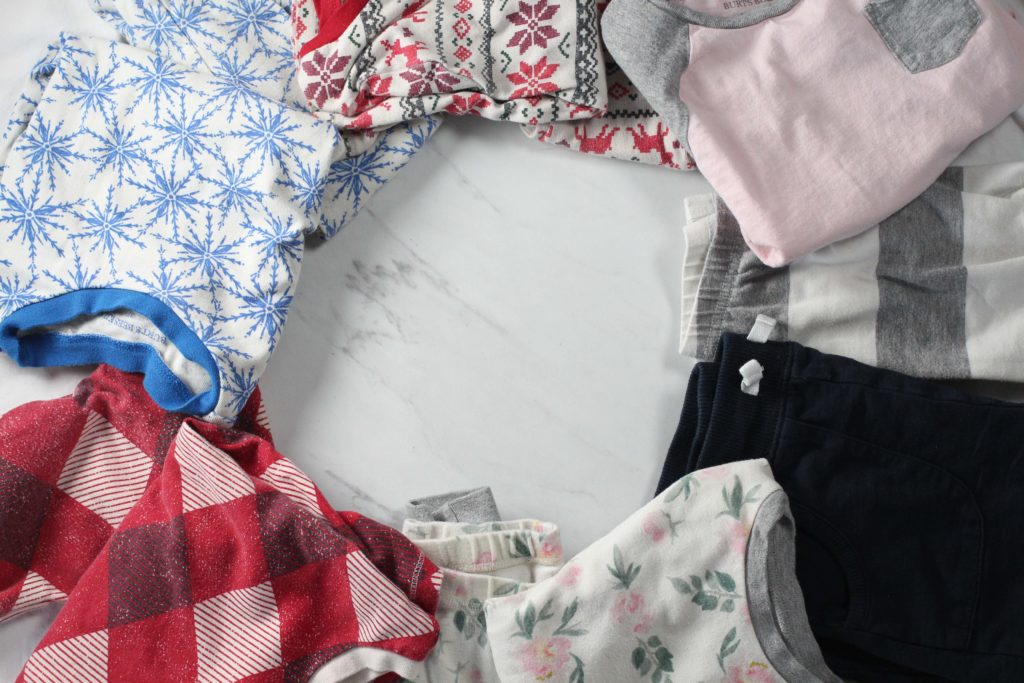 For those of you who have never heard of Buy Buy Baby or live super far away from one, you can also purchase Burt's Bees clothing from the Burt's Bees website (pictured below).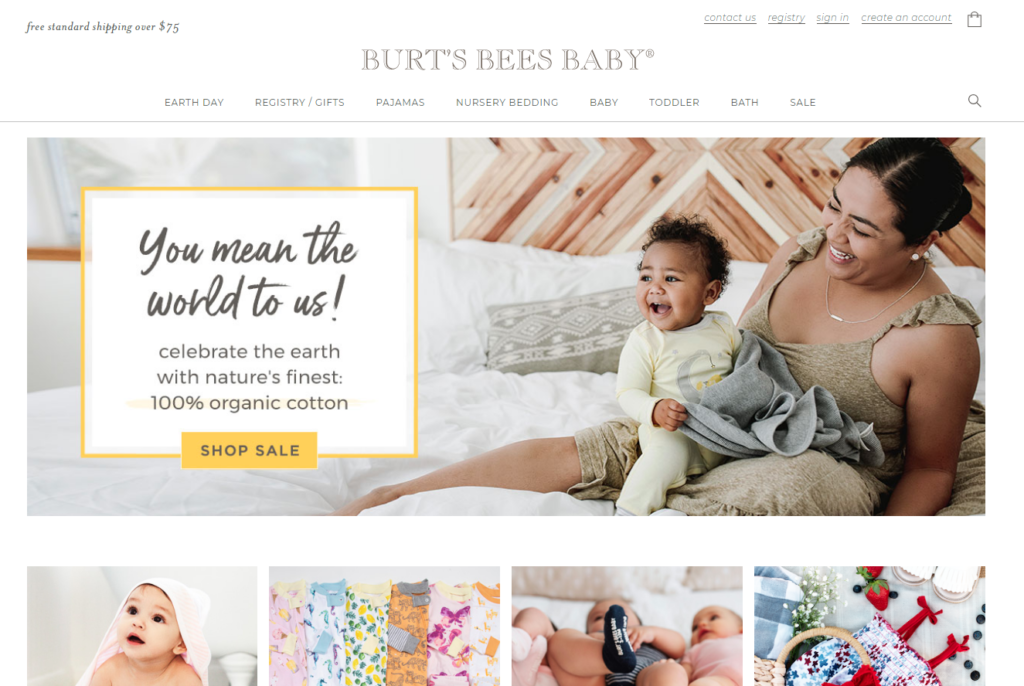 And here is the link to view the Burt's Bees Organic clothing on Amazon.  
The ones we purchased in the store are the exact same size and fit compared to the ones from Amazon. 
We love everything from Burt's Bees and would recommend their clothing to everyone!! 
Touched by Nature
Touched by Nature is an organic clothing brand that I found when searching for organic non-toxic kids clothing on Amazon.
Here is a picture of all of our Touched by Nature clothing: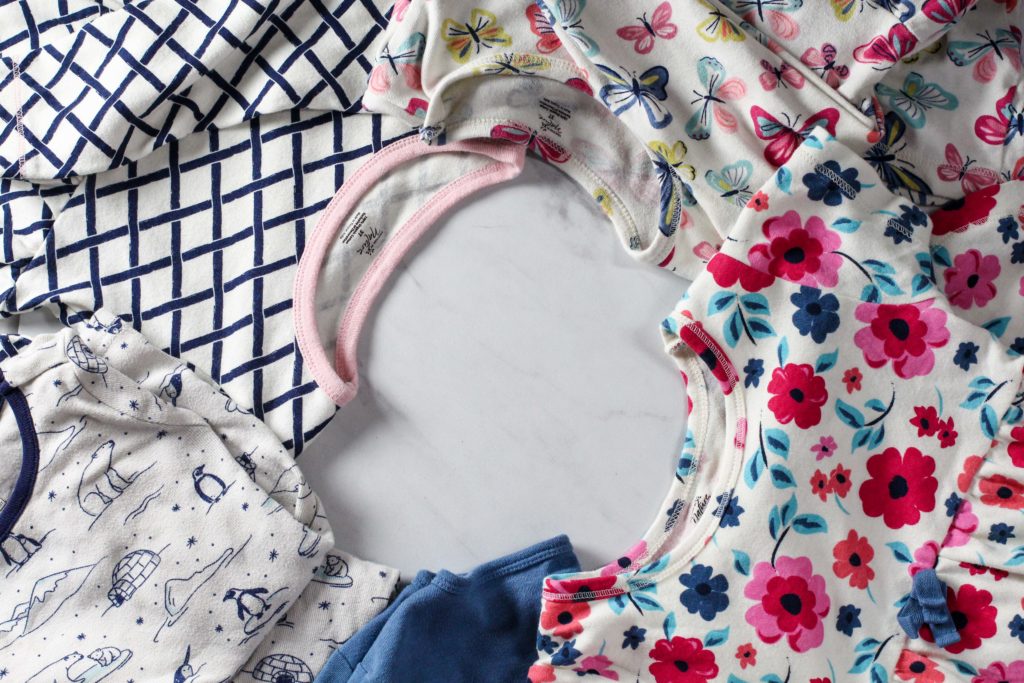 Their clothes are great quality AND super soft!
Their clothing is also reasonably priced and they have a great line of dresses!
We have an adorable cardigan and dress set that you can find on Amazon here.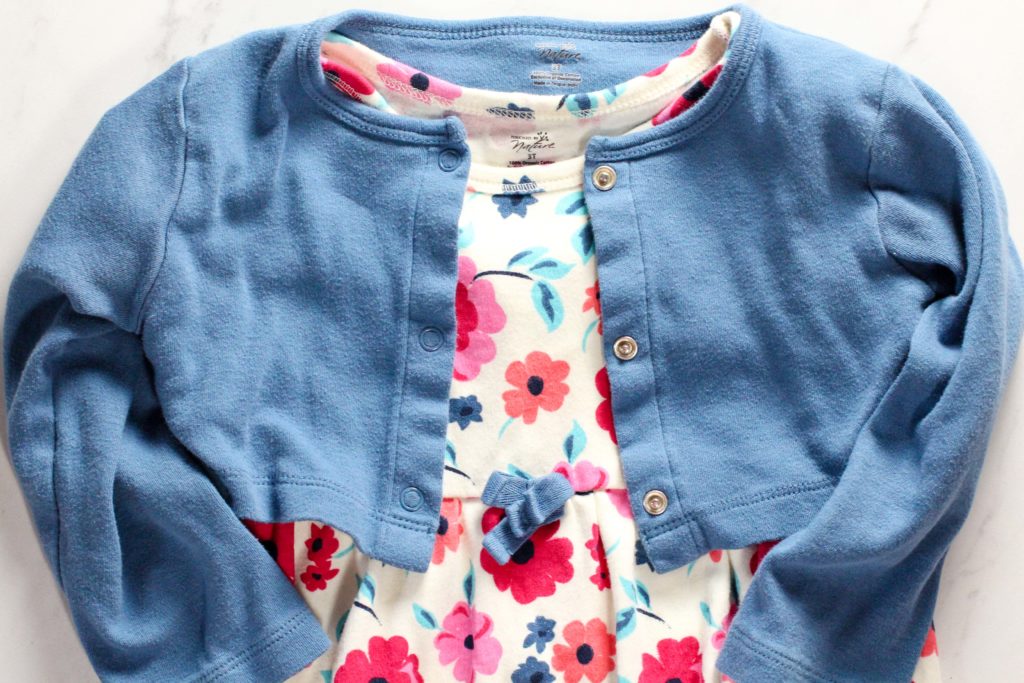 We also have a cute set of pajamas that we call the narwhal pj's. Click here to find the set that we bought on Amazon.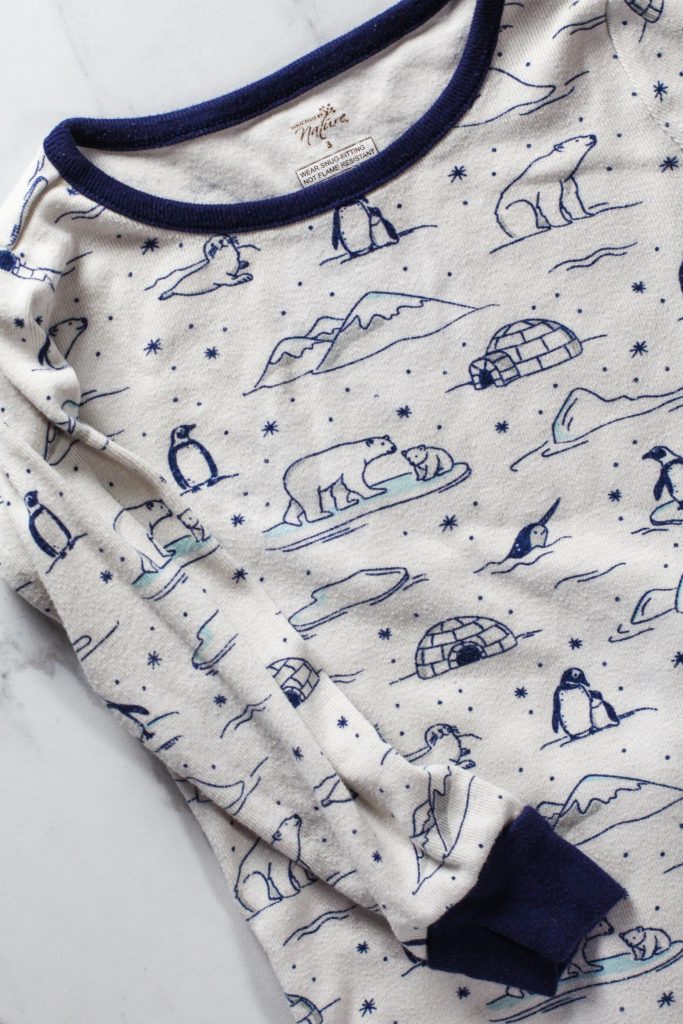 We also love the couple of long sleeve dresses we bought, which you can see here on Amazon.
Touched by Nature has a variety of non-toxic kids clothes on Amazon.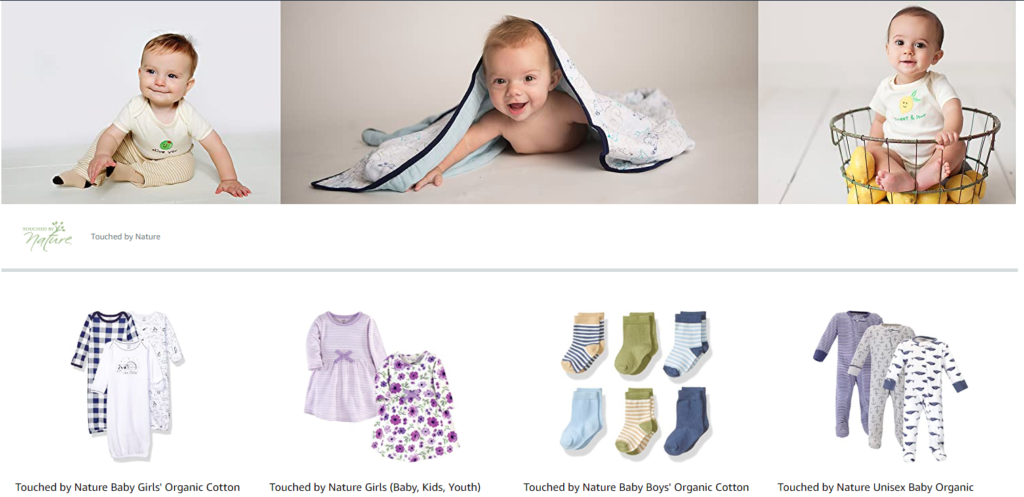 You can find their entire Amazon clothing line here!
There are also lots of other stores that you can find the Touched by Nature brand at such as Buy Buy Baby, Target, Macy's, and Zulily.
Brands of Non-Toxic Kids Swimwear We Use
We were recently planning a trip to Florida and the topic of sunscreen came up.
I really don't like the idea of lathering my daughter up in toxic sunscreen, especially with her skin rash.
But I also know that sunburns are bad too!
And this kiddo has FAIR skin.
So what's a momma to do?
That's when I went in search of non-toxic sunwear that would act like a sunscreen for her.
So I started searching for UPF 50 clothing.
Did you know most clothing get their UPF rating from…*GASP*…chemicals?
That's right, they douse the clothes in chemicals to achieve that UPF rating.
I wanted to just beat my head against a wall when I found that out.
Why isn't it easy to get non-toxic clothing?!
Anyways, back to the drawing board I went.
After further searching, I found companies that ARE providing UPF clothing WITHOUT the chemicals.
How do they do it?
With the weave of the material!
So what brands are using a tight material weave, instead of chemicals, to achieve their UPF rating?
I'm glad you asked!
Here are the two brands that we have purchased from, not only for our daughter, but also for ourselves!
Tuga Sunwear/SunBuster Kids
Both of these brands are owned by the same company and you can see all of their items on the same website here.
Just click to the different tabs at the top to see the different brands.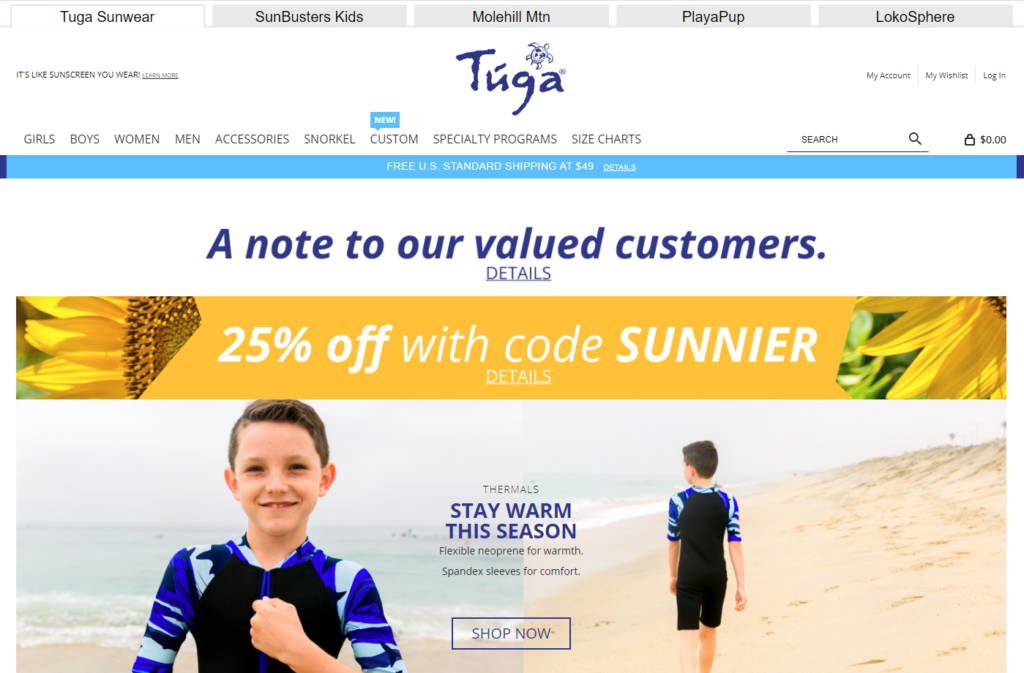 There are a couple of things that I love about this company.
First of all, they are really open and honest about their UPF rating and how their line is chemical-free. You can read all about it here.
If you don't want to click over and read the whole thing, this is a great summary:

See that last line there?
"We do not use sunscreen chemicals in our swimwear."
THANK GOODNESS!
The second thing I love about this company is that they have clothes for the WHOLE FAMILY!
And we did purchase something for each of us!
We originally made the purchases for a trip to Florida, but they will be great protection this summer as well!
So what did we buy?
I purchased a Tuga long sleeve zip swim jacket, my husband got a Tuga long sleeve rash guard, and we also got a Tuga long sleeve rash guard for our daughter.
Here's a picture of the fun colored shirt we got for our daughter: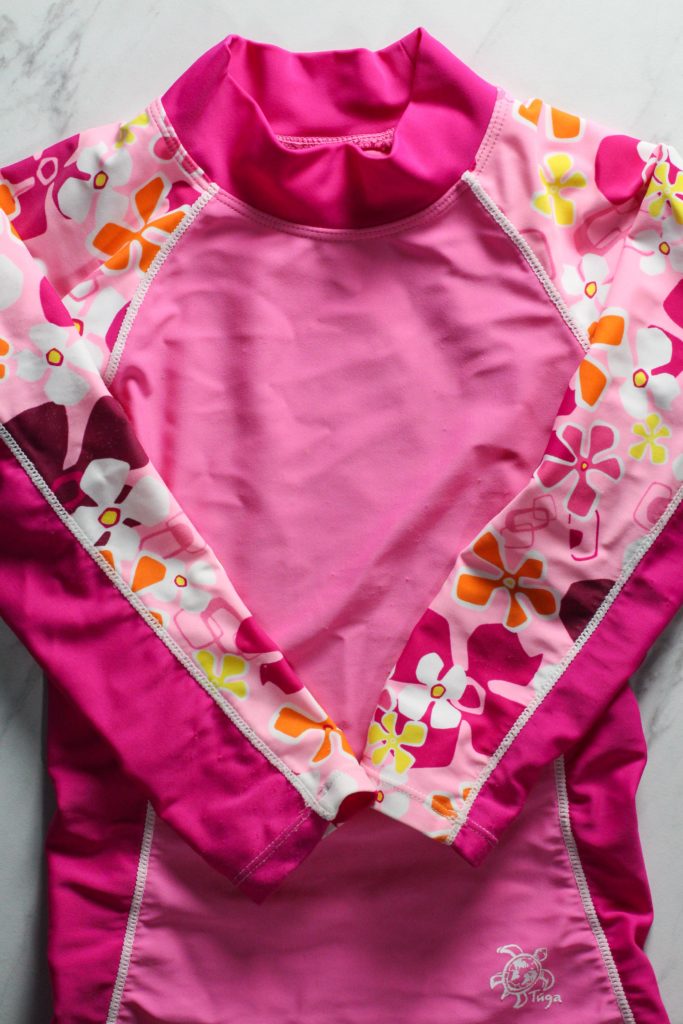 Keep in mind that there are tons of other kids options under the SunBuster Kids brand as well!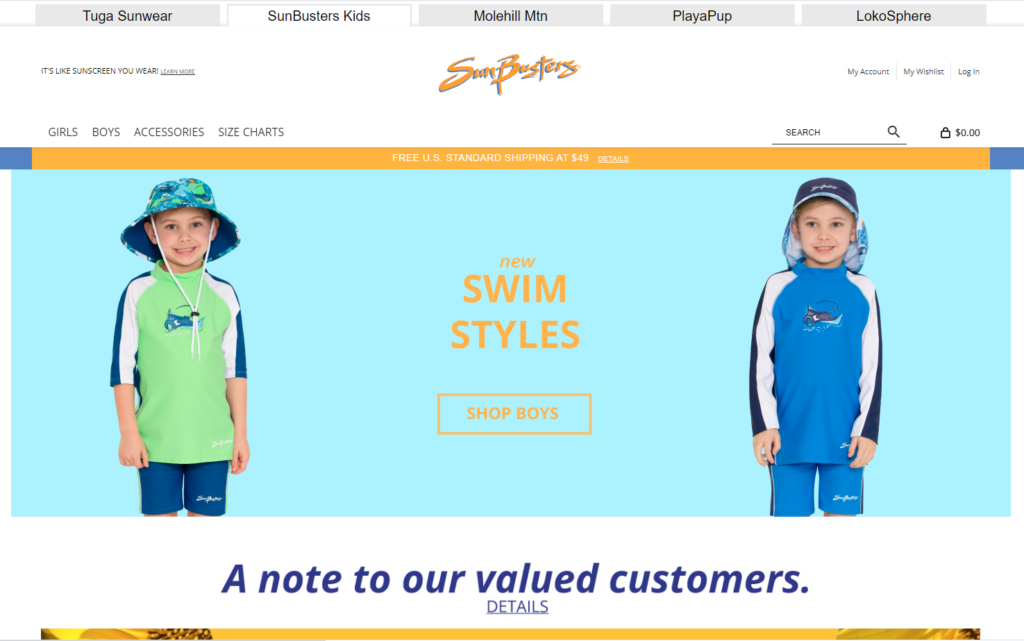 Frugi
Frugi is a European company that sells not only swimwear but also a huge line of baby, toddler, and kids clothing!
You can visit their website by here.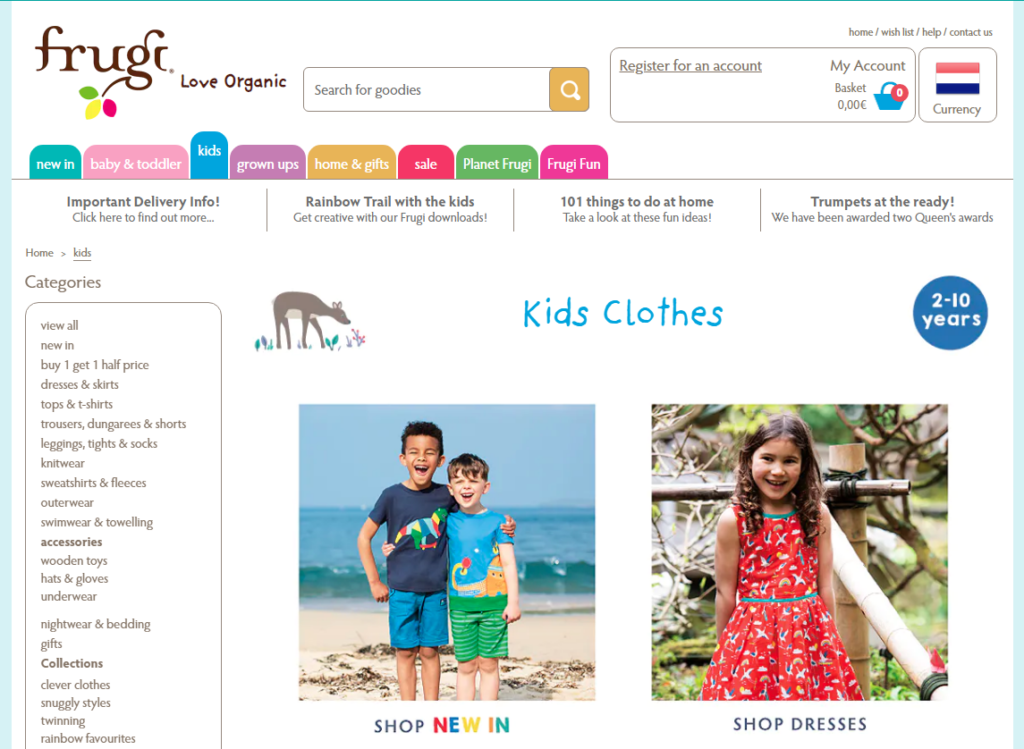 They have a very strong stance on keeping chemicals out of their clothing as well as out of the environment!
You can read more about it here.
But as a quick statement about their swimwear, this is copied directly from their FAQ page:
"Our stretchy swimwear and Sun Safe garments are made using Oeko-tex fabrics. Oeko-tex is an independent global organisation who set standards, test and certify textiles to ensure they contain no nasty chemicals. Better for us to wear, and better for factory worker's health and the environment. Fab!"
So if you are looking for some super bright colored and cute prints for your kiddos swimwear, check out Frugi!
Here's the super adorable one piece suit we got for our daughter: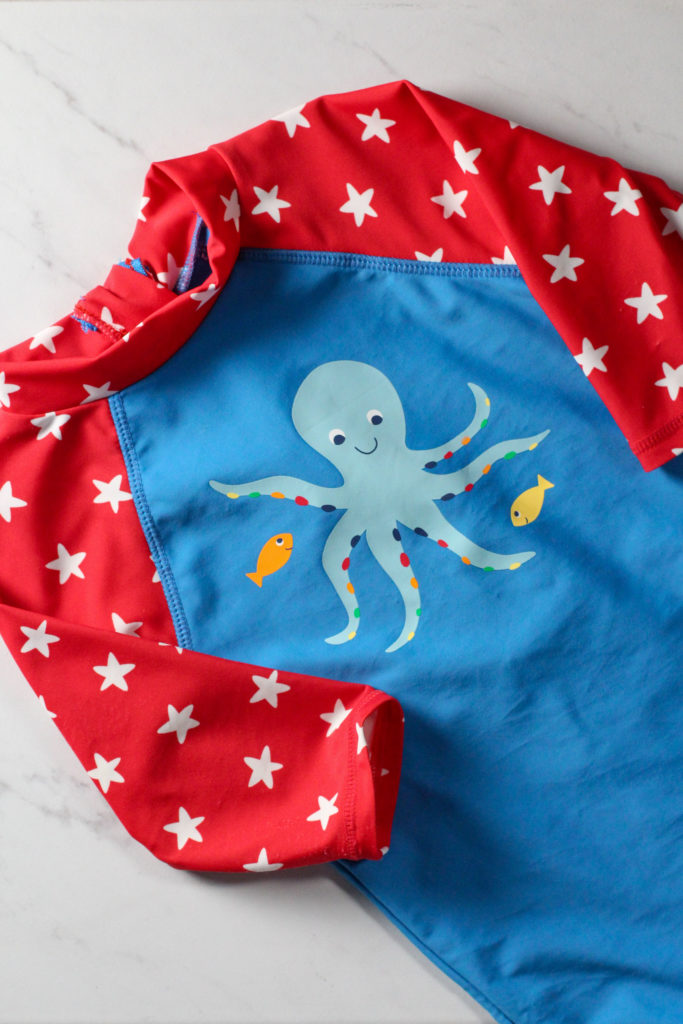 Unfortunately, they no longer sell the one piece swimsuit that we were able to buy, but they still have other cute swimwear items!
Summary of Non-Toxic Kids Clothing Brands
Whew, okay, that was a lot of information and I hope you found it helpful!
Here's a quick summary of the brands I mentioned in this article:
Non-Toxic Kids Clothing
Non-Toxic Kids Swimwear
I know I already said it, but it's worth saying again, I was NOT paid to review any of these companies nor did I receive any free products.
These are just brands that my family has purchased clothes from, and we trust and like their clothing!
By no means is this an exhaustive list of all the organic clothing brands out there.
I only wanted to share brands that I have personally purchased from.
But I'm always looking for new brands to try!
What brands of non-toxic clothing does your family buy from? Share in the comments below!