This post may contain Amazon or other affiliate links. As an Amazon Associate I earn from qualifying purchases.
If you are looking for organic clothes that are not only comfortable, but also affordable, you might want to read this Pact clothing review!
I want to say up front that I'm not getting paid by Pact to write this (or anyone else for that matter).
Nor was I given any free product to write up this post about their products.  
I am also not a Pact affiliate.
Our family purchased clothes from Pact after doing our own research about organic clothing companies.
I want to share our experience with Pact to help you find comfortable, affordable organic clothing for your family! 
So let me explain how this all started.
How We Found Pact
I first found out about Pact clothing when I saw a display at Whole Foods of organic cotton Christmas socks in kids and adult sizes. 
Upon further research into the company, we decided to not only buy kids clothes, but also clothes for my husband and myself! 
Let's just say that now there are days where we joke about how we are all wearing only Pact clothing.
So you might be wondering, why Pact?
What makes this company so great anyways?
Why Pact?
Well the shot below of their homepage just about sums it up.
Pact uses organic cotton for all of their products.
They use fair trade certified factories.
And Pact cares about sustainability efforts for our planet.
But let's talk about what each of these really means!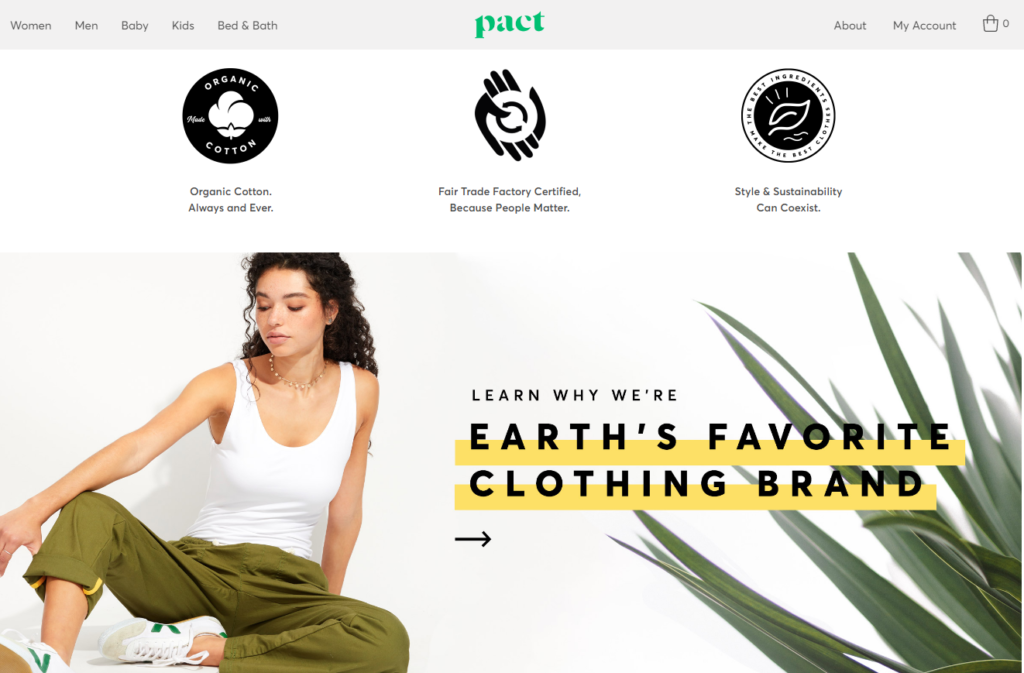 Pact Clothing is Organic GOTS Certified Clothes
To start with, all of Pact's clothes are GOTS certified!
Want the brief version of what GOTS means?
Check this out from Pact's FAQ page:

And above and beyond their GOTS certification, Pact has a line of 100% organic cotton clothes.
And for their clothes that aren't 100% organic cotton, almost all of their other products are 95% organic cotton with 5% elastine for stretch.
Here's what Pact says about it on their FAQ page:

So at least 95% GOTS certified organic cotton in almost everything??
That's pretty darn good for how great these clothes fit!
And it's also SUPER nice to have the option to get 100% organic cotton when possible!
This became really important to us when our daughter broke out in a skin rash.
While switching to 100% organic cotton clothes has not taken the rash completely away, it did motivate us to start looking at the impact our clothing has on us.
There are tons of articles on the chemicals that are used in the clothing industry.
I will just quickly reference one here by Business Insider if you are interested in reading more about the topic.
Pact Clothing is Fair Trade Certified
Pact uses Fair Trade Certified Factories or factories that already treat their employees well.
See this statement from their FAQ page:

From an ethical standpoint, it shows how much Pact cares about people!
They care about everyone from the farmer to the consumer, and I want to support companies like that!
Pact Clothing is Environmentally Friendly
As a company, they also make environmentally friendly choices.
Pact tries to reduce their water consumption and chemical usage. 
Pact has even started a zero waste clothing line that uses material scraps to make unique clothing patches!
They are trying to do the right thing for everyone and for the earth!
This shot of their homepage says it all: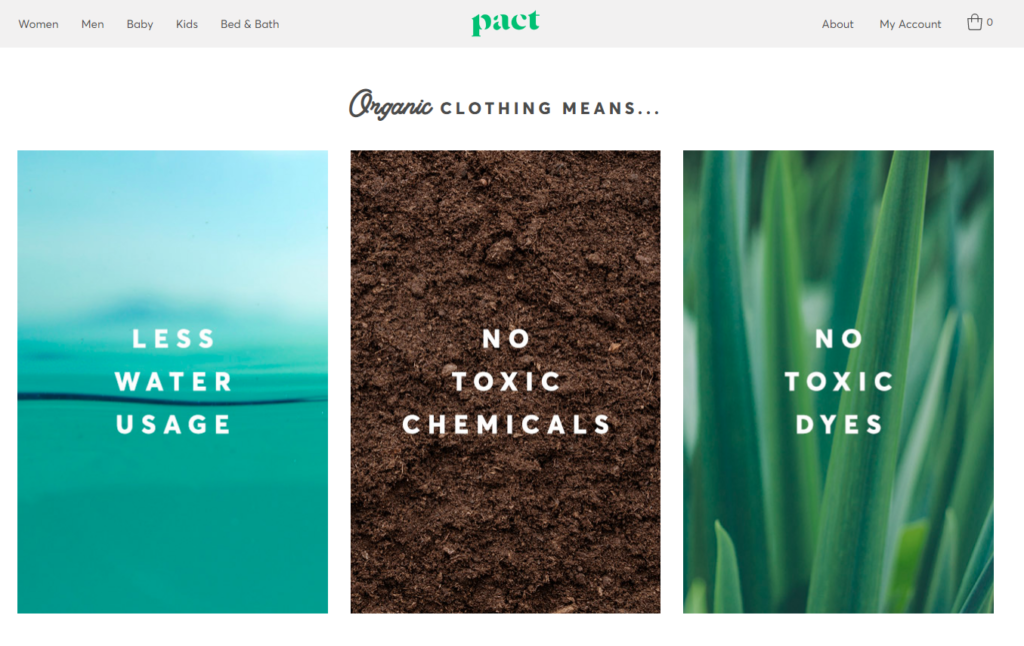 Other Reasons to Love Pact
After receiving our first order, we fell in love with the soft organic cotton and have since purchased from them several other times. 
There are so many other great reasons why we love Pact!
Correct Sizing Charts
Their sizing charts so far have been really accurate!
And I love that for each modeled picture, they tell you the height and weight of the person in the picture and the clothing size they are wearing so you can compare yourself to the model. 
As an example, the part I circled in red shows the model's information.

While this isn't foolproof (yes, we have returned a few items), we typically get most of our sizes right on the first guess.
And sometimes we have had to return an item simply because once we tried it on, it wasn't quite our style even though it fit just fine.
So overall I think their sizing charts rock!
Affordable Pricing
In general their prices are pretty decent, but there's also not a reason to EVER pay full price for something at Pact.
Give them your email and watch the deals come rolling in.
Seriously, I think they have a sale going on every week.
There are also site wide sales for the usual holidays like Black Friday and Cyber Monday.
But they also have deals for holidays that you might not even think of, like Earth Day!
Great Customer Service
In fact, last year we made a large purchase on Black Friday only to see on Cyber Monday that they were offering an additional 10% off Black Friday prices. 
I called them and asked if I would have to reorder everything on Cyber Monday and return the Black Friday order to get the sale credit. 
The lady I talked to on the phone was very friendly and she graciously credited my account the difference for one order that hadn't shipped yet and gave me Pact credit for the other order that had already shipped. 
A company that takes care of their customers like this gets my business! 
So now that you know why we have chosen to purchase clothing from Pact, let me share with you what we have bought, what we have loved, and what we have returned (and why!).
Kid's Pact Clothing Review
Kids clothes that we have tried from Pact are the PJs, underwear, t-shirts, shorts, playground pants, leggings, sweatpants, and of course, we requested (and received!) the cute Christmas socks I saw at Whole Foods. 
Here you can see the kids clothes we have purchased: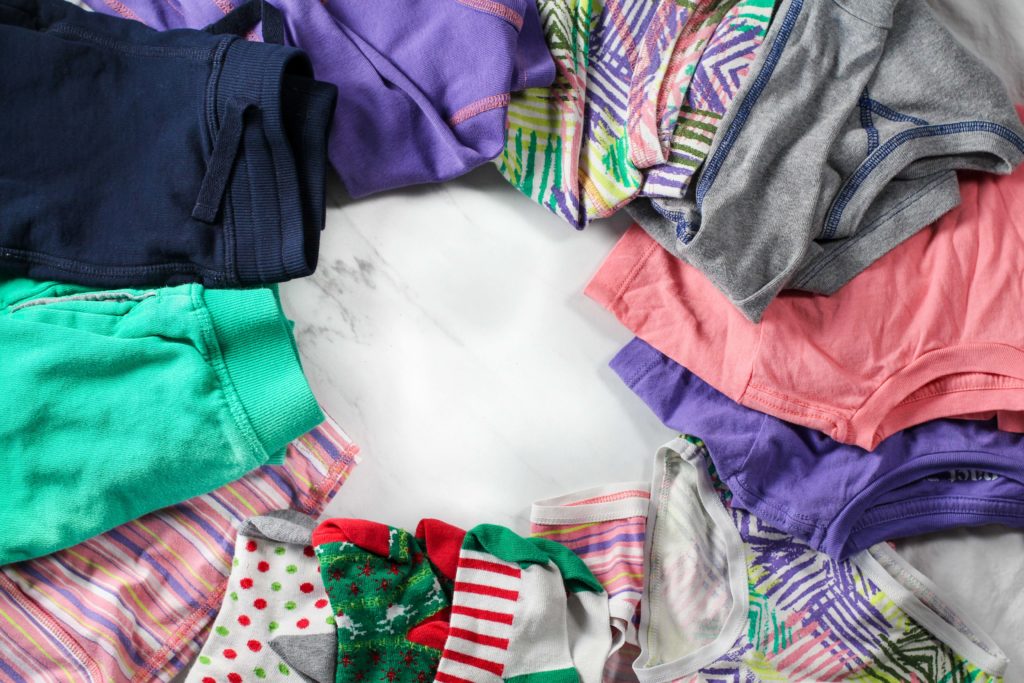 Everything has fit our daughter well, even over her bulkier cloth diapers. 
Some of the items are not 100% organic cotton because they contain up to 5% elastic, but I think that's why we are able to get them over her diapers (a necessary tradeoff in my opinion). 
But you can absolutely shop just the 100% organic cotton line of kids clothes on their website. 
Check out my article on Non-Toxic kids clothes for more details about Pact kids clothes.
And how do you find these awesome 100% cotton organic clothes?
See the big red arrow in the picture below?
That's where to find the 100% organic cotton clothes for kiddos!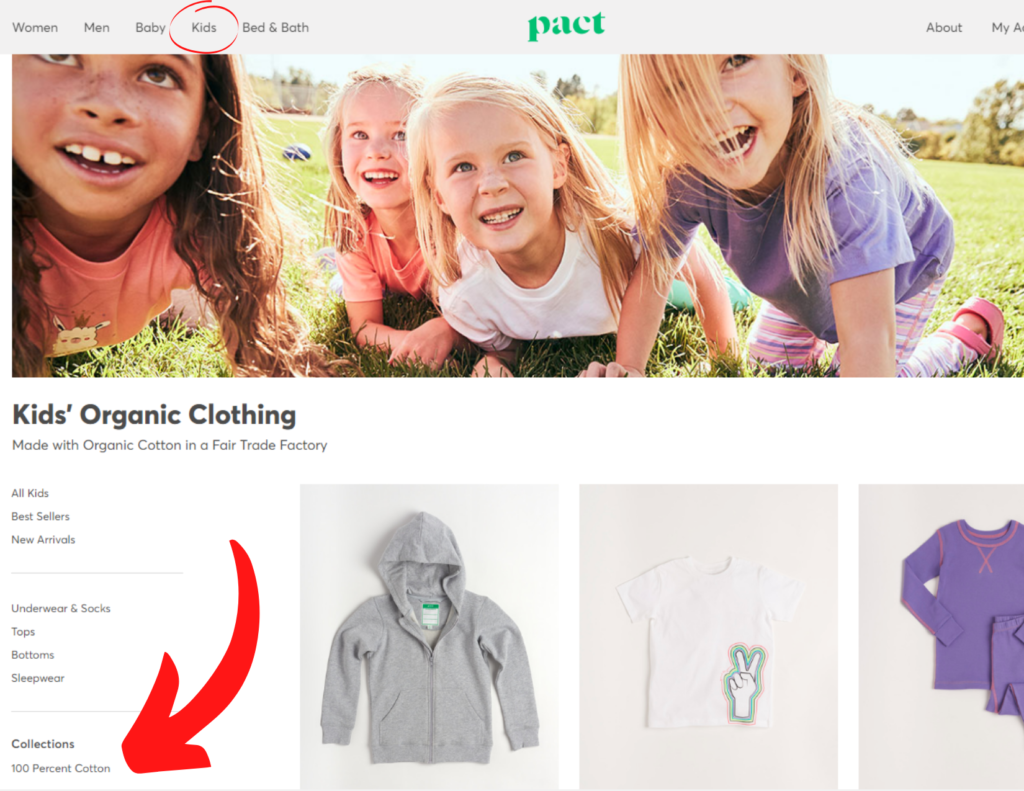 Women's
Pact
Clothing Review
After looking through all of the cute clothes for kids, I couldn't resist trying something myself! 
Women's clothes that I have purchased are a zip-up hooded sweatshirt, sweatpants, spaghetti strap tank top, short sleeve and long sleeve v-necks, short white/grey socks, a couple of wireless bras, and several styles of underwear. 
I'm just gonna start by saying I'm a HUGE fan! 
All of the clothes are really soft and comfortable! 
Everything has fit pretty well, but I have returned a few items. 
I returned a couple of styles of underwear because I didn't like the thick elastic bands and reordered some with smaller elastic bands and love them! 
I also returned the first sweatshirt I ordered because it hung on my body oddly and just wasn't my style. 
But the returns were painless and super easy. 
Printed the tag, packed everything up in a box, and dropped it off at a location that took USPS packages. 
No sweat! 
Just as with the kids clothing, keep an eye out for clothes that aren't 100% cotton if that's what you want. 
They have a convenient section under the women's tab for just the 100% cotton clothes.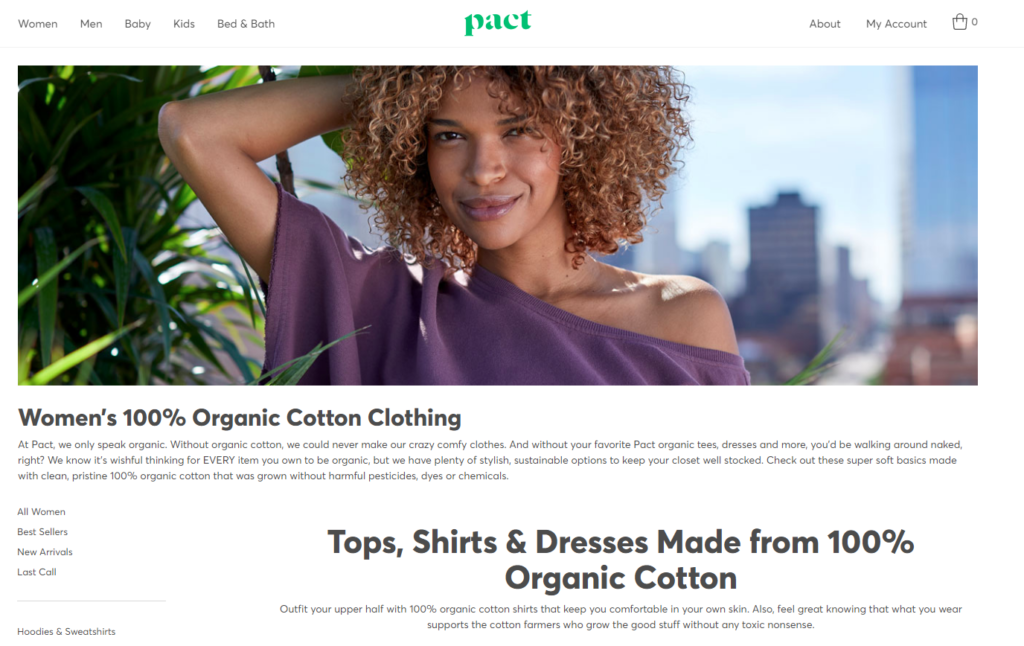 REMEMBER that things like underwear, tight-fitted undershirt tanks, and socks, even when they say organic cotton, aren't usually 100% organic cotton.
The reason why is you need some elastic for comfort.
The added elastane (AKA spandex) also helps you get these items on and keeps them from falling down!
So if you look in the 100% organic cotton section, you won't find any undergarments since they technically aren't 100% organic cotton.
You will have to look under the other tabs or search for the key words of what you are looking for. 
But overall, I could not be happier with these clothes!!! 
Men's Pact Clothing
Review
Well we couldn't leave dad out on the new organic clothing venture! 
Some of the men's clothes that we bought include short sleeve v-necks, a polo, long sleeve shirts, sweatpants, short socks, long dress socks, and boxers. 
We ended up returning the polo because it didn't fit well with my husband's body type (a little too baggy around the torso/back). 
Other than that, everything else was a hit! 
Once again, I just want to throw out the reminder that in the men's section of the Pact website, not everything is 100% organic cotton. 
Look for the 100% organic cotton section under the men's tab if that's what you're looking for!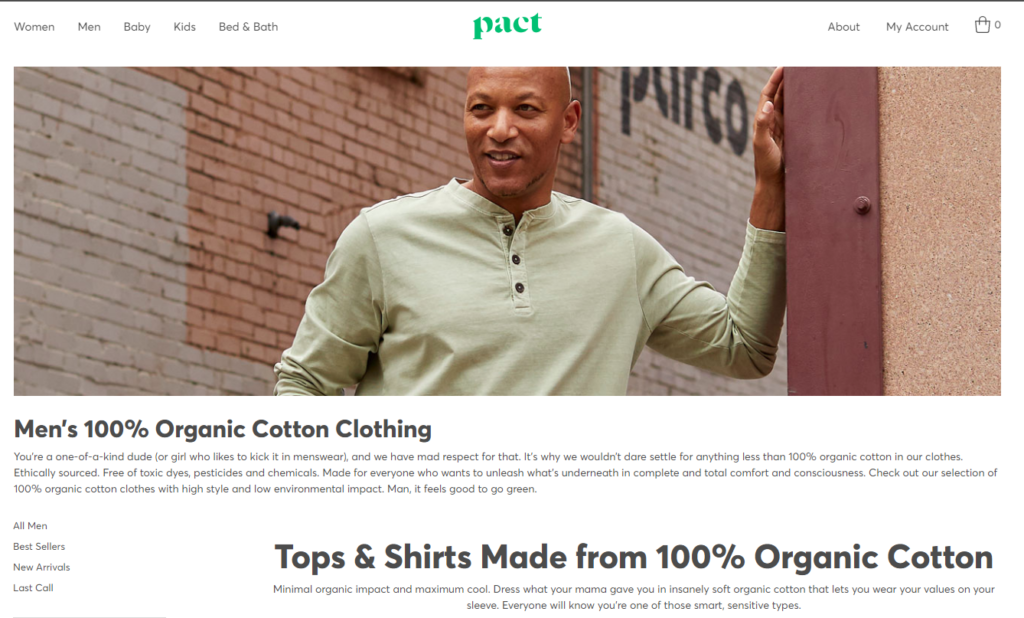 Pact Clothing Summary
So in case you haven't figured it out from all the items we have ordered, we had a full family clothing makeover with Pact this year and could not be happier. 
Sure, Pact clothes are a bit more expensive and don't come with the ever addicting Kohl's cash, BUT I feel great in the clothes I'm in! 
And I love knowing that our whole family is wearing non-toxic clothing! 
I also love supporting a company that is taking care of our earth as well. 
We really like Pact and plan to continue purchasing Pact clothes for our entire family in the future! 
I hope this Pact clothing review was helpful!
Let me know in the comments if there's anything else you want to know about our Pact purchases!