This post may contain Amazon or other affiliate links. As an Amazon Associate I earn from qualifying purchases.
Are you wondering what you can do to prepare for a natural birth?
Let's walk through different things you can do to prepare your mind, your body, and your baby for birth!
Especially if you are a first time mom or perhaps you have other kids but have never had a natural childbirth, it's easy to be intimidated to have an unmedicated birth experience.
You might be wondering, what happens if something goes wrong?
What if I can't do it and I change my mind and want help with the pain?
Your mind is probably filled with "what if's"!
Or at least I know my mind was!!
It's easy to let fear fill your mind, but let me help you ease your fears with some tips on how to prepare for your natural birth!
Why should you listen to me?
What do I know about natural births?
I have personally had two unmedicated births!
One at a hospital and my second baby was born at home in a quick 3.5 hour birth!
So while I'm no birth expert, I can definitely share from my own personal experience.
And this is what I know – with some preparation and planning, you can feel prepared to tackle an unmedicated birth!
Instead of fear, you can feel confident in yourself and be assured that God made you to do this!
So to help put your "what if's" to rest, consider these 14 tips to help you prepare for a successful natural birth!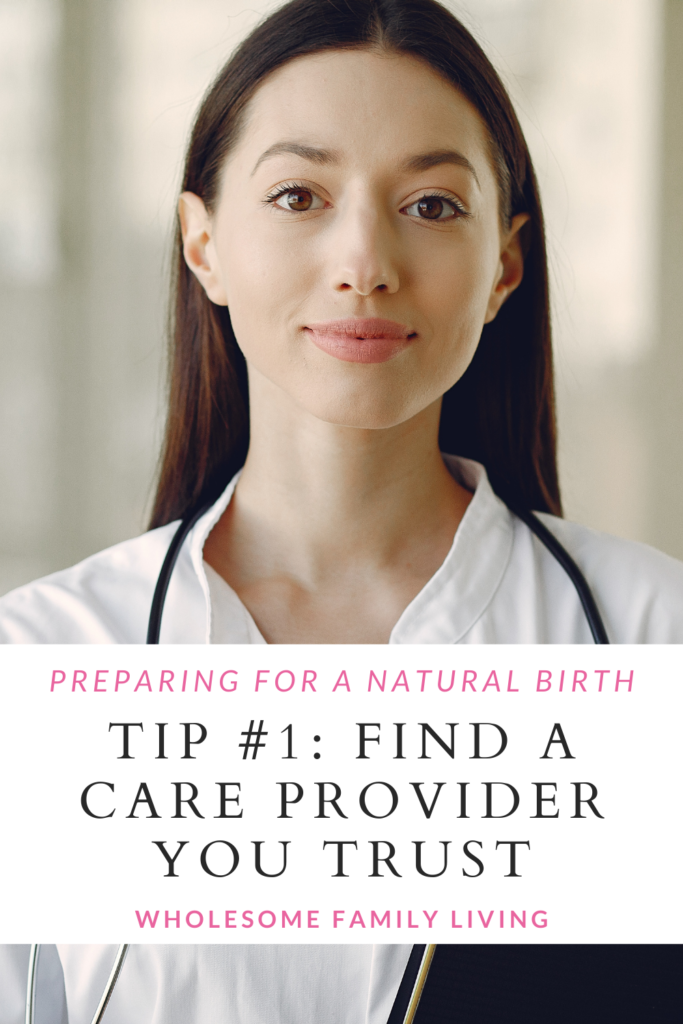 Find a Care Provider You Trust
I am probably most passionate about this tip which is why I listed it first!
THIS TIP IS NOT OPTIONAL!
You HAVE to find a care provider that supports your natural childbirth!
Think about it, let's say you go to a conventional OBGYN.
They have a high C-section rate and don't believe that most women are capable of having unmedicated births.
They see birth as something that needs medical assistance.
Do you think your chances of having the natural birth you want will be very high?
NO!
Now let's say you see a midwife that believes in the birth process.
She believes a C-section should be a last resort and only for emergency situations.
She thinks that women should listen to and follow what their body is telling them.
Do you think you will have the opportunity to have the natural birth that you want?
YES!
Do you see how these two different scenarios lead to very different birth outcomes?
So if you strongly want to have a natural birth or be in control of your birth, then you need to find a care provider that aligns with what YOU want.
Don't Be Afraid to "Fire" Your Provider
When you are searching for a care provider, make sure your values and goals are aligned.
To often I think women think that they have to stay with the care provider they started with, but this is completely not true!
During my first pregnancy, I "fired" my first doctor more than halfway through my pregnancy because my eyes were opened to how their practice and hospital policies didn't align with what I wanted!
So I switched to a midwife practice that DID align with what I was seeking in my birth.
And guess what?
When I was pregnant with my second, I started at that midwife practice and found that their policies had changed, so I switched to a different midwife!
So when I say that I understand how important it is to have a care provider that aligns with what you want, I MEAN IT!
So if you are going to a doctor that you don't feel comfortable with or does things you don't agree with, don't feel pressured to stay there!
Find someone that will support you in your birth and who you trust!
This is key to being able to have a natural birth and not being fearful that you are going to be forced into something you don't want!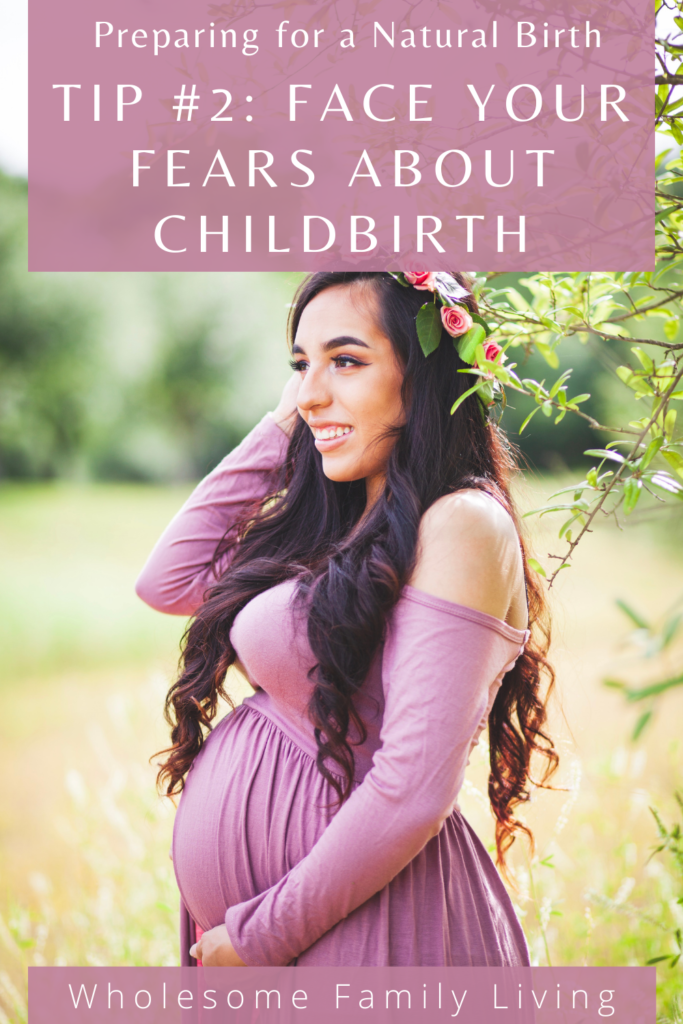 Face Your Fears About Childbirth
If you find your mind racing with fears and worries, you need to process those feelings with either your care provider, spouse, counselor, or a friend.
And you might not be the only one with fears – your husband could have some too!
So talk through concerns that you and your husband might have.
You are a team and need to be open with one another.
In order to have a successful natural childbirth, your mind needs to have processed any fears you have about childbirth.
Its okay to still have worries at the back of your mind.
I think we all do since there are so many negative stories about other people's births.
But you need to overcome your own fears by figuring out what the answer is to that fear.
Maybe you are afraid you will be forced to have a C-section.
You need to talk to your care provider about when they require a C-section and discuss your wishes to not have one.
Make sure you know why you might have to have one.
Once your mind has the "answer" to the fear, it can put your mind at ease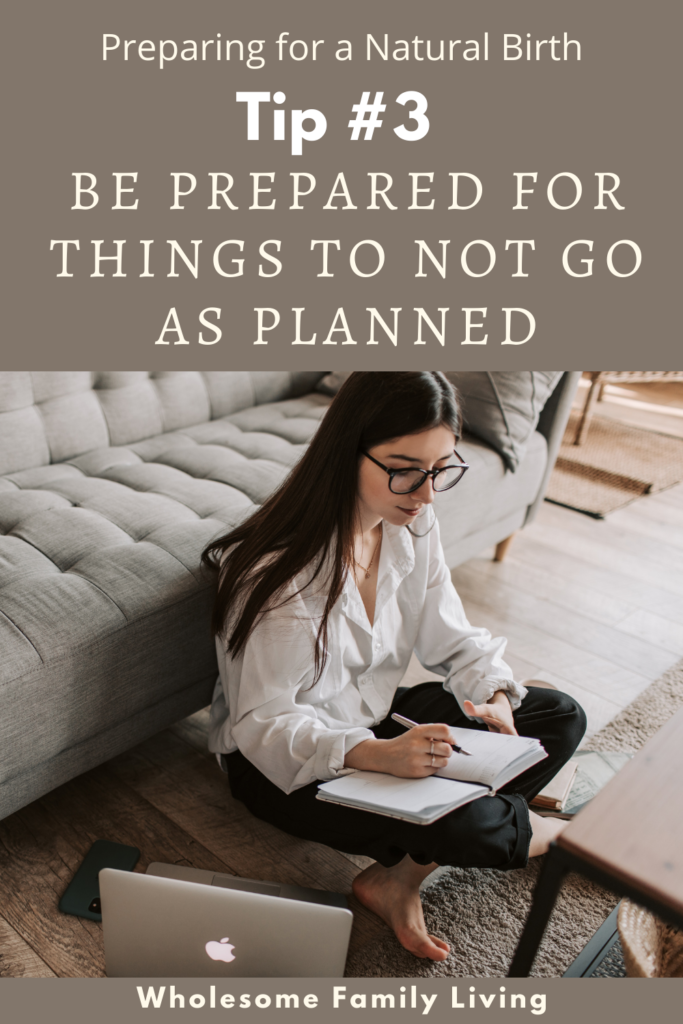 Be Prepared for Things to Not Go As Planned
While I hope that everyone gets the birth experience they want, not every birth goes smoothly and as planned.
In fact, most births don't go as expected!
Now this isn't always a bad thing!
For our second birth, my husband and I had planned for him to get all the last minute things done while I was pacing around our room during contractions like I had done with my first.
Little did we know that our labor was going to be a quick one and he wouldn't have time to get anything on our "last minute to do list" done.
Was I upset that labor went faster than expected??
Absolutely not!!!
But it did go differently than planned!
While you can't talk through every scenario that could happen during your labor and delivery, it is important to talk through some of the big things that could happen.
You don't want to be caught off guard when faced with a decision about getting induced or getting a C-section.
Again, I hope you don't have to have either!
But these are things you want to have thought through and know about before they surprise you.
Things to Prepare For:
Being Induced – when would it be required? What natural things can we try first? What if we don't want to be induced and decline?
C-section – when is it required? Does the hospital have a gentle C-section option? How soon will we be able to breastfeed or do skin to skin with our baby after the procedure?
Pain Relief – what if I decide I need pain relief during labor? What natural options are available? Can I receive something besides an epidural?
Stalled Labor – what happens if things stop progressing? Is there a limit on how long I can labor? Am I able to go home and rest if labor stalls?
Fast Labor – what if labor progresses quickly and we don't think we will make it to the hospital in time or our midwife won't make it to us in time (for a home birth)?
Water Breaks – how long can I labor after my water breaks? What if my water breaks but contractions don't start?
As you can see, you can think through a lot of these scenarios ahead of time to mentally process the different outcomes and to already have the plans in place for what you want to happen.
This will also make sure you and your care provider are on the same page so that there aren't surprises during labor and delivery.
Who To Discuss Your Birth Plan With
So the first step is to talk to your care provider and know what policies they have.
Then talk things over with your spouse and decide what you two want.
If what you two want is different than what your provider told you, discuss what you want with your care provider.
And if your care provider is unwilling or unable to meet your request, perhaps it's time to go back to tip #1 and maybe you need to look for a care provider that can fulfill what you want!
And even if you have things discussed with your care provider, you want to make sure that whoever will be with you during labor also knows what you want.
For most women, this is their husband, but it could also be a mother, sister, friend, or doula.
Talk through what your plan is for different interventions, that way if something comes during labor, your advocate already knows how to speak up for you and can help make sure you have the birth you want.
Trust me, you will not want to be the one doing the talking during labor.
So have your birth team prepped for things that may not go as planned.
This will help you feel confident in your decisions and know what will happen if things go awry.
And once you have the details figured out, then let it go!
You don't want to constantly be focused and stressed about the "what if's".
This is not what you want to dwell on!
You need to focus on what your birth looks like if everything goes RIGHT.
Stay focused on what your dream birth looks like and what it looks like for everything to go smoothly.
This will help you stay positive and upbeat about labor and delivery.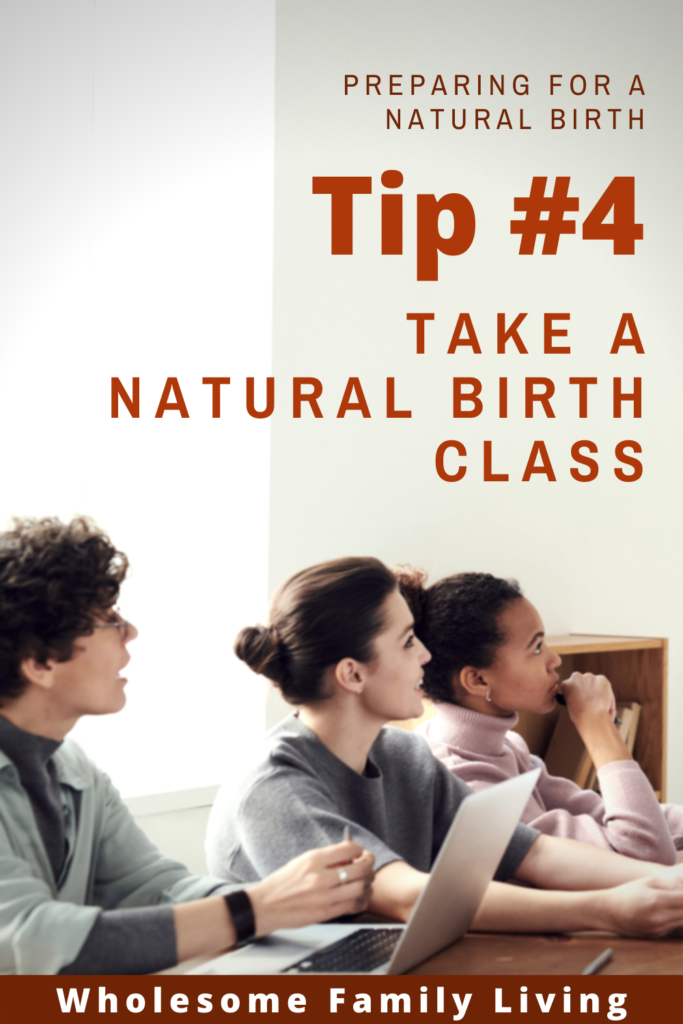 Take a Natural Birth Class
For first time parents, taking a birth class can be really helpful, but best of all is if you can find a class focused on having a NATURAL birth!
I know my husband and I gained a lot of good information from our class on having a natural birth.
They covered a lot of pain management techniques as well as shared information about birth to help us understand what labor and delivery could be like.
Hopefully you can find a natural birth class in your area to go to in person, but if not, there are also online options available!
I haven't personally taken any of the online birth courses, but I love Mama Natural and I know she offers an online course (and no I'm not an affiliate – I just really like Mama Natural!).
Having people talk through different parts of labor and delivery can be helpful for anyone who isn't a book worm.
And if you do enjoy reading, then check out my next couple tips!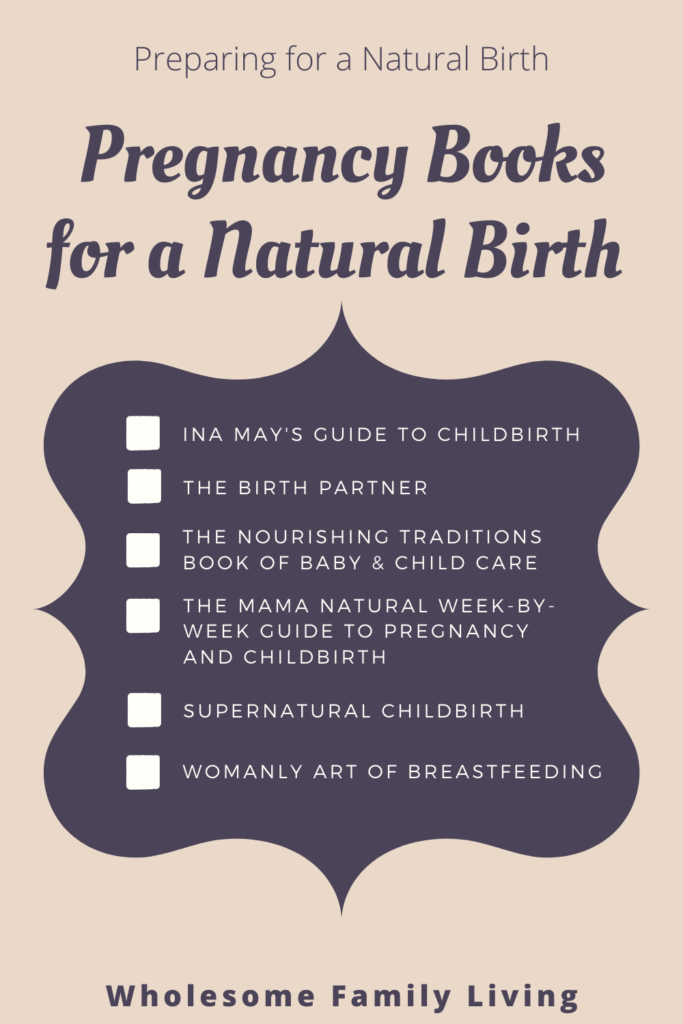 Read Books Supportive of Natural Births
There are so many books about pregnancy and birth that it can be hard to know where to start!
Most birth books are also long, so you want to make sure you are spending your time on a good one!
Let me share with you some of the best books I read through my pregnancies!
Books for Natural Birth Preparation
All of these books helped me in my journey to prepare for a natural birth!
And don't feel like you have to buy them.
A local library should have some if not all of these books available.
And sometimes you can find other moms that would be willing to let you borrow their copy!
Or if you go the midwife route, you could also see if she has a copy you could read!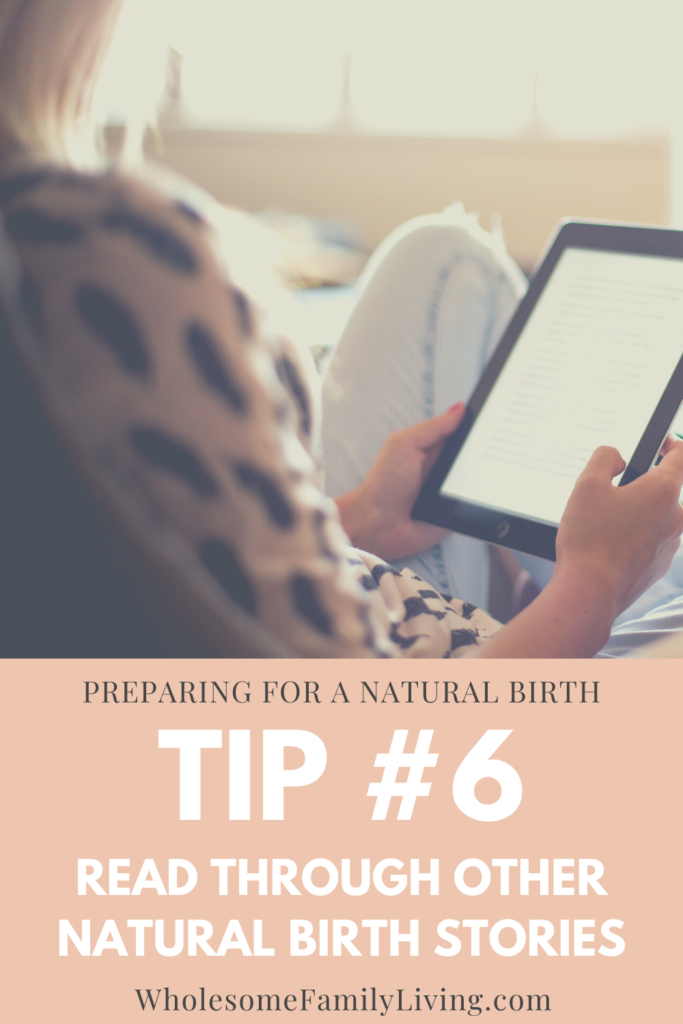 Read through other natural birth stories (preferably positive)
I don't know about you, but reading about how people accomplish amazing things has always inspired me.
And I found that stories about other people's positive natural birth experiences did the same thing.
By reading other natural childbirth stories, I felt confidence building in myself.
I am very strong willed, so as I read these other stories I kept thinking, "if she can do it, then I can do it too".
There are so many amazing stories and even videos of other women having natural births both in a hospital and at home.
And you can even read and watch people's freebirth experiences where they deliver the baby themselves.
These stories can help you get a realistic picture of what birth really looks like (instead of believing what you see in movies).
It also helps your mind think about the different aspects of birth and can help you visualize what your own birth might be like!
If you are interested in reading positive birth stories, you can read my personal natural hospital birth story or check out this lengthy list of other women's stories.
And if you are interested in seeing some footage from actual births, you can check out these natural birth videos!
I would also highly recommend that you look for a Facebook group for home births in your area – usually mom's in those groups have video's of their births that they are willing to share!
Read or Listen to Birth Affirmations
You've probably heard the phrase "mind over matter" and that is especially true in childbirth.
Your mind can help you achieve the natural birth that you desire, but it can also hold you back if you let it.
So how can you make sure that your mind is in the right place for a natural birth?
Well like I mentioned above, facing your fears, being prepared for things to not go as planned, and reading other positive birth stories and natural birth books can all help.
But one more way to help prepare your mind is to read or listen to positive birth affirmations.
I was skeptical of birth affirmations at first.
Like why do I need to listen to these little positive phrases?
Will it really make a difference?
I didn't figure I had much to lose by listening to some, so I found some YouTube videos with birth affirmations and would sporadically listen to them when I was in the mood or while I was doing my birth stretches (more on that in a minute).
But I can honestly say that these affirmations really helped me feel confident and empowered for my births!
So if you are skeptical like I was, give them a try!
You might be surprised at the confidence it builds in yourself!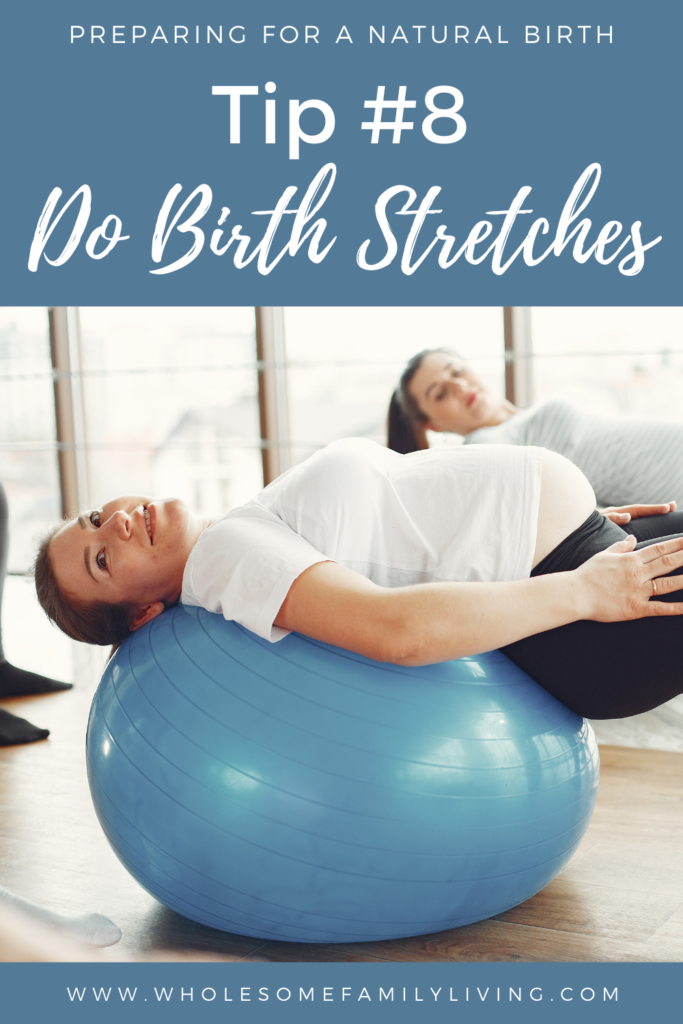 Do Birth Stretches
So far, we have covered all the things you can do to help prepare your mind for birth, but now let's jump into some of the physical things that you can do to get your body ready for birth!
One of those really important things is doing stretches!
By keeping the body loose, you are helping baby get in the right position and helping your body open up for birth.
An added benefit is that these stretches can also help relieve some of your back pain if you have any!
So what stretches can you do?
During both my births, I did some of these yoga stretches to help alleviate back pain and to also keep my body flexible for birth.
Spinning Babies has a great set of daily activities and stretches to help mom's prepare for a natural birth.
During my second pregnancy, I did the spinning babies inversions to help get our baby into a more comfortable position.
There are lots of stretches and yoga positions that you can try.
Find something that works for you and brings you relief!
But I can tell you that no matter what routine you start, doing daily stretches can help alleviate your own pregnancy ailments as well as prepare your body for a natural birth!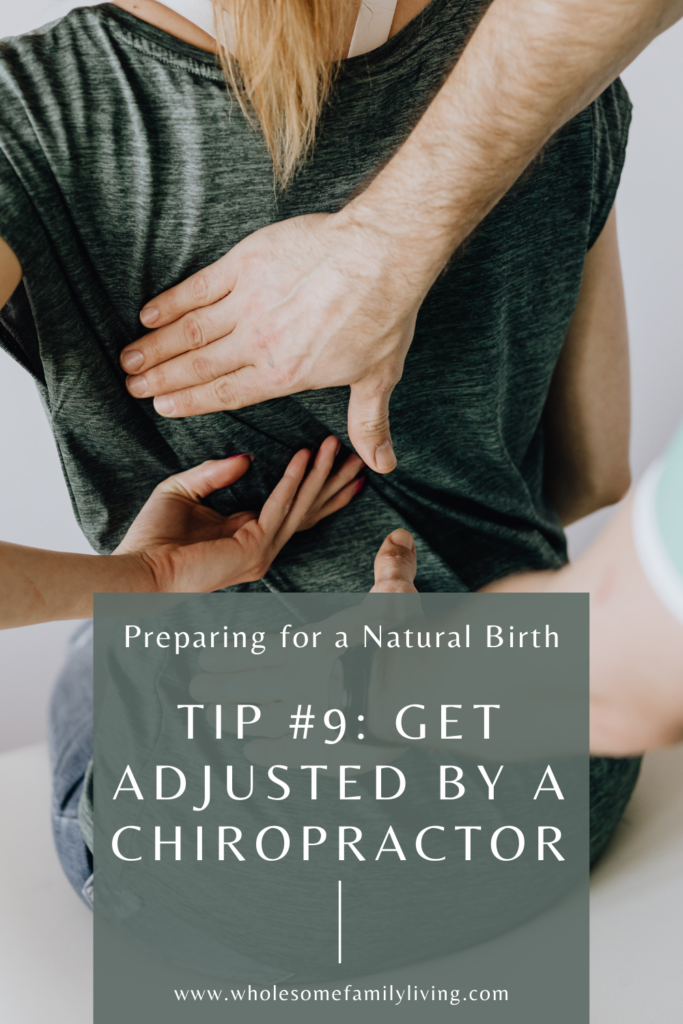 Get Adjusted by a Chiropractor
Did you know that chiropractic care is one of the best things you can do to ensure you have a natural birth?
It's true!
Spinal and pelvic misalignments could contribute to a longer and more difficult labor and delivery!
And did you know that getting adjusted can help flip a breech baby?
Dr. Larry Webster studied this extensively and there is even a technique named after him – the Webster Technique!
What did Dr. Webster discover?
That getting adjusted helps make room in the pelvis for your baby to do what it needs to do.
Including getting into that all important head down position!
Our own midwife told us that she felt that regular chiropractic care was one of the top 3 things a pregnant momma can do to ensure a healthy pregnancy and quick delivery!
There are so many benefits to doing it throughout your pregnancy such as back, neck, and joint pain relief, reduced nausea, and an overall more comfortable pregnancy just to name a few!
So don't wait until you are 9 months pregnant to start up regular chiropractic care.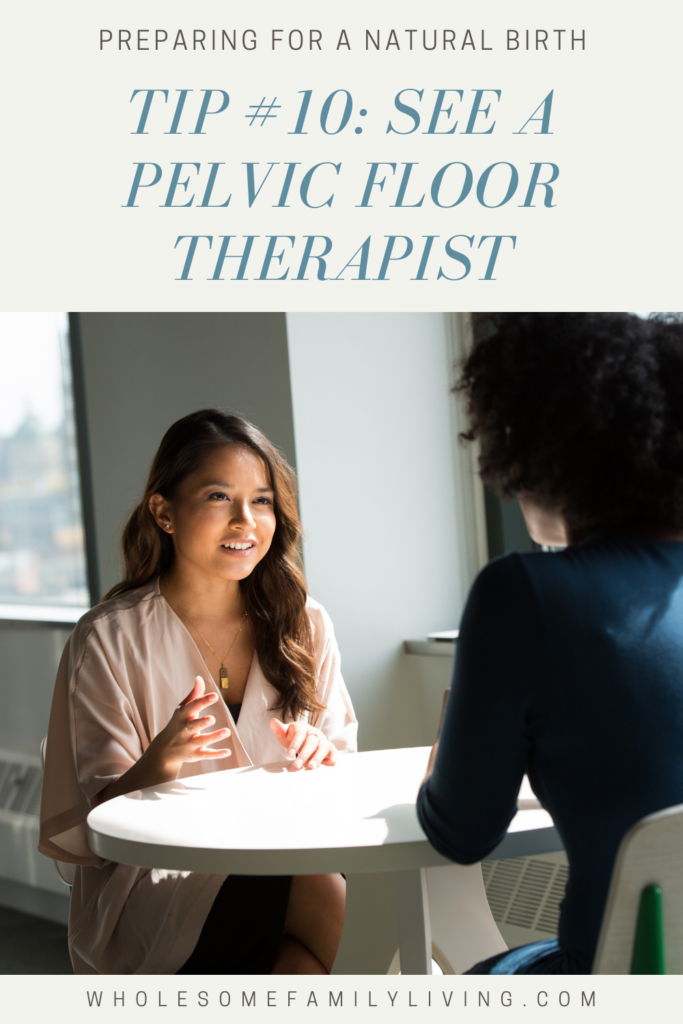 See a Pelvic Floor Therapist
During my second pregnancy, I was trying to reach down and give my toddler a hug when all of the sudden I had a stabbing pain in my stomach.
It left me crying out on the floor in pain!
I told my midwife about what had happened, and she recommended I go see a pelvic floor therapist.
At first, it seemed like an odd recommendation, but I was willing to go so off I went.
I was totally surprised to find out HOW HELPFUL a pelvic floor therapist can be!
Not only did she help identify some exercises to help with the abdominal pain I had, but did a complete evaluation of my pelvis too!
She did a physical review of different movements with my body to find any imbalances in my abdominal and pelvic area.
I found out that my hips were uneven and that I was really tight in my hip area.
Probably from being a runner for so many years.
She gave me so many helpful suggestions, stretches, and exercises to do at home to not only prepare for my natural birth, but also to help my body recover post-birth!
And she recommended that I get a ReCore Fitness Post-Naval FITsplint to help with post-birth recovery and I have loved the extra support it provides!
I would highly recommend that all women, especially if you are pregnant, to visit a pelvic floor therapist!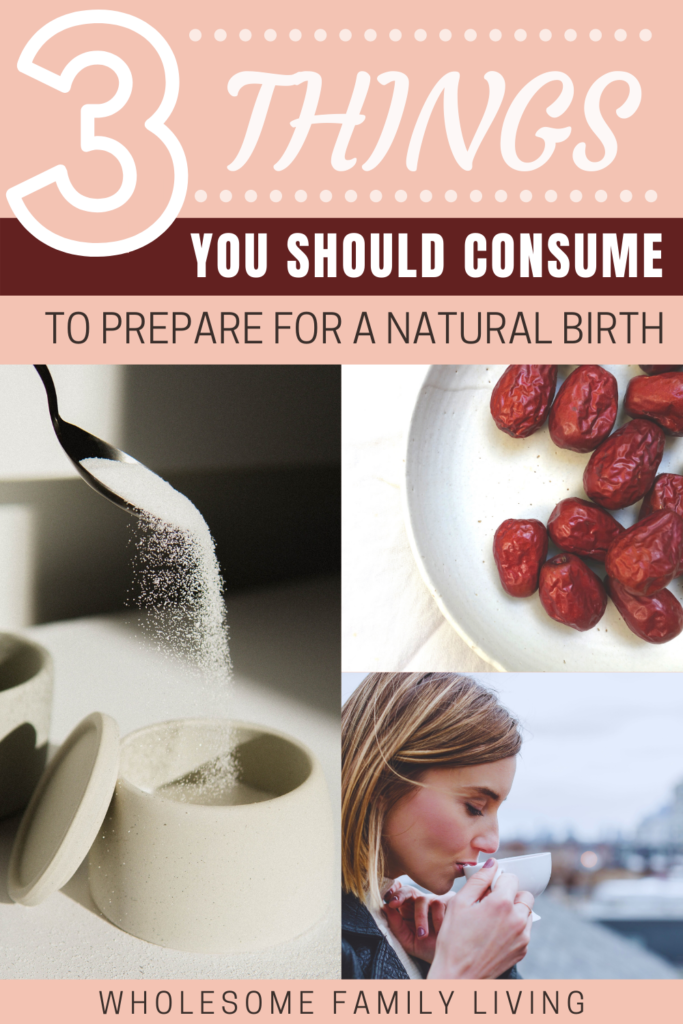 Eat Dates
In my last few tips for how to prepare for a natural birth, I want to share with you a few things you can consume to help with a natural birth!
The first one is eating dates in your last few weeks of pregnancy.
Dates might seem like an odd food to help with labor, but there have actually been studies showing that dates help with labor and delivery!
What effect do dates have on labor?
Dates have been shown to improve dilation, help labor start spontaneously, and shorten the first stage of labor!
You can read more about how dates are beneficial for pregnancy and labor from Mama Natural and from Mama Junction.
So how many dates do you have to eat to reap some of these amazing benefits?
Most sources say to eat around the 70 grams of dates per day starting with the 36th week of your pregnancy.
I try to eat a lower sugar/fructose diet having come from a keto background, so eating that many dates was too sweet for me.
Personally, I ate two Medjool dates a day starting at 36 weeks during my second pregnancy.
Take Vitamin C (or Ascorbic Acid)
You have probably heard that you should take vitamin C when you are sick, but did you know that you should also be taking vitamin C while you are pregnant?
Dr. Frederick R. Klenner, M.D. used his vitamin C protocol in over 300 births.
Not only were the labors quick and the deliveries complication free, but the babies were also very healthy, happy, and free of birth defects!
And he didn't have a single miscarriage!
So how much vitamin C did he have the moms take?
Dr. Klenner had the women take different amounts of ascorbic acid every day depending on how far along their pregnancy was.
Let me share his general protocol!
Dr. Klenner's Daily Vitamin C Protocol
4,000mg per day during the first trimester

6,000mg per day during the second trimester

8,000-10,000mg per day during the third trimester.
And many of these women also got a booster dose of vitamin C during labor.
It is recommended that you spread the dose out throughout the day or at least into several mega doses.
Interestingly, humans are one of the few mammals that cannot make vitamin C from glucose.
So when we look at other mammals during pregnancy, labor, and delivery, their bodies are actually making huge doses of vitamin C!
Another added benefit to vitamin C during pregnancy is that it can also help your baby beyond birth!
This study in Korea showed that vitamin C during pregnancy correlated to increased fetal and baby growth up to 6 months old!
Some literature will say that large doses of vitamin C may cause an abortion, but I highly recommend reading through the information on vitamin C during pregnancy from the Vitamin C Foundation which debunks this idea.
I personally didn't hear about mega dosing with vitamin C until late in my second pregnancy so I was not able to fully follow Dr. Klenner's protocol, but I did start adding ascorbic acid to my diet right away!
I slowly worked my way up to 10 grams daily before delivery and I also took a mega dose during labor by mixing 10 grams of ascorbic acid into one quart of water with some electrolytes!
And if you are wondering what kind of vitamin C to get, the Quali-C ascorbic acid from Doctor's Best is sourced from Scotland and regarded as some of the best you can buy!
For more information, I highly suggest joining the Vitamin C Therapy During Pregnancy, Birth, and Baby group on Facebook!
Drink Red Raspberry Leaf Tea
If you haven't heard of red raspberry leaf tea, this lightly flavored herbal tea is a wonderful tea for women!
Red raspberry leaf tea can help not only pregnant women, but also women with PMS symptoms as well!
But for pregnant mamas, red raspberry leaf helps tone the uterine wall which can help prepare your body for contractions, help reduce pain in labor, help reduce labor time, help strengthen the amniotic sac, and help balance postpartum hormones!
You might be wondering, how much tea should you drink?
During your first trimester, it's not recommended that you drink more than 1 cup per day.
And you want to monitor if you have any uterine contractions and stop use immediately if you do.
Once you get to the third trimester though, you can increase your consumption to two or three cups a day.
During my first pregnancy, I was pretty inconsistent in drinking it since I was still working full time.
But during my second pregnancy, I drank one cup per day on and off throughout my second trimester.
And once I got to the third trimester, I tried to make sure I drank my tea every day!
I would brew 2 tea bags in a quart of water and sip on it throughout the day.
So if you enjoy tea, make sure you treat yourself to this pregnancy and labor friendly tea!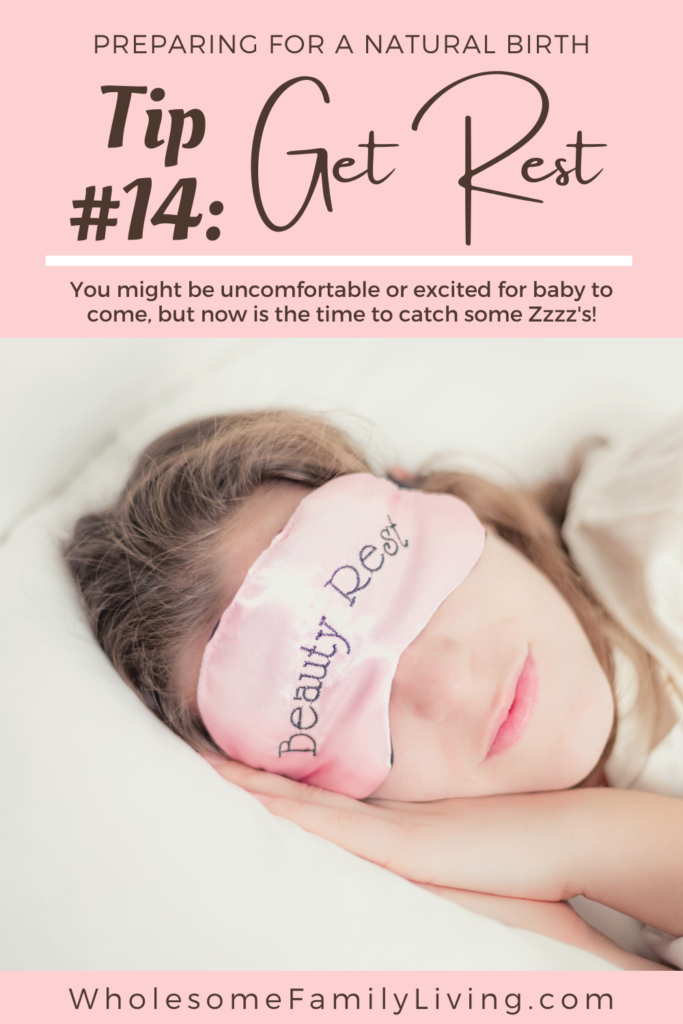 Get Rest
And last, but not least, my last tip to prepare for a natural birth is to GET SOME REST!!
As you near the end of your pregnancy, you might be excited about baby coming.
Or you might be uncomfortable and unable to sleep!
But now is the time to focus on getting rest.
Once you go into labor, you are going to need your strength and energy!
During my first pregnancy, I was so excited for our baby girl to come that when I thought my contractions were starting at 1am, I got up and started walking around our basement to try to get things going.
How I wish I had just stayed in bed and gotten a few last winks of sleep!
Fast forward to our second pregnancy and starting at 38 weeks, I prioritized my sleep!
Even though I had trouble staying asleep, instead of getting up at 2am to surf on my phone, I forced myself to stay in bed and at least REST!
So instead of being worried that I wasn't asleep, I used that time to pray over our upcoming labor and delivery.
And of course, spent time wondering if we were having a boy or a girl (since we decided not to find out the second time around!).
But I wouldn't allow myself to get up until I had physically been in bed for 8 hours!
I truly feel like that was a gift to my body and our baby!
So get your rest while you can so that your body and baby are ready for labor and delivery!
And to also help you through those early sleepless nights!
I know you can't bank sleep, but it certainly does help!
Now Go Rock Your Birth!
And those are the 14 things that helped me the most to prepare for my natural birth!
I hope that this post not only helps you prepare for the natural birth you want, but also helps you feel empowered that YOU are in charge!
Fight for the birth that you want and don't be bullied by medical providers, family, friends, or fears!
You got this!
Is there anything else you did to prepare for your natural birth?
Have you heard of anything else that is rumored to help prepare you for a natural birth?
If so, let me know by leaving a comment below!