This post may contain Amazon or other affiliate links. As an Amazon Associate I earn from qualifying purchases.
There's not a month that goes by where our family doesn't enjoy this easy homemade taco meat recipe!
This recipe has full-bodied authentic Mexican taste with just enough spiciness to not give you heart burn later!
This recipe is also great for parties.
I have hosted many Mexican Fiestas at our house since there are so many great sides and toppings that you can set out (see below for suggestions!).
Whether you are making this for your family or a large party, everyone will enjoy this easy homemade taco meat!
The Secret to Making the Best Homemade Taco Meat
This recipe is very straight forward. However, my one word of advice would be to add the seasoning to the meat while it is still cooking.
Some people say to brown the meat first, but the flavor comes out so much better if you don't wait.
So go ahead and throw the seasoning in with the meat while it's cooking.
And don't get all particular about making sure that the teaspoons are perfectly leveled off before adding.
This recipe doesn't have to be followed THAT closely.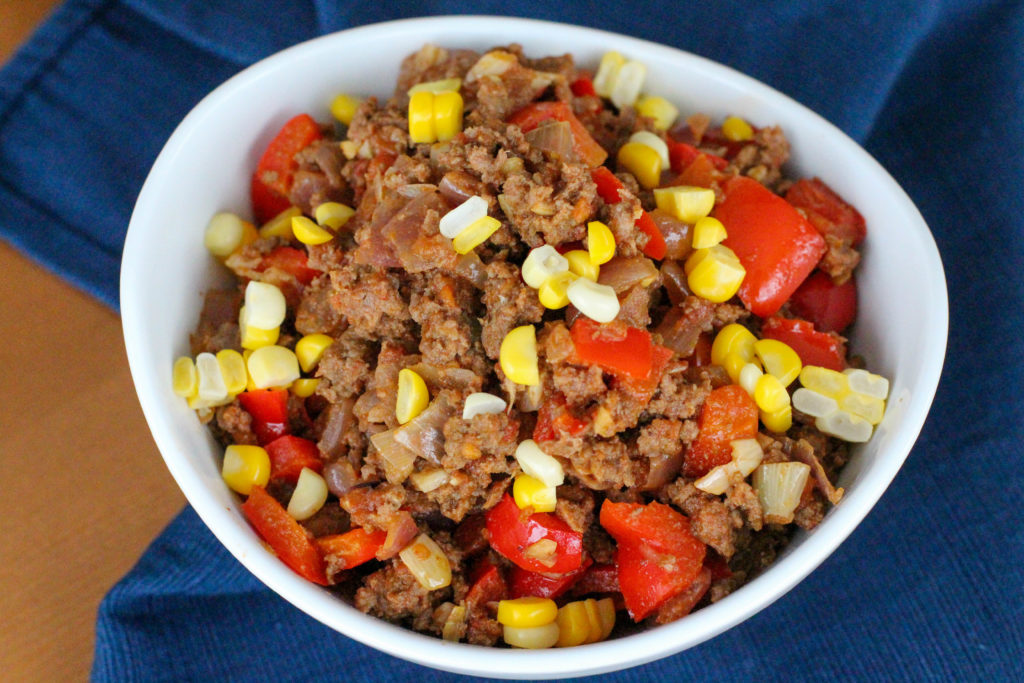 When Should You Drain Taco Meat?
So I actually don't drain my taco meat since I season the meat while it's cooking.
I don't want to drain off all of my spices.
Plus with my keto heritage, why would I throw out the best part – the fat!
What do I do with the extra liquid then?
Honestly I eat a lot of taco salads, and that seasoned, liquidy part makes a great salad dressing.
You could also buy meat that's more 90/10, and then the grease is so minimal, there's really nothing to drain!
Alternatively, you could throw in a tablespoon of arrowroot flour to help thicken the taco meat so that there's nothing to drain off.
All that being said, if you are still convinced that you want to drain your taco meat, then I would brown the meat first, drain the fat off, and then add the seasoning.
But hopefully I have convinced you not to do that 😉
How Long Does Taco Meat Last in the Fridge and Freezer?
According to the USDA, if ground beef is stored promptly after cooking (within 2 hours), it will safely keep in the fridge for 3 to 4 days.
But the FABULOUS thing about taco meat is that it freezes REALLY well.
You can literally take this meat and put it in freezer rated bags or in glass containers, label and date it and toss it in the freezer.
When you are ready to use it, pull it out the night before and you will have a fiesta ready to happen in your fridge the next day!
But now I'm sure you are wondering – how long does taco meat last in the freezer?
Again, using the USDA website, cooked ground beef will keep its QUALITY in the freezer for 4 months.
Notice this time they said "quality" and not "safety".
Ensuring that your freezer has stayed at or below 0 degrees, frozen ground beef will stay safe indefinitely.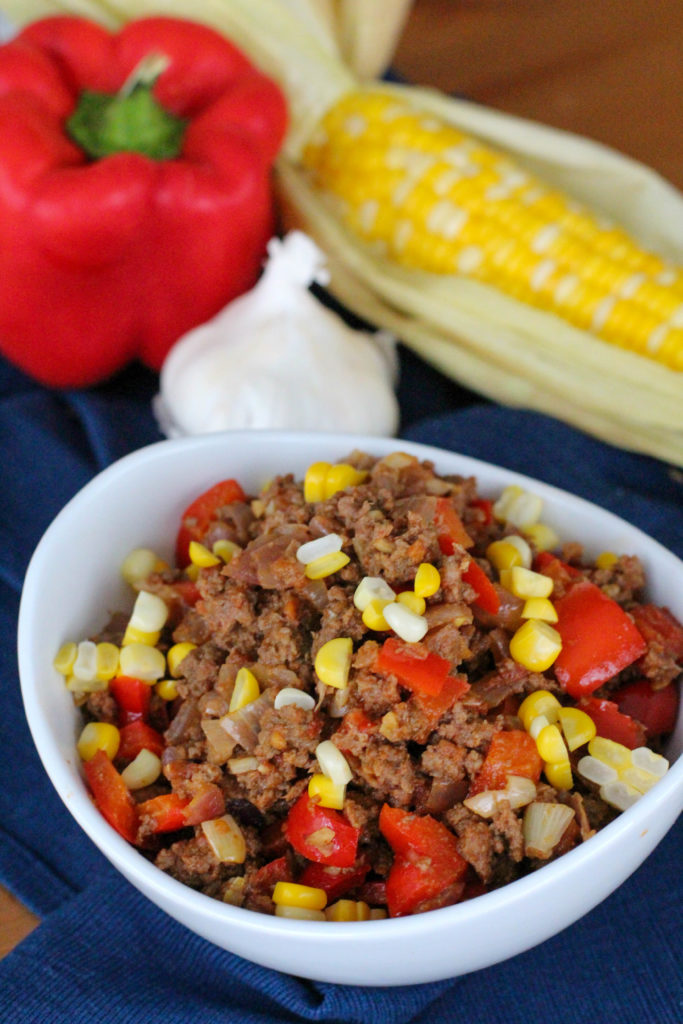 What to Serve Taco Meat on for Keto?
My go-to for low-carb tacos is romaine boats.
I find these to be the most similar replacement for taco shells, but I know that a lot of folks have a hard time keeping all of their toppings in the boat.
In that case, just serving taco meat on a bed of lettuce or even spinach is a good way to enjoy Mexican flavors without the carbs.
Or if you can spare 7g of carbs, check out the Siete brand shells mentioned in the next section (I know that is a lot of carbs for strict keto, but if you are doing lazy keto this could work for you). They have about half the carbs that a normal taco shell has.
For a replacement to make low-carb nachos, I recommend using pork rinds like you would chips! Pour them out over a plate and spread out your taco meat and other Mexican sides. YUM!
What to Serve Taco Meat on for Paleo?
If you aren't looking for low-carb options but just gluten free options, then let me tell you about the Siete brand!
Siete shells are gluten-free and grain-free.
Check out the ingredient list: Cassava Flour, Avocado Oil, Pumpkin Seed Meal, Pumpkin Powder, Sea Salt, Psyllium Powder.
Clean, simple ingredient list and they are a great taco shell!
You can see them in the picture below!
And what about nachos?? The Siete brand also makes chips!
Once again, a pretty simple ingredient list for their sea salt chips: Cassava Flour, Avocado Oil, Coconut Flour, Ground Chia Seed, Sea Salt
Their chips are a great option to make taco meat nachos or just to dip in salsa, guacamole, and 7 layer taco dip!
I recently found these chips at Costco for a really good price, and it appears as though Kroger stores are carrying these now as well!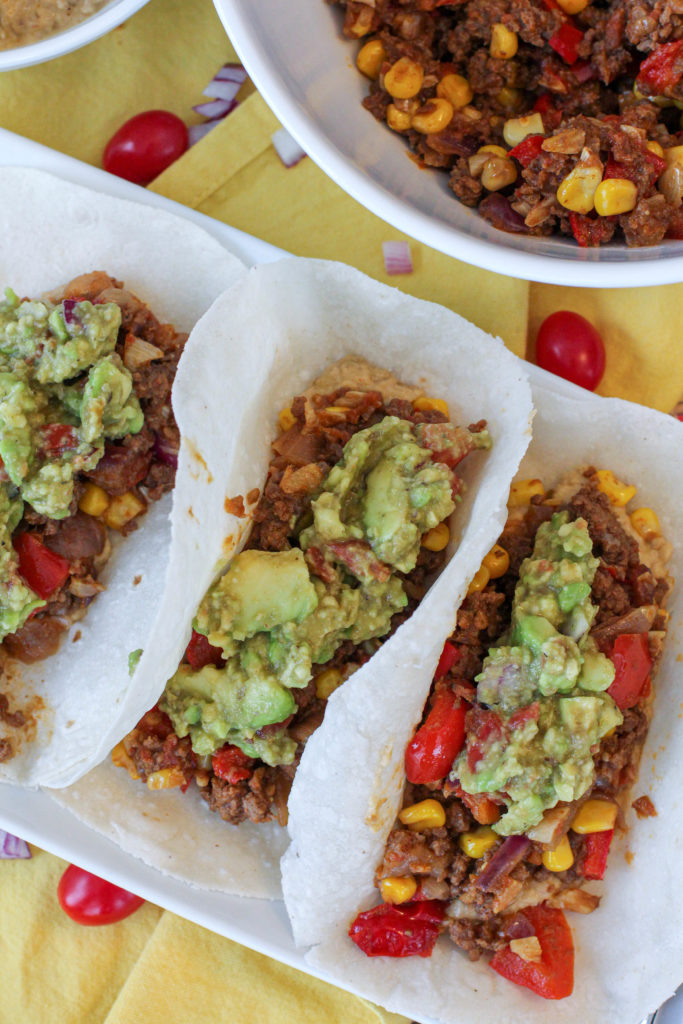 Suggested Sides and Toppings
So great! Now you have made up authentic taco meat from your homemade taco seasoning, but Mexican food is also known for its many great tasting sides!
I mean, think of how plates, let alone sides, come out to the table when you order fajitas at a Mexican restaurant!
There's a lot of options to pile on that shell or salad!!
In the true spirit of trying to buy less pre-packaged foods, I try to make a lot of those sides myself and I have included links to other authentic Mexican sides, but I also understand wanting the convenience of buying salsa and guacamole off the shelf to save time on a weekday night. Luckily, there are great organic options out there now for sides!
So here's my go-to list of potential sides and toppings for Mexican food night!
Sides:
Homemade Guacamole

(pictured below)

Queso Blanco 

or shredded Mexican cheese (omit for dairy-free)

 
Toppings:
Shredded lettuce

or spinach

Sour cream (omit for dairy-free)

 

Fresh diced tomato

 

Chopped black olives

 

Fresh lime juice

 

Fresh chopped cilantro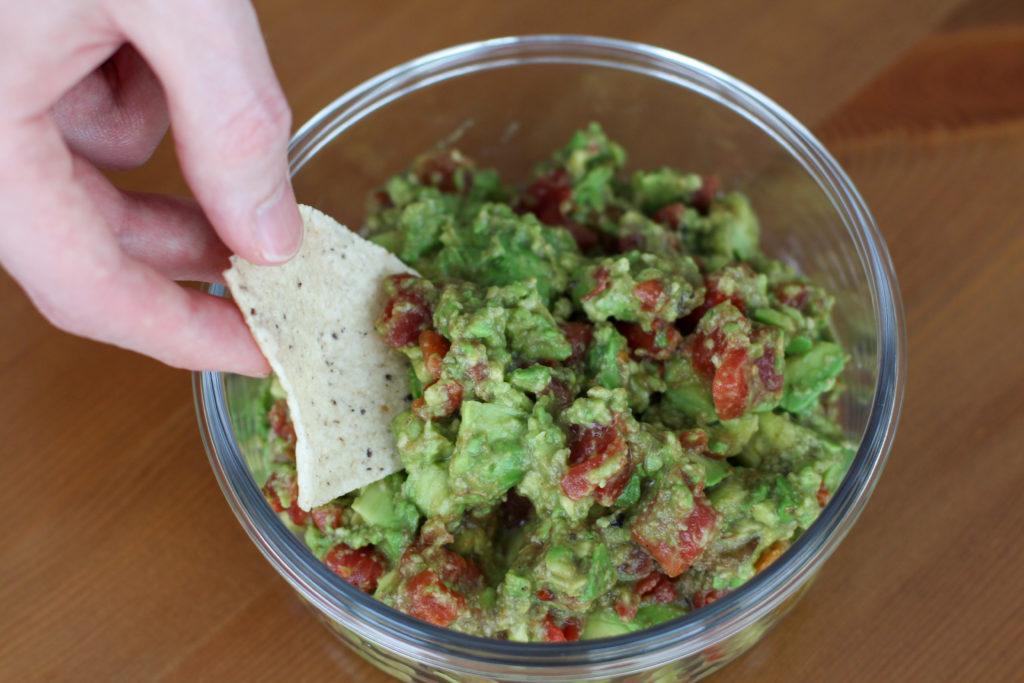 How Much Taco Meat to Make For A Party?
Authentic Mexican food tends to be a popular party food theme.
Why?
Because almost everyone will eat Mexican food and it's easy for the host to make!
The real question is, how much taco meat should you make for a party of say 10? 20?
My rule of thumb when planning almost any party is to prepare a 1/4 pound of meat per person. Some will eat more and some will eat less, so this tends to work well for me.
Now only you can know the people that are coming – are you feeding a high school football team? You probably want 1/3 pound of meat for those hungry high school boys!
Are you preparing a Mexican fiesta for a 6-year-old birthday party? You could probably get away with feeding 6 kids with one pound of taco meat.
Only you know your exact crew that's coming, but for a party of adults, I use 1/4 pound of meat per person, and I always round up (because I want leftovers too!).
So how much taco meat would you make for a party of 10? I would make 3 pounds of taco meat.
Are you having a party of 20? I would make 5 pound of taco meat. Okay, I would probably make 3 pounds of taco meat and 2 pounds of chicken fajitas, that way there's a beef and chicken option, but that's just me.
Looking for ideas on what else to include for a larger Mexican fiesta party?
Other hearty Mexican dishes: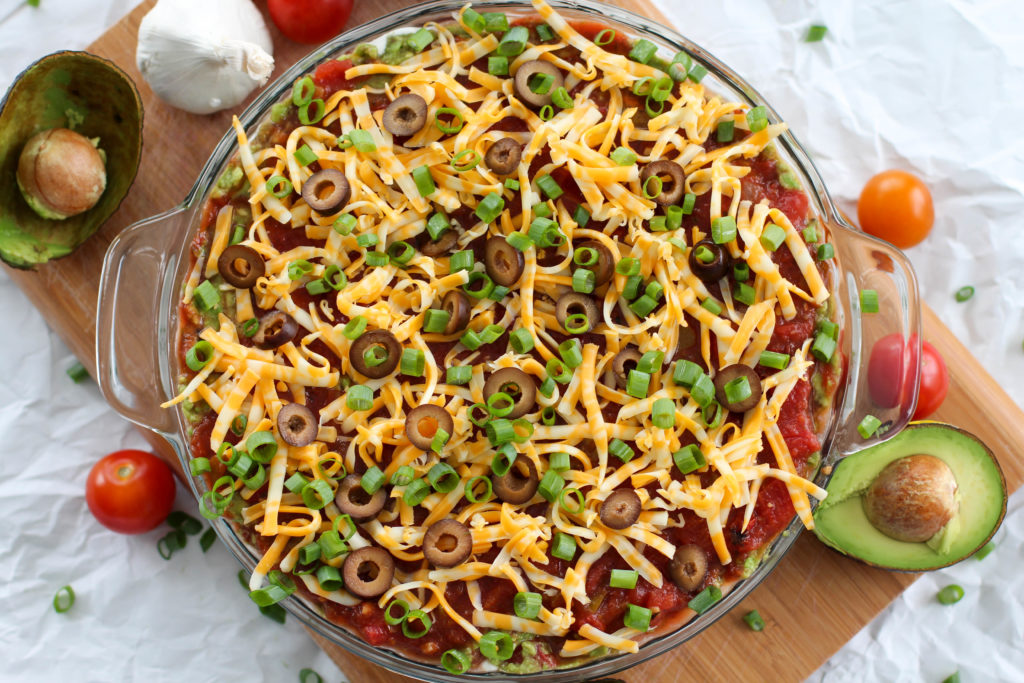 Easy Homemade Taco Meat
Difficulty Level: Easy 
Prep Time: 10 minutes
Cook Time: 10 minutes
Servings: 8
Ingredients:
A double batch of homemade taco seasoning

or 6 Tablespoons of seasoning if you have it premixed in a jar

Onion Substitution: Substitute the onion powder above for 1 onion

 

Garlic Substitution: Substitute the garlic powder above for 3 garlic cloves

 

1 Tablespoon butter or avocado oil (for paleo)

2 pounds of ground beef, chicken, or turkey

 

1 bell pepper

1 cup frozen corn (omit for keto and paleo)

 
Directions:
Peel, crush, and chop the garlic cloves. Set aside for 10 minutes (why? read here).
Dice the onion and add it to a pot with the butter (or avocado oil). Saute over medium-low heat for 5 minutes or until soft and fragrant.
Add the meat and the remaining seasoning, adding the garlic once it has sat for 10 minutes.
While the meat is cooking, dice the bell pepper.

Once meat is thoroughly cooked, add the bell pepper and corn and cook for 5 more minutes or until the vegetables have softened.

 

Serve with your favorite Mexican toppings, sides, and shells (see above for suggestions).
Storage:
Personally, I store taco meat in the fridge up to 5 days, but as mentioned above, the true recommended amount of time is 3-4 days in the fridge.
That being said, the reason I normally make so much taco meat is because it freezes REALLY well. Store taco meat in an airtight container or freezer bag and freeze up to 6 months for best freshness. Taco meat frozen at 0 degrees and below can be kept indefinitely at that temperature, but you may notice a decrease in quality.