This post may contain Amazon or other affiliate links. As an Amazon Associate I earn from qualifying purchases.
Are you searching for a non-toxic baby diaper and wipe brand to keep your baby's bum as safe as possible?
If so, you are in the right place!
As I'm sure most parents are aware, there are two routes that you can take for diapers and wipes.
You can go the disposable diaper route or the cloth diaper route.
Let me offer you some suggestions for both disposable and cloth diapers since our family uses a blend of the two!
How do we use both?
At home, we use cloth diapers, and when we are traveling, we use disposable.
This is what works best for our family, but it may not be the best choice for yours!
Remember – do what's best for your family and whatever is going to keep you sane!!
All that being said, let's take a look at what brands make non-toxic baby diaper and wipe options.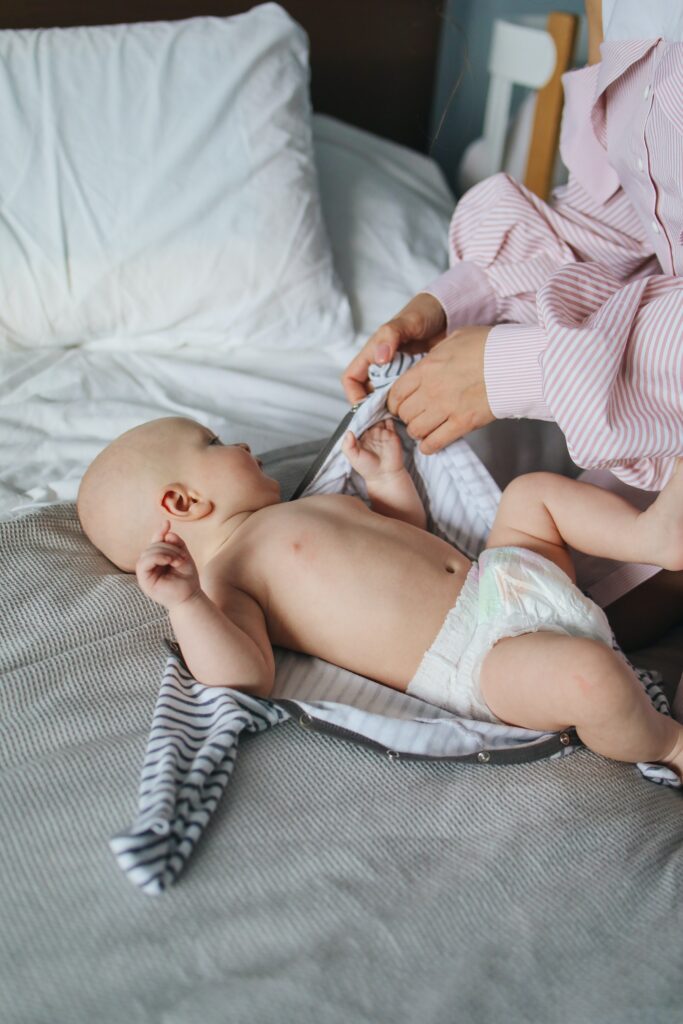 Non-Toxic Disposable Diaper Options
Let's face it, your baby is going to spend A LOT of time wearing diapers.
Diapers also come in contact with some pretty delicate places.
So it's concerning when you hear about disposable diapers containing fragrances, chlorine, dyes, phthalates, and more.
YIKES!
I don't want that stuff on my precious baby's skin!
Luckily I'm not the only concerned parent, and companies are starting to listen to our concerns!
There has been a recent trend of more companies trying to create greener, safer, non-toxic baby diapers!
So let's take a look at the best non-toxic disposable diaper options.
Non-Toxic Baby Diaper Brands
Andy Pandy
Bambo Nature
Dyper
Earth + Eden
ECO BOOM
Eco by Naty
Honest Company
Seventh Generation Free & Clear
Below is a quick summary of each of these brands along with links to their diapers if you want to do some further reading on their product pages!
This list is in alphabetical order and is not meant to be a ranking of any sort.
Andy Pandy
Right on the front of their packaging, Andy Pandy advertises that their diapers contain no perfumes, lotions, alcohol, preservatives, latex, PVC, TBT, antioxidants, phthalates, or chlorine.
Whew!
That's a pretty impressive list!
Their diapers have a 100% bamboo fiber top sheet and contain a natural aloe liner to nourish your baby's skin.
Andy Pandy manufactures their diapers in China.
Check out Andy Pandy for a non-toxic baby diaper option!
Eco Friendly Premium Bamboo Disposable Diapers by Andy Pandy
BAMBO Nature
While they aren't the cutest diaper on this list, Bambo Nature diapers are produced about as eco-friendly and cleanly as they come.
Their diapers have earned the Danish Asthma/Allergy certification, the Nordic Swan Ecolabel, and are FSC-certified.
Bambo Nature diapers are phthalate-free (a rarity even in this list of non-toxic options), perfume-free, and free of all known allergens or substances that are classified as locally irritating, sensitizing, carcinogenic, or mutagenic.
Bambo Nature manufactures their diapers in Denmark.
Personally, these are the diapers that we use for our child when not in cloth diapers.
Some consumers have complained that Bambo diapers aren't absorbent enough for their baby, but we've never had a problem!
We love our non-toxic baby Bambo Nature diapers!
Bambo Nature Eco Friendly Baby Diapers Classic for Sensitive Skin, Size 1
Dyper
Dyper diapers (try saying that 5 times fast!) are made with top and back sheets that are produced from responsibly sourced, renewable viscose bamboo fibers.
Their diapers contain no latex, alcohol, perfumes, chlorine, PVC, lotions, TBT, phthalates, and have no prints (meaning they are plain white).
So again, not your cutest diaper choice, but your baby is probably better for it!
Dyper diapers are Standard 100 certified from OKEO TEX, which means that every part of the product has been tested for numerous regulated and non-regulated substances that may be harmful to our health.
Dyper manufactures their diapers in China.
One thing to note is that their diapers come in NB, small, medium, large, and XL sizes, so check their charts to see which size your baby would need.
Dyper is a great choice for a non-toxic baby diaper option!
Dyper Responsibly Sourced Bamboo Baby Diapers | Small
Earth + Eden
Full transparency here folks, these diapers are an Amazon exclusive line that are meant to take on greener diaper companies, like the Honest company.
So if you like to avoid big companies, these diapers are probably not the right choice for you.
However, if you are looking for a cleaner diaper label at a more affordable cost, these diapers could be perfect for you!
Earth + Eden manufactures their diapers in Pennsylvania and Georgia.
Their diapers sport a label that says they are made with SFI certified sustainably sourced fluff, printed with non-toxic, water-based inks, and even produced in a zero waste to landfill facility (keep in mind that this could mean they are sending all of their waste to an incinerator – just a side note).
Earth + Eden diapers also contain no lotions, parabens, fragrances, latex, or chlorine bleach.
For parents looking for a cheaper non-toxic baby diaper option, check out Earth & Eden!
Earth + Eden Baby Diapers, Size 1
ECO BOOM
ECO BOOM diapers are made with biodegradable bamboo fibers for both the top and bottom sheets.
They also use total chlorine-free pulp and exclude fluorescent agent from the adhesive in the glue (who even knew that as parents we should have to watch out for this type of thing?!).
Their diapers are free from chlorine, alcohol, phthalates, antioxidants, latex, PVC, TBT, perfumes, and lotions.
ECO BOOM manufactures their diapers in China (their reasoning being that China has the top bamboo material).
One thing to note is that they use the unconventional sizes like the Dyper brand – small, medium, large, and XL.
They recommend picking the size based on the weight of your baby and have charts available online.
Try ECO BOOM for another great non-toxic baby diaper!
ECO BOOM Eco Friendly Nappies for Babies Size S 
Eco by Naty
Are you ready for this?
I'm not sure you are…
Eco by Naty has 0% oil plastics in their diapers!
WHOA!
Instead, Eco by Naty uses polyethylene from plant-based sources.
Eco by Naty diapers also have a number of other impressive labels including that they are the only diaper that is "OK biobased" certified by TUV Austria, certified vegan, OKEO-TEX Standard 100 certified, and use FSC certified materials.
This means these diapers are pretty much 100% toxin free – no fragrances, perfumes, chlorine, bleach, latex, lotions, or heavy metals in these diapers!
Eco by Naty manufactures their diapers in Turkey (along with their wipes – we'll get to those in a minute).
So if you want the hands down, most eco-friendly, non-toxic baby diaper on the market, this is it!
Honest Company
Now if you are looking for a cute, but also decent non-toxic diaper option for your baby, look no further than the Honest Company.
Honest Company diapers are made without latex, chlorine processing, fragrances, or lotions.
Their website says that all of their diapers use a bio-based core of sustainably-harvested fluff pulp and plant-derived materials.
All Honest company products are made without over 2500 chemicals/materials that they have on their "NO List".
Honest company manufactures their diapers in Mexico.
The Honest Company is a more well known company that has a safe, non-toxic baby diaper option!
The Honest Company Diapers with TrueAbsorb Technology
Seventh Generation Free & Clear
The first thing to note on the Seventh Generation diapers is the "free & clear" part.
If you are using Seventh Generation diapers, keep your diapers less toxic by choosing the "free & clear" variety!!
These diapers contain no chlorine bleaching, no lotions, and no fragrances.
Their Free & Clear diapers are made with FSC certified wood fluff pulp.
Seventh Generation Free & Clear diapers sizes Newborn to 2 also have a special soft-quilted liner made with unbleached cotton.
They also boast on their website that their Free & Clear diapers are the first and only diaper to be USDA certified biobased 30% (but keep in mind that some of the companies on this list are not US based and therefore would not seek USDA certification).
Seventh Generation is a little vague about where their diapers are actually manufactured, stating that their facilities are primarily located in North America, but some products are also made in Europe.
Check out Seventh Generation Free & Clear diapers for a cheaper green option for a non-toxic baby diaper!
Seventh Generation Free & Clear Diapers – Size 1

Non-Toxic Disposable Wipe Options
Now on to the best non-toxic wipe options to go along with your non-toxic baby diapers!
You might be thinking – what could possibly be in wipes that I need to worry about which brand I'm buying?
Just like diapers, wipes can contain a myriad of chemicals such as phthalates, parabens, fragrances, and possible carcinogens.
Does this blow your mind like it does mine?
Can't we just use water?? (more on that under the section on cloth wipes)
What's super cool about baby wipes is that the Environmental Working Group (EWG) has analyzed all of the baby wipe labels for us to make it easier to quickly see which wipes are safe and which ones contain more questionable ingredients.
If you have never used the EWG website before, the lower the number, the less "toxic" the product.
You can also click on each product to see an expanded view of the ingredients and the rating for each individual ingredient.
It's a really cool database (especially if you like to nerd out over numbers and ratings).
I have linked each brand to their EWG rating page so that you can look at the ingredient list yourself, and each image will take you to the correct product listing on Amazon (although other stores sell these brands if you aren't a big fan of Amazon!).
Just be careful as some wipe brands have multiple varieties, and most of the time just one of their offerings is well ranked by the EWG.
If more than one type of a brand was EWG verified, I have included them both!
So what are some of the highest ranking baby wipes out there that you can also reasonably find and afford?
EWG Verified Baby Wipe Brands
| | | | | | |
| --- | --- | --- | --- | --- | --- |
| Brand Name | Product Image | Approximate Cost | Material | Biodegradable? | Brand Notes |
| Attitude Little Ones | | $0.04/count | Sustainable cellulose fibers | Yes | Free from phenoxyethanol, parabens, alcohol, phthalates, fragrances, and chlorine. |
| Attitude Sensitive Skin All Natural Baby Wipes | | $0.15/count | Sustainable cellulose fibers | Yes | Free from phenoxyethanol, parabens, SLS/SLES, formaldehyde, phthalates, fragrances, and chlorine. |
| BETS & EMY Baby Wipes | | Currently Unavailable | Viscose/Poly blend | No | Free from fragrances, oils, alcohols, parabens, phenoxyethanol, sodium benzoate, and methylisothiazolinone. |
| Niki's Natural Baby Wipes | | $0.11/count | Ethically sourced cloth from wood pulp | Yes | Free from fragrances, phenoxyethanol, parabens, alcohol, phenoxyethanol, petrochemicals, formaldehyde, and phenols. |
| Offspring Plant-Based Baby Wipes | | $0.06/count | Natural plant-cellulose cloths from sustainably harvested plants | Yes | Free from chemicals and plastics. Seals of approval from the following testing agencies: Dermatest, Australian-Allergy Safe, Toxic-free Foundation, and PETA Cruelty Free. |
| Mustela Unscented Baby Wipes | | $0.11/count | ? | Yes | Free from fragrances, alcohol, parabens, phthalates, and phenoxyethanol. |
| Mustela Cleansing Wipes with Olive Oil | | $0.12/count | ? | Yes | Free from fragrances, alcohol, parabens, phthalates, and phenoxyethanol. Contains cold-pressed Virgin Olive Oil sourced from France. |
| Doctor Butler's Organic Soothing Baby Wipes | | $0.16/count | Organic Bamboo | Yes | Free from petrochemicals, chlorine, chemicals, alcohol, phthalates, formadehyde carriers, parabens, phenols, quaternary ammonium compounds, SLS, lanolin, or preservatives. |
| Pipette Baby Wipes | | $0.06/count | 100% plant based cloth fibers | No – they say that due to FTC guidelines,  wipe companies can't make a biodegradable claim | Free from over 2,000 potentially toxic and irritating ingredients that Pipette does not use in any of their formulas. Contains sugar-cane derived squalane, a stable version of squalene which is a component of babies' protective vernix at birth. |
| Natracare Organic Cotton Baby Wipes | | $0.10/count | Organic Cotton | Yes | Free from alcohol, SLS, parabens, MIT, GMO's. |
A Note About the EWG List:
This list only includes the "best of the best" from the EWG website – meaning that all of these brands are EWG verified to be non-toxic for your baby.
There are tons of other great baby wipe brands on the EWG website that have also received low ratings of a 1 or 2.
And some of the organic brands have higher ratings just because of little things such as an orange oil that has a 5 rating (but is probably fine).
So don't worry if you don't see a brand on here that you currently use.
I would suggest going and looking up that brand in the EWG database yourself and then deciding if a switch is needed or not!
But for first-time parents, the above chart shows you the "best of the best" wipe options available for your baby that can be purchased online!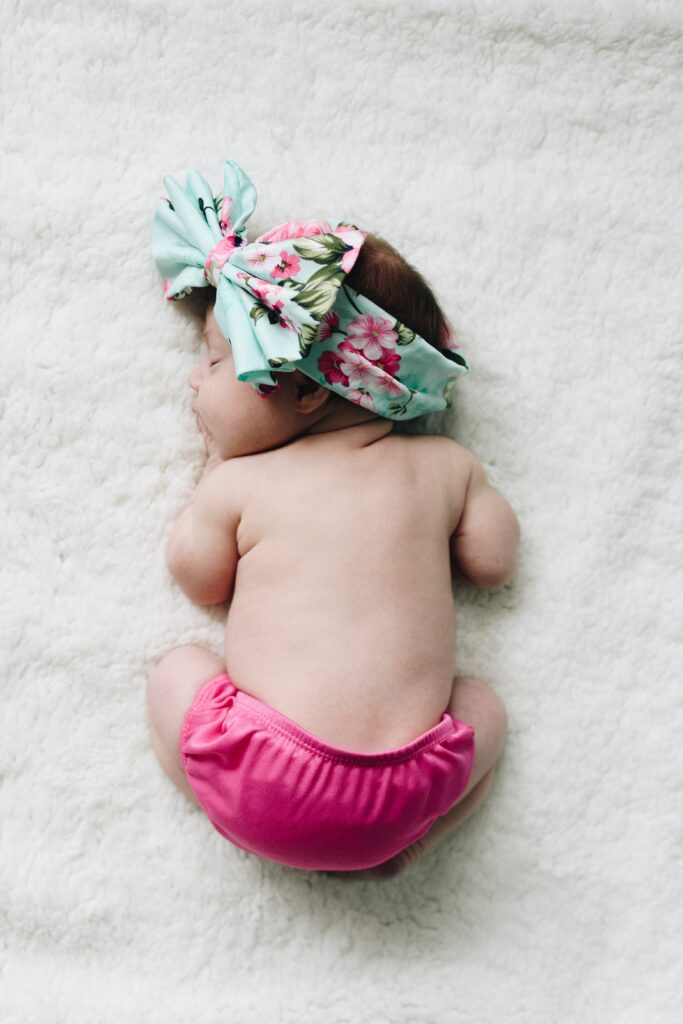 Non-Toxic Cloth Diapers
And disposable diapers and wipes are not your only option!
What's super cool is that there are TONS of cloth diapers to choose from these days!
Cloth diapers come in every shape – from a large piece of fabric that you fold into shape, to cloth diapers that are shaped and work just like disposable options, to everything in between.
You just have to decide what is going to work best for you!
I think a lot of parents are turned off by cloth diapers because "you have to deal with poop"!
But in all honesty it's really not that bad.
I mean, wiping up your baby's bottom is probably the messiest part of it all and EVERY parent has to do that regardless of using cloth or disposable diapers!
Plus, there are some options below where you just take off the whole diaper, throw the poop in the toilet, and put the diaper in a bag to be washed.
It's pretty easy-peasy.
I'm not going to go into all of the details here about how to buy, use, and wash cloth diapers, but let me share with you a couple different types of cloth diapers and a few brands for folks just getting started on their cloth diapering journey!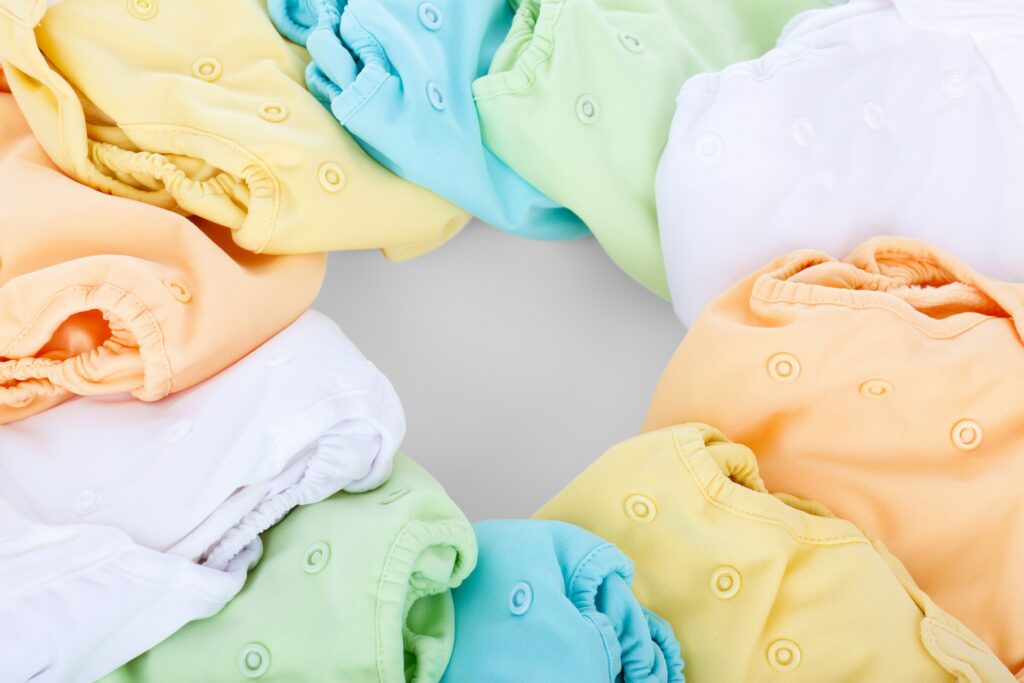 Non-Toxic Cloth Diaper Types
So what are your options for non-toxic cloth baby diapers?
Let me explain what the different "types" of cloth diapers are and show you some brand pictures so that you can get a feel for what might work best for you!
Flats/Prefolds
When most people think of cloth diapering, they think of babies wearing the white fabric with pins holding it together.
That is exactly what flats and prefolds are.
Flats are basically a large square piece of fabric that you fold to fit around your baby, securing in place with a clip, and then covering with a waterproof shell (such as the Flip covers – see hybrid diapers below).
Prefolds are very similar, just already partially folded for you.
These are the easiest option to find organic choices in (although the waterproof cover would not be organic).
These will also be your cheapest option for cloth diapering.
| | | |
| --- | --- | --- |
| | | OsoCozy Organic Cotton Prefolds Traditional Fit |
Fitted
Fitted cloth diapers are basically pre-shaped flats.
They come with elastic around the waist and legs and have snaps or Velcro to make putting the diaper on faster.
Similar to the flats and prefolds, you would need to purchase waterproof shells to wear over these if you want them to be water-resistant.
All-in-One
You might be surprised by how similar All-in-One diapers look to a disposable diaper.
Same function, just with cloth on the inside.
With convenient snaps or Velcro, these are easy to put on your baby.
The absorbent layer is already sewn into these diapers so there are no inserts to stuff on these.
GroVia makes an All-in-One system with an inner organic cotton lining.
Thirsties Natural Newborn makes diapers with hemp and organic cotton, but their one-size snap diapers use polyester.
bumGenius makes an Elemental line of All-in-One diapers that are lined with 100% organic cotton, but they are on the expensive side.
| | | |
| --- | --- | --- |
| | Thirsties Natural Newborn All in One Cloth Diaper | bumGenius Elemental 3.0 All-in-One One-Size Cloth Diaper with Organic Cotton |
Pocket
Pocket cloth diapers are very similar to All-in-One diapers.
The only difference is that the absorbent layer isn't permanently in the diaper.
True to their name, pocket diapers have a pocket where you put the insert.
This allows you to have greater flexibility to add additional absorbent layers for nighttime sleeping or for when your baby is getting bigger and has an increased need for more absorbency.
In my opinion, it also makes it quicker and easier to wash and dry the diapers.
The downside is that pocket diapers do require some disassembly for washing and reassembly for wearing.
These diapers use PUL, so you will not find organic pocket diapers, but you can purchase organic inserts (although I might argue what is the point of paying the extra if it's not going to be against baby's skin).
But these diapers come in SO MANY fun patterns!
Our favorite pocket diaper brand was ALVABABY, closely followed by Rumparooz, but there are some other highly rated brands out there!
| | | |
| --- | --- | --- |
| | | Mama Koala One Size Baby Washable Reusable Pocket Cloth Diapers |
Hybrids
Hybrids are a cross between the All-in-Ones and the Pocket cloth diapers.
You can use hybrids with either cloth or disposable inserts (hence the hybrid name).
This time the insert doesn't go in a pocket, it just lays or snaps into the shell.
It honestly reminds me of the prefold option with a waterproof cover, but for some reason they have a whole different category for it.
Hybrid diapers are convenient for when baby is little and isn't really filling the whole diaper.
Simply remove the inner lining and replace with a new one, the shell can be used multiple times in a row.
This does reduce up front cost since you can buy fewer shells and focus more on buying inserts.
And you can buy organic inserts which would be what is up against baby's bum!
Once your baby is a bit bigger though, we have found that the edges get soiled each time, so we were changing the whole diaper every time.
By far the most popular brand of hybrid diapers is the Flip brand.
We had quite a few and really liked them.
GroVia makes hybrid diapers as well which you can order with organic inserts.
And one last option for you are the SmartNappy hybrid diapers made with muslin cotton.
SmartNappy hybrids may not be certified organic, but the cool thing is that the waterproof, PUL layer is between the fabric layers, so it will not be in contact with your baby's skin!
| | | |
| --- | --- | --- |
| | GroVia Experience Package: 2 Shells + 4 Organic Cotton Soaker Pads | |
Hybrid Cloth Diaper Inserts
Now with your hybrid diaper shells you will need to purchase inserts (if they don't come with the diaper).
Flip sells an organic cotton nighttime insert, but it's much too bulky for daytime use.
For daytime inserts, try using the organic prefolds listed above or check out any of these other brands!
| | | |
| --- | --- | --- |
| | KaWaii Baby Premium Label Organic Bamboo Inserts for Cloth Diapers | Thirsties Reusable Organic Cotton Cloth Diaper Doubler, Small |
Hybrid Disposable Inserts
And keep in mind that hybrid diapers can be used with disposable liners.
This is convenient for daycares that are hesitant to use cloth diapers, for traveling, or for a babysitter.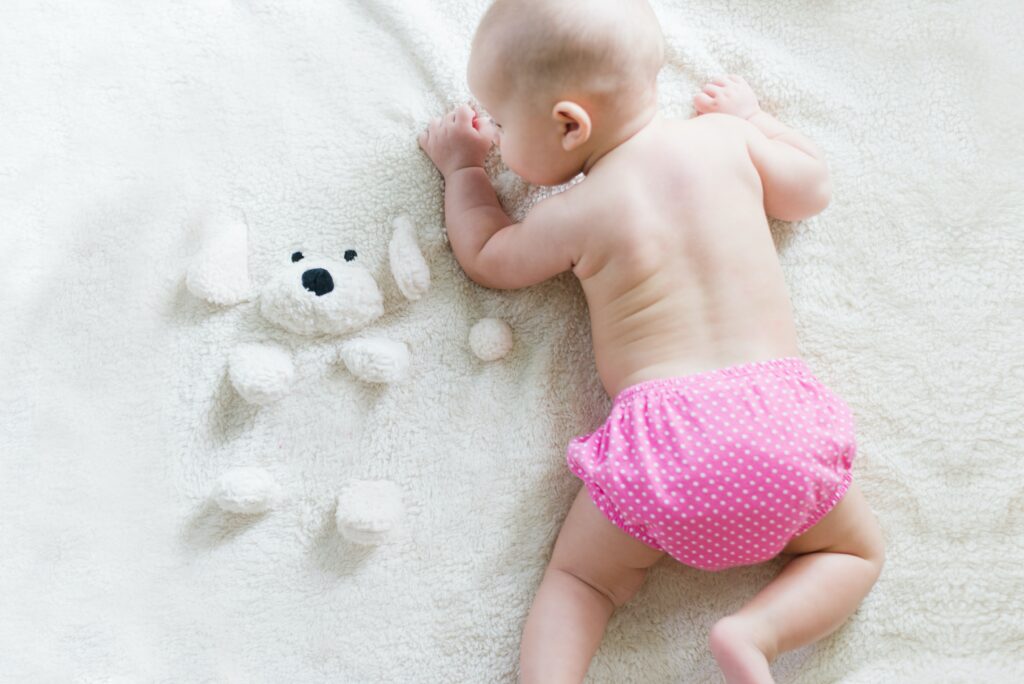 Cloth Diapering Accessories
I want to quickly share with you a few accessories that have made cloth diapering easier for us!
Diaper Liners
Once your baby is eating solid foods, let's just say the game changes quite a bit!
If using a poop sprayer (more on that in a minute) isn't quite your cup of tea, you might consider using diaper liners.
Diaper liners provide an easy cleanup solution to your cloth diaper routine!
Simple lay on top of the diaper before putting the diaper on your baby.
Simply remove and toss the liner (it is not recommended that you flush these).
While these are a less environmentally friendly option, you have to consider that these will take up WAY less space in a landfill than if you used disposable diapers.
So if using liners keeps you sane and makes it easier to cloth diaper, I say go for it!
And there are also some great, biodegradable options!
| | |
| --- | --- |
| | Bamboo Diaper Liners, Disposable, Fragrance Free, Chlorine Free, Compostable, Biodegradable Inserts |
Diaper Pail
We wanted the convenience of using a diaper pail to keep any smells at bay.
I highly recommend that you buy one of the best rated diaper pails out there, the UBBI pail.
True to the ratings, this pail has worked awesome for us!
No smells!
It does lock moisture in though, so I wouldn't leave cloth diapers stewing in there for more than a few days!
Ubbi Steel Odor Locking Diaper Pail
Washable Diaper Pail Bags
So how do you use the pail with cloth diapers?
Purchase washable cloth bags!
Simple put the washable bag as a liner in the pail and use the pail as you normally would!
Then it's super easy to wash the bag in with the diapers!
We liked the Planet Wise brand with our UBBI pail, but there are other options out there!
Planet Wise Large Diaper Pail Liner
Cloth Diaper Wet Bags
We would use cloth diapers for short trips to run errands around town.
I would always pack a couple of extra cloth diapers and a wet bag to put soiled diapers in.
A wet bag makes it super convenient to store used diapers until you can get home and put them in the diaper pail!
And after baby has grown up, these wet bags can be used for holding wet swimsuits, gym clothes, etc.
Diaper Sprayer
Some folks like using a diaper sprayer – though we never used one.
If that appeals to you, there are plenty of highly rated brands!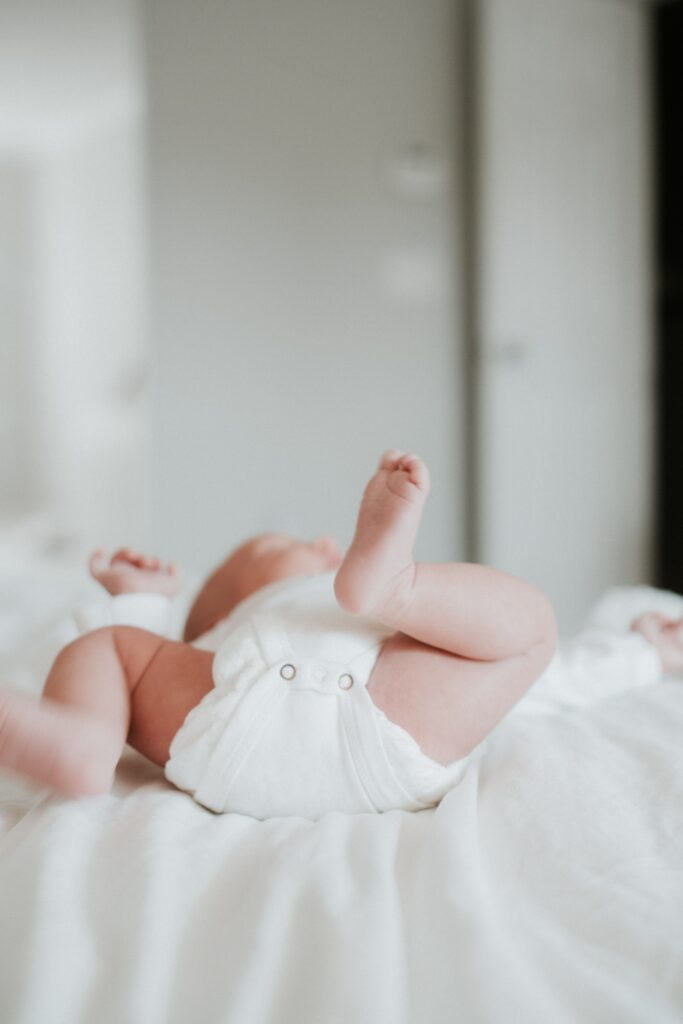 Non-Toxic Cloth Wipes
So back to our discussion on wipes – why do wipes contain so many ingredients?
Can't you just use water?
I would say yes!
I think we have overcomplicated wipes with our need for convenience.
It is so easy to just keep a stack of dry, cloth wipes next to a sink.
When you need a wipe or five, get them wet with water in the sink!
This is not rocket science.
I mean, we wipe with dry paper, so why do we need fancy baby wipes with 20 ingredients?
Especially if you are using cloth diapers, it's super easy to just wash the cloth wipes with the diapers.
We use the OsoCozy wipes, but there are plenty of different options from cotton to bamboo.
Check out any of these cloth wipe options for a convenient, washable choice!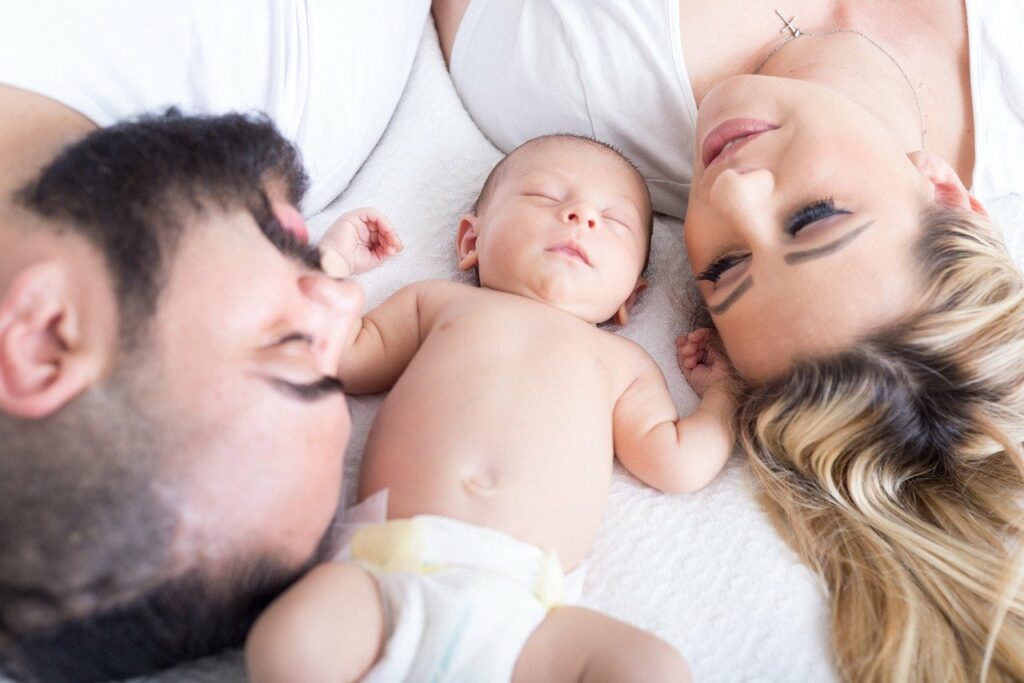 WHEW!
And that is your comprehensive guide to non-toxic baby diaper and wipe options!
If you made it this far, you are well prepared to make an informed decision about the diapers and wipes that you want to use for your baby!
Are there any other questions you have about disposable or cloth diapers and wipes?
If so, leave a comment below!
Are you looking for other resources about non-toxic living?
Check out my Non-Toxic Kids Clothing or Pact Clothing Review (hint: they have organic clothing for the whole family!).