This post may contain Amazon or other affiliate links. As an Amazon Associate I earn from qualifying purchases.
If you want a mug of the creamiest and chocolatiest hot chocolate that's also a snap to make, look no further than this recipe for the BEST hot chocolate.
Seriously, THIS IS THE BEST HOT CHOCOLATE I HAVE EVER HAD IN MY LIFE! 
And that's saying something – I have had A LOT of hot chocolate in my life!
Basically, every Saturday morning we would make hot chocolate growing up to go with waffles or pancakes. 
I almost reconsidered dating my husband when he told me didn't drink hot beverages, not even hot chocolate (I mean, that's just crazy talk!! WHO DOESN'T LIKE HOT CHOCOLATE?!) 
But this hot chocolate – it's smooth, creamy, rich, chocolatey, and slightly on the thick side, making it the most decadent hot chocolate I've ever had. 
Mmmmmm it's just SO GOOD! 
And if you told me it was sugar-free I would tell you to get out of town. NO WAY! 
But, YES WAY!! 
And possibly best of all, you can have this whipped up in 5 minutes while you have pancakes cooking, waffles sizzling, or eggs frying on the stove for breakfast.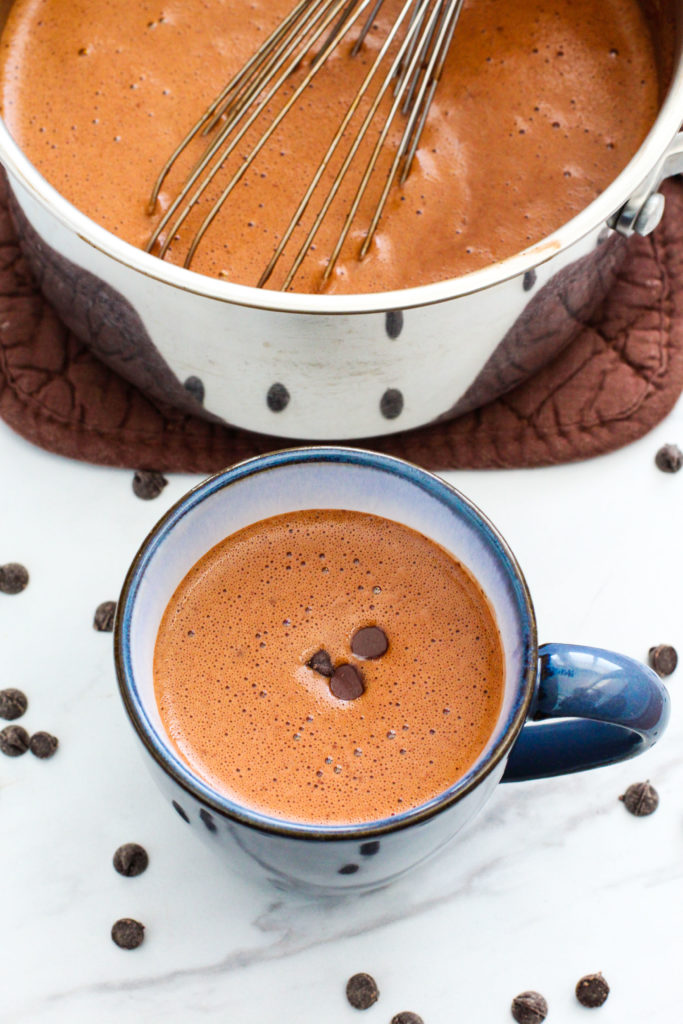 The Key to Making the Smoothest, Creamiest, Chocolatiest Hot Chocolate
The key to making this fabulous hot chocolate is to use chocolate chips! 
I know that you normally think of cocoa powder for hot chocolate, but one of my personal frustrations with those Swiss Miss packets of hot chocolate we would make growing up was when you would stir and stir and stir and there would STILL be chocolate on the bottom of your mug when you finished. 
And don't even get me started on the powdery lumps that would sometimes remain even after all of that stirring. 
UGH! 
And honestly, the chocolate flavor was a little weak – I want that RICH chocolate flavor! 
By using predominately melted chocolate chips and adding some cacao powder for an extra antioxidant, chocolate punch, you end up with a fabulously rich, smooth hot chocolate that is to die for. 
What Chocolate to 
U
se to Make Your Hot Chocolate
In our household, we predominately use Lily's brand chocolate chips. They are sugar-free chocolate chips that cook and bake just like regular chocolate chips! 
They come in 3 different types – dark, semi-sweet, and milk chocolate. 
I wrote this recipe with semi-sweet chocolate chips, but you can adjust according to your preferred sweetness level. 
I prefer a rich, dark hot chocolate, so I normally use the dark chocolate chips, but I'm also used to less sweet things since I haven't eaten sugar in years. 
For folks that are just starting to eat sugar-free, you might want to start with the milk chocolate chips to balance the cacao powder. 
If you eat a paleo diet or need a dairy-free chocolate chip, use the Enjoy Life brand of chocolate chips. 
If you aren't eating sugar-free, dairy-free, or some other -free diet, just use whatever chocolate chips you would normally use!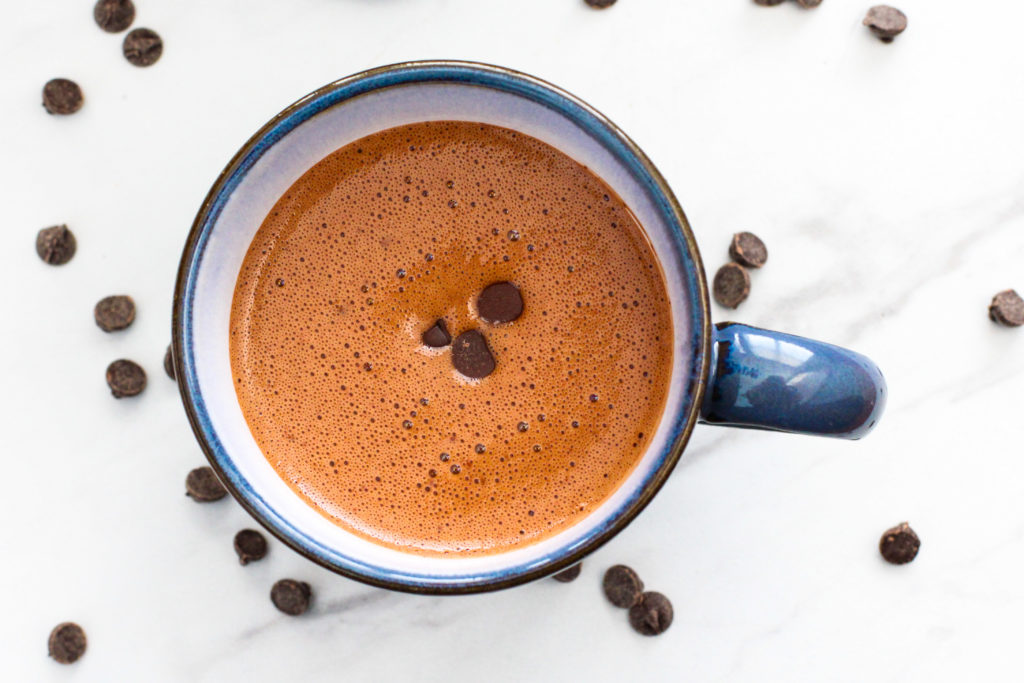 What's Cacao Powder
?
While cacao powder may seem very similar to cocoa powder, they are NOT the same thing. 
The difference between the two is that cocoa is MADE from cacao.
Cacao refers to the bean itself.
Manufacturers start with fresh cacao pods, get the cacao beans out of them, and make different chocolate products through drying, fermenting, roasting, crushing, and grinding (for a more detailed explanation, read more here).
Cacao powder and cocoa powder are made from the cacao beans.
Generally, cacao powder is just made earlier in the process under lower temperatures.
The advantage of using a more raw form heated at lower temperatures is that it retains more of its health benefits.
Often you will hear of the many health benefits of chocolate: antioxidants, minerals, even anti-cancer properties.
But what often isn't said is that most of the research done on chocolate is in its raw form or in a cacao form (less processed).
So if you want to REALLY take advantage of the amazing health benefits of chocolate, you need to choose less processed forms.
One downside is that cacao powder is not as sweet as cocoa powder, which is why most people and manufacturers choose cocoa over cacao powder.
Want the most benefits out of your chocolate consumption? Try Cacao nibs which are even less processed, but also more bitter.
You can use cacao nibs to replace chocolate chips in recipes, sprinkle on top of a smoothie, or add into trail mix.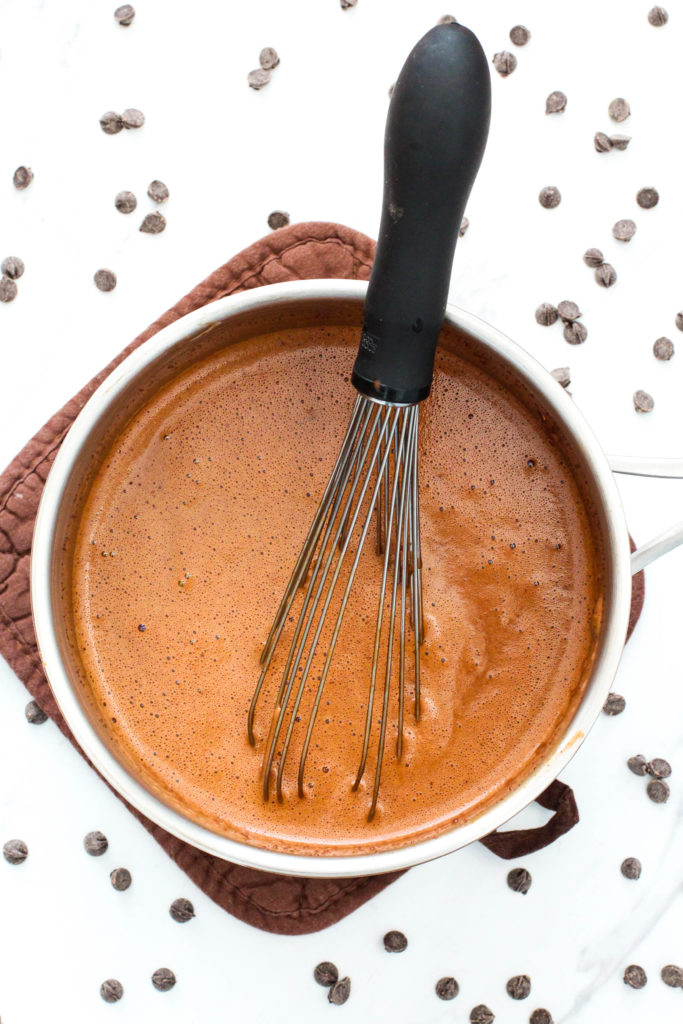 Can I Use Cocoa Powder Instead?
If you don't have any cacao powder on hand for this recipe, it is absolutely okay to substitute with cocoa powder! 
And also as a general rule of thumb, cacao and cocoa are interchangeable in most recipes.
So next time you see a recipe calling for one type and you have the other, use what you have!
Can I Substitute the Coconut Milk?
Of course! 
There are a lot of substitution options for the can of coconut milk. 
I would choose something with a bit higher fat content to keep this recipe rich and creamy (for example use heavy cream instead of skim milk), but any milk or milk substitute could be used. 
Try 2 cups or one can of any of these other options: 
Heavy Cream

 

Whole Milk

 

Almond Milk

 

Cashew Milk

 

Hemp Milk

 
How to Make Paleo Hot Chocolate
Butter itself is not truly dairy-free and therefore is not paleo (but a lot of paleo folks still include butter in their diet).  
So, if you don't use butter or if you have a dairy-intolerance, coconut oil is a perfect substitute! 
Even with coconut oil, you will still be able to make a fabulous cup of hot chocolate. 
Also, make sure you saw my note above about what brand of chocolate chips you can use that are paleo/dairy-free! (Hint: Enjoy Life Chips!)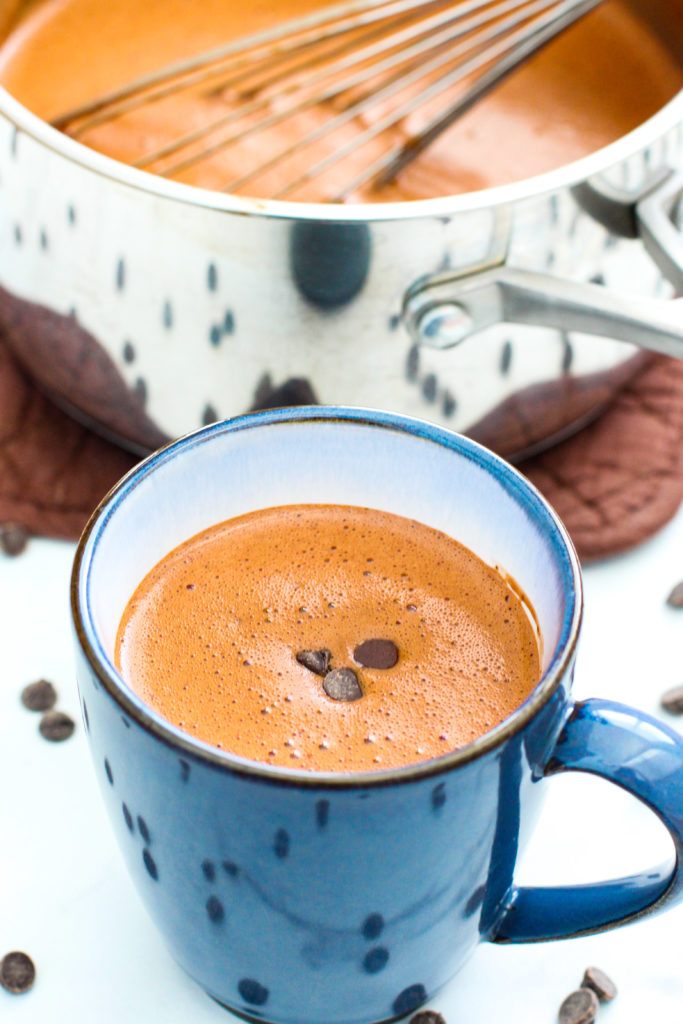 The BEST Hot Chocolate Recipe
Difficulty Level: Easy
Prep Time: 2 minutes
Cook Time: 5 minutes
Servings: 4 
Ingredients:
Directions:
Stirring frequently, melt the butter and chocolate chips in a medium saucepan until smooth (about 2 minutes).

 

Stir in the cacao powder until smooth.

 

Slowly add the coconut milk while stirring, and continue stirring until it's smooth and frothy.

 

Stir in the pinch of salt and the vanilla, if using.

Pour

 into mugs and serve while hot.

 Keep the pan off the burner and reheat as needed.

 

NOTE: This will thicken as it cools, but don't keep the pan on the stove for long periods of time, just staying warm. Leaving the pan unattended on the stove could result in the chocolate burning to the bottom of the pan.

 
Storage:
This hot chocolate can be stored in the fridge for up to a week.  
Once cooled in the fridge, it will become a fabulous pudding consistency so feel free to eat the leftovers as chocolate pudding.  
To serve as hot chocolate again, put back into a saucepan and reheat on low heat, stirring frequently to make sure it doesn't burn to the bottom of the pan.