This post may contain Amazon or other affiliate links. As an Amazon Associate I earn from qualifying purchases.
Mix up your Thanksgiving dessert table and impress your guests with this pumpkin pie trifle!
Layers of angel food cake, pumpkin pie pudding, and homemade whipped cream make up this delightful dessert.
I understand holding to traditions, trust me. Our family emails for the holidays say something to the effect of "reply all with how many from your family will be coming and everybody bring your usual dish".
Everyone has those certain dishes that are their "usual" and people have expectations about what dishes should be at Thanksgiving.
And I know it's almost a requirement for someone to make a traditional pumpkin pie at Thanksgiving, BUT sometimes guests like to be surprised.
This is one of those good surprises!
Plus, have you ever looked at the dessert plates coming back into the kitchen to be washed? How many times have you seen the top of the pie crust still on them, uneaten?
If you haven't been on the dish washing committee at your family get-togethers, I will let you in on a little secret – it's quite a few!
But have you ever seen a plate return with cake on it?
Let me tell you, it's pretty rare I see half eaten cake returned.
So this holiday switch-up is a total win!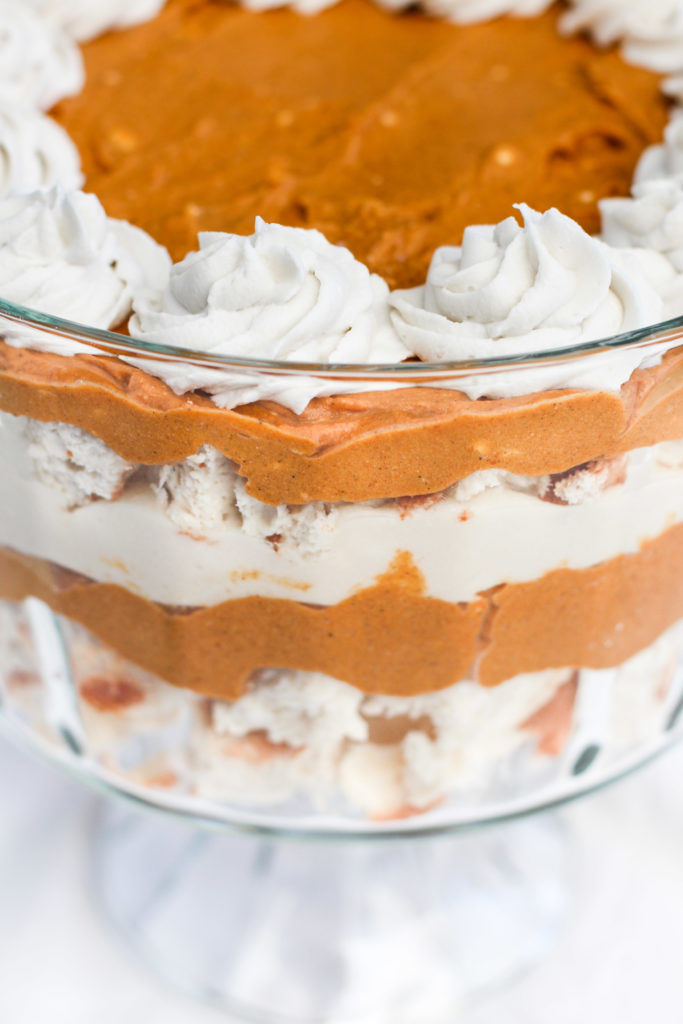 Can Pumpkin Pie Trifle Be Made Ahead of Time?
I hear you – when I host Thanksgiving, the only recipes that make the cut are the ones that I can make ahead of time.
I save all of my day-of Thanksgiving efforts for the turkey, reheating all the food I made ahead of time, and setting the table (and I would do that ahead too if I could trust my toddler around my nice china and crystal glasses).
So YES, this dessert can and actually SHOULD be made ahead of time.
By making this trifle ahead of time, it allows all of the pumpkin pie spices to marinate together.
This makes for a more flavorful and rich trifle.
It also allows the angel food cake to pick up some of the moisture and pumpkin pie flavors from the pudding.
I recommend making this dessert two days ahead of time.
Not making this for Thanksgiving? I still recommend making this dessert ahead of time for the reasons listed above.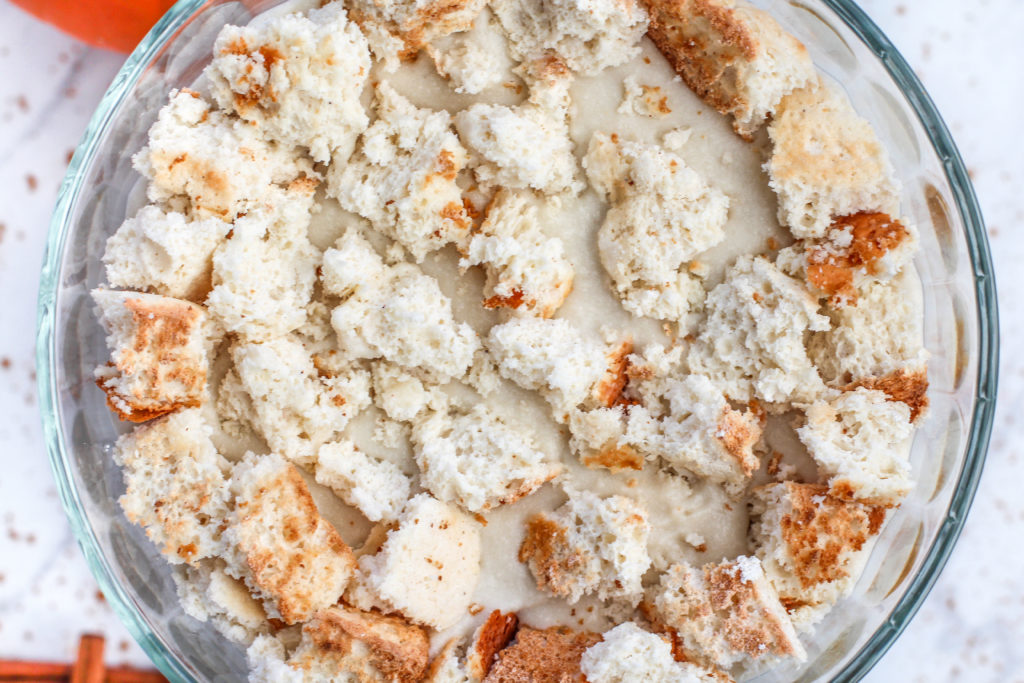 How to Make Pumpkin Pie Trifle
Day 1
Start by making the angel food cake.
Since you are going to be cutting up the cake anyways, I like splitting the recipe into 2 bread pans so that the cakes come out in more of a rectangular shape.
This makes it easier to cut the cake into cubes.
By cooking it in two bread pans, it also makes it super easy to use one bread pan worth of cake per layer of the trifle.
So whip up the angel food cake in two bread loaf pans, bake it, and let it cool completely.
Meanwhile, make the pumpkin pie pudding. It works best to make the pudding and then let it firm up in the fridge for a couple of hours before using.
So now it's been a couple hours after you have baked the cake and it has cooled.
The pudding has also firmed up in the fridge.
Now is the time to whip up one of the batches of homemade whipped cream.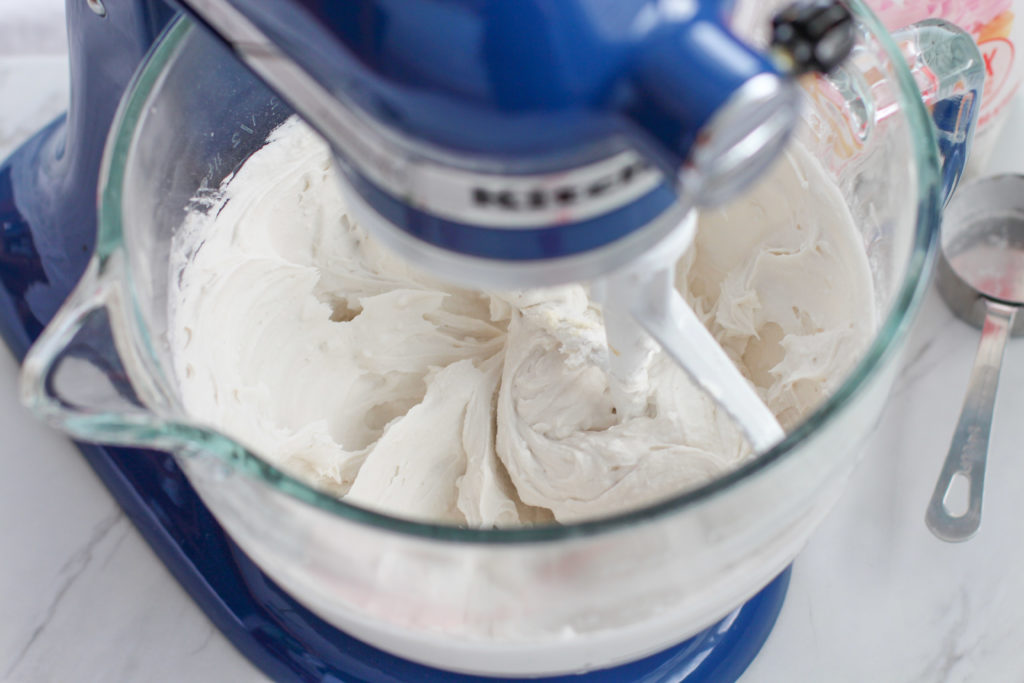 Okay, all the layers are made! Let's assemble this trifle!
Cube up one of the bread pans of angel food cake. Put that in the trifle bowl as the bottom layer.
Now add half of the pudding and spread that in a layer over the angel food cake pieces.
Spread the batch of whipped cream over the pudding layer.
Now repeat!
Cube the other bread pan of angel food cake. Spread the remaining pumpkin pie pudding over the pieces.
At this point, I recommend stopping and storing the trifle in the fridge.
You want to leave off the big swirls of whipped cream on top and add those right before serving it. 
To store the trifle, cover the top with a large piece of Bee's Wrap or foil.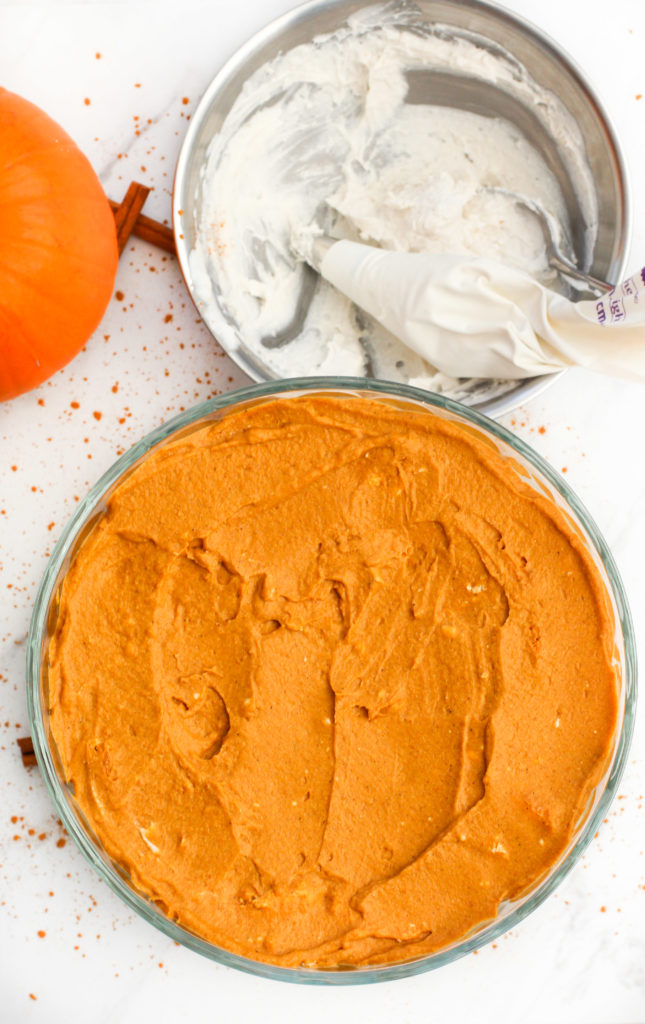 A Couple Days Later…
Alright, time to pull that beautiful trifle back out!
Whip up your other batch of homemade whipped cream.
Now, there are two ways to finish off the top of the trifle.
Option 1: Smooth the remaining whipped cream over the top of the pumpkin pie layer. Sprinkle the top with a little additional cinnamon for some added texture. This is the best option if you don't have a frosting kit. This is also a good option if you have to transport the trifle and don't want to take all of your decorating supplies with you.
Option 2: For a little more impressive look, use a frosting bag to add the finishing touches! Find a large open star frosting tip and prepare your frosting bag. Put half the batch of whipped cream in the frosting bag. Make a test swirl back into the bowl of whipped cream to make sure it's the right consistency.
If the whipped cream is too thick, add a little coconut milk and test again.
If the whipped cream is too thin, put it in the fridge for a half hour and see if it has thickened up. Alternatively you could also cheat and add a little vanilla protein powder to it to try and thicken it.
Once the whipped cream is the right consistency, pipe big swirls all around the edge.
Now you are ready to serve and share this masterpiece with your friends and family!
The trifle can sit out at room temperature no problem for several hours if you want to get it ready ahead of time for a party.
Just make sure it's not sitting in the sun or in a HOT room, because the whipped cream WILL get runny if it gets too warm (think a hot summer day).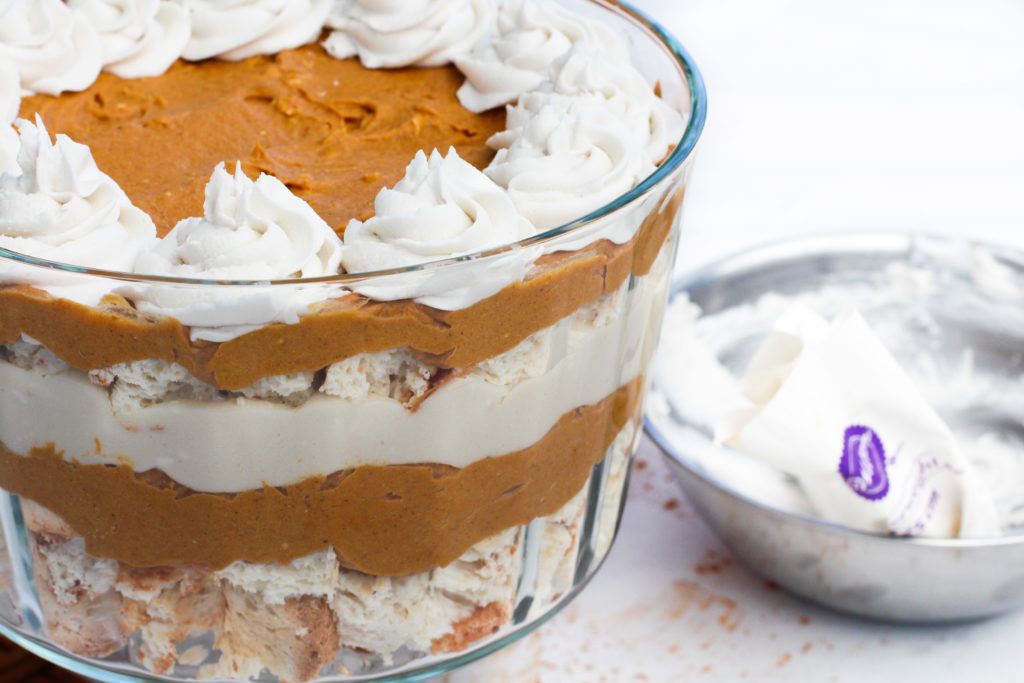 Can I Make Pumpkin Pie Trifle with Something Besides Angel Food Cake?
Sure thing!
If you aren't a huge fan of angel food cake, other good "cake" layers would be a traditional white cake, traditional yellow cake, or even a spiced cake.
Just as with the angel food cake, let whatever cake you choose to make cool all the way before you cut it into bite-sized pieces.
What If I Don't Have a Trifle Bowl?
No trifle bowl? NO PROBLEM!
There are a couple of other serving options depending on the look you are going for.
Option 1
If you still want to be able to see the layers of the dish, make this in a large glass bowl instead (think pyrex bowl).
Option 2
If you don't care if you can see the layers and you just want a delicious, fun pumpkin pie flavored dessert, make this in a 9×13".
It will be really hard to get multiple layers in, so I would recommend just placing the angel food cake pieces on the bottom and then smoothing out the pumpkin pie pudding on top of the cake pieces.
Then add the whipped cream on top, either in a smooth layer or using a frosting bag to pipe on a cute flower edge, make a large swirl border (something like what I have pictured on top of the trifle), or a patterned design on top.
Option 3
If you want to make individual servings, use small mason jars to make individual portions by putting several cake pieces in the bottom of the jar, spooning pudding on top of the cake pieces, and then put a big swirl on top of whipped cream.
This would look something similar to the jars pictured in the pumpkin pie pudding recipe, but with some angel food cake pieces on the bottom (instead of it being all pudding).
You could also use half pint jars and try to fit in two layers.
Just keep the cake pieces to a single layer to have enough room for everything!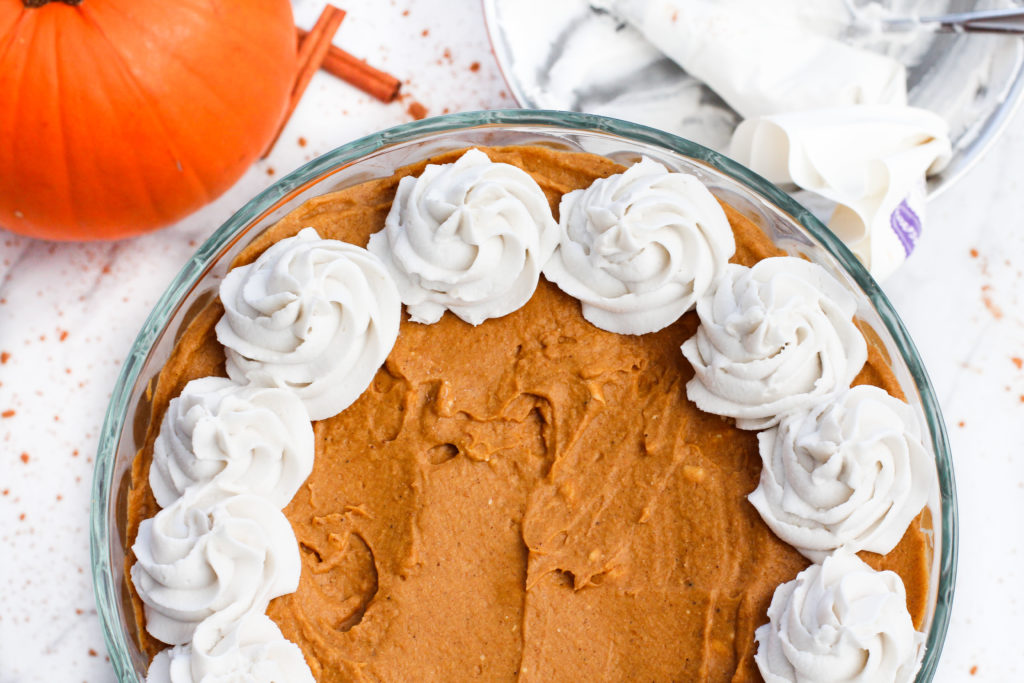 So, there you have it!
Trifle bowl or not, you are ready to make this new pumpkin pie favorite!
Step aside pie crust and bring on the cake!!
Pumpkin Pie Trifle Recipe
Difficulty Level: Medium
Prep Time: 1.5 hours (this is the time to make the angel food cake, pudding, and whipped cream)
Assembly Time: 15 minutes
Servings: 16
Ingredients:
Directions:
The goal is to make 2 layers of everything in the trifle bowl. Start with a layer of half of the cake pieces in the bottom of the trifle bowl.
Add half of the pumpkin pie pudding on top and smooth it out. Then add one batch of whipped cream on top, spread in a layer
Repeat the angel food cake and pumpkin pie pudding layers.
NOTE: At this point, I recommend covering the top of the trifle and storing it in the fridge for a couple days to let the spices marinate. When you are ready to finish the trifle and serve it, continue to step 5.
Make the other batch of whipped cream. Put a couple spoonfuls in a frosting bag prepped with an open star tip. Swirl whipped cream on top for your desired look.
Serve immediately or store in the fridge until an hour or two before serving. This can sit out at room temperature for several hours if you are serving it at a party.