This post may contain Amazon or other affiliate links. As an Amazon Associate I earn from qualifying purchases.
Are you a HUGE fan of beets like my family is??
If not, have you ever tried to roast beets?
I mean, have you tried beets lately?
ROASTED BEETS ARE AMAZING!!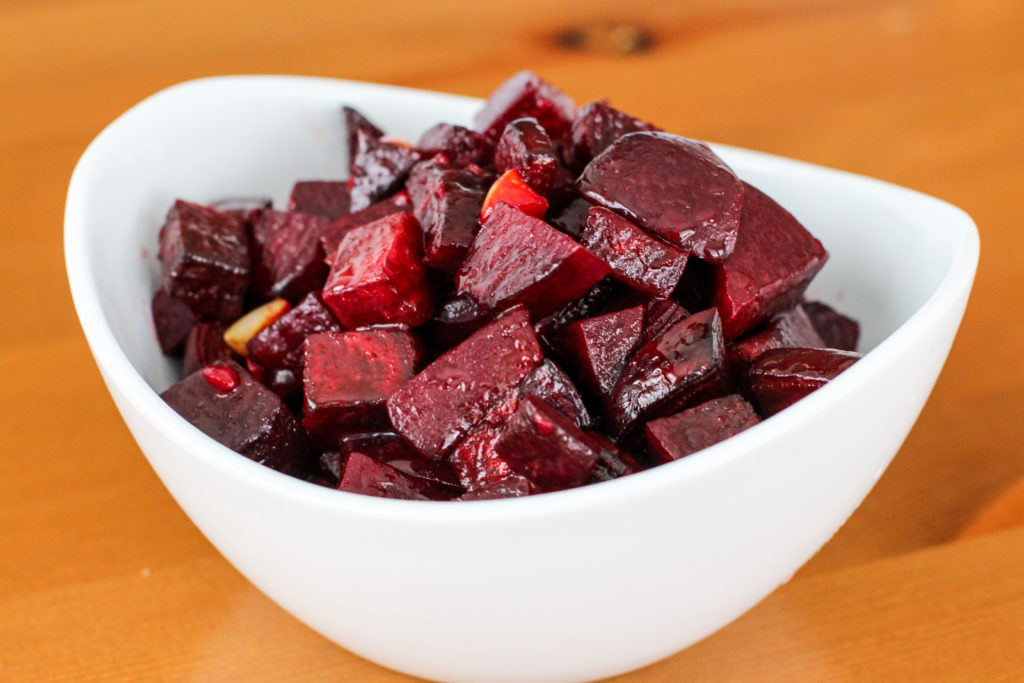 No joke, Mini Monster Cookie DEVOURS these!
I love hearing her say "More beets, Mommy, peas (her version of please)"
So precious! And who in their right mind would deny their kids more BEETS of all things 😉
Garlic Roasted Beets Directions:
Start with peeling, crushing, and finely chopping the garlic – you want this to sit out at least 10 minutes before baking to build up cancer fighting properties!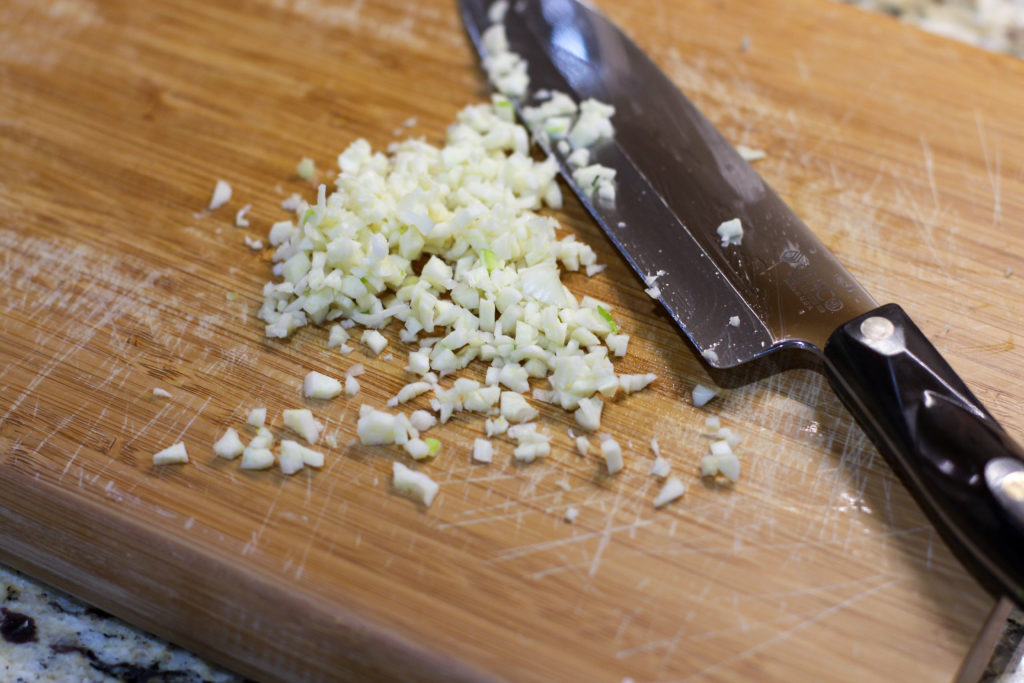 Now, to peel and chop all of those beets – this is probably the longest part of the recipe.
Once I have all the beets peeled is when I will normally turn the oven on.
While I am chopping the beets, I put the butter on the baking sheet and put it in the oven to melt the butter.
Side note: if the earthy peel taste doesn't bother you, then you can skip that step!
Once all of the beets are chopped, I pull that baking sheet of melted butter out of the oven and add the beets and garlic.
Then, sprinkle the salt over the top and toss it all together.
Spread it out over the baking sheet like so…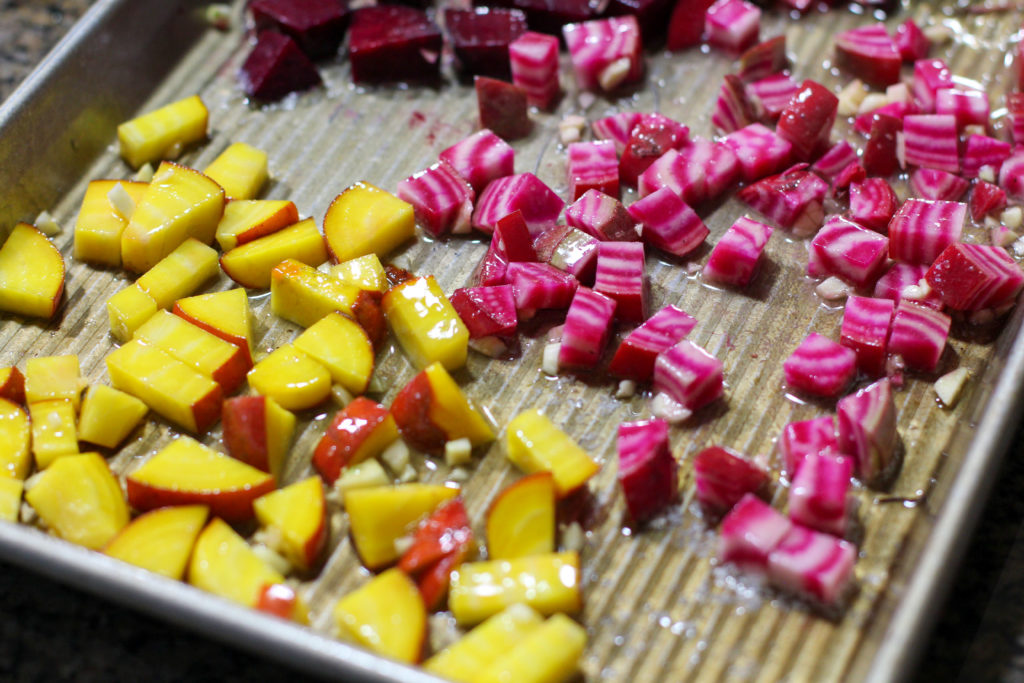 Now bake those beauties for 20 minutes.
Take the beets out and use a large spoon to stir everything around.
Now pop them back in the oven for another 15-20 minutes.
We like our beets soft, but with a little crunch left.
Feel free to adjust your cook time to have crunchier or softer beets!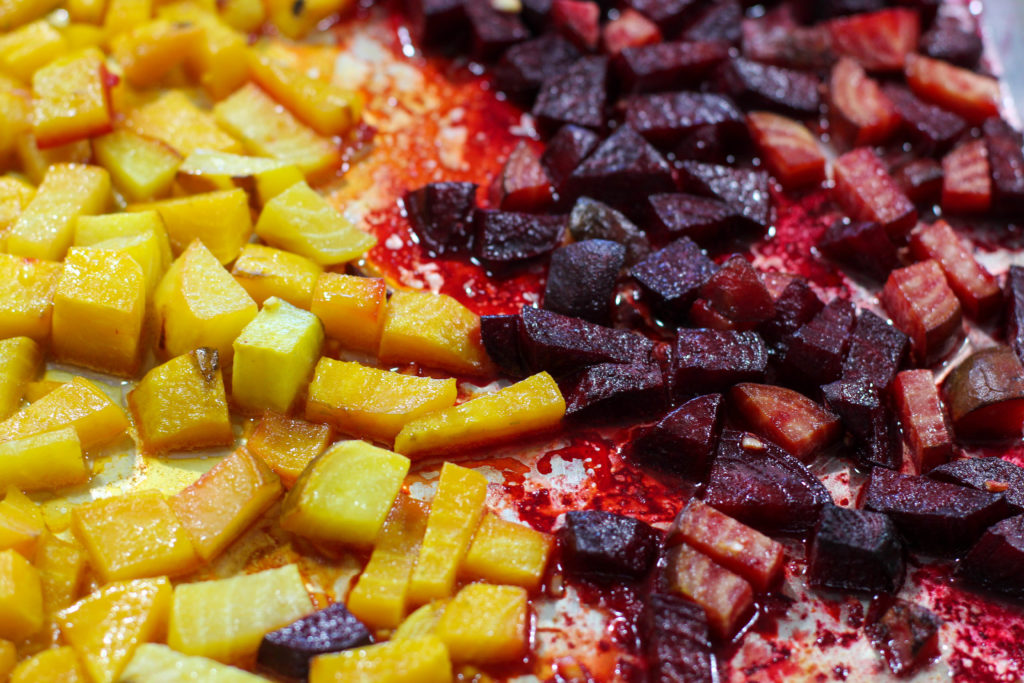 Ready, set, DEVOUR!!!!
Garlic Roasted Beets
Difficulty Level: Easy
Prep Time: 15 minutes
Bake time: 35-40 minutes
Servings: 8
Ingredients:
4 pounds of beets

 

6 cloves of garlic

½ cup butter, melted

or avocado oil (for paleo or Whole30)

1 teaspoon of salt

 
Directions:
Preheat the oven to 400 degrees.

 

Crush and mince the garlic first so that it has 10 minutes to sit out before gong in the oven (see reference above).

Wash and peel the skin off of the beets with a vegetable peeler (save the peel for 

vegetable broth

).

 

Chop the beets into small, bite sized pieces or half-inch cubes and put in a bowl.

 

Add the minced garlic, butter, and salt. Toss to evenly coat the beet pieces.

 

Spread in a single layer on a baking sheet.

 

Bake in the oven for 20 minutes and then remove the pan and stir the beets around. Cook the beets for another 15-20 minutes, or until fork tender.

 

Let sit for 5 minutes to cool and then use a large spoon to stir and coat everything with the garlic butter sauce. Serve hot.

 
Storage:
Leftovers can be stored in the fridge for up to a week.

 

These reheat well in the oven or on the stovetop.