This post may contain Amazon or other affiliate links. As an Amazon Associate I earn from qualifying purchases.
Basil lime chicken stir-fry is a delicious way to get vegetables into your family's diet!
I know what you are thinking – how in the world do basil and lime end up together in a stir-fry?
All I have to say is, don't knock it until you try it!
What I love about making a stir-fry is that you can pack in loads of fresh seasonal vegetables, so depending on what time of year you are making this, feel free to switch up the vegetables to match what's in season!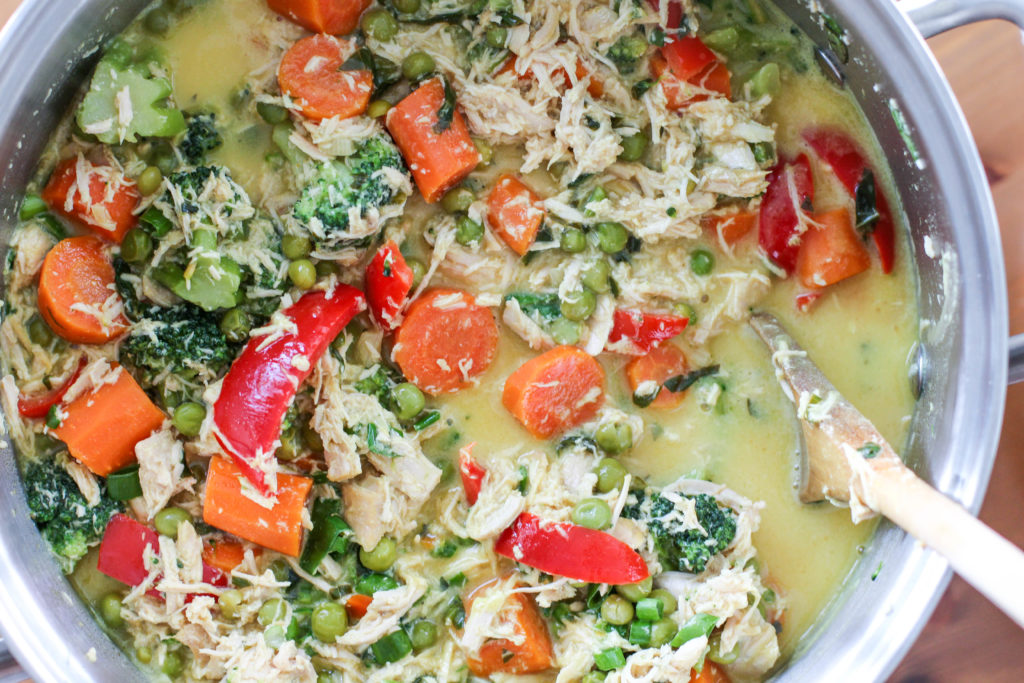 Is it spring? Add some asparagus.
Is it fall and you are swamped with zucchini? Load this dish up with sliced zucchini and use the basil lime sauce to get a new flavor!
Is it winter and squash is on sale? Eat this over spaghetti squash instead of cauli-rice.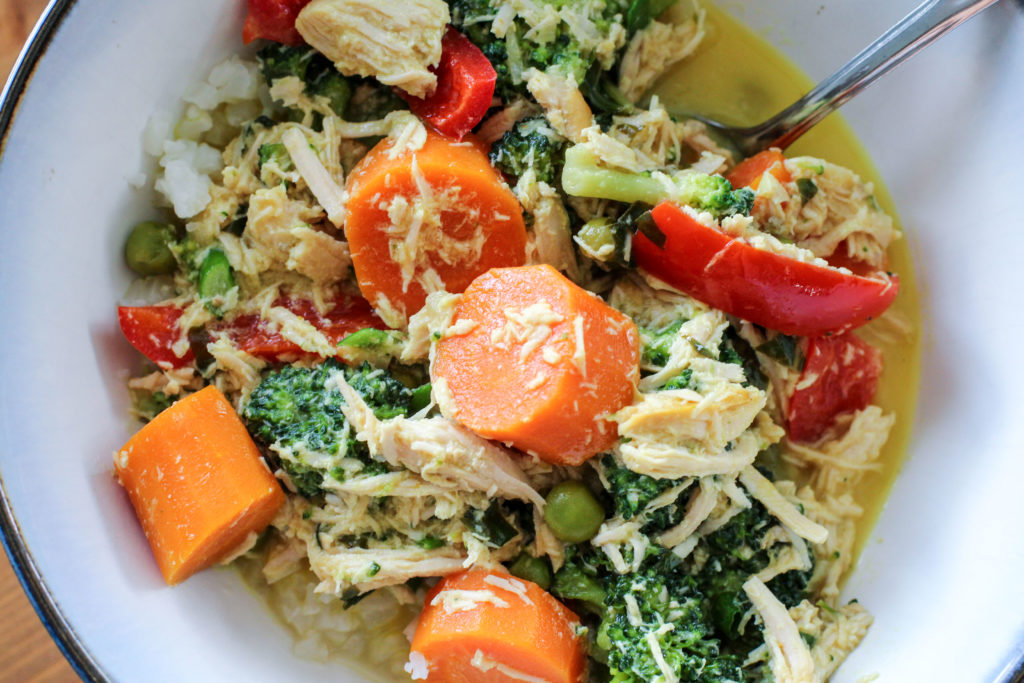 The basil lime sauce goes with a host of vegetables, so take liberties on mixing things up with this recipe!
I also realize that some people like their vegetables crunchy while others like their vegetables soft.
I have tried to include hints in the recipe to help you attain your desired level of vegetable crunch, so use the recipe hints on when to add certain vegetables to have them all done at the same time without way overcooking any of the vegetables.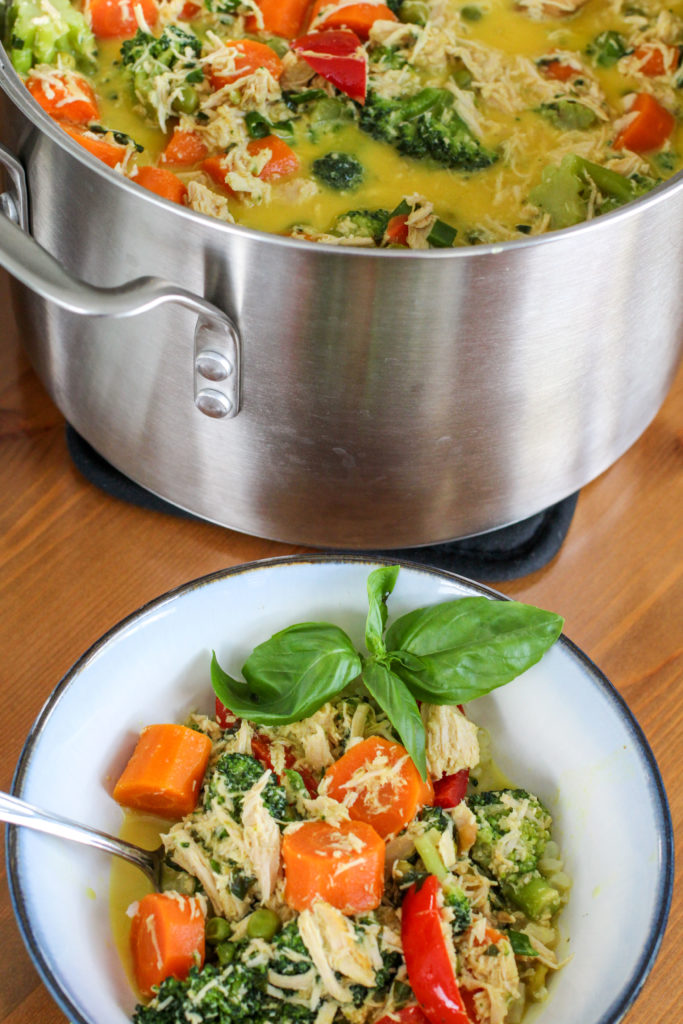 This is also a great recipe to make in ginormous batches (do you see how big the pot is in the picture?! I made a double batch for this picture). We love having leftovers to use during the week for easy grab and go lunches!
Basil Lime Chicken Stir-Fry
Difficulty Level: Medium
Prep Time: 30 minutes
Cook Time: 20 minutes
Servings: 6
Ingredients:
1 head of cauliflower
1 cup butter or coconut oil (for paleo), divided
4 garlic cloves, minced OR 1 teaspoon garlic powder
1 large onion, roughly chopped OR 1 teaspoon onion powder
1 teaspoon salt
¼ cup coconut aminos
2 freshly squeezed limes OR ¼ cup lime juice
1 pound chicken, cooked and shredded
½ pound of carrots, peeled and chopped into 1-inch pieces
1 red bell pepper, chopped
1 large head of broccoli, chopped
½ cup frozen peas
½ cup chopped fresh basil
Directions:
Take the head of cauliflower and wash and cut apart the cauliflower to fit in a food processor. Process the cauliflower into cauli-rice and set aside.
Melt a ¼ cup of the butter in a large pot over medium-low heat and then add the onion and garlic. Sauté for 5 minutes or until very fragrant.
Add a ¼ cup of the remaining butter, salt, coconut aminos, and the lime juice. Add the shredded chicken and the cut carrots and bring to a simmer over medium heat. Cook for 5 minutes (or 10 minutes if you want very soft carrots).
Meanwhile, in a separate large skillet or pot, melt the remaining ½ cup of butter to cook up the cauli-rice. Saute the cauli-rice in the butter over medium heat, stirring occasionally. Cook for 10 minutes while the stir-fry mixture finishes cooking.
Back on the stir-fry mixture, after the 5 minutes has passed for the carrots, add the broccoli (and add the red bell pepper now if you want it soft instead of crunchy).
After 5 minutes, add the red bell pepper, peas and fresh chopped basil. Heat until the mixture returns to a simmer and the vegetables are cooked to your desired level of "crunch".
Remove the stir-fry mixture and the cauli-rice from the stove. Serve in bowls with the cauli-rice on the bottom and add extra coconut aminos if desired.