This post may contain Amazon or other affiliate links. As an Amazon Associate I earn from qualifying purchases.
This gluten-free, dairy-free and sugar-free cornbread recipe is super fluffy, moist, and best of all, easy to make. With keto and paleo options, this is a recipe everyone can enjoy! 
Most cornbread uses flour, milk, and sugar, so our family needed a new recipe!
There are paleo and keto cornbread recipes out there, but they either use all almond flour, which unfortunately I can't eat with my tree nut allergy, or they use all coconut flour, which results in cornbread that would come out dry and tasting a little "egg-y" for our taste.
To take care of this issue, this recipe uses a combination of cassava flour and coconut flour. 
The coconut flour helps give the cornbread that hearty, grainy cornmeal texture without using actual cornmeal.
The cassava flour helps with the fluffiness and moistness. I realize it's not a great keto ingredient substitute, but I have modifications below so that keto folks can still make this recipe!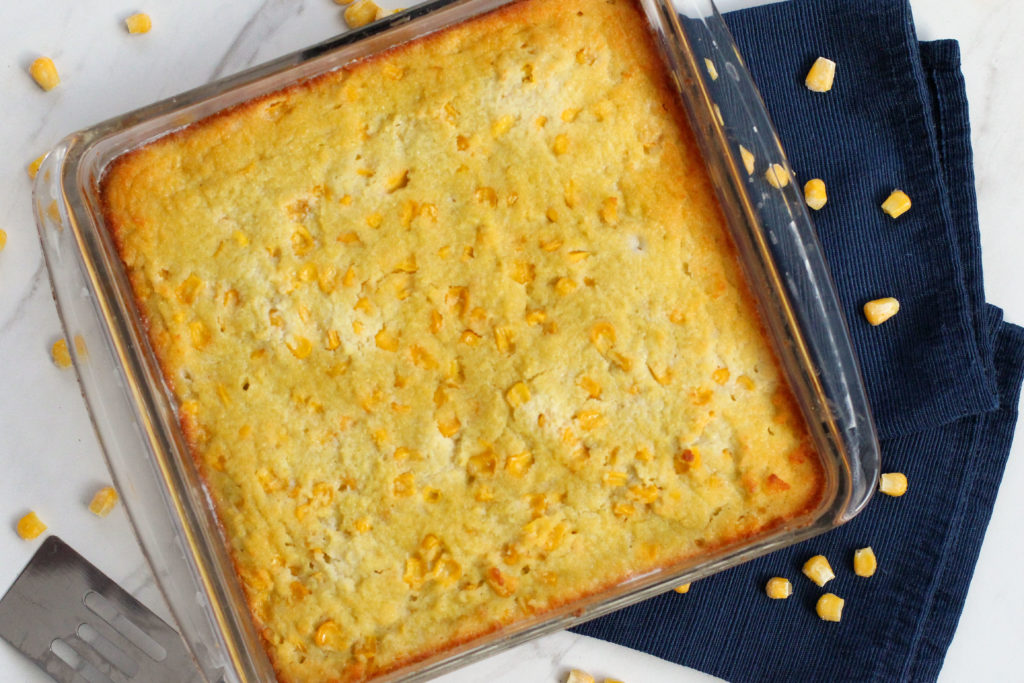 Does this Cornbread Use Real Corn?
Yes it does, BUT it's optional!
I know this may sound like a weird question to ask for a recipe titled "cornbread", but almost all keto, and definitely all paleo recipes, don't use actual corn. 
This is understandable since corn is a grain, making it a paleo no-no. Corn will also add a lot of carbs, making it hard for anyone on strict keto to incorporate into their diet. 
But our family doesn't totally avoid corn, we just make sure to buy organic, non-GMO corn.
We also use corn sparingly, since we do try to eat mostly a hybrid paleo/keto type diet.
So while not a truly paleo or a keto recipe, this recipe is EASY to make paleo or keto approved if you follow one of those ways of eating!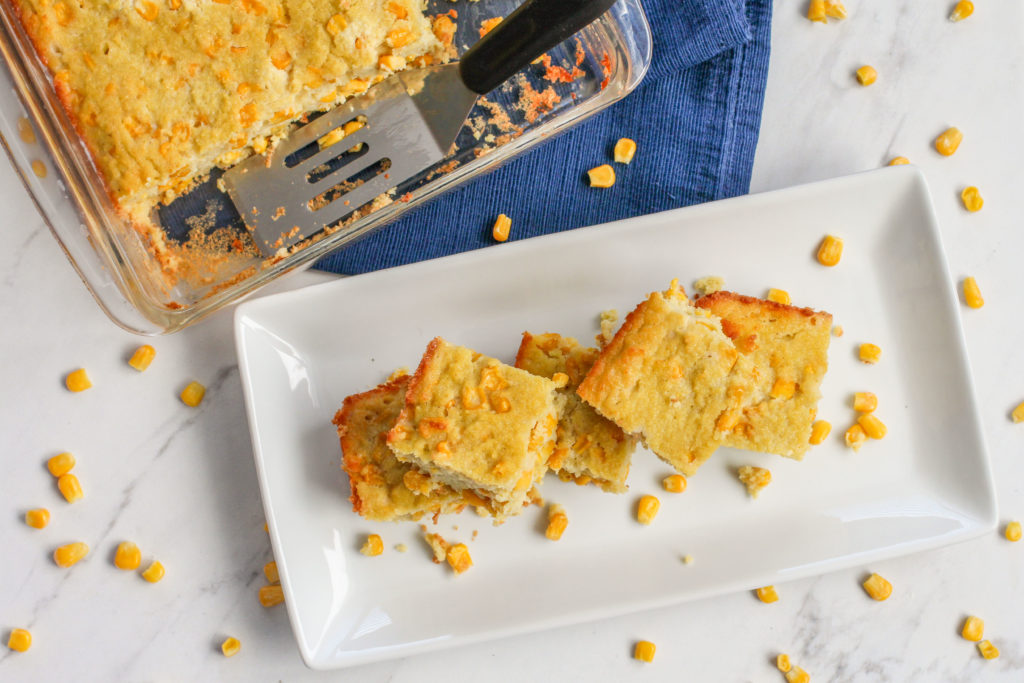 How to Make This a Paleo Cornbread
The modifications to make this a true paleo dish are pretty easy, just leave out the corn, and if you don't tolerate butter, use coconut oil instead!
Like I mentioned earlier, the coconut flour will give this recipe that hearty, cornmeal-ish type texture without actually using corn.
That will turn this cornbread into more of a "smooth" consistency without the corn chunks, but the blend of coconut and cassava flours will still make a nice fluffy and moist cornbread!
And if you want, you can substitute the Lakanto granular sugar with honey!
How to Make This a Keto Cornbread
Just as with the paleo modification, start by leaving out the corn.
As for the cassava flour, it really depends on how strictly you follow the keto diet.
For lazy keto folks, leaving out the corn is probably the only modification needed to lower the carb count (and if you are REALLY lazy keto, feel free to leave the corn in like we do!).
To make this strict keto, for those that can use almond flour, feel free to sub out the cassava flour with almond flour (1-to-1 sub).
If you have a tree nut allergy like I do, and you need a strict keto cornbread recipe, I would sub out the half cup of cassava flour with just a quarter cup of additional coconut flour and add an additional egg. This will result in a dryer, more egg-y type cornbread, but it will keep you within your macro count!
If you eat dairy, a good addition for keto folks that you might consider is ADDING a cup of cheese. This will help hold the bread together more and add something back in place of the corn. 
You can also substitute the can of coconut milk with a cup of sour cream if you tolerate dairy well.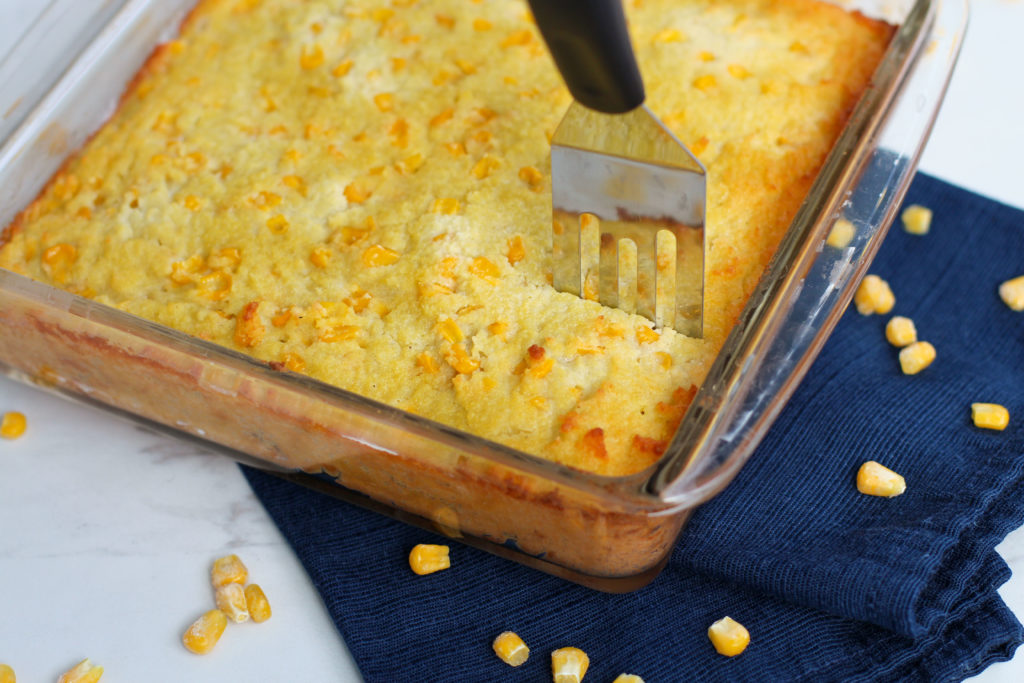 How Much Cornbread Does This Make?
This recipe will nicely fill a 9″x13" baking dish.
That may not seem like 16 servings, but in my experience, serving this as a side to chili or pulled pork, even serving a crowd, I get at least 16 portions.
But you know your family best. If you have teenage boys that love cornbread, then maybe you will only get 10 or 12 servings out of one dish. 
And vice versa, I have sometimes gotten 20 slices out this dish when served at say Thanksgiving when everyone wants just a small portion since their plate is loaded down with other meats and sides. 
Can I Make a Smaller Pan of Cornbread?
Not looking to make 16 servings to feed a crowd or have leftovers for the week?
There are other options!
Make a half batch of this recipe and make it in a 8″x8" baking dish instead! That's the size I made when I took these pictures since we are just a family of 3.
You can even make a quarter recipe to eat in ramekins for individual servings!
If you cook a smaller pan, the cook times will vary a little bit.
For an 8×8″ pan, I would start checking it at 30-35 minutes.
For ramekins, I would start checking them at 20-25 minutes.
You want to bake it until the edge has browned and the middle springs back when you press it with a spoon or your finger.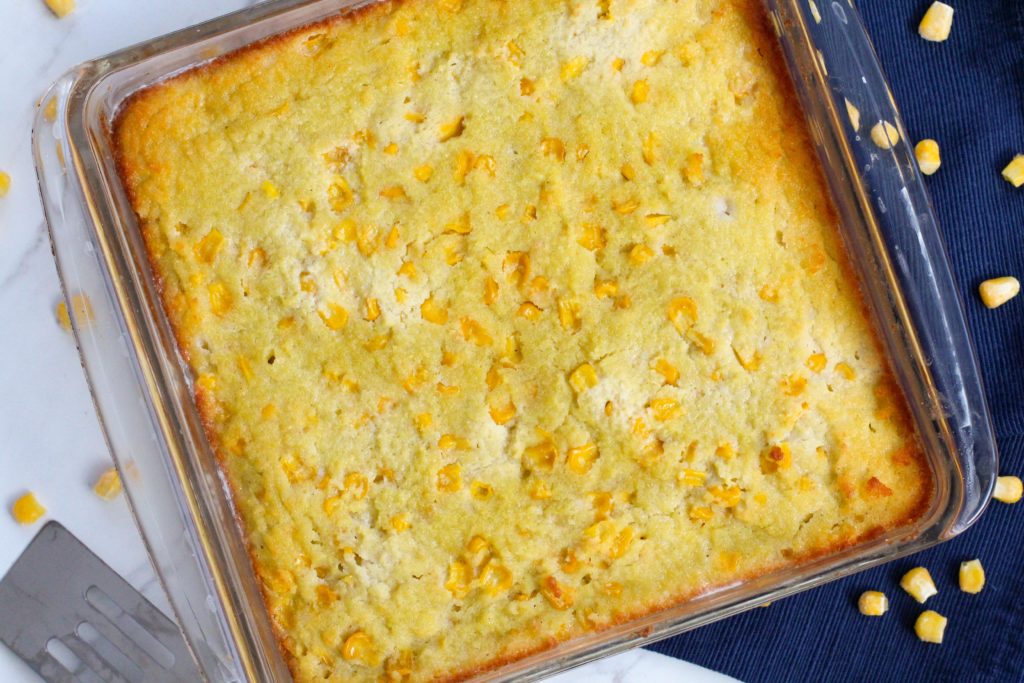 Can I Make Cornbread Ahead of Time?
Absolutely! That's one of the other things about this recipe that I love. 
Just this past week I made this dish to take to our family Thanksgiving. I made the dish two days ahead of time and took it in the car in a large cooler. 
Once we arrived, I reheated the pan of cornbread in the oven and it was still fabulously fluffy and moist!
If you plan on reheating the cornbread, I would recommend waiting to use the optional butter or coconut oil listed in the recipe on top until you are reheating the cornbread. This will help ensure the cornbread doesn't dry out.
What to Serve with Cornbread
Cornbread is the perfect chili companion for a cold winter day. This is probably the number one use for cornbread in our household.
I also LOVE cornbread with pulled pork, especially now that we don't eat our pulled pork on buns.
Cornbread can also be served as a fabulous holiday side dish, as it compliments turkey, ham, brisket, and stuffed pork loin. As mentioned above, this dish can be made ahead of time and reheated in the oven, which makes it a great holiday recipe! No time required the day of the party – just reheat and serve!
One last way I love to use cornbread is for a Mexican casserole topping!
As you can see, this cornbread recipe is very versatile!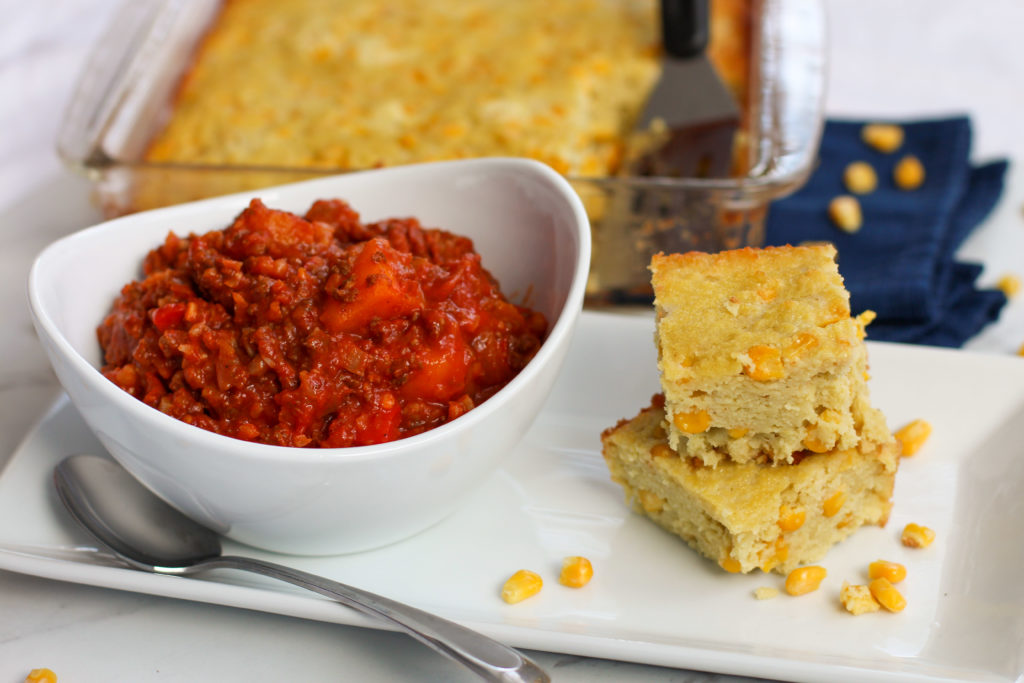 Cornbread Recipe
Difficulty Level: Easy
Prep Time: 10 minutes
Bake Time: 40-45 minutes (see above if you are doing a smaller dish size)
Servings: 16
Ingredients:
8 eggs

1 cup coconut flour

½ cup cassava flour (see substitution above for keto)

¼ cup Lakanto granular sugar (or honey)

1 cup butter, melted (or coconut oil for paleo)

1 can of full-fat coconut milk

2 teaspoons baking powder

½ teaspoon salt

2 cups whole kernel organic corn, frozen (omit for paleo and keto)

Additional butter or coconut oil to add on top once the cornbread comes out of the oven (I use about a ¼ to a ½ cup more of butter, thinly sliced)
Directions:
Turn on the oven to 350 degrees.

In a mixer, beat the eggs until frothy. Add the remaining ingredients, except for the corn, and mix until well combined

Using a rubber scraper, stir in the corn and spread into a 9″x13" baking dish.

Bake for 40-45 minutes or until the edge has browned and the middle springs back when you press it with a spoon or your finger.

If you are serving it immediately, you can thinly slice more butter and set it on top of the cornbread to melt into it as it cools. For the coconut oil, melt the coconut oil first and then drizzle it on top.

If you are making the cornbread ahead of time, wait to add the extra butter or coconut oil on top until you reheat it to serve it.

Enjoy!
Storage:
This cornbread reheats really well! There are a couple of options for where you can store your cornbread.
If you plan to eat the cornbread that day or the next day, you can keep it out on the counter.
Cornbread will keep in the fridge for up to a week. This is how I normally store my cornbread! After baking the cornbread, I let it cool on the counter until it's just warm or even room temperature. Then I put the lid on my pyrex glass pan (or Bee's Wrap if I'm using a dish that doesn't have a lid) and store it in the fridge.
For even longer storage (such as if you are planning way ahead for Thanksgiving or Christmas), you can store cornbread in the freezer for up to 3 months for best results. It will be safe longer than that, but texture/quality will start to decline.
As always, if you see mold or if the cornbread smells sour, it has gone bad. Do NOT eat it.
When reheating your cornbread, I would recommend using the optional butter or coconut oil listed in the recipe on top to make sure the cornbread doesn't dry out.