This post may contain Amazon or other affiliate links. As an Amazon Associate I earn from qualifying purchases.
Blueberries are quite possibly my most favorite fruit in the world.
Growing up, I have fond memories of hand picking blueberries.
Every year around July 4th, the blueberry field would open for the season and we would be one of the first to go pick blueberries.
We were able to pick from an organic blueberry field when we would go to visit my aunt in Michigan.
Big, juicy Duke variety blueberries – it was a good motivator to wake up early, even during summer break.
During the cool morning, while the dew was still thick, we would pick pound after pound of blueberries (never-mind that we would promptly shove all of the biggest and fattest blueberries straight into our mouths and go home with a belly ache).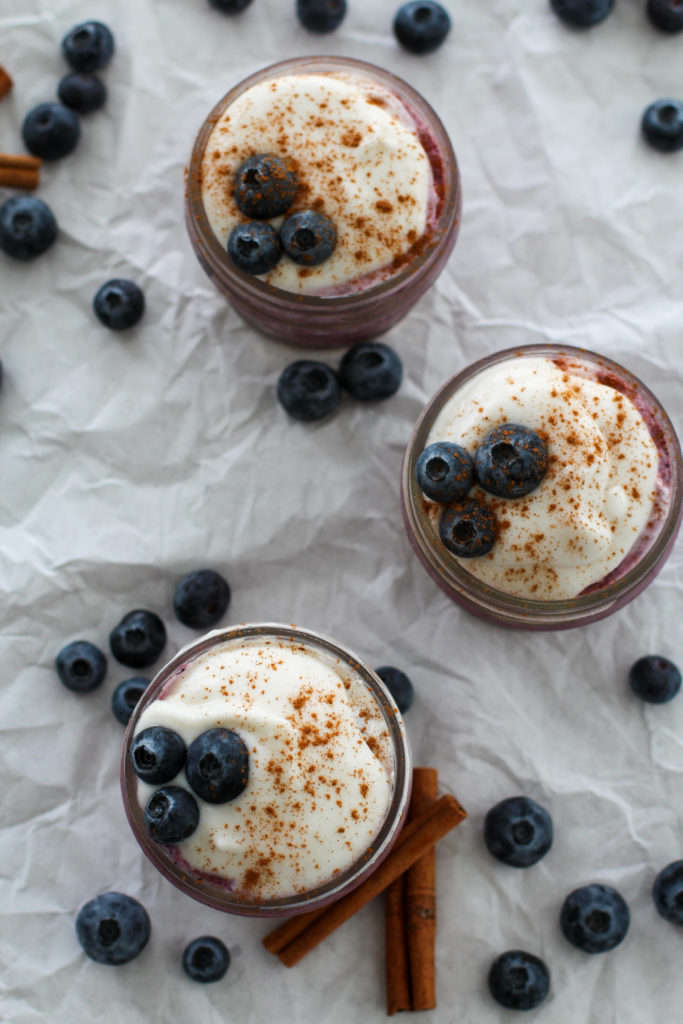 To this day, we still pick blueberries whenever we are up in Michigan for the 4th.
And there was nothing more fun than taking Mini Monster Cookie to the blueberry patch and seeing her enjoy the field as much as I did growing up, shoving blueberries in her mouth as fast as she could.
Ah, the nostalgia…
Blueberries are choc full of antioxidants and are deliciously sweet, so it takes very little sweetener when used in a low-carb dish.
This pudding puts two superfoods together: blueberries and chia seeds, for a one, two morning punch to fuel your brain and create a colorful start to your day.
I can feel the endorphins flowing already!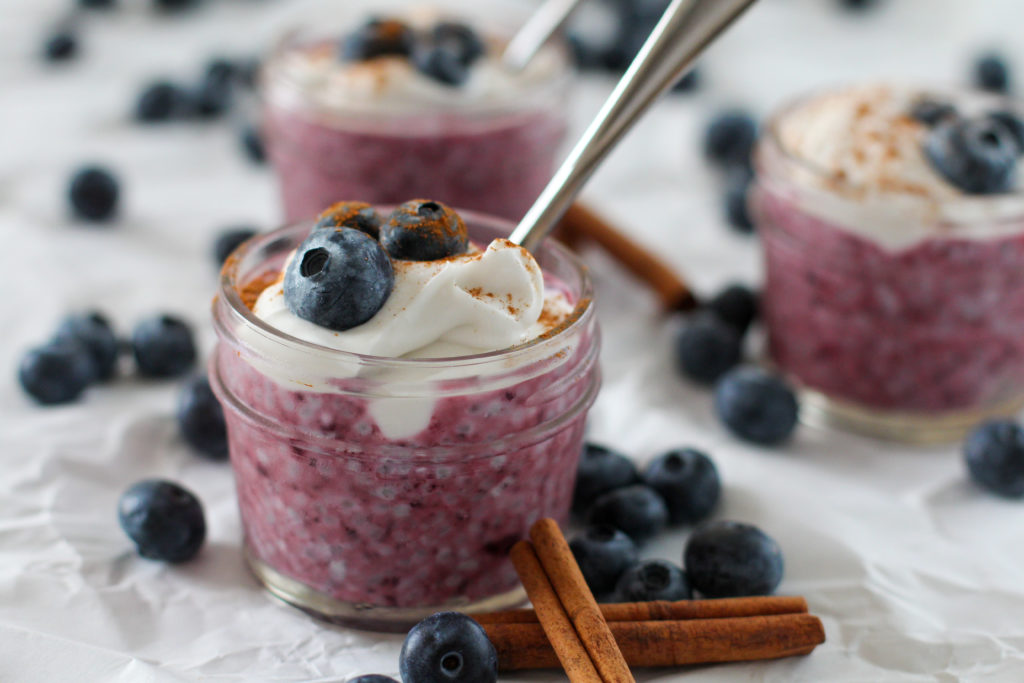 I mean, how fun is it to pull out one of these poppin' purple bowls from the fridge and sit and enjoy a sunrise.
Simply being…and thinking of picking the blueberries from the patch.
It doesn't get much better than that!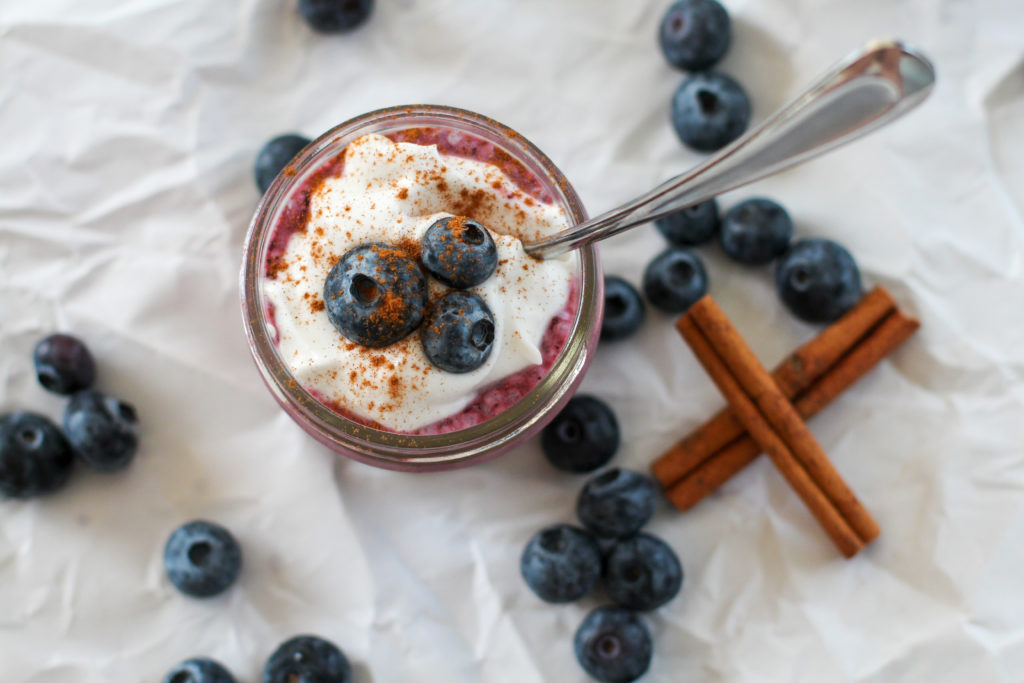 Blueberry Chia Seed Pudding
Blue and creamy, this chia seed pudding will start your morning off with delicious brain fuel to keep you at your peak performance.  
Difficulty Level: Easy 
Prep Time: 5 minutes
Total Time: 20 minutes (includes 15 minute rest period to let coconut milk absorb)
Servings: 4 
Ingredients:
1 cup blueberries

(fresh or frozen)

2 cans of coconut milk, divided

 

 

1/3 cup chia seeds

 

1 teaspoon vanilla

 

5 drops of liquid stevia

 

Pinch of salt 

 

OPTIONAL: 

¼ teaspoon Ceylon c

innamon

 
Directions:
In a blender cup, add the blueberries and one of the cans of coconut milk. Blend until smooth

.

In a bowl, stir together the

blended blueberry mixture, 

chia seeds, 

the other can of 

coconut milk, vanilla, stevia, salt, and cinnamon (if using) until thoroughly mixed.

 

 

Let the chia mixture sit for 15 minutes and then thoroughly mix again. Make sure to break up any chia seed clumps that might have formed.

 

R

efrigerate overnight to allow the chia seeds to fully absorb the coconut milk and thicken into a pudding consistency.

Taste the 

chia 

pudding and adjust the vanilla, stevia, and salt to your likening.

 
Storage:
Store blueberry chia seed pudding in the fridge for up to 5 days.