This post may contain Amazon or other affiliate links. As an Amazon Associate I earn from qualifying purchases.
Do you have questions about what baptism is or who should get baptized?
Perhaps you have recently come to accept Jesus as your Lord and Savior.
Or perhaps you have believed in Jesus for a while, but have never been sure what the Bible said about baptism.
Maybe you are just curious about what it means to be baptized.
Let's walk through a Christian perspective of what baptism is, why you should be baptized if you believe in Jesus, and when you should be baptized.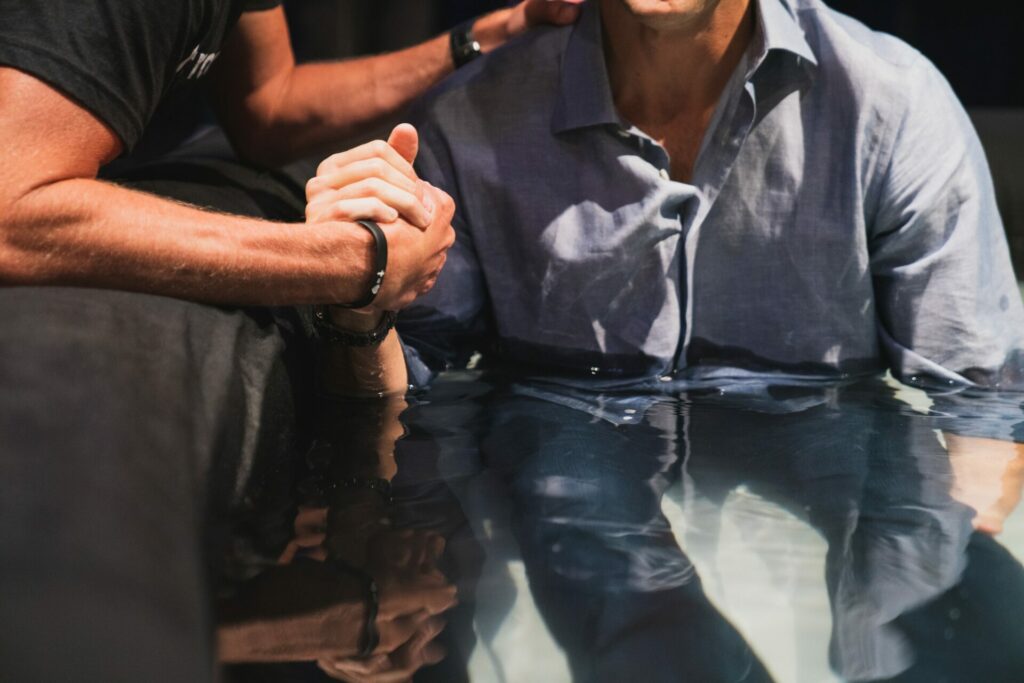 What is Baptism?
This question is probably very confusing to some people since we hear of so many types of baptism.
You might have heard of being sprinkled, confirmation, baptism by immersion, baptism of the Spirit, or something else!
Are these all the same?
Nope!
Do you need all of these different types of baptism?
No!
So then, what does the Bible tell us about baptism?
Let's check out some verses that might help us piece together what baptism is!
John‬ ‭1:32-34‬
32 Then John gave this testimony: "I saw the Spirit come down from heaven as a dove and remain on him. 33 And I myself did not know him, but the one who sent me to baptize with water told me, 'The man on whom you see the Spirit come down and remain is the one who will baptize with the Holy Spirit.' 34 I have seen and I testify that this is God's Chosen One."
So what do we learn about baptism from this passage?
It tells us that baptism was first performed by John.
And John was sent by God to baptize with water.
Now check out another passage from the book of John.
John 3:22-26
22 After this, Jesus and his disciples went out into the Judean countryside, where he spent some time with them, and baptized. 23 Now John also was baptizing at Aenon near Salim, because there was plenty of water, and people were coming and being baptized. 24 (This was before John was put in prison.) 25 An argument developed between some of John's disciples and a certain Jew over the matter of ceremonial washing. 26 They came to John and said to him, "Rabbi, that man who was with you on the other side of the Jordan—the one you testified about—look, he is baptizing, and everyone is going to him."
Here we see that Jesus also baptized with water.
And the Greek word used in these passages for "to baptize" (John 1:33) and for "baptizing" (John 3:26) come from Baptizo.
The definition of Baptizo means to dip or sink.
These passages show that the Bible teaches a baptism of submersion, not sprinkling.
And being baptized by submersion is symbolic of us joining Christ in his death and resurrection!
Check out how Romans describes baptism:
Romans‬ ‭6:4‬ ‭
4 "We were therefore buried with him through baptism into death in order that, just as Christ was raised from the dead through the glory of the Father, we too may live a new life.
So as we are submerged in the water, it is symbolic of being buried with Christ.
And as we are raised back out of the water, it symbolizes being raised to a new life in Christ!
Galatians also refers to this as being clothed with Christ!
Galatians‬ ‭3:26-27‬
26 So in Christ Jesus you are all children of God through faith, 27 for all of you who were baptized into Christ have clothed yourselves with Christ.
So let's summarize what baptism is.
Baptism is being submerged in water when someone knowingly chooses Christ as their Lord and Savior.
And being baptized is symbolic of us joining Christ in his death and resurrection.
And baptism is a public demonstration of our new faith in Christ!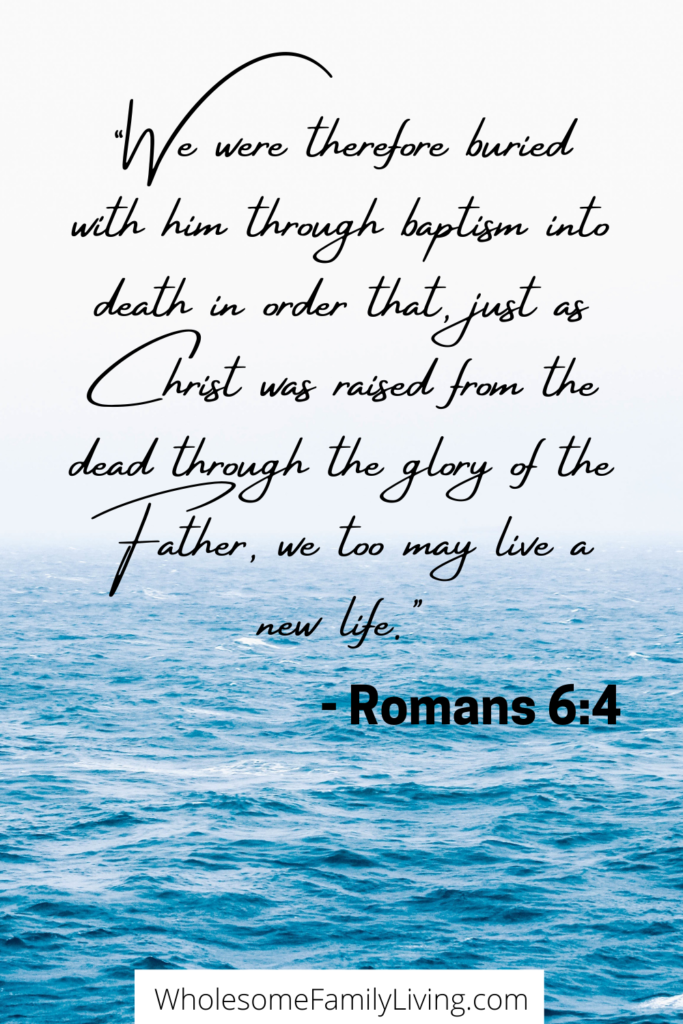 Why is Baptism Important?
So you may still be wondering WHY should I be baptized.
Or perhaps you are wondering if you can believe in Jesus and just skip this step.
You might be thinking, "Is baptism really that important?"
And I would answer that with a resounding YES IT IS!
How do I know that baptism is important?
Because first of all, even Jesus himself was baptized!
Our perfect Savior, who had never even sinned, was baptized!
Check it out:
Matthew‬ ‭3:13-17‬ ‭
13 Then Jesus came from Galilee to the Jordan to be baptized by John. 14 But John tried to deter him, saying, "I need to be baptized by you, and do you come to me?"

15 Jesus replied, "Let it be so now; it is proper for us to do this to fulfill all righteousness." Then John consented.

16 As soon as Jesus was baptized, he went up out of the water. At that moment heaven was opened, and he saw the Spirit of God descending like a dove and alighting on him. 17 And a voice from heaven said, "This is my Son, whom I love; with him I am well pleased."
If it pleased God that Jesus was baptized, don't you think it pleases God when we are baptized?
And not only was Jesus baptized, but He also told us to baptize others as part of His final words to His disciples.
Consider this: when someone is about to die, are their parting words fluffy and meaningless, or do they use those final moments to convey some of the most important things on their mind?
In most cases, it's the latter!
So if these are Jesus' final words to His disciples, these have to be some of the things most near and dear to His heart!
Check out what Jesus said before he ascended into heaven:
Matthew‬ ‭28:18-20‬
18 Then Jesus came to them and said, "All authority in heaven and on earth has been given to me. 19 Therefore go and make disciples of all nations, baptizing them in the name of the Father and of the Son and of the Holy Spirit, 20 and teaching them to obey everything I have commanded you. And surely I am with you always, to the very end of the age."
He tells his disciples to make more disciples by BAPTIZING them and teaching them to obey Christ.
So by being baptized, we are following His example AND being obedient to what he commanded his disciples to do to make more disciples!
As I mentioned previously in my post God Loves You, if we are unwilling to do what Christ instructs us to do, what does it say about our relationship and belief in Christ if we don't follow through with being baptized?!
I hope you can see from these verses that baptism is very important and pleasing to God and is our first act of obedience in following Christ!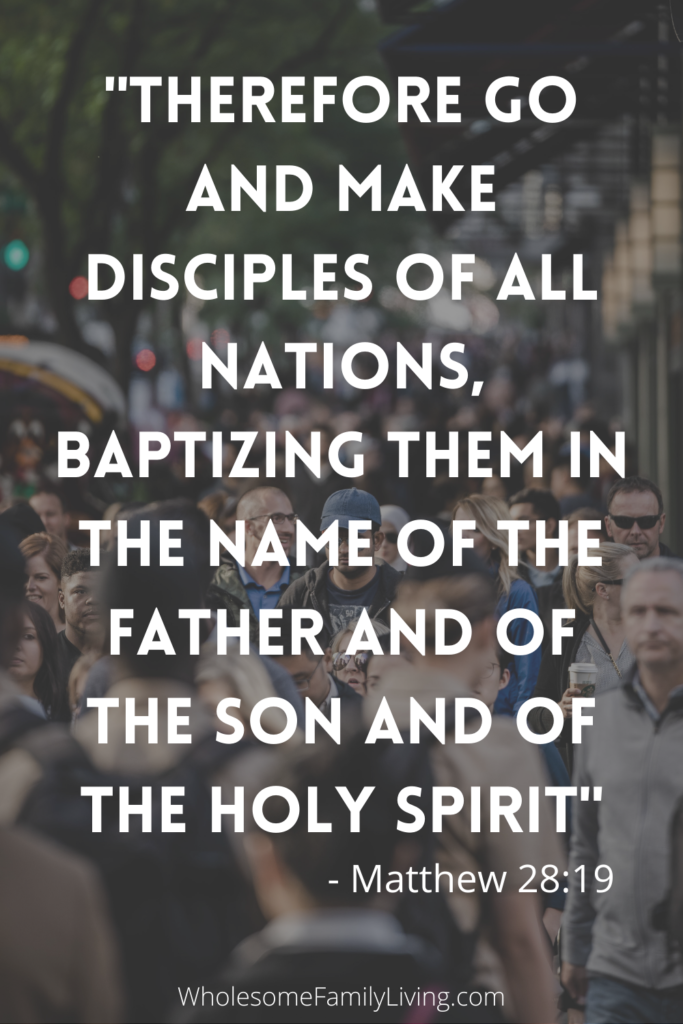 Who Should be Baptized?
Once again, this might be a confusing question for some people since lots of people have heard of babies being sprinkled and others know of kids getting baptized and still others know adults that are baptized.
So who should be baptized?
Let's check out who was baptized in the Bible.
Acts‬ ‭2:38-41
38 Peter replied, "Repent and be baptized, every one of you, in the name of Jesus Christ for the forgiveness of your sins. And you will receive the gift of the Holy Spirit. 39 The promise is for you and your children and for all who are far off—for all whom the Lord our God will call."

40 With many other words he warned them; and he pleaded with them, "Save yourselves from this corrupt generation." 41 Those who accepted his message were baptized, and about three thousand were added to their number that day.
So this passage teaches us that anyone WHO ACCEPTS the message of Christ should be baptized.
This means that a person has to be old enough to understand who Christ is and what He has done for them to be baptized.
This moment will be different for each person, but I can guarantee this means that a baby cannot be baptized in the way the Bible says we should be baptized.
A baby cannot comprehend who Christ is and that His death on the cross and resurrection brings us new life.
But when a child, teenager, or adult comes to the realization of who Christ is and what He has done for them and believes that Jesus is their Lord and Savior, then they are ready to be baptized!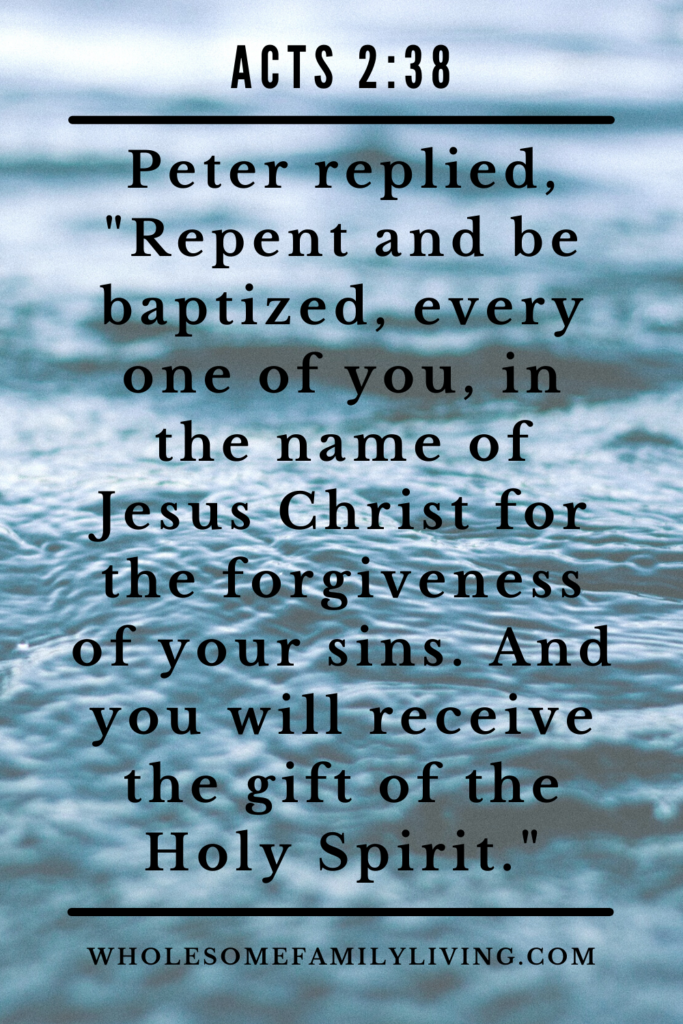 When Should Someone Be Baptized?
So when should a person be baptized?
Is there any reason to wait to be baptized after coming to believe in Jesus?
Should you wait to be baptized until your whole family can be baptized together?
Let's once again turn to the Bible to see what it says!
Check out what Saul (who later became Paul) was instructed to do by Ananias:
Acts‬ ‭22:16‬
16 "And now what are you waiting for? Get up, be baptized and wash your sins away, calling on his name."
Saul was instructed to immediately be baptized.
So you might be thinking "okay that's one example, surely that's not what happened every time."
Spoiler alert, baptism is exactly what happened each time someone believed in Christ in the New Testament!
Every time someone was told about Jesus and they believed and had faith in Jesus, the next step is always that they were baptized!
Here are a couple more examples we have from the early church recorded in the Bible:
Acts 8:34-38 (Philip and the Eunuch)
34 The eunuch asked Philip, "Tell me, please, who is the prophet talking about, himself or someone else?" 35 Then Philip began with that very passage of Scripture and told him the good news about Jesus.

36 As they traveled along the road, they came to some water and the eunuch said, "Look, here is water. What can stand in the way of my being baptized?" 38 And he gave orders to stop the chariot. Then both Philip and the eunuch went down into the water and Philip baptized him.
Acts 16:31-33 (The Jailer with Paul and Silas)
31 They replied, "Believe in the Lord Jesus, and you will be saved—you and your household." 32 Then they spoke the word of the Lord to him and to all the others in his house. 33 At that hour of the night the jailer took them and washed their wounds; then immediately he and all his household were baptized.
So what do these two stories show us?
These new believers DID NOT WAIT to be baptized!
The eunuch was baptized in some water along the side of the road and the jailer and his household were baptized in the NIGHT!
I don't know about you, but it seems to me that baptism from a Biblical example is urgent and shouldn't be postponed!
I know some churches do a baptism weekend and make it seem like it should be a group event, but I think it's actually a disservice to new believers to make them think that they should wait to be baptized.
We should instead be promoting that if you believe in Christ, you shouldn't wait but should be baptized ASAP!
As the jailer shows us, you don't have to wait until church office hours!
As the eunuch shows us, water on the side of the road will do just fine!
So if you are sitting here reading this and you believe that Christ died for you and that He rose from the dead, GO AND BE BAPTIZED!
Do not delay!
Don't let family expectations, fear, time of day, or anything else hold you back.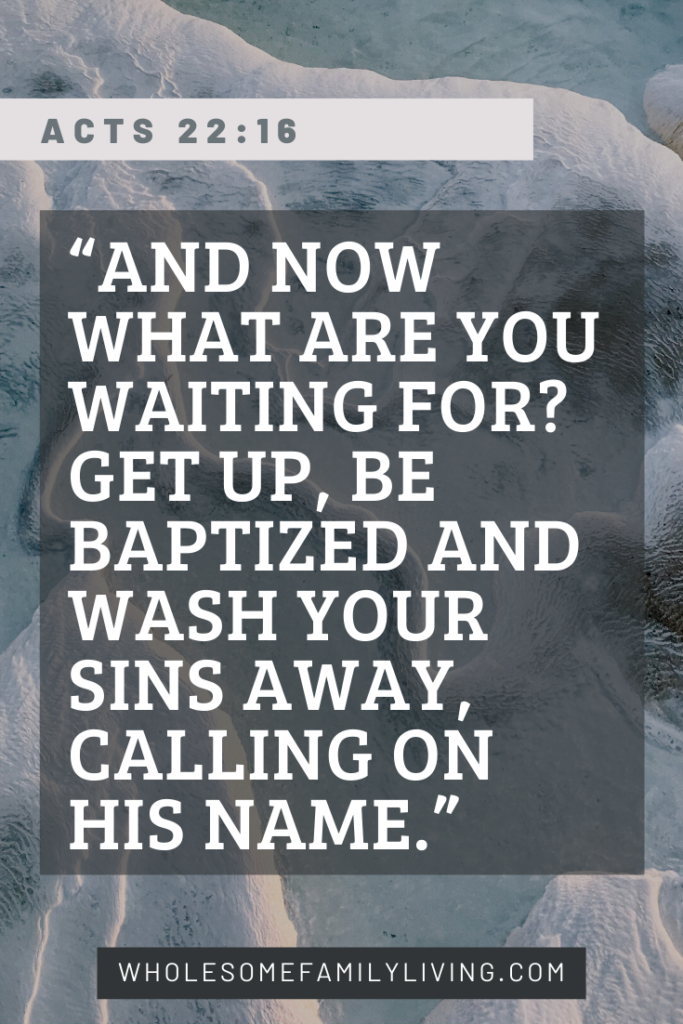 Baptism- Is Now Your Time?
So here's the big question!
Have you been baptized by immersion after hearing and accepting the good news that Jesus died on the cross and rose from the dead to save you from your sins?
If you have been baptized, way to follow Jesus' instructions to his believers!
And if you have accepted that message but haven't been baptized, what's holding you back?
Don't let Satan lie to you and convince you that you don't have to be baptized even if you believe in Jesus.
You can see from the verses above that Jesus was clear in His instructions to believers to be baptized through immersion!
And if you aren't convinced that you need to be baptized, do some digging into the Bible yourself and ask God to reveal His intentions about baptism to you.
God has promised that if we are genuinely searching and asking, He will help us!
And maybe you haven't accepted the good news that Jesus died for you!
If that is you, please check out my posts God Loves You and Will You Choose God? to keep searching for answers about who Jesus is and why you should believe in Him for the forgiveness of your sins!
What other questions do you have about baptism?
Comment below and I will try to help answer any other questions you have about baptism!