This post may contain Amazon or other affiliate links. As an Amazon Associate I earn from qualifying purchases.
Are you trying to figure out how to pray for our world right now with the pandemic, racial injustice, and everything else going on?
It is okay to feel lost and uncertain about the future.
I know a lot of friends who are burdened by what is going on in our world right now.
From the pandemic to media misinformation to political agendas to racial tension, there is so much uncertainty in our world.
As the mom of a toddler, I want a better world for her.
I don't want her to live in fear or be afraid to leave her home.
So what can you and I do?
How can we make a difference?
We can PRAY.
Prayer is something we may think is too small and we often overlook, yet it is so powerful that it should be the FIRST thing we do.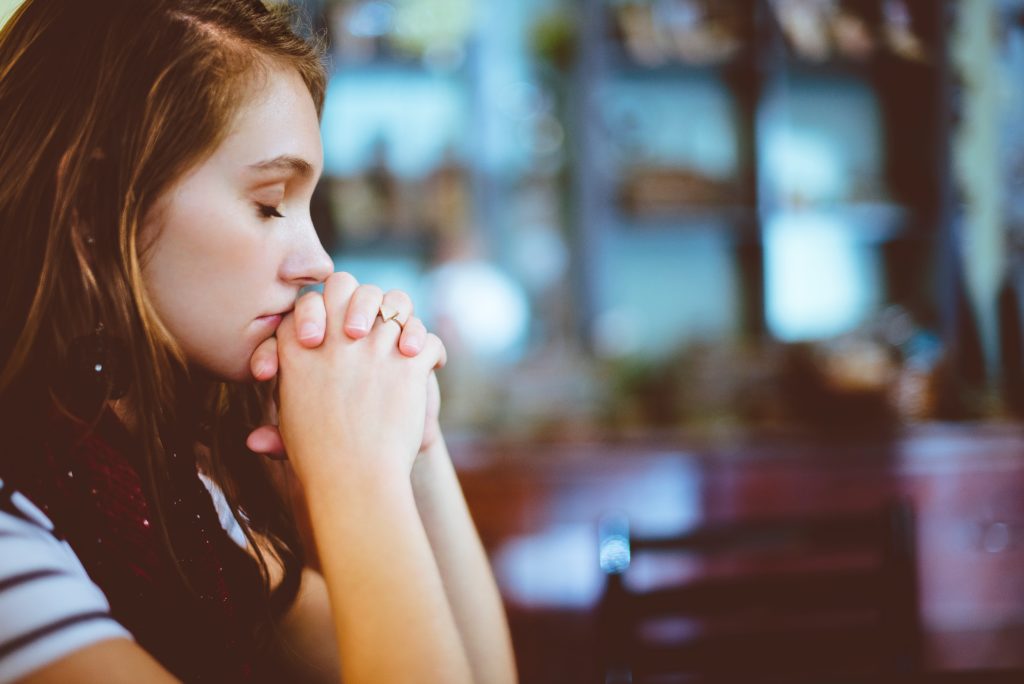 What the Bible Says About Praying Despite Our Circumstances
The Bible is full of encouragement about praying in all circumstances.
Check out these verses that encourage us to continue praying no matter what is going on in our lives:
1 Thessalonians 5:16-18
16 Rejoice always, 17 pray continually, 18 give thanks in all circumstances; for this is God's will for you in Christ Jesus.
Philippians 4:4-7
4 Rejoice in the Lord always. I will say it again: Rejoice! 5 Let your gentleness be evident to all. The Lord is near. 6 Do not be anxious about anything, but in every situation, by prayer and petition, with thanksgiving, present your requests to God. 7 And the peace of God, which transcends all understanding, will guard your hearts and your minds in Christ Jesus.
Romans 12:12
12 Be joyful in hope, patient in affliction, faithful in prayer.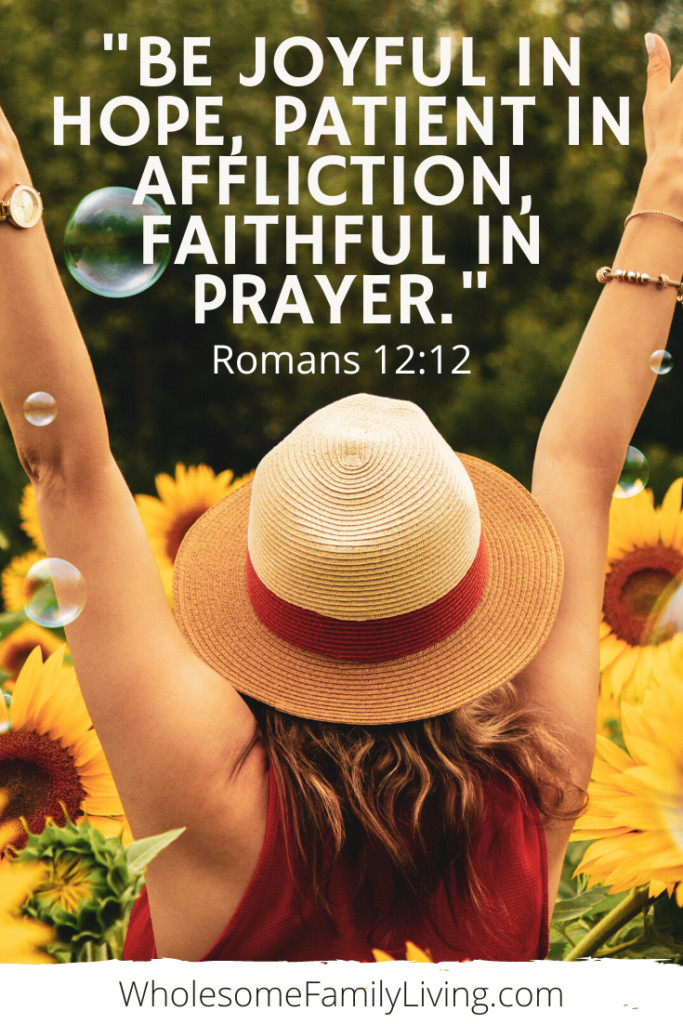 Do you notice how these passages are similar?
Each passage reminds us to rejoice (or be joyful) and to pray no matter what our circumstances are!
I especially resonate with Philippians 4:6 when it reminds me that instead of being anxious about things, I should bring my requests to God.
Other great things that we are also reminded of in these verses include:
Be patient in affliction
Give thanks in all circumstances
Let gentleness rule in your life
The Lord is near
Don't be anxious about anything
The peace of God will guard our hearts and minds
Wow, what great reminders and encouragement for those of us who feel weary and uncertain in today's circumstances!
I don't know about you, but these are some of the very truths that are missing from my life and causing me to fear instead of trust!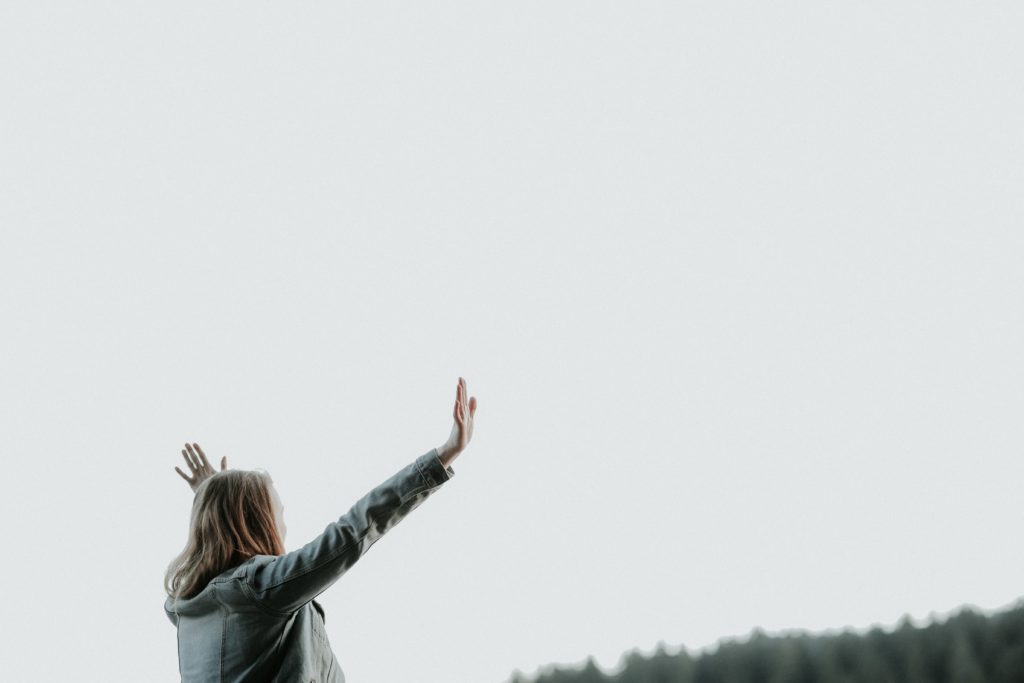 Verses to Help You Pray for our World
Okay great, so you know that you should pray.
But what do you pray for when you feel overwhelmed by everything that is going on around you?
And what can we pray for when things feel totally out of our control?
Whenever I'm at a loss for words on how to pray about what's going through my mind, I usually turn to the book of Psalms.
Why Psalms?
If you have never had the chance to read the book of Psalms, it is filled with songs and prayers that capture ALL human emotions.
Psalms captures everything from ecstatic joy when enemies were defeated to some of the writers' darkest moments when it felt like God had abandoned them.
So no matter what emotion I'm feeling (joy, sorrow, pain, fear, thankfulness, uncertainty, etc.), the book of Psalms will have verses that can relate to what I'm feeling.
Then I use the verses that I find to help shape my prayers when I don't have the words to say myself.
So what should we pray?
Let's first read through some verses from Psalms that I think fit our current global situation.
Psalms ‭6:2-6
2 Have mercy on me, Lord, for I am faint;
heal me, Lord, for my bones are in agony.
3 My soul is in deep anguish.
How long, Lord, how long?

4 Turn, Lord, and deliver me;
save me because of your unfailing love.
5 Among the dead no one proclaims your name.
Who praises you from the grave?

6 I am worn out from my groaning.

All night long I flood my bed with weeping
and drench my couch with tears.
‭‭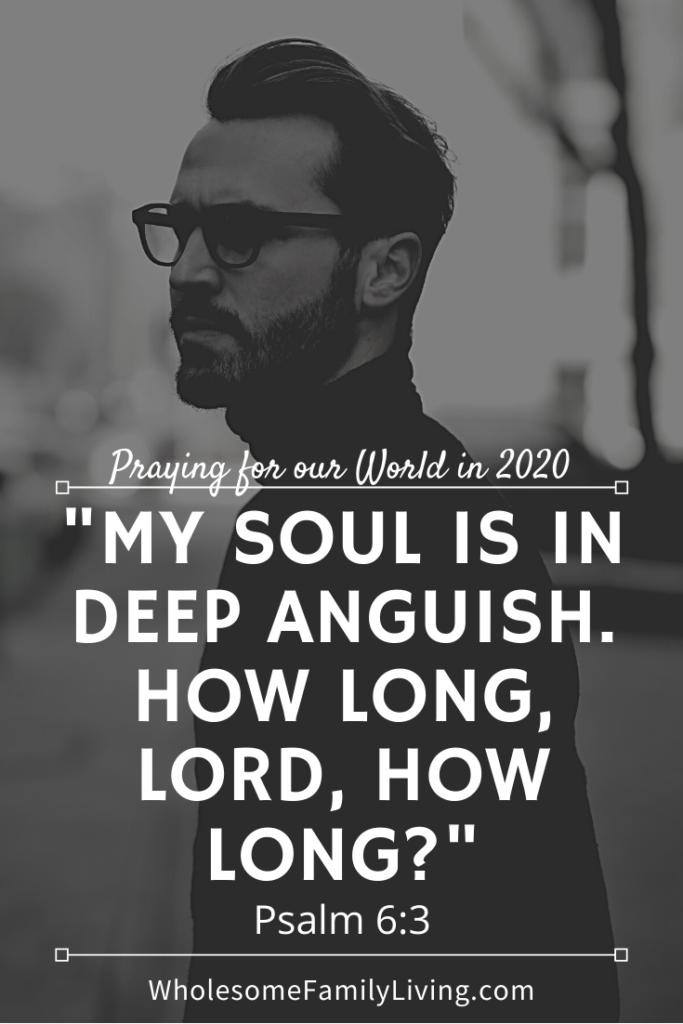 And check out Psalm 91 where it even talks about "pestilence", which is a fatal epidemic disease (sound like the coronavirus anyone?)
Psalms 91:1-6
1 Whoever dwells in the shelter of the Most High
    will rest in the shadow of the Almighty.
2 I will say of the Lord, "He is my refuge and my fortress,
    my God, in whom I trust."

3 Surely he will save you
    from the fowler's snare
    and from the deadly pestilence.
4 He will cover you with his feathers,
    and under his wings you will find refuge;
    his faithfulness will be your shield and rampart.
5 You will not fear the terror of night,
    nor the arrow that flies by day,
6 nor the pestilence that stalks in the darkness,
    nor the plague that destroys at midday.
I don't know about you, but ALL of those verses seem to relate to what I'm feeling!
I hope that you are able to find at least one verse that relates to what you are feeling right now and you can use that as the basis of your prayer.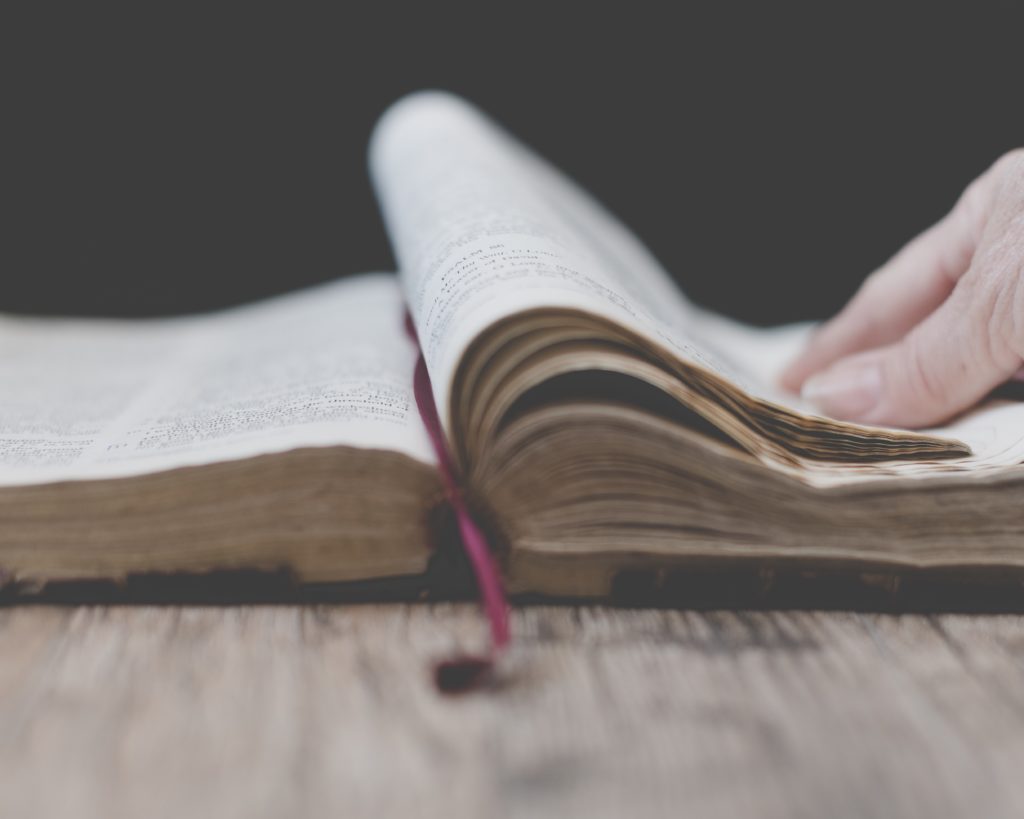 How to Pray for Our World in 2020
Now that we have some verses that speak to our heart about what's going on in our world, let's pray over them!
From Psalm 6, some of the key points that I took away are that God can heal, deliver, and save us. Isn't that what we all want right now?
I especially connected with the phrase "How long, Lord, how long?".
Psalm 6 also reminds us that God sees our tears and hears our cries.
From Psalm 91, I am reminded that I should be dwelling in God's presence and thus experience REST (anyone else need rest right now?!).
The psalm reminds me that God is my refuge and He will protect me.
This should free me from my fears and remind me that I can trust Him in all circumstances.
Let me share with you how I have turned these passages into prayers.
How to Pray for our World from Psalm 6:
Lord, have mercy on us, our country, and our world.
Heal the world, Lord, from this coronavirus pandemic, for so many people are suffering and dying.
Heal us Lord from our racial and social injustice that have blinded our eyes. Help us to see people how You see them-all divinely created and all equally loved by You.
We are in deep anguish over what feels like the loss of 2020, a whole year of turmoil and lost dreams.
Our children do not run and play like they once did, we are not free to travel and explore like we once were, and we have not been able to worship You together with other believers.
God, we are mourning the loss of the experiences and treasured moments with our families that we will never get back.
Just as David wrote in Psalm 6 we ask "how long, Lord, how long?"
We ask You to move powerfully during this time and deliver us.
Please heal and save us because of your unfailing love.
Lord, we are worn out from the media drama.
We are worn out from the lies and manipulation on all sides.
God, we know that You see our tears and that You hear the cry of our hearts.
We know that You see our brokenness and our pain, and God, we ask that You deliver us!
May we never turn our backs on You or say "my God doesn't care," for we know that Your love for us is unfathomable.
Jesus, thank you for showing us how great God's love for us is, by coming to die on the cross for us.
I ask all this in Jesus' name, Amen.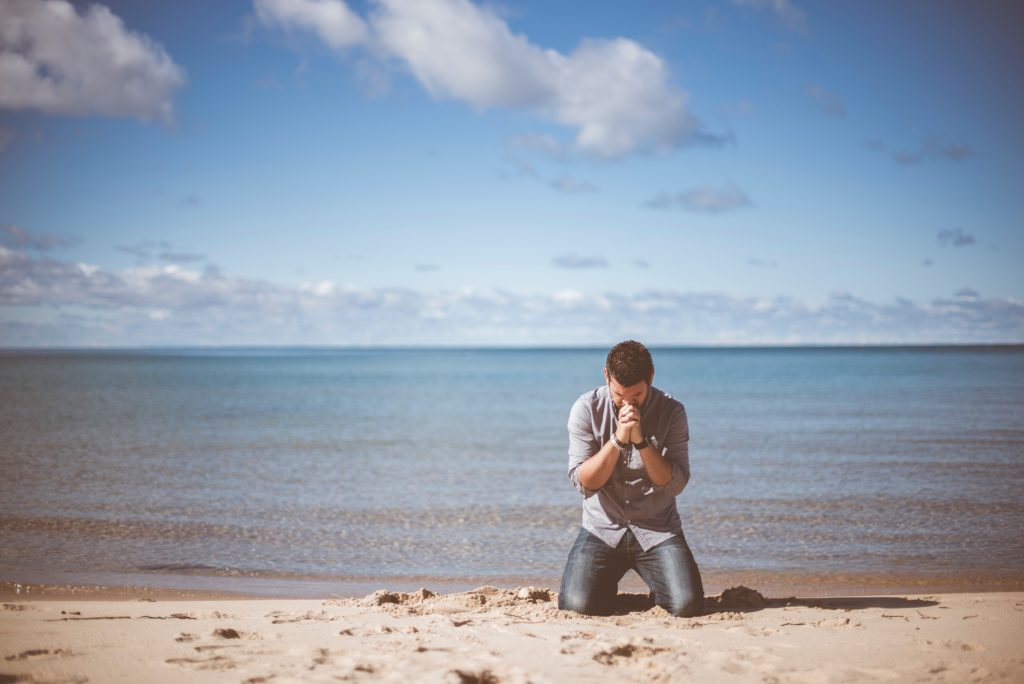 How to Pray for Our World from Psalm 91:
Lord, may I dwell in Your presence and thus experience rest.
I will say of the Lord, "He is my refuge and my fortress, my God, in whom I trust."
God, I TRUST in You!
Surely You will save us from the deadly coronavirus. 
Lord, cover us with Your wings and be a shield for my loved ones.
Free me from any fears that I have and help me to keep my mind focused on You and to remember to be THANKFUL.
Lord, help my heart remain steadfast in You.
Let our nation return to being steadfast in You.
Let us proclaim Your goodness to the ends of the earth, for You are a God who can save and deliver us, and You already have through Jesus.
Thank you for sending Jesus to die for us and thank you for the continual hope of eternity with You through His death and sacrifice.
Jesus, thank you for overcoming the evil one.
It is in the mighty and powerful name of Jesus Christ that I request healing and deliverance for me, my family, my friends, my state, my country, and for the world, which we know will come at the proper time with your triumphant return.
In Jesus' name, Amen.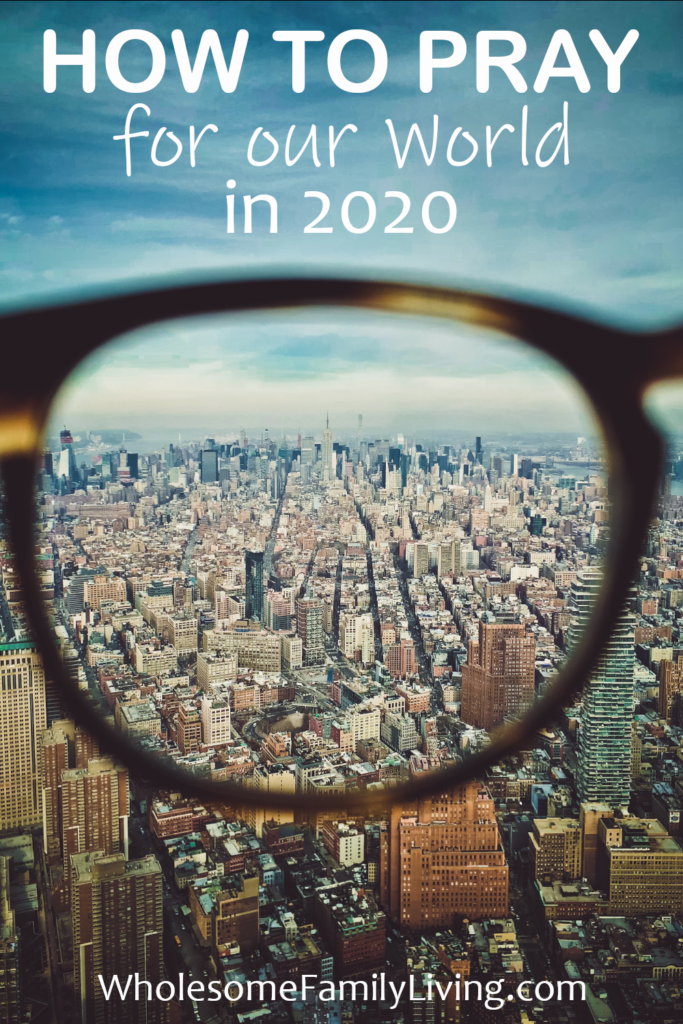 Where Do I Go From Here?
I hope that the verses from Psalms and the example prayers have helped you process some of the emotions and feelings you might be experiencing right now.
If you haven't noticed from the state of society, Satan is attacking us, and attacking hard.
If we aren't on our guard, he will use uncertainty and despair to make us question God and His goodness.
Satan wants nothing more than to see you walk away from God and become ineffective in your faith.
That is why we need to face each day like a battle ground that is ready to be won.
Check out my post on How to Pray for the Armor of God, so that Satan doesn't catch you off guard.
Jesus has won the war, but we are still in the battle.
Don't let Satan use fear tactics to take your eyes off of Jesus!
And if there was ever a time that we need to be intentional about sharing our faith, now is the time!
People need the hope that knowing Jesus can bring.
If you aren't sure how to share your faith, check out my post Sharing Your Faith.
Let's encourage our family, friends, neighbors, and co-workers during these unsettling times.
Please comment below if you have your own prayer you would like to share or if there are any other verses that have comforted you during times of uncertainty in your life.
Let's join together and pray for our world!